Outfitter #285
New Zealand – Land of the giant red deer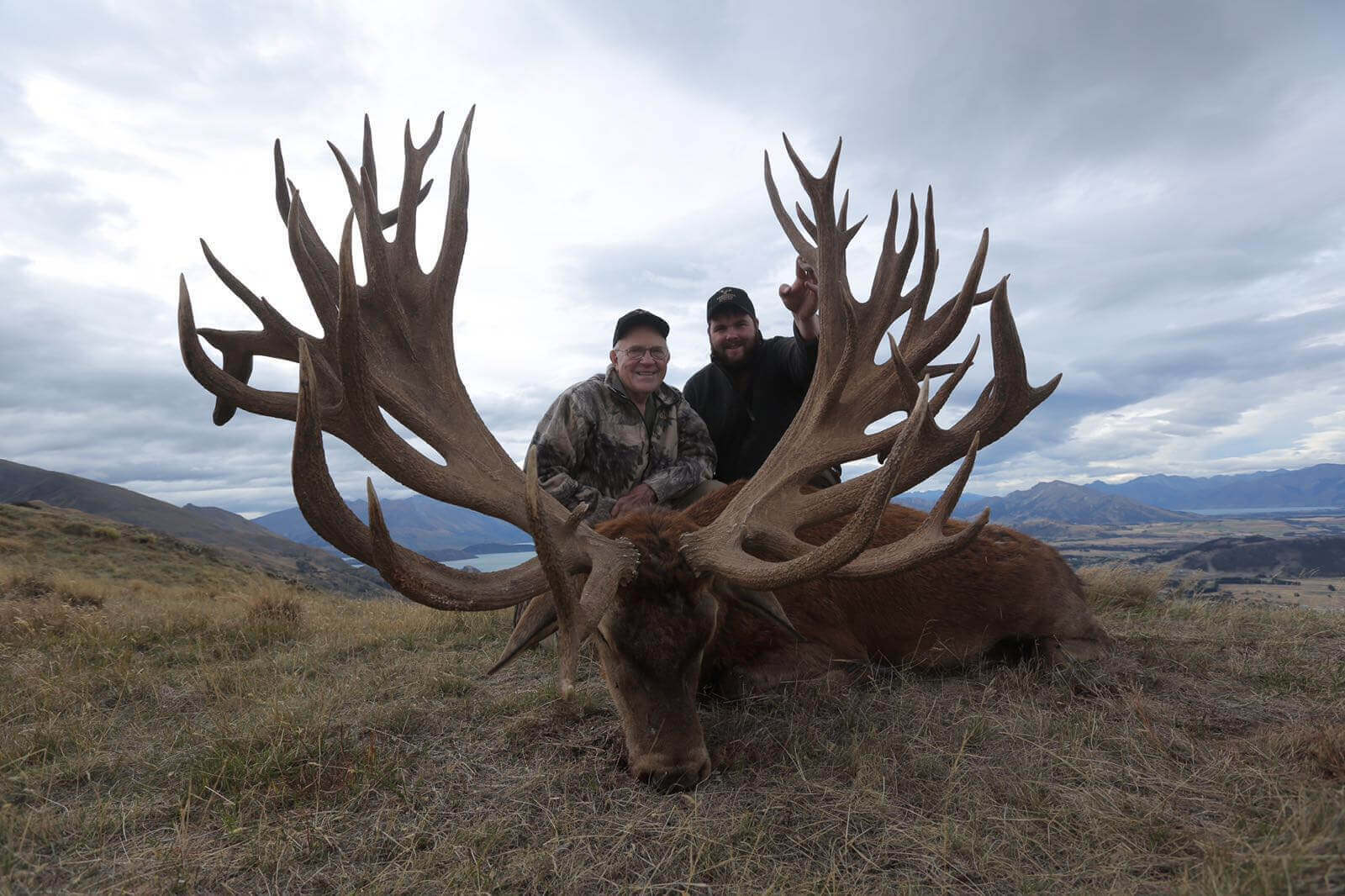 Description
Premier quality red stag, trophy bull elk, Himalayan tahr and European chamois are readily available in this prestigious hunting wilderness. Located in the heart of New Zealand's spectacular Southern Alps, Our outfitter offers the hunting vacation of a life-time for the serious hunter with the flexibility you want to make sure your hunting is successful, and even non-hunters will also enjoy a fantastic hunting lodge holiday experience.
They hunt one of the largest trophy red deer herds in the South Pacific. Thanks to decades of carefully focused game management the quality of the red stag is unbeatable. They are known for producing world-class trophies, with stags scoring in excess of 600 SCI. A trophy this big provides our hunters with a genuine 'larger than life' experience – it's an exceptional time that you'll never forget. Few trophies are as eye-catching as a red stag with mass, great width and strong scoring points. Hunting is done traditional spot and stalk in undulating back country preservers, covered in native vegetation. There's excellent cover and plenty of draws and gullies. This environment delivers all the excitement of hunting in raw, untamed terrain.
Guided elk hunting in New Zealand has developed to the point where it now equals the best areas in the U.S.A. for trophy quality animals. Massive Elk Bulls scoring in the high 300's (and the odd 400+) are not uncommon. New Zealand elk hunting provide a viable and an economic alternative to the U.S.A. if you are after the biggest bulls. Elk (Wapiti) were introduced to New Zealand in 1909. The original animals were a gift from President Roosevelt and were released into Fiordland in the southwestern part of the South Island of New Zealand. The original herd of 20 Elk quickly multiplied and produced outstanding bull elk hunting trophies from the mountainous Southern Alps, in areas of dense temperate rainforest and heavy rainfall.
High up in the picturesque Southern Alps lives one of New Zealand's premier big game trophies the bull tahr. Bulls begin to move into the nanny groups in May and will stay with these groups until the end of August. Tahr hunting can be a very physically challenging experience which takes the hunter high into the pristine valleys of our Southern Alps. However with the right hunting guide, this can become a hugely satisfying and successful challenge, with a magnificent trophy as the ultimate prize.
The chamois is an alpine gem. It pays to be in good physical condition to climb and hike after them. Helicopters can be used to elevate you high into the Chamois alpine territory, where we hunt them in open free-range mountainous terrain. Male and female chamois have similar markings and both have horns, making it difficult to distinguish one from the other in a group. Chamois can be inquisitive but when they run you will always remember the sight of them moving at great speed, bounding through rugged, almost vertical terrain with their heads held high!
Thier main lodge provides an ideally relaxing and peaceful country environment. Surrounded by the beauty of the Southern Alps, it's the perfect spot to kick back and relax after a big day in the field. The first class accommodation has all the comforts of home, and much more. You'll enjoy roaring fires, luxurious beds, modern facilities and excellent New Zealand cuisine using locally-sourced produce. From here tours can be organized as day trips or arranged on either side of your hunt. Non-hunting companions can also use the lodge as a base to explore the many tourist activities the region has on offer.
They also have a hunting lodge situated right in the heart of the hunting preserve, this lodge is deep in the heart of the action – it's not uncommon to see wild game animals from the deck of the lodge. The main log cabin contains a modern, stylish open-plan kitchen and dining area and separate sleeping chalets with private ensuite bathrooms accommodate our guests. Here you'll be able relax at days end with a drink on the large deck overlooking the nearby Pacific Ocean before retiring inside to enjoy the best of local cuisine.
---
Price
Red stag packages - 4 day hunt
$6,500 - 320 -360 SCI
$10,000 - 360-400 SCI
$15,000 - 400 - 440 SCI
POR - 440+
Red stag, tahr & chamois packages - 6 day hunt - foot hunting tahr and chamois
$13,500 - 320 -360 SCI, tahr and chamois
$17,000 - 360-400 SCI, tahr and chamois
$22,000 - 400 - 440 SCI, tahr and chamois
Tahr & chamois package - 4 day hunt
$10,000 - foot hunting tahr and chamois
Helicopter tahr and chamois - $1,700/animal - no timre restrictions
$500/day - additional hunting days
$600/day - waterfowl hunting
$600/day - fishing
$250/day - observers
$250-$500/day - additional tourism. Dependent on destinations, activities and number of people.
Trophy fees
$6,000 - Wapiti - 320 - 360
$9,000 - Wapiti - 360 - 380
$12,000 - Wapiti - 380 - 400
POR - Wapiti 400+
$6,000 - whitetail deer
$5,000 - tahr
$4,000 - chamois
$4,000/starting at - fallow deer
$950 - ram
$950 - goat
$6,500 - sika
$9,000 - sambar
$6,500 - rusa
$4,500 - red stag - 320 -360
$8,000 - red stag - 360 - 400
$13,000 - red stag - 400 - 440
POR - red stag 440+
Trophy fees subject to change
Dates
March - August
Red Stag roar mid-March - mid-April
Included
Lodging, meals, guide service, beverages, airport transfers, infield transportation, field care of trophies
Package hunts also include trophy as listed
Excluded
Flights
Additional trophies/upgrades

Expediting and shipping trophies
Taxidermy
Helicopter time for tahr and chamois
Tours
Transportation
Sample Itinerary
Day 1: Depart from home and fly to Auckland, New Zealand
Day 2: Loose this day crossing International Date Line
Day 3: Arrive in Auckland, Clear customs and transfer to domestic airport
Fly to Queenstown where you will be met by the outfitter and transfer to camp.
Your full hunt days booked
Departure Itinerary
Day 1: Depart camp for home, you will arrive home the same day
Physical Requirement Level
Level 2 - These hunts are mostly conducted on private ranches. Species include mule deer, elk, antelope; additionally, some caribou and African plains game hunts. Moderate to light hiking each day in semi-mountainous terrain.
Additional Information
Approach: Spot and Stalk.
Equipment: Automobile,Helicopter.


---
Updated: 2018-03-02 17:31:07