Outfitter #285
500-600 SCI Red Stag Package – Exclusive WTA Price!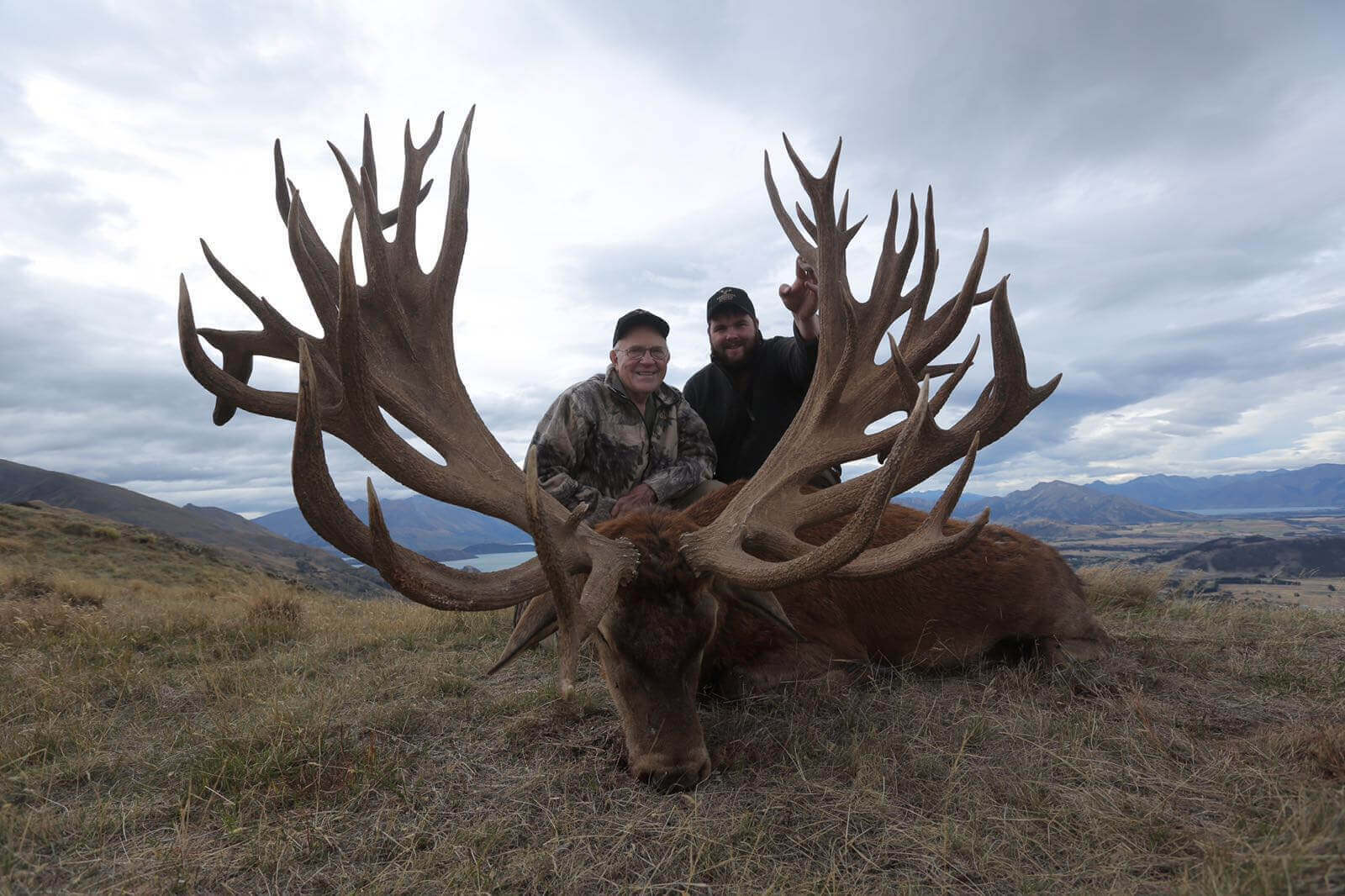 Description
Come and hunt a 500 to 600 SCI trophy red stag with our outfitter who has a world renown reputation for hunting the biggest red stags that walk planet earth.
Along with our outfitter, WTA has created this unique opportunity to hunt one of their privately managed 5,000-acre concessions.
Hunt the biggest stag that you can find up to 600 SCI or a stag that simply trips your trigger. Beauty is in the eye of the beholder and inches of antler is sometimes irrelevant. Outfitter guarantees you will take a stag between 500-600 SCI.
Each day you have the chance to see numerous amounts of stag in this class, along with elk bulls often in excess of 400 SCI, fallow, ram and goats thanks to their intense game management policies and prime habitat.
Coupled with fantastic hunting opportunities this outfitter is based in the tourist mecca of New Zealand, making this the ideal location to have your family, spouse or girl friend join you for the ultimate travel experience that will leave you with ever lasting memories.
This is a limited offer and exclusive only to WTA. Book now for open dates in 2017.
---
Price
$35,000 - 4 days/5 nights, includes one red stag trophy 500- 600 SCI
Day rates
$500/day - additional hunting days
$600/day - waterfowl hunting
$600/day - fishing
$250/day - observers
$250-$500/day - additional tourism. Dependent on destinations, activities and number of people.
Trophy fees
POR - red stag over 600 SCI
$6,000 - Wapiti - 320 - 360 SCI
$9,000 - Wapiti - 360 - 380 SCI
$12,000 - Wapiti - 380 - 400 SCI
POR - Wapiti 400+ SCI
$6,000 - whitetail deer
$5,000 - tahr
$4,000 - chamois
$4,000/starting at - fallow deer
$950 - ram
$950 - goat
$6,500 - sika
$9,000 - sambar
$6,500 - rusa
Trophy fees subject to change
Dates
March - August
Red Stag roar mid-March - mid-April
Included
Lodging, meals, guide service, beverages, airport transfers, infield transportation, field care of trophies
Package hunts also include trophy as listed
Excluded
Flights
Additional trophies/upgrades

Expediting and shipping trophies
Taxidermy
Helicopter time for tahr and chamois
Tours
Transportation
Sample Itinerary
Day 1: Depart from home and fly to Auckland, New Zealand
Day 2: Loose this day crossing International Date Line
Day 3: Arrive in Auckland, Clear customs and transfer to domestic airport
Fly to Queenstown where you will be met by the outfitter and transfer to camp.
Your full hunt days booked
Departure Itinerary
Day 1: Depart camp for home, you will arrive home the same day
Physical Requirement Level
Level 2 - These hunts are mostly conducted on private ranches. Species include mule deer, elk, antelope; additionally, some caribou and African plains game hunts. Moderate to light hiking each day in semi-mountainous terrain.
Tahr and Chamois foot hunts are level 4
Additional Information
Approach: Spot and Stalk,Calling.
Equipment: Automobile,ATV/UTV,Helicopter.


---
Updated: 2018-03-02 17:31:07