This past Summer I had the opportunity to travel with my Father and Brother-in-Law to the Northern Territory of Australia in pursuit of water buffalo and Banteng. As we set out on our journey the excitement built, but like a lot of adventures there was a bit of travel involved; In this case, just shy of 40 hours from the time we left our homes in Michigan until we pulled into the hunting area located on the northern coast of Australia. This is a long trip for sure, but as we were to find out, one that was well worth it.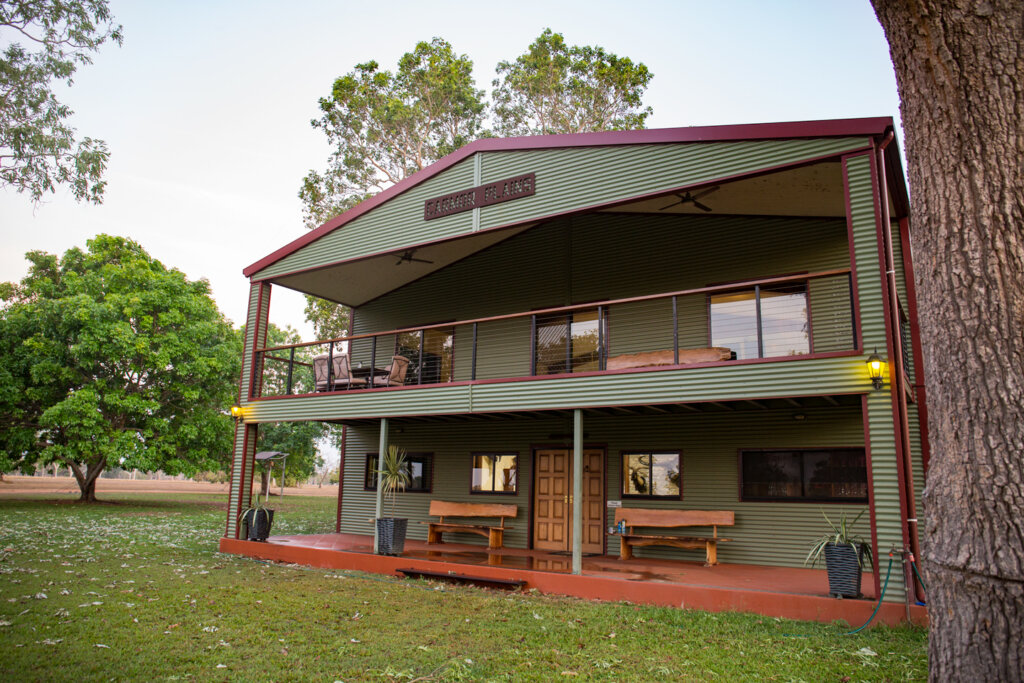 The area we were hunting is a giant floodplain bordering the world-famous Kakadu National Park. I was blown away by the ecological and biodiversity of the area. The area is also known for an extremely high density of water buffalo which we more than verified ourselves while hunting. It was not uncommon to see over 500 water buffalo a day, but as we learned in this area, it is not seeing them that is the problem, but it is seeing them in an area where you can stalk in close enough. Being true to their name, we would see hundreds of water buffalo everyday standing in 2-3 feet of water in the middle of giant floodplains with no true way to get to them.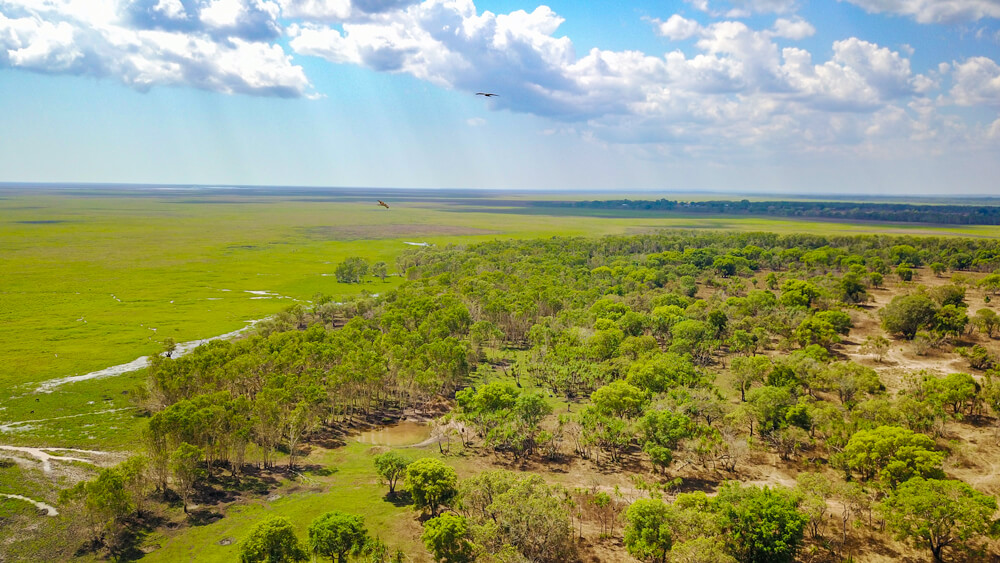 Water buffalo were introduced into Australia in the 19th century as a food source for the remote northern settlements. Because of their ability to survive and strive in wet conditions, their population has exploded and is approaching 150,000 today. Their numbers have increased so dramatically over the last few years that the water buffalo are starting to cause significant damage to the wetland areas, and because of this, hunters are very welcome.
Along with water buffalo, we were also hunting for Banteng. Banteng are a bovine species and are an extremely elusive and shy animal. As we would learn on our trip, they are also extremely skittish and startle easily, which made the hunting challenging as walking on the dry leaves would scare them from a long distance away. The Banteng population is heavily managed as they have not had the success in population growth that the water buffalo have had, so there are only a limited number of tags each year. The area were we were hunting, which is 100,000 acres of free ranging cattle ground and floodplain land, on average only takes 3-4 Banteng bulls each year. In the true sense of conservation, the revenue from these hunts is then put back into the area to create more habitat to help the Banteng thrive.
So in a way, we were hunting two extremes. The water buffalo's defense is to turn and face a threat straight on, versus running. The Banteng's natural defense is running into the thickest, nastiest cover they could find. This made for interesting days as we would leave the lodge after sunrise each day with the idea of heading into a certain area, not knowing if we would see Banteng or water buffalo first. But, seeing water buffalo was a given because of their density versus the lack of Banteng in numbers. I was hunting with my Dad each day, and on the first morning we were able to stalk in close to couple of younger bulls only to determine they weren't old enough. The plan was to hunt for 4-5 hours in the morning and then head back to the lodge for the hot hours of the afternoon which would be well above 100 degrees each day. Because of these high temperatures, the water buffalo and Banteng would all be bedded down during mid-day, thus making them tougher to spot in the thick brush and lush grasses of the floodplains. As luck would have it on day 1, we spotted a small herd of Banteng on our way back to the lodge and after about an hour of playing cat and mouse in the shifting winds, we were able to get to a spot in front of the herd. Dad was on the sticks and made a great shot on the herd bull, who was a truly great bull. This started the true work and after the bull was taken care of, we grabbed a quick lunch and headed back out for the late afternoon. We would find that the afternoons were extremely slow until the last 30-45 minutes of the day, but the sunsets every night were beyond beautiful.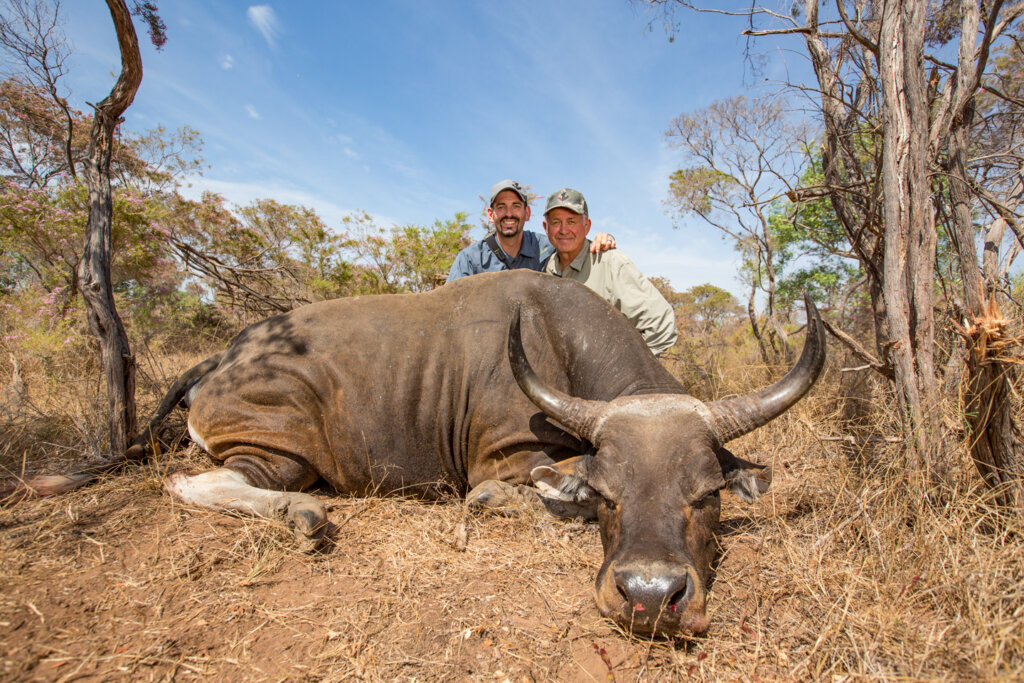 The next morning we headed out into the floodplains and saw two old bulls feeding together, allowing us to get the wind right and walk in from a good half mile out and get within 45 yards. By keeping the wind in our face and only moving when the buffalo had their heads down and feeding, allowed us to get quite close. This is when I learned exactly how tough a water buffalo is. I put a well-placed 460 nitro shot right behind the shoulder, which was followed by the bull jumping a bit but then he just turned towards me to see what had happened. I quickly followed with a 2nd shot and the old bull was down. I could tell that the buffalo was a big animal but it was tough to truly judge how big until we walked up on him, which I might add was done with extreme caution, as one swipe of a leg or horn wouldn't be good. The late afternoon on day 2 would prove the same as day 1. The only movement was in the last 30-45 minutes of the day. But, we had another amazing sunset and it was truly a magnificent sight to see the wildlife come out and start to feed.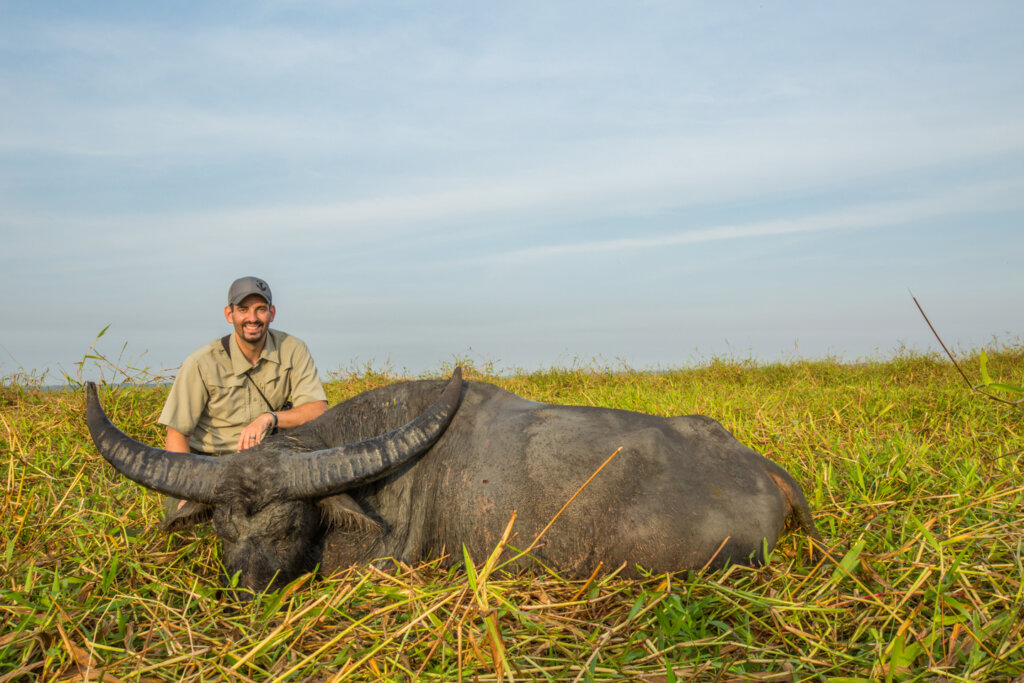 Day 3 started out with a couple of failed Banteng stalks, one of which the group of bulls disappeared as they heard us in the dry leaves. I'm not sure how animals of their size can disappear so quickly, but they were gone never to be seen again, at least not on this trip. The second stalk was an effort to go after a big bull in the middle of the floodplain. This involved us stripping off our boots and socks and heading out only to find we would have had to go above our heads to get to the area where the big bull was located. In the end, it was a great experience in learning how deep the mud on the floodplains is. But as it turned out, making the effort to go after the big Banteng bull, pushed us farther down the floodplain than we had planned on going. As we started back to our vehicle, we happened to catch a giant water buffalo feeding on the dry land just prior to the floodplain. A quick change in plans and Dad stalked in to 65 yards for a quick shot; my, how quick things can change in hunting.
The following late afternoon and all of day 4 was spent stalking my Banteng. We were able to stalk within a couple hundred yards but never got close enough to where we could get a comfortable shot off. The last morning of our hunt, we set off to an area where we had seen a handful of Banteng at different times during our trip. Our guide, Matt, had the idea of going into the floodplain area a bit farther than we had in the past; his hunch turned out to be a good one as we stumbled upon a herd of 30-35 Banteng. This was great but also challenging at the same time, as we had a lot of eye balls watching. The area they were feeding in was right on the fringe of the dry, thick brush and the lush grass of the floodplains. This allowed our stalk in to be quiet one as there were no dry leaves to navigate through. We made it to about 120 yards and that was as far as the cover would allow us to go. After waiting for a good broadside shot, I squeezed off a well-placed round on a magnificent Banteng. Upon walking up, I was amazed at the coloring of his hide and, again, shocked at how big their bodies are.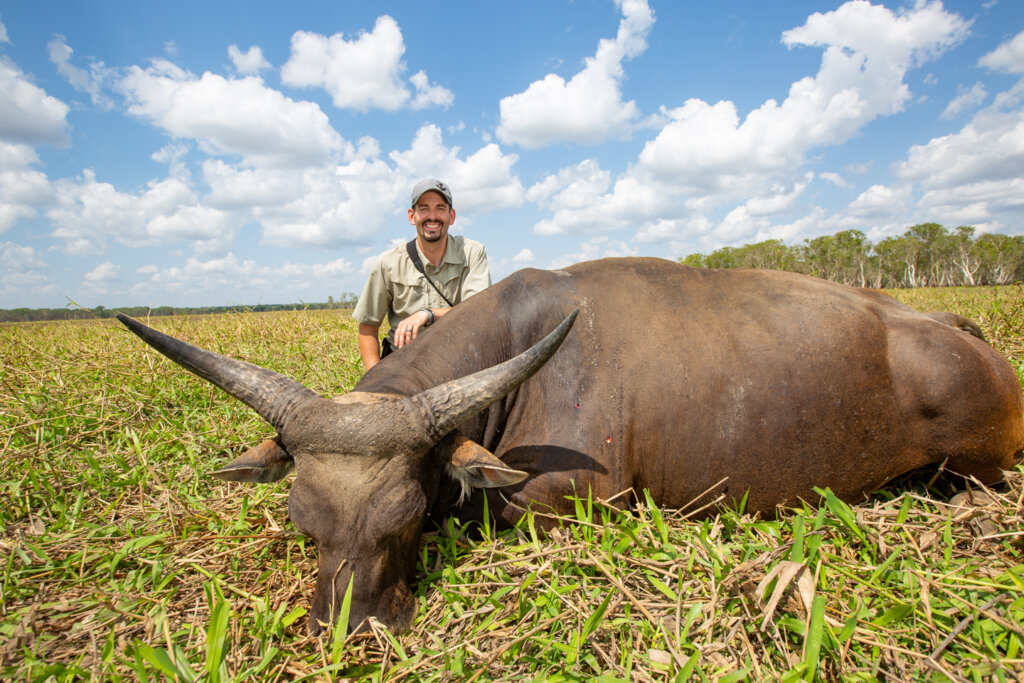 This was a great way to end a great trip to Australia. I know that we will be back soon as the hospitality, culture and hunting were simply amazing. There are a couple of great outfitters that we, at WTA, work with in Australia, depending on the type of hunt and the experience clients are looking for. If you have ever wanted to hunt the wilds of Australia, please give us a call (1-800-346-8747). Also, if you would like to do a Banteng hunt, please remember that the tags are limited and bookings are, usually, two years out.