One of the things I truly enjoy in life is being able to join my children in the Great Outdoors. Our life seems to get busier every day, especially as my children grow older and they seem to have either a sport practice, game or a school event just about every night of the week. It is truly amazing to watch all of my children grow and develop. But, no matter how busy our schedules are, the one thing that we will always make time for, is hunting. Why is this so important? Our special time hunting together is truly a good break from the busy world we live in.
With my children we've had many successful days in the field, but we have also shared many more days without taking our sought-after game. When measuring our time together, there are no unsuccessful days. I believe that hunting teaches responsibilities not only to children, but also to adults. Hunting is a healthy pastime, much more so than many of the other things done today. There is nothing that better teaches hard work and determination to a youngster than hunting. And, when everything comes together perfectly, it can be one of the most rewarding experiences children ever have.
Even though I do hunt with all of my children, I try my best not to push it on them. I give them the opportunity to experience hunting and let them determine their own level of passion for it. With my son Christian, he started hunting with me nine years ago when he was only four years old. Knowing a 4-year-old can't sit still for very long, we started out by slowly walking our deer hunting area in Michigan in search of a doe. On that first hunt we did not harvest our doe, but he had a great experience together, which was the ultimate goal. After our first hunt, he has joined me on deer hunts where we sit together in a blind waiting for deer to pass by. He really enjoys the deer camp atmosphere, hanging out with his cousins and sisters, and seeing his new friends at Salt River in Kentucky, where we have hunted each of the last three years. I still wasn't sure that he had the serious hunting bug, until he came to me last fall after our Kentucky hunt and asked if we could go bear hunting with Emily and Lance at Safari River in Saskatchewan. The previous year, Christian had accompanied me while I was bear hunting and he had really enjoyed the experience.
At Christian's urging, we made our plans to head north to Saskatchewan for the spring black bear season at Safari River. Having hunted with Emily and Lance several times over the past couple of years, I know there is no better place for a youngster to hunt black bear and experience a warm camp atmosphere. Emily and Lance run one of the best camps I've ever been to! In addition to plentiful game, the food, the atmosphere, the equipment, and the guides are all first rate. My only problem is that the food is so good, there is no doubt about adding a couple of pounds.
Travel to Meadow Lake, Saskatchewan is extremely easy. It is a quick flight from Michigan to Saskatoon and then we drove for 3 hours to camp. The Saskatoon airport is used by many hunters and is very hunter friendly, which makes travel in and out very pleasant. Upon arriving in camp, Christian went to the range to sight in in his rifle to make sure it was still on. More importantly, the range shots continued to build his confidence while shooting in different situations. Christian was using our Gunwerks 7LRM and it was dialed in and ready for the next day. This was the first time hunting that Christian would be using the 7LRM, as prior to this time, he and his sisters had been using a Gunwerks 6XC, which is perfect for kids as it barely kicks. I wanted them learning on the 6XC, as I didn't want them to develop a flinch when pulling the trigger. I did everything I could to limit the recoil, including not only the caliber and muzzle break, but also had them set up on tripods.
Lance had a number of stands ready to go with big bears coming in, but there was a particular stand he had for us as it was a double ladder stand and also had a camera stand above for Grant. Grant would be filming the hunt for TV as well. This stand was also set back from the bait a bit further, which would allow Christian and me to whisper as he got ready for a potential shot. With Lance, we went over trail cam pictures of the bears that had been hitting that particular bait and there were three old bears, each of which had big body and pumpkin heads. Any of the three old bruins would be perfect for Christian's first bear.
With spring bear hunting, there are odd hunting hours, as you don't go out to the stand until after lunch. Then you sit and wait the 9-10 hours until dark. As we headed to the stand that first day, the weather wasn't perfect as the wind was swirling but fortunately the temps where good and there was no rain in the forecast. We got set up in the stand and I practiced with Christian getting the gun up in the rail to shoot. This was the first time that Christian would be shooting off of a rail, although he had practiced many times off of a tripod. He seemed extremely confident each time getting set up on the rail. Knowing that a wounded bear in the swamps of Saskatchewan can be extremely tough to find, we were going to wait for the perfect situation.
After a couple of hours, the first bears came into the bait, and we watched a mother and her three cubs. As the bait was 120 yards from us, we used this opportunity to see what movement and noise we could get away with. The bears were around us for a good two hours, going to and from the bait many times. Later that afternoon, a younger boar came to the bait, but unlike the sow and cubs, the boar came in and was not seen again that day. Knowing that the bears would vary their times at the bait, we had to always be ready for the time when one of the older boars came in. Bears on bait don't stand still as they always seem to be moving, standing in the wrong position, or sitting. All three of these awful shot opportunities were ones that Christian would not be shooting at. The ideal was to have a bear standing broadside or slight quartering to or away. Hopefully, we would get this perfect opportunity. As the day turned into night, we were picked up and went back to the lodge for another amazing meal and stories around the camp fire.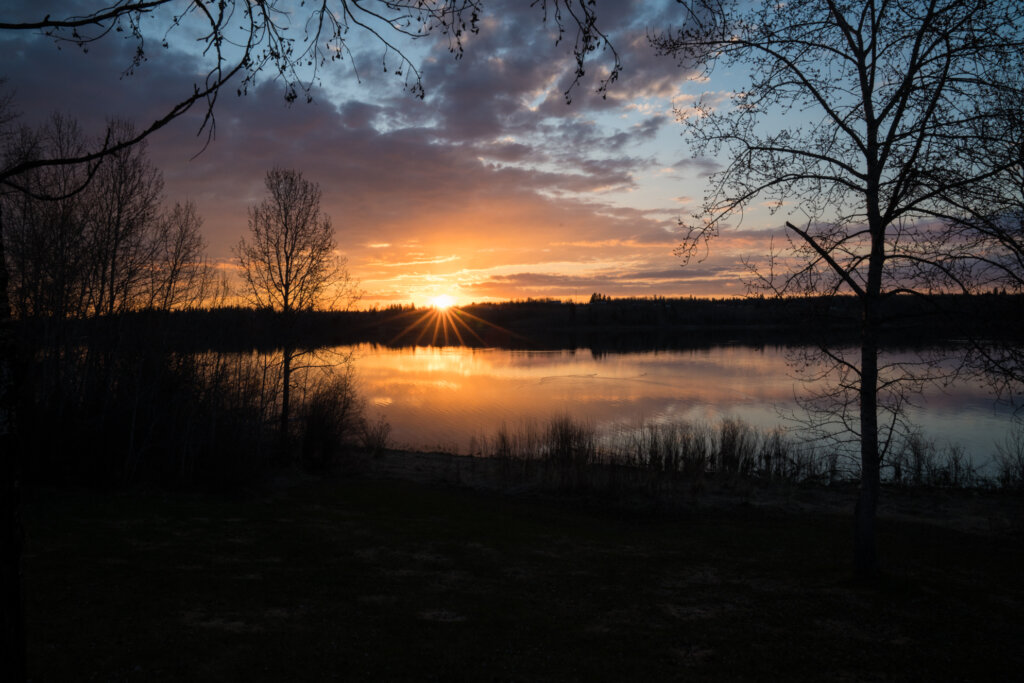 The plan for the next day was the same as we arrived and were set up in our stand by 1 pm. Much like the previous day, the sow and cubs arrived, but after a couple of minutes the cubs ran off and went up a tree. The sow became defensive. Two minutes later, one of the old boars walked in. Christian quietly got his gun set up and ready; he was waiting for me to give him the ok to shoot. The old boar was at the back side of the bait and he didn't present a good shot. The old boar ate at the site for over an hour, but he always kept on the back side of the bait. As the boar was getting ready to leave, he did a quick circle and walked in front of the bait right into Christian's shooting lane. As he came in, he paused quartering to us, and I messed up. I hesitated telling Christian to shoot, and by the time I convinced myself the shot was a good one, the boar disappeared into the swamp and was not seen again that afternoon.
In talking with Christian after the bear had left, he was ready and confident he could have made the shot. In our many, many practices at this distance, Christian was rock solid while either hitting the bullseye or being within an inch of it. After our experience with the boar, Christian was not the least bit nervous. I, on the other hand, was a bit shaky. Day 2 would end with a different sow and a small boar coming in; none of the other older boars showed up. That night, Christian and I went over how quickly the bear was in and out of the perfect shot situation. We wanted to be prepared if the situation happened again.
Our third day at the Safari River Lodge, started off with fishing out in front of the lodge. It is amazing that some the best fishing in the world is right out the front door.
By 1 pm, we were back in our stand. On this day, the wind was lite and blowing from the bait into our face. It felt like a perfect day to be in the great outdoors. Two hours after arriving at the stand, a large older boar circled the back side of the bait, again spending the majority of his time there and we had no shot available. After 90 minutes of watching the bear in front of us, he started a wide circle that would bring him out in front of the bait. This time as he came in front, and hesitated to look back at the bait, I whispered "ok". In a second, the bang went off.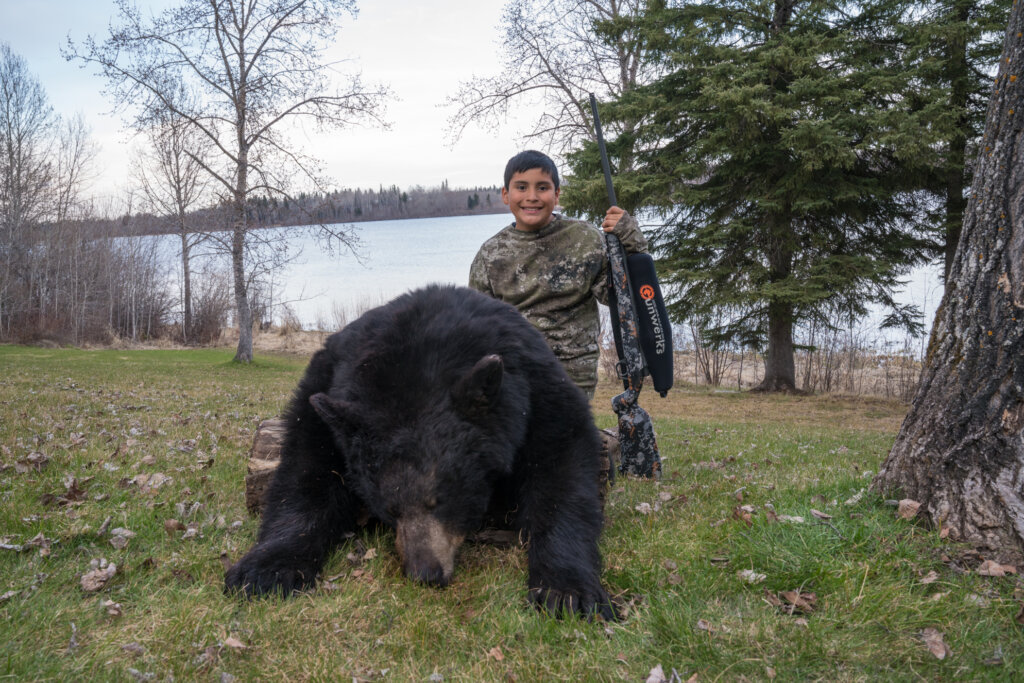 Christian was ready and made a perfect shot. The moment after this happened, is one I'll remember for the rest of my life. I was shaking, we were both fighting back tears of excitement and we had the hug that only a father and son can have. After waiting enough time to make sure the bear was down, we climbed down from the stand. As expected, the boar had only gone a few feet into the brush. He was a great Saskatchewan black bear. After photos, Christian couldn't wait to get back to the lodge to show his Mom his first bear. Back at the Safari River Lodge, it was all smiles and hugs! This hunt will always be an amazing family memory, as hunting with my family is the very best!!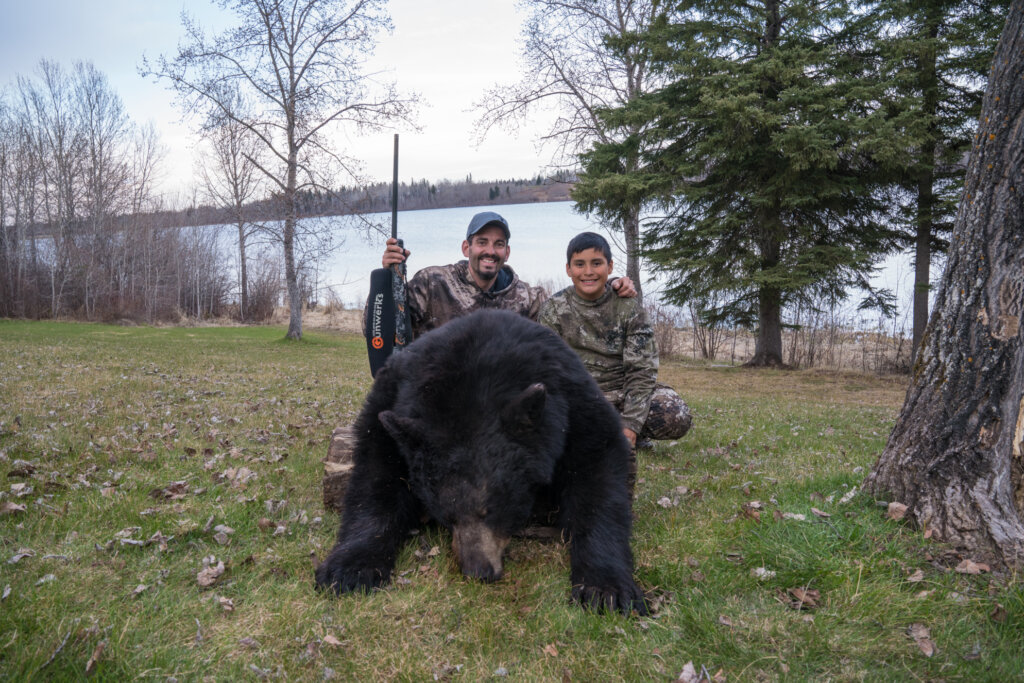 Emily and Lance, thank you. You guys are amazing and run a fantastic operation. You are a part of our family and we can't wait for our next trip to see you!