With my grandson, Alec, living quite near to me here in western Michigan, I have had the opportunity to teach him a bit about hunting. We started target practicing together when he was six years old. Alec has always had a knack for shooting and he loves to spend time in the woods. This combination has led us to small game hunting, turkey hunting and whitetail hunting in the rolling hills and forests where we live. When Alec was eleven, we went together to the Gunwerks School in Cody, Wyoming. I learned a lot about what I had been doing both right and wrong while shooting, and so did Alec. He was proud of the fact that he hit the 1000 yard target 5 out of 6 times. Once home, he pestered his Dad enough so that he soon had his own Gunwerks 7 LRM. While Alec was twelve, he had an absolutely fantastic year taking two nice bucks here in Michigan, one in Kentucky and a great black bear in Saskatchewan. Alec knew how to shoot his new Gunwerks.
Alec and I have spent a lot of overnights at our river cabins, which are on our property where we most often hunt. One of these cabins has mounts from my first African hunt. Through the years, Alec has asked me, several times, the stories behind each and he always asked "When are you going to take me Grandpa?" One thing about hunting here in North America is that when we go hunting, we go "deer hunting" or we go "turkey hunting". During our conversations I explained that unlike hunting here, in Africa you never know on a given day which animals you might see. When Alec turned thirteen, I told him he was ready for Africa. I booked our safari with WTA.
Prior to our hunt, Alec and I practiced with his Gunwerks 7 LRM using sticks from various angles and distances to the target. The kid knows how to shoot and he loves to practice. We packed our bags and headed for an early July hunt in South Africa. Alec was excited and ready for his first trip to Africa.
Getting into South Africa with a minor is not easy. Travel with Guns did our airfare package and they made sure that Alec and I had the correct notarized 11 pages of documents that allowed a thirteen year old to gain entry, and hunt, without both his father and mother present. Knowing that we were not hunting in rural Michigan, Alec and I were also signed up with Ripcord.
We started our hunt at a 45+ square mile government game reserve in the Orange Free State. The reserve has a lot of game but no predators within the reserve. For conservation and to limit over grazing, the local authorities sell hunts in the winter off-season (our summer) for specific animals that are in over abundance. We had our quota and upon arrival, tested the Gunwerks after air travel. The first shot was "off" but after discussion, we decided it wasn't the rifle, but anticipation and excitement. The next couple of shots were "on" and we were ready to start the next morning.
It doesn't matter how old you are, whether you are thirteen or seventy plus, that first morning of a hunt is special. At the reserve, it was something beyond special as we saw thousands of different Plains Game some of which were, along with a Cape Buffalo, on our quota. The first animal up was a mature Black Wildebeest and "excitement" led to a clean miss. Unlike most African hunts, due to the wide open plains at this reserve, the shots were 200-400 yards. After discussion about trigger pull, breathing and relaxing, Alec and his Gunwerks went to work. On our hunt at the reserve, Alec harvested a giant Eland, an old Black Wildebeest, and a beautiful Kudu. The trophies were very nice and I must say, larger than Grandpa's first trip to Africa.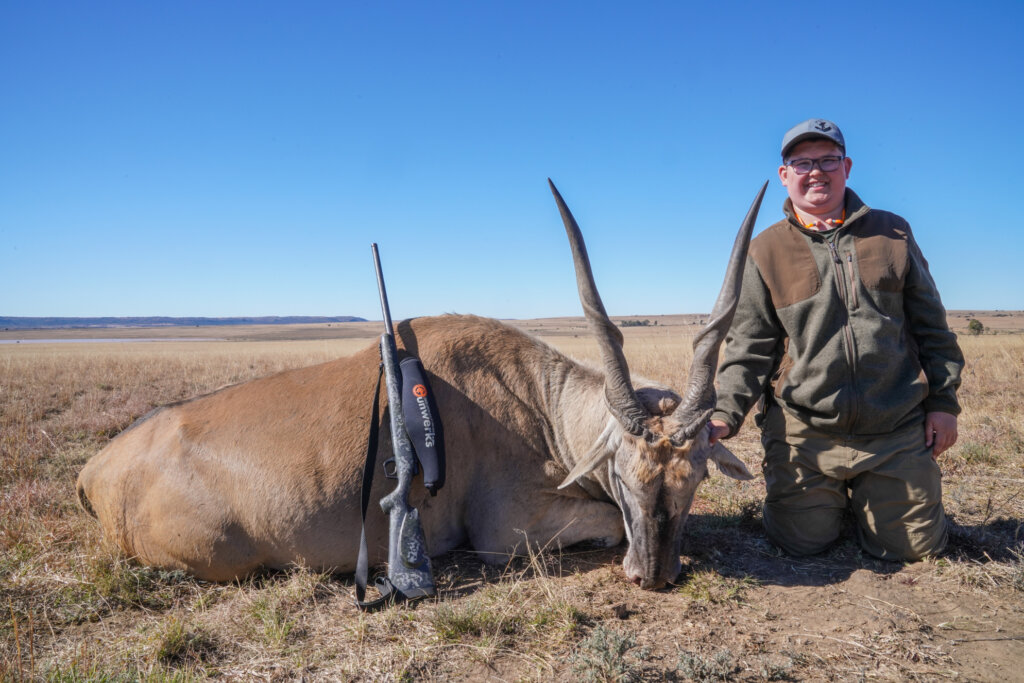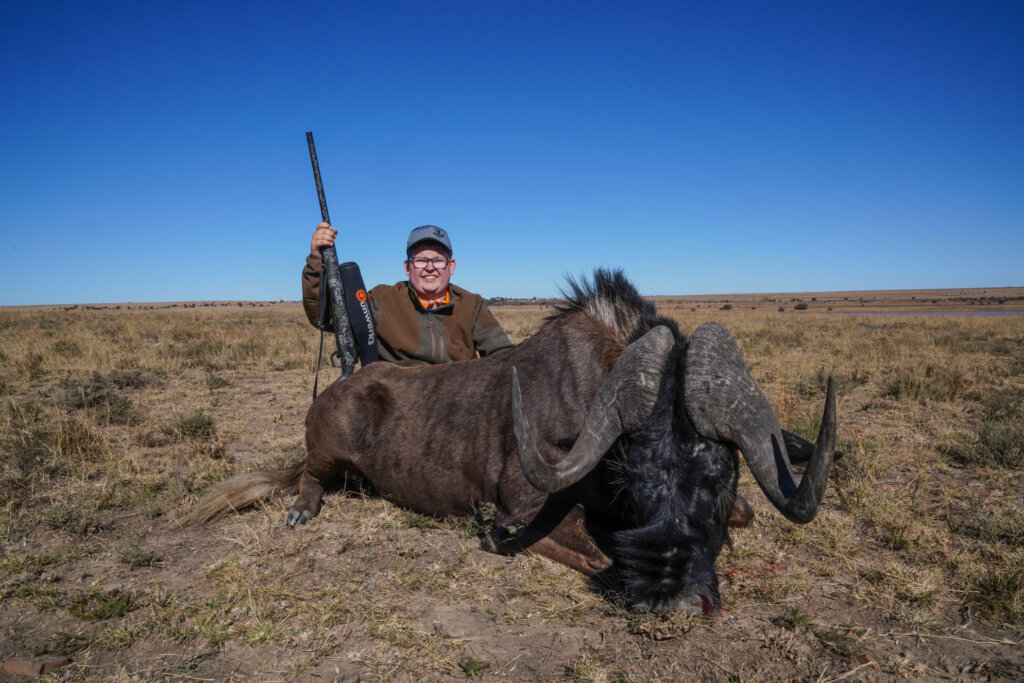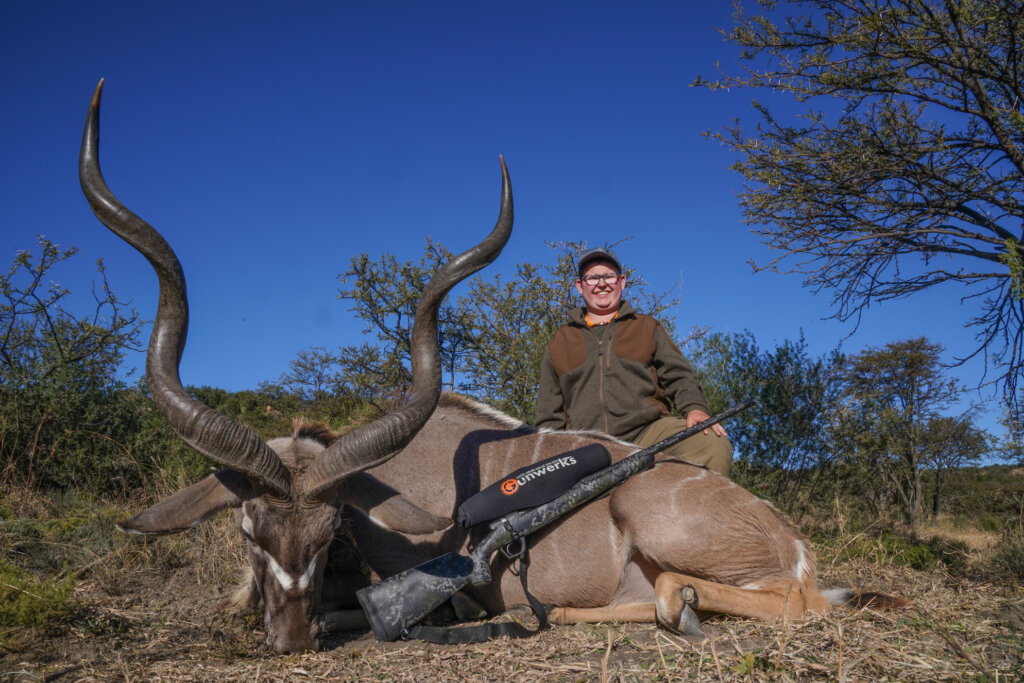 Our last animal at the reserve was a Cape Buffalo. Not wanting to go after him with a 7 LRM, Alec was loaned a bolt action Bruno 375 to use. During practice, Alec proved he could shoot it off of the sticks. During our Plains Game hunts, we had seen an extremely old Dugaboy by himself, in three different small patches of wet, thick tall grass. He was no longer with the herd and had spun off to be alone. On our final day at the reserve, we decided that he was the one we were going after. We found him again, and moved around so we could approach him with the wind in our face. Alec was in the center on the sticks with our PH, about 100 yards from the buffalo. As backups, I was on his left with a rifle and another man, also with a rifle, on his right. Alec took his shot and hit him. He hit him again and the buffalo moved out of sight back into the tall grass. As anyone who hunts in Africa knows, you treat a buffalo with lots of respect. We waited outside of the tall grass and listened. We could hear the buffalo. Instead of a direct approach we decided to circle the tall grass area, to see if we could find him. On the other side, we found him just in from the edge, looking back in the direction where we had taken the shot from. Alec was back up on the sticks and hit him a 3rd and 4th time and he dropped into about 18" of water. This old Dugaboy was a true trophy with big, worn bosses.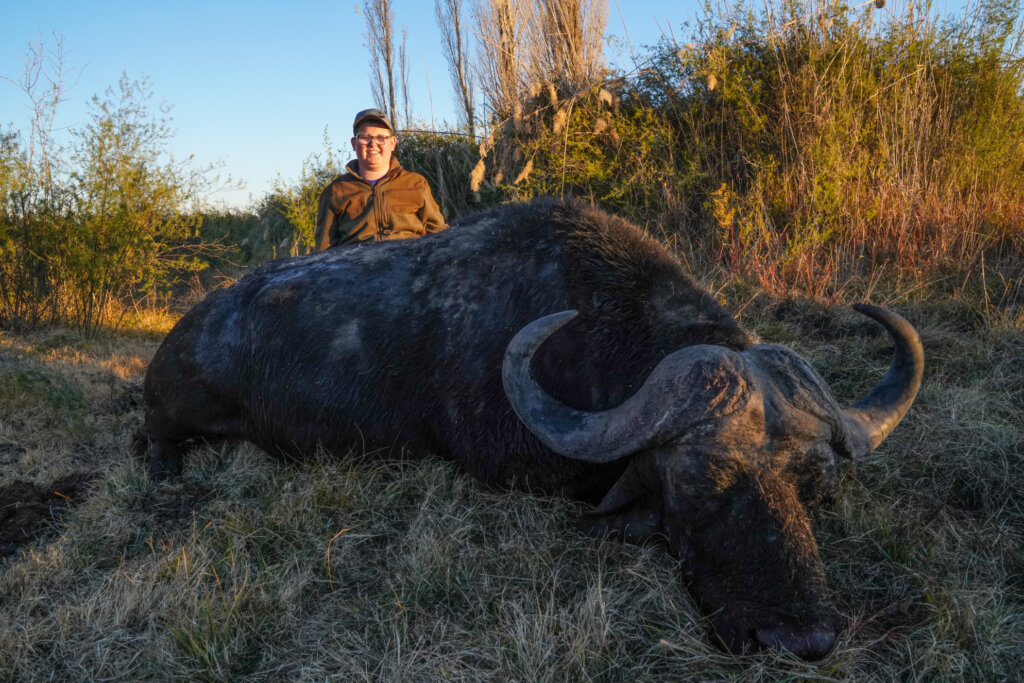 Grandpas being Grandpas, and we still had some days left to hunt, so arrangements were made to drive 8 hours to the province of Limpopo, which borders Zimbabwe. The reserve there was 65 square miles in size and more like the traditional African terrain I was used to hunting in. We used our time to our full advantage, hunting daylight to sunset. In Limpopo we used two hunting techniques. During the morning and evening, we hunted spot and stalk, shooting off of the sticks. During mid-day, we sat in hastily made ground blinds overlooking water holes. Shots here were in the 100-200 yard range, and Alec and his Gunwerks 7 LRM collected a mature Waterbuck and an elusive Lechwe.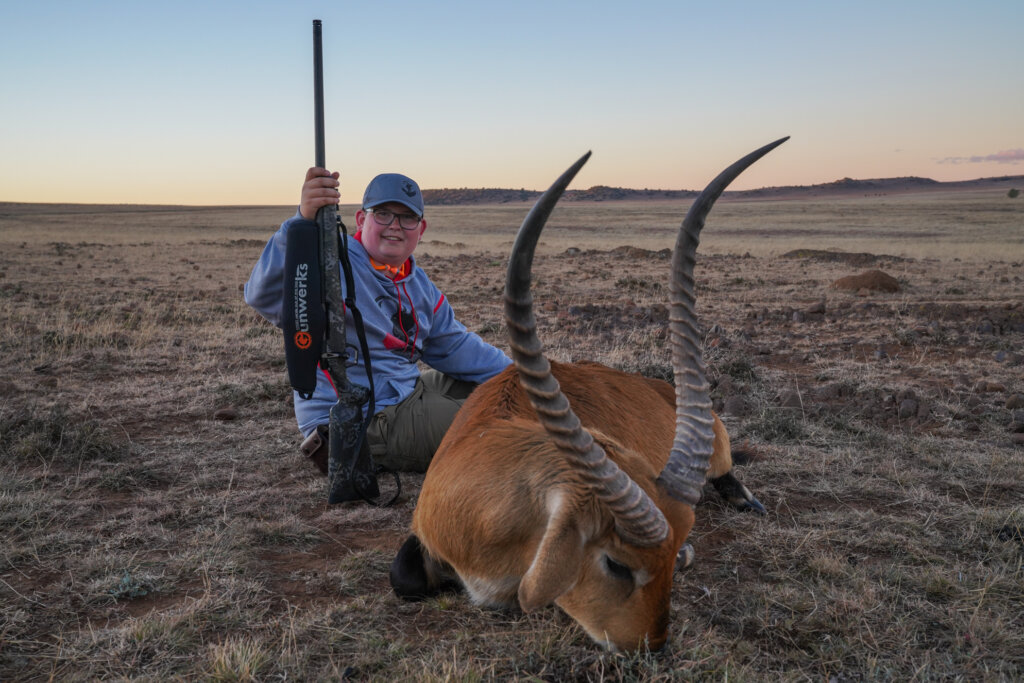 While in Africa we tagged the trophies for shipment back to Michigan. D & L Custom Brokers out of Arlington Heights, Illinois are handling shipping and customs clearance for us. Back in Michigan, the Wildlife Gallery, in Blanchard, will be doing the shoulder mounts. The Wildlife Gallery does absolutely fantastic work on African trophies.
Arriving back in Michigan, Alec now had his own stories to tell his parents, sister and friends. He also had a request for his Dad. How was he going to earn a Gunwerks 375 for his next trip, with Grandpa, to Africa?