This two part blog series features the adventures of WTA Consultant Tim Herald, as he travels to Spain in search of Ibex.
PART 1 – Beceite Ibex & Sierra Nevada Ibex

If you get to know me at all, you will quickly learn that I am not a species collector when it comes to hunting and fishing. I am a collector of experiences, and hunting and fishing trips are a great way to see the world and get out there well beyond what normal tourists see. It is the desire to experience different cultures, see different locations, and hunt with different people that led me to Spain in search of Ibex.
I have now been twice and have been able to see many different locales, habitats and ways of life as my friend and outfitter Vicente Gil pursued the four different ibex of Espana. I can't cover both trips in one piece, so this will be a two-part article.
I will pick up the first trip in the town of Almeria on the southern coast of Spain. It was February and the temperatures in town were in the mid-70's. It was nice to leave home in the dead of winter and be able to sit outside and enjoy the abundant, and very inexpensive, seafood that is seemingly everywhere in this area. I absolutely fell in love with small cuttlefish sautéed in their own ink, olive oil and garlic, as well as the fresh octopus and langostinos (much like baby lobsters) that were available everywhere.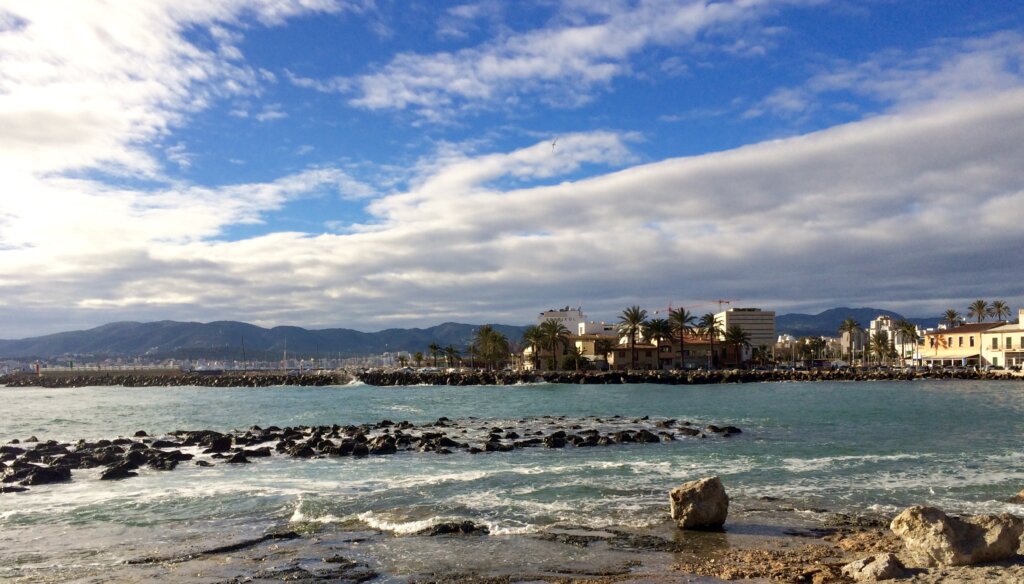 When we headed out to hunt Sierra Nevada ibex, we drove about an hour from town, almost all of which was up. We met our government game scout, Gaspar, and began glassing for ibex. After a couple of hours, we saw a group of ibex in the distance around the mountain and a good bit above our glassing point.
Vicente decided that it would be the smartest thing for me and Gaspar to go it alone without either he or our interpreter Ionela. Now Gaspar was all business and very military, and he spoke about as much English as I do Spanish. I figured this would be rough.
We headed up in knee deep snow, yes the temperatures were wildly different on the mountain, and after slipping, sliding, glassing and sweating, we found ourselves across a small drainage from the herd. I ranged the ibex at 169 yards and tucked my .300 Win mag into my backpack as a rest.
The big billy was bedded, and I wanted to wait for him to stand for a shot. I lay there for about 40 minutes, and the gusty winds quickly froze my sweaty body, before he moved. Within seconds I touched the trigger and dropped him. Gaspar became much friendlier on the hike out, and we all had a wonderful seafood dinner that night with great wine and camaraderie. It is funny how a successful hunt can bring people together.
We then drove six or seven hours up the coast to the northeast, and ended up in Peniscula. This city has an ancient castle on a jut of land that was the origin of the work peninsula, and at one point the Pope lived there. It was a great learning experience as I love history, and again we ate seafood, this time on a dock restaurant where the boats were unloading their catch about 15 feet from our table. After the meal we drove up into a quaint village in the mountains where we would hunt Beceite ibex.
Vicente had seen an absolute giant billy in the area we would hunt, and he wanted to put in some time to try to find that certain ibex. Our scouts for this area were Silvino and Oscar, and the guys new the mountains like their own bedrooms.
We eventually found the giant ibex with a few other really nice billies. We got to about 450 yards and he was in the open, but there was a 25mph crosswind and sideways snow, and I just didn't feel comfortable with the shot. We slipped closer, and at about 300 yards, I was setting up my shooting sticks when the ibex walked back into the timber. We waited there for about 8 hours until dark, but he never showed himself.
We were back just after daylight, and it was the last day of the trip. When the sun began warming the mountainside where the ibex had been, we saw all the other billies from the day before, except the big boy. So again, we waited.
By 2:00PM, I was sure things were not going to work out, but about 3:30, the big guy just appeared maybe 250 yards from where he had been the day before. The wind was still very high, but I had studied some ballistic tables the evening before, so I had a good idea of drift. I was using a 16x Nikon scope with BDC reticle, and as the ibex was 325 yards away, I used the first circle down as my aiming point. I hate trying to guess holdover.
When I touched the trigger, the billy hunched up and took off down the mountain. I pulled out in front of him and connected again as he went out of sight. It took us over an hour to get to him, but man oh man, was the time and effort of the whole thing worth it! I could tell how very special he was because everyone wanted their photo taken with the magnificent animal, and when we went to the government office to check him in, the officer there said he was the largest he had seen come from the area in the 15 years he had worked there. I am not a record book guy, but I looked up where he would score, and he would have ranked #8 in the world. I did not enter him in the book.
So ended my first trip to Spain, but I had fallen in love with the country, its people, its culture, and its hunting. Before I got on my plane home, Vicente and I had already hatched a plan for my return to hunt the Gredos and Rhonda ibex and see more of beautiful Espana.