THIS TWO PART BLOG SERIES FEATURES THE ADVENTURES OF WTA CONSULTANT TIM HERALD, AS HE TRAVELS TO SPAIN IN SEARCH OF IBEX.
PART 2 – GREDOS IBEX & RHONDA IBEX
In part one of this story, I wrote about my hunts for the Beceite and Sierra Nevada ibex in Spain. On that trip, I decided I had to come back, and hunting the other 2 subspecies, the Gredos and Rhonda ibex, seemed like a good plan to experience different hunts and see different parts of Spain.
I flew into Madrid just the Monday after Thanksgiving 2016, and Vicente Gil picked me up and we drove to the village of La Alberca, where we would be based for the Gredos hunt. It was a beautiful quaint village with friendly people and wonderful food. I had looked forward to eating some of the delicious Spanish jamon (ham) for a year and a half, and it did not disappoint.
Once again, before the hunt we met up with some local game scouts and away we went. The ibex were in rut, and it didn't take long for us to locate a few groups, and every one seemed to have a big billy as the boss. We found one group about 1000 yards away that had a great billy, and they were actually below us. Vicente said he was a good one, but wanted to press on around the mountain to an area where the scouts had been seeing a lot of animals.
We got to a good lookout, and there was a big billy and a smaller one peering over a cliff, skylined about 600 yards away. They were on a ridge above us, so we tucked back in for a chat. I told Vicente that both billies in both groups looked good to me, and he said they were similar in size. He suggested we go after the high one first, and if it didn't work out, we had a plan B on the low one.
We backed around a point and began to climb, and sweat. Once on the ridge, we moved from rock to rock glassing and moving slowly. We saw a small male and some females, but it took a while to find the big billy. When we did, he was only 80 yards away, but we could only see his horns.
Eventually he and a buddy moved off, and it took another hour maneuvering around to find them again. When we did, there were more than 50 animals in the herd, and of course one spotted us, and they all took off.
They dashed down into a drainage, and I figured they were gone for good, but then some emerged on the other side of the draw to go up and over. I got ready to shoot, and luckily the big billy trotted out in the open, and I was able to make a good shot and drop him.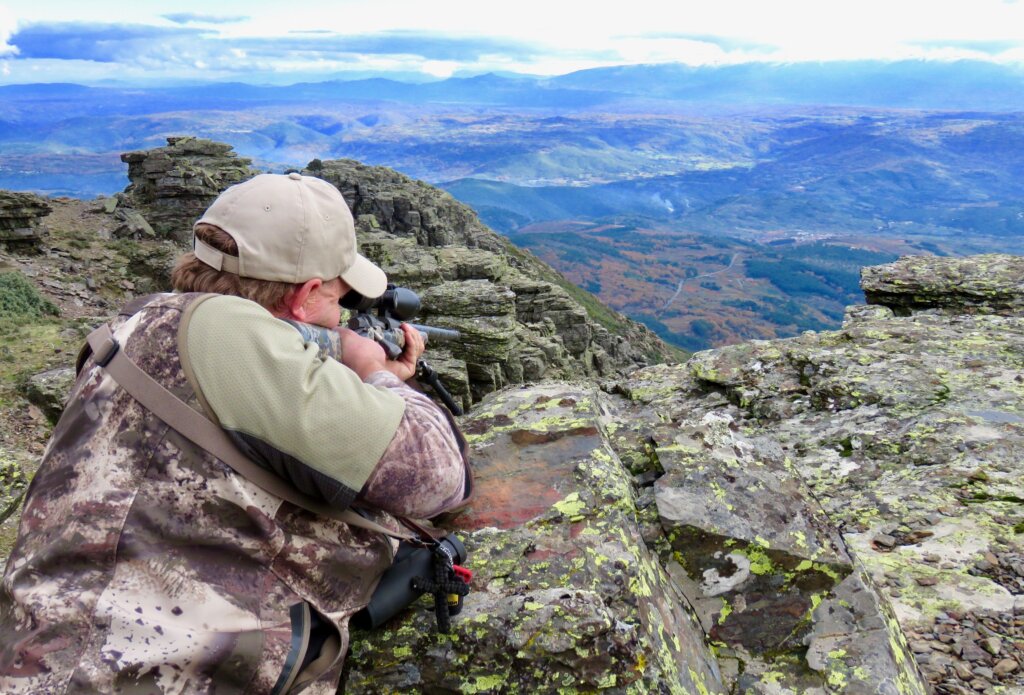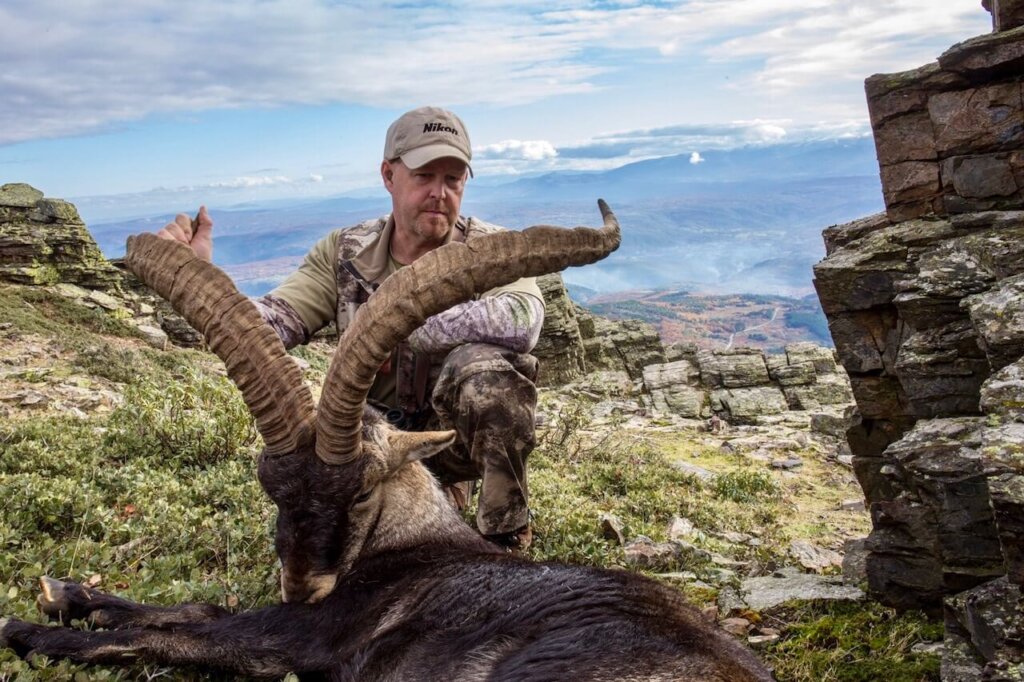 He was absolutely magnificent with hug sweeping horns, and we aged him at 12 years-old by his growth rings. I felt very blessed to have taken such a special old animal.
We had a great dinner that evening, and the next morning, we drove about 7 hours south to a small village just north of the city Malaga. This was to be our base for hunting the smallest of the four Spanish ibex, the Rhonda.
We found many ibex, but the weather was our nemesis. While I was there, they had a 30-year rain event that flooded the lowlands, and there were days that visibility was under 100 yards due to heavy fog.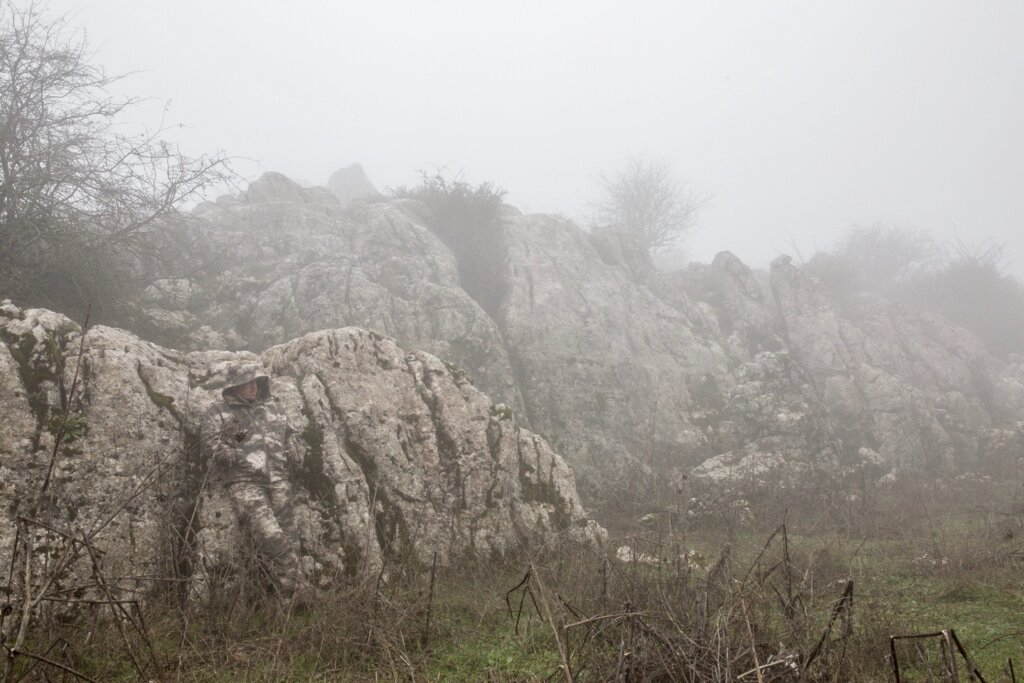 One day we got a break, and drove around to glass. We glassed a high mountain from the bottom, and spotted a small billy on the highest rock. Vicente told me the we would climb up and hunt. I thought we were going after the small billy, but that was lost in interpretation. It was a LONG and very steep climb to get to the top. It was one of those situations where you just keep telling yourself to just put one foot in front of (or in this case, above) the other, and keep going.
Once we reached the top, the area was scattered with huge rocks, and there was patchy fog. We saw some nannies, and we began moving and glassing. I then realized we were not going for the small billy as he was still in sight, and I was quite relieved.
We went over the ridge and a huge drainage ame up from the bottom and we began glassing the far side. Suddenly Vicente grabbed my shoulder and hurriedly pulled me behind a boulder and said "grande macho ibex." I could figure that one out, and I too got excited.
I peeked across with my Nikon binos, and saw a band if ibex, but I could not see a big male. I knew these were the smallest of all the subspecies, but all the billies I saw looked tiny. Vicente eventually pointed the big male out, and I ranged him at about 450 yards.
We decided to crawl as best we could to try to cut some distance, and we ended up at 325 yards. Luckily a bit of fog rolled in, and it helped mask our movements. Lucky that is until I got ready to shoot. I dialed my turret to 325 yards, and as I was knocking my safety off, a heavy fog bank rolled in and completely blocked my view. I was in disbelief. I literally needed two more seconds.
I lay there impatiently waiting and after about ten minutes, the fog thinned. I was actually surprised that the billy was still there, so I didn't waste any time. I hit the safety again, settled the crosshairs on his shoulder and touched the trigger. The billy crumbled on the spot, and I could see one horn above the rocks where he lay.
We were all elated, and after a few hugs and handshakes, we began the hike over to the ibex. It was quite a chore to traverse all the rocks on this mountain, but we finally made it, and he was just gorgeous. Honestly, he was much larger than I expected for a Rhonda ibex, and he was wider than any I had ever seen in photos. What a fantastic way to end my second trip to Spain.
All of the four ibex lived in different terrain and provided completely different hunts, but all were special for their own reasons. Hunting Spain is a true joy, and I will go back one day, if nothing else to eat good food and see good friends, but I'll probably find a way to squeeze a hunt in too.