This time of year, hunters are typically looking to book whitetail hunts. Results for drawings in many western states are in and those who didn't draw (and those who did) now know open dates on their hunting calendar and they're looking to fill them with quality experiences. For many, that means the pursuit of trophy whitetails.
Fortunately, there are still good whitetail opportunities out there and I can help you get a jump on filling your calendar with suggestions of three highly-recommended whitetail outfitters. When I think of these three outfitters, here's what I know.
Anyone who chooses any of these destinations will be in good hands and treated to a hunting experience that covers all the bases: quality accommodations, hearty meals, friendly and knowledgeable staff, well-managed properties, and legitimate opportunities for trophy animals. Each of these three outfitters is going to do a great job doing whatever they can to get you a good quality deer and a memorable hunting experience. And, as much as I hate to talk about inches and size of animals or get into measuring contests, since that is just one aspect of deer hunting, each of these destinations has the true capability of producing real giants. Let's say they have the ability to exceed expectations.
Let's start in Ohio. This is a new destination for WTA, new to booking any hunters. It has some uniqueness to it and is a really cool family-run place. It's a brand new lodge with a maximum capacity of four hunters, the limit they will host for the week. There are about 3,000 acres of well-managed deer habitat, food plots, bean and corn fields, and rolling woodlands. In summary, the ideal combination of food and cover to grow big whitetails.
And here's the kicker. Though they've managed this property for big whitetails for years, this is the first year they're bringing in hunters. Let that sink in for a moment.
We have one archery spot open right in the prime November 14–18 timeframe, for five full days of hunting. We also have two spots open in the firearm season. Firearm hunts are seven days and what I like is that Ohio firearm season is later than the typical firearm season. I think that's why Ohio always stands in the Top 5 of producing big deer every year, because they aren't firearm hunting during the rut.
And we have four muzzleloading slots available January 7–10 (four full days of hunting) during prime cold-weather time. I equate this muzzleloader hunt to the coveted late-season Iowa-type hunts, maybe not on size of deer but I haven't seen a lot of properties like this where I believe there's an opportunity to kill a true giant. Obviously, this late-season hunt comes down to weather. You want it blood-curdling cold. When it's colder than heck, those big post-rut bucks that are traditionally nocturnal really don't have a choice. Mother Nature tells them, "Hey, you need to get on your feet and get food."
This muzzleloader hunt is a little different. You're going to give the deer the food plots in the morning, because cutting across them all you're doing is blowing deer out. So on a typical day you sleep in a little and get in the stand just after lunch, then hunt until dark. Essentially, it's a four-hour afternoon hunt each day watching the deer parade come out.
I like this hunt a lot.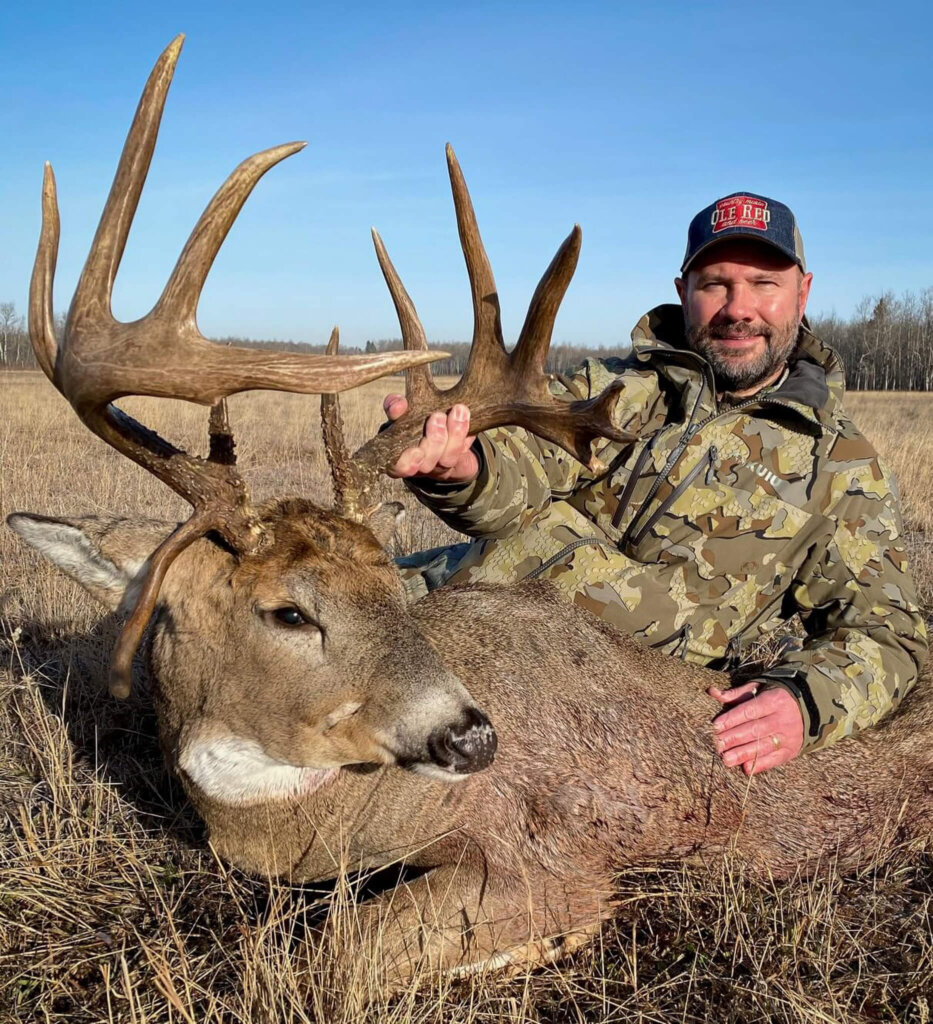 Legendary Saskatchewan Whitetails
Last year Saskatchewan was off the charts. With big, big deer brought in. We still have some great opportunities, both archery and main-season rifle hunting and, again, I really like that late season. But the thing I love about Saskatchewan is at any given time, the buck of a lifetime could come walking around the corner.
In Saskatchewan, their primitive-weapon season—archery or muzzleloader at the same time—starts in September. But we prefer the October 24–29 timeframe, right before firearm season starts. And we have some good openings, but those who have seen the results coming from this outfitter know these are likely to fill fast.
We have three firearm spots open during the first week of November, the start of firearm season, which is traditionally a great week up there. And, the same as I talked about in Ohio, I like that last week in November when you'll be hunting post-rut deer.
This is big-woods country, with productive fringe areas and a comfortable lodge. Big country. You can run game cameras all year long and never be sure what's out there. In 2019, before COVID, a hunter was out to kill a good, mature buck, something in the 170-inch range, which is not a giant at this particular outfitter, but the kind of deer this hunter had in mind. On the first day, he killed a 202-incher. The outfitter, who we've worked with for 30 years, said he might have a game-camera photo of that deer when he was two-years-old, but hadn't seen him for six years. He couldn't even guarantee it was the same deer, just a giant deer living on the property for years without anyone knowing about him. That's how big, how well managed for habitat, this area is.
That week, hunters also killed two deer that went over 180.
And that's a testament to why hunting Saskatchewan is so cool. You throw all the rules about whitetail hunting right out the door. As long as you're sitting in a blind in Saskatchewan, you have a chance of killing the deer of a lifetime.
We have three openings for Week 1, one opening in Week 2, a couple openings over Thanksgiving, and  one opening during the last week. A handful of archery spots are also still available.
You should take a look at our website at the button below. The first 14 photos are deer from last year. It's such good country…big country right on the X. You couldn't have better whitetail habitat. And having two years off for COVID allowed everything to grow. Those 4½-year-olds are now 6½. The legend continues.
South Dakota Trophy Whitetails
One of the best hidden honey holes for bowhunters is this ranch in western South Dakota where that's all they do, archery whitetail hunting.
Most  ranches you hear about in South Dakota are also pheasant-hunting operations. Not here. They specialize in archery whitetails…period. And they hunt only the month of November (during the rut) and only four hunters a week for three weeks.
You have a legitimate chance of killing a 150-plus deer with your bow, and a true chance of killing a 170-plus deer.
South Dakota is such a unique whitetail state because it's not all the type of terrain most people think whitetails live in. This ranch is big, open prairie country with cropland, CRP, creek bottoms, food plots, and you can be sitting there glassing and wondering "Where do the deer live out here?" Then all of the sudden, in that bewitching hour, deer start standing up in the CRP or walking out of swamps or out of that tree row. It's a unique hunt for bowhunters, a really cool hunt.
You'll mainly hunt travel routes, scrapes, rublines, and buffer zones around bedding areas. This is a well-managed ranch and the outfitter diligently manages for trophy quality, which is why they take only a few hunters each year. They're interested in producing big deer, not big numbers of deer.
A major plus is the newly constructed lodge and excellent meals. It's South Dakota, so expect to eat some of the best beef you'll ever taste that's been raised right on the ranch.
Call 800-346-8747. We'll be happy to talk more about whitetail hunting with you!