Wyoming has long been known to have some of the best big game hunting in North America, but it is often overlooked for the quality and diversity of its upland hunting opportunities. In reality there are very few areas that offer the diversity in upland species and terrain for an upland hunt. The biggest draw, for upland hunters going to Wyoming, is the opportunity to hunt some of the best country for Sage Grouse. Wyoming has over 43 million acres of sagebrush and has an estimated 37% of the total Sage Grouse population. It is a top destination for Sage Grouse hunters.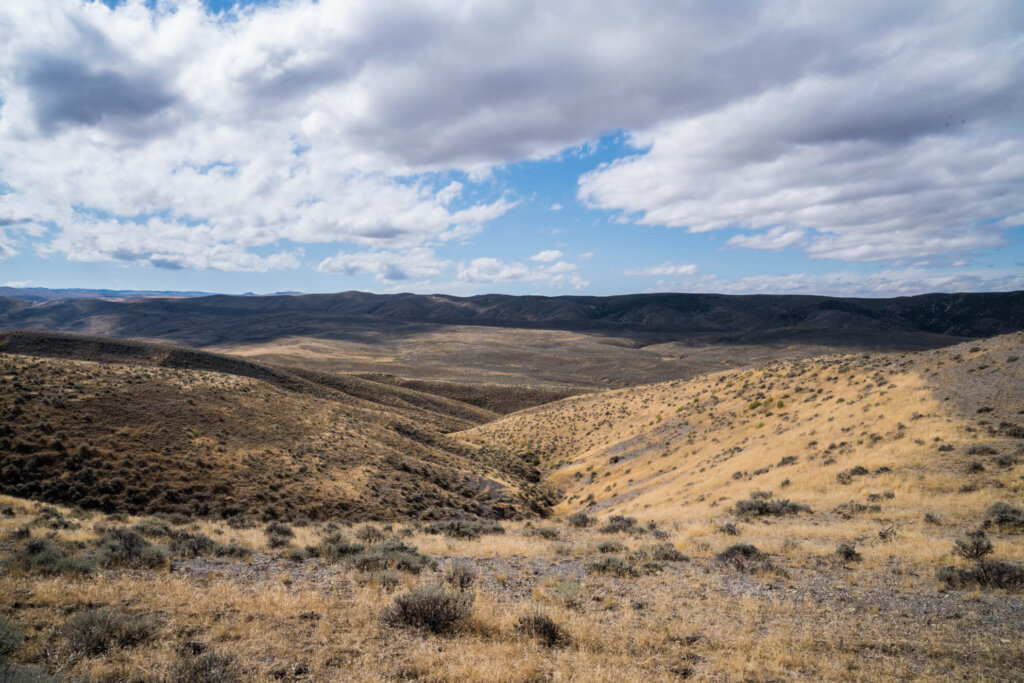 Besides Sage Grouse, you can also hunt Chucker, Blue Grouse, Ruffed Grouse, Sharp-tail Grouse Hungarian Partridge (Huns), doves and pheasants. This makes Wyoming one of the most diverse states for a hunter to go after numerous upland species. On our trip as we continue to try for the Upland Slam in a single year, the main focus would be Sage Grouse, but we would also try to bag Chuckers, Huns, and Blue Grouse. Getting ready for this trip, I knew that Wyoming held Dusky Blue Grouse, but I was shocked to hear that there is a small pocket of Sooty Blue Grouse as well. I was slightly skeptical about this, as the majority of Sooty Blue Grouse live on the western coastline of the US and Canada. I was anxious to hunt the area and see for myself.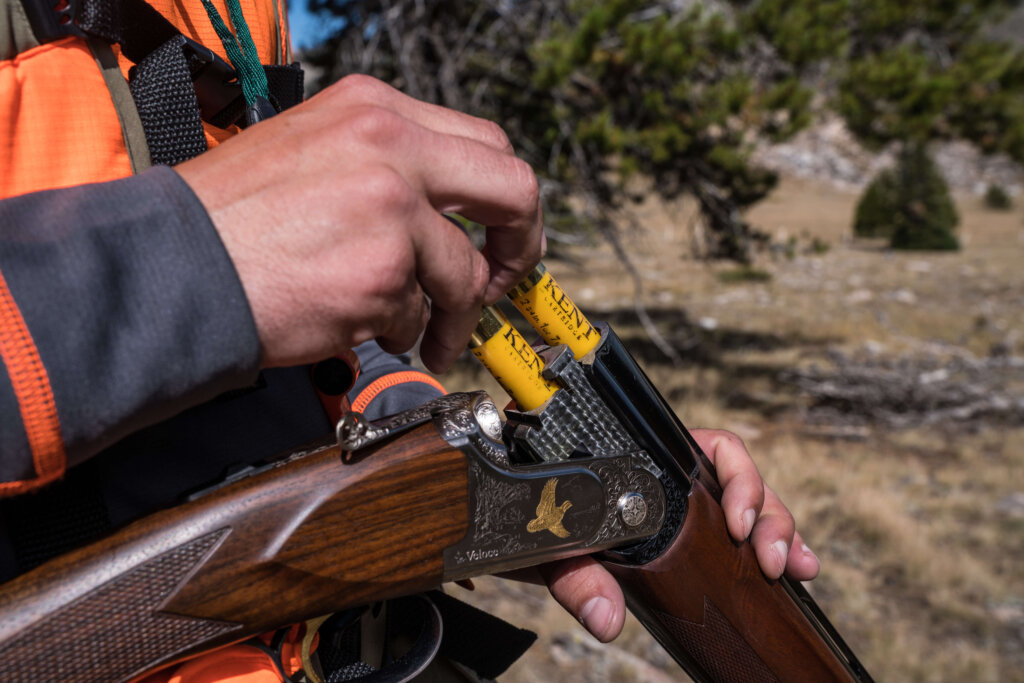 The outfitter we hunted with has had a long-time relationship with WTA. They are located near Casper, in one of the best fly fish areas located in the lower 48. Besides their very successful fishing operation, they also have very high success on their Sage Grouse hunts. Because Sage Grouse are spread over vast areas, a hunter without strong assistance from an excellent outfitter, can walk for days and not see a single bird. At WTA, we have had very positive feedback from our clients and from our consultants who have visited them. This would be my first vetting of this outfitter.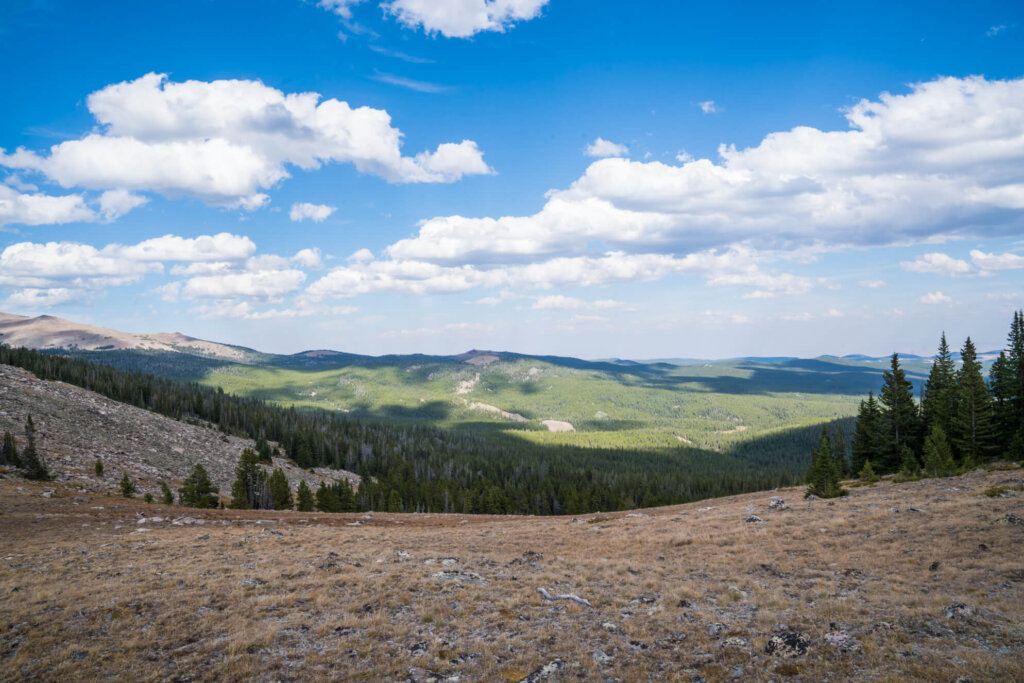 We would start our Wyoming hunt by traveling to different areas in search of Chucker and Huns. Both Chucker and Huns are hard upland species to predict where they will be located due to the vastness of their habitats. To increase a hunter's success, you have to be able to cover a lot of ground and it really helps to have good pointing dogs. These dogs need to cover wide swaths of ground, but hold strong on their points, which will allow the hunter time to get there before the flush. We were prepared for both the walking and also blessed to have some great Brittany Spaniels. On our travels, we have four Brittany's with us; each has their own personality and types of hunting terrain that they excel in. For Chucker and Huns, Arrow and Shooter would do the heavy lifting, as they are wide ranging dogs and can cover a lot of area for us.
On our first day, we drove a substantial distance away from Casper to get into the correct habitat. It didn't take long for us to get into a covey of Huns and I was able to take a bird out of that covey. It was a great start to the hunt. As the day continued, we played with a couple of other Huns, took another one, but most of the Huns were taking off too far out. 2019 was a great year for moisture all across the west. As a result, the birds didn't need to concentrate near sources of water and were scattered out over millions of acres. It required miles of walking, and dozens of dog miles, to find single birds and coveys. Towards the end of the day, as Arrow was working a hillside, a Mourning Dove took off and I made a snap shot on it. We had already planned to do a more traditional upland dove hunt later in Sonora, Mexico, but I was extremely happy to get one in the field with our dogs in front of me. We ended the day with two Huns and the Mourning Dove. Even with the miles walked by us and our dogs, we did not see a single Chucker.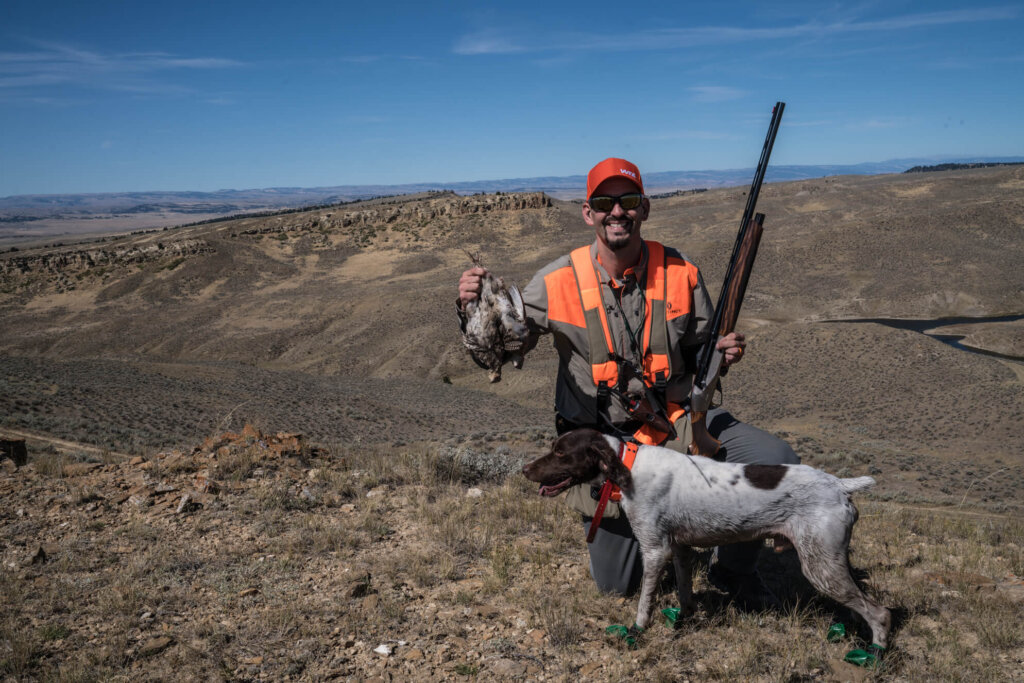 The next day we took off for the "secret" Sooty Blue Grouse honey hole, which was 3+ hours from Casper. Wyoming is a big state with many different types of terrain. Blue grouse inhabit mountain forests and sub-alpine forest clearings. We arrived at the area, which was at 9,000 feet of elevation and started hiking up higher. Soon we were in some of the mountain clearings with thick pine trees covering the surrounding mountainside. It was perfect Blue Grouse habitat. On this hunt we brought Dad's dog, Tiny. Tiny is a close working Brittany, which is perfect for the thicker cover we would be hunting in. Tiny locked up on three legs in front of Dad, and as Dad moved in, he could see the Blue Grouse about 15 feet in front of Tiny. As Dad walked in and flushed the grouse, he made a perfect left to right shot. When we examined the bird, it was a mature male Sooty Blue Grouse. There were no lines on the tail feathers. This Wyoming honey hole did have a population of Sooty!!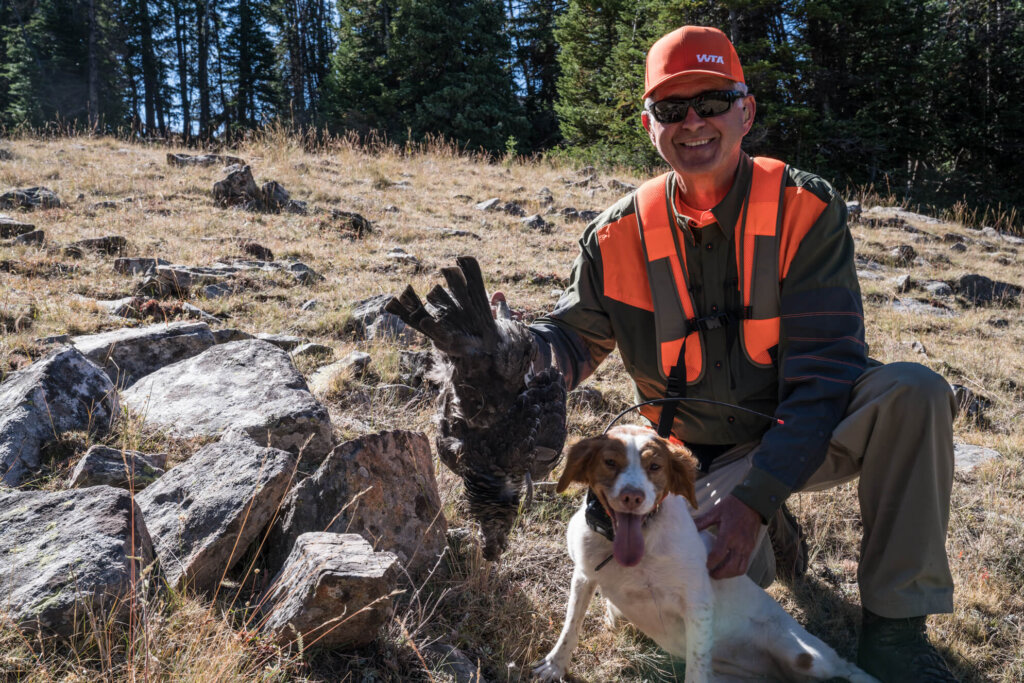 As we continued along the hillside, I heard a flush in front of Tiny and made a quick shot and took a big female Sooty. We continued to hunt the area for a couple more hours and did not have any additional flushes, so we headed back to the truck for a quick lunch of sandwiches and water.
We decided to try a different nearby area. Once there, we worked up past 10,000 feet without a flush and stopped at a mountain pass to enjoy the view and take a quick break before heading back down the mountain. It wasn't long and Tiny got birdy and she locked up. As I moved in, like a typical grouse, the bird took off and did not present a shot. From his sound, I didn't think he flew far, so we continued down. In less than a hundred yards, Tiny locked up again. This time, a big male took off through an opening and presented me with a great shot. I had my male Sooty Blue Grouse. During the photo sessions with the grouse, I swear you could see the smile on Tiny's face. She was having a great day!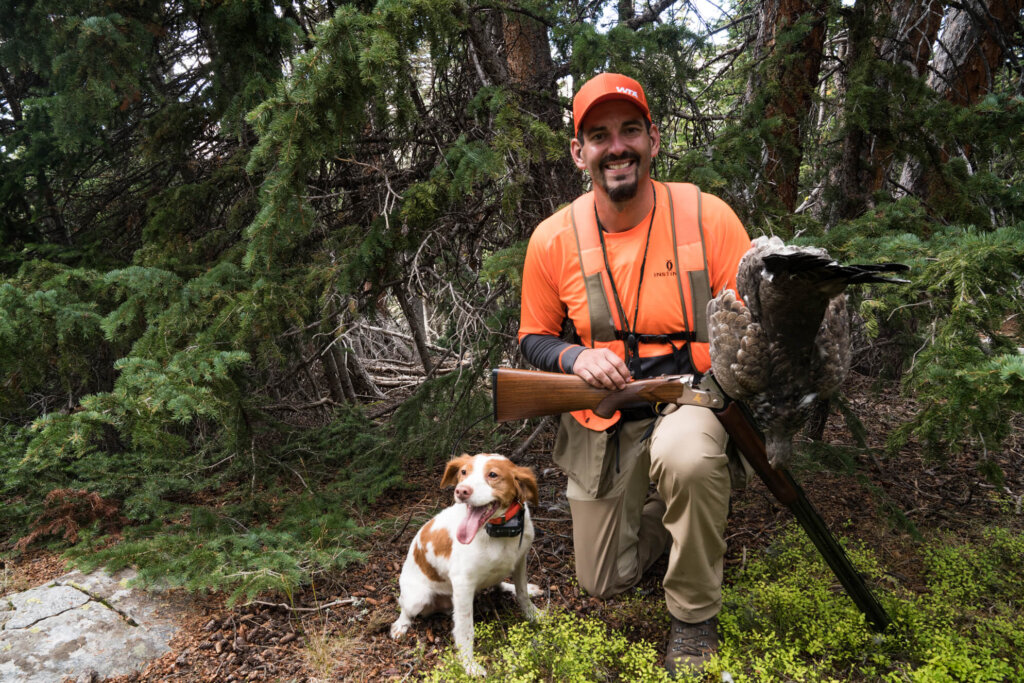 The plan for the next day was devoted to looking for Chucker again, but this time we were going to a completely different area, which was about three hours from the first area where we had earlier hunted for Chucker and Huns. Less than 200 yards from the truck, Arrow put up a lone Hun. I swung quickly and upon retrieving him, found out he was a fully colored adult male. It was odd that he was a single as most of the time Huns are in groups. That lone Hun would be the only bird we put up all day and we covered over 13 miles of perfect Chucker/Hun habitat. Chucker's are known for being tricky birds to hunt and they were proving to be so for us.
Our last day in Wyoming was the first day of Sage Grouse season. The terrain we hunted was as expected with endless sage covering miles and miles of rolling hills. The sage would vary in height from a foot tall to a couple of feet tall. In areas it was sparse and in other areas it was thick. Our game plan for the day was to focus around water sources and then cover the surrounding hilltops and ridges. Sage Grouse like visibility so they tend to be found in areas where they can see. This day was a day that upland hunters dream about! We were in birds from the minute we left the truck until we decided to call it a day. We walked over 12 miles and put up 70+ Sage Grouse. Our Michigan dogs quickly learned the secrets of Sage Grouse and were making great points. Early on, Dad and I were both able to take a couple of nice males, so we spent the next six hours watching the dogs work while trying to put up a "Bomber" Sage Grouse. The term Bomber is used when referring to a big male Sage Grouse, which resemble a bomber plane taking off. We covered the 12 miles during the day before finding a Bomber within 100 yards of the truck. That big male Sage Grouse was a fitting way to end our Sage Grouse hunt.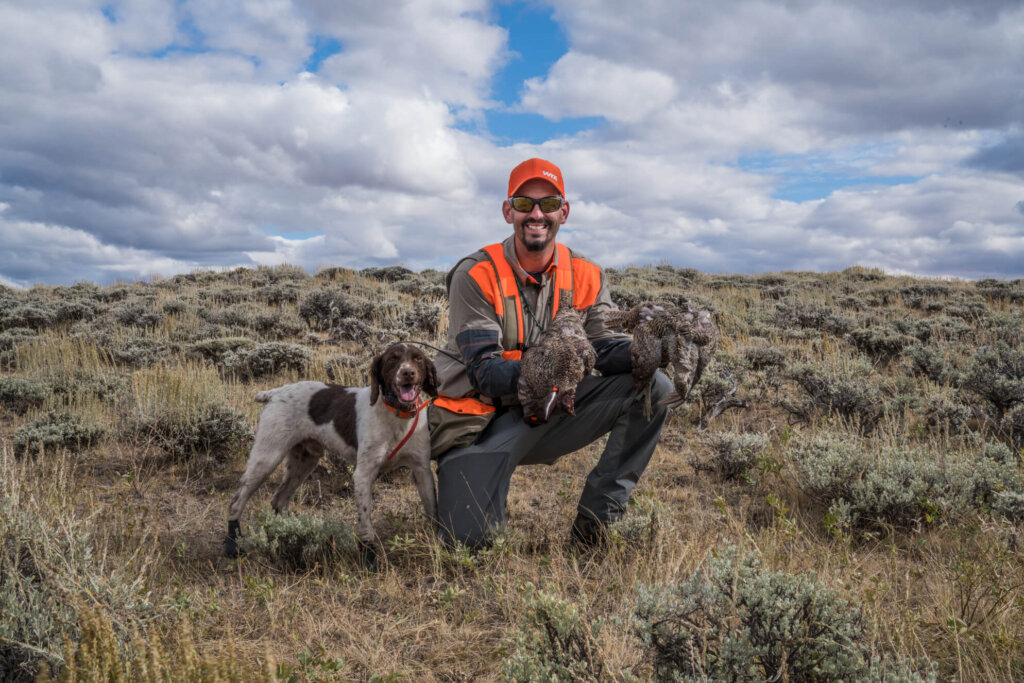 We still had a couple of hours of daylight, so we decided to hunt a nearby short mountain that was known to hold Dusky Blue Grouse. Tiny again got the call to be our close working grouse dog. We grabbed our shotguns and headlamps and headed up the rocky mountainside. Within thirty minutes Tiny put up a group of 6-8 Dusky Blue Grouse. Dad shot a male going right and I took one through the trees going to my left. Tiny made her retrieves with a smile. We did not even need our headlamps as it was still light as we made our way back to the truck. That walk
down the mountain, with the sun setting in the distance, is a memory that will be etched in our minds for a long time.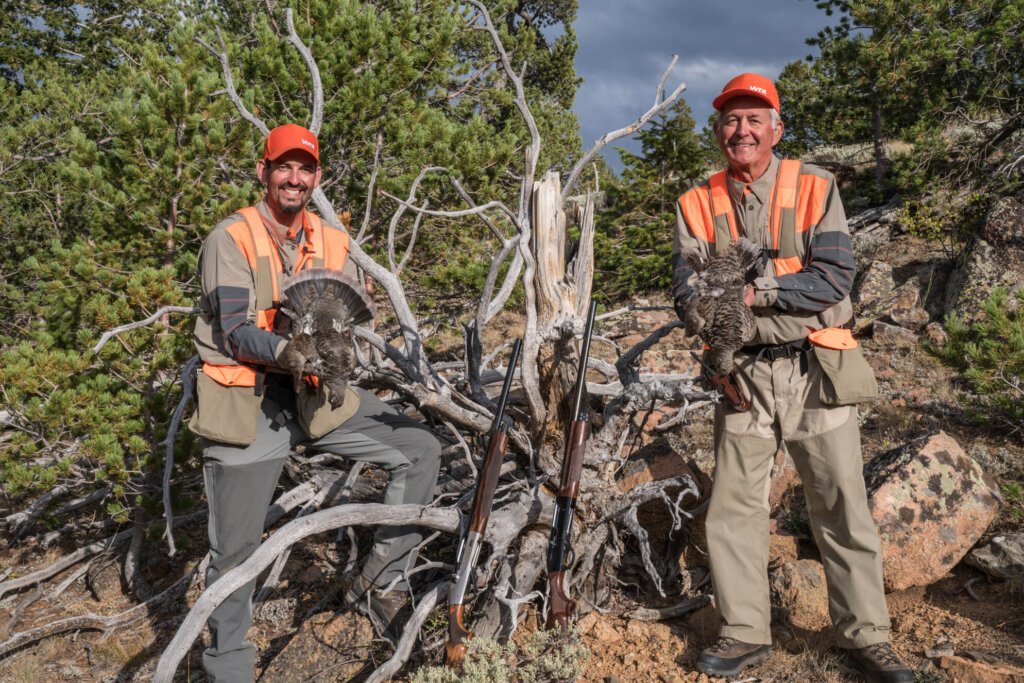 That perfect walk was a great end to an absolutely great hunting upland trip to Wyoming. If you are looking for a western upland hunt, make sure you check out the opportunities in Wyoming. Give the team at WTA a call and they can help you make all of the arrangements.