After successful stops in Arizona, Oregon and Nebraska, our last stop on this Upland Slam road trip, before heading home to Michigan for Christmas, would be north central Kansas for wild Bobwhite Quail. Kansas, Oklahoma and Texas are among the top states for hunting wild Bobwhite quail. We are set to meet one of WTA's best Kansas whitetail outfitters. Timing for our upland hunt is perfect and as we pulled into camp, the last deer hunter of the season was leaving. We got to hear his story and see the smile on his face. He took a 160-inch, 8 point with his rifle. Even though the outfitter's specialty is big deer, he also runs a limited number of upland hunters on his leases. Because of very limited pressure, following a great hatch, we should be in for some excellent hunting. Hunting wild upland birds is very different than hunting released birds. We all have had great plantation hunts in the Southeast, but those hunts are totally different than trekking after wild Bobwhite Quail.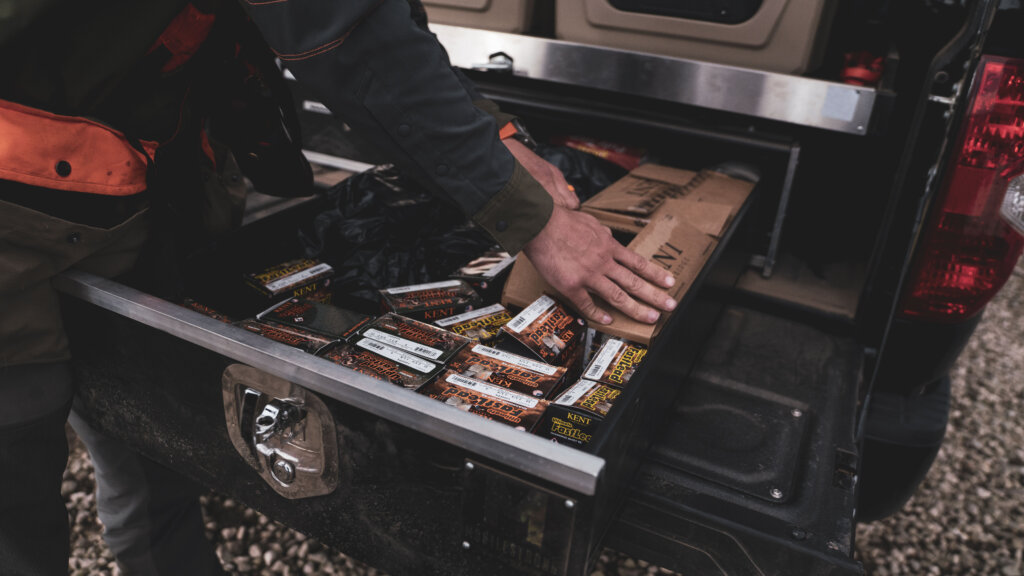 After our camp arrival, we unloaded our stuff and got our dogs ready. For this outing, the outfitter drove us around to a number of areas that he had leased to hunt. He showed us many of the different fields and drainages where he had permission. It was a substantial acreage and, if needed, we could hunt for days. On his suggestion, we focused on a long creek bottom, where there was a mixture of cut agricultural fields and CRP grass fields that ran along both sides of a wide creek. This creek bottom ran for over 3½ miles and the water was wide enough that crossing back and forth would be extremely difficult. Our initial plan was to hunt one side down to the bridge, cross over by using the bridge, and then hunt the other side back.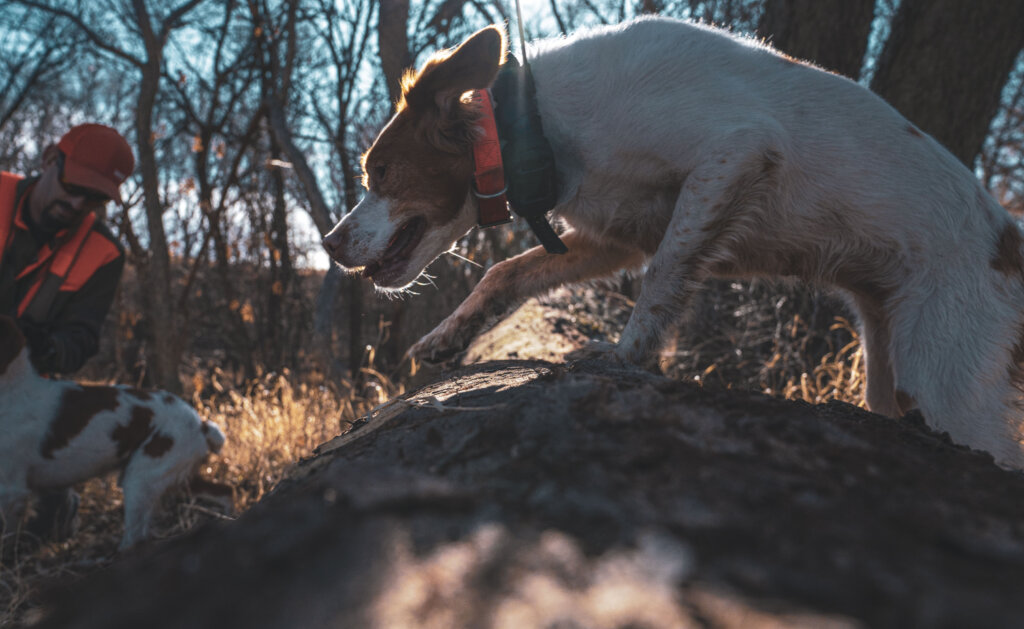 The width of the creek bottom varied as it was anywhere from 25 yards to 125 yards wide. There was a mixture of grasses and mature trees. All in all, it seemed to be picture perfect for holding a covey or two of bobwhites. Knowing that we would be hunting fairly close, we opted to take Arrow and Tiny. As we dropped off the top, 
down into the bottom starting our hunt, the first thing I noted was the size of the buck rubs. The bucks here
were rubbing some man size trees. I made a mental note to remember to come back to Kansas to hunt whitetail here again.

We settled in and it didn't take long for both dogs to lock up in front of me. I was walking along the creek and Dad was walking along the field edge. Both Arrow and Tiny were locked on a thick shrub patch.  As I walked in, our first covey of bobwhites came bursting out. Of course, instinct took over and I swung on the closest bird to my right, which was the opposite direction from Dad. I squeezed the trigger and watched him fall from the air. It was a perfect shot, but he fell on the other side of the 25-foot wide and 2 to 3-foot deep creek. Having the bird marked, I wanted to find a way to cross and as opposed to leaving it there. I knew from experience that it would be hard to find it on our way back.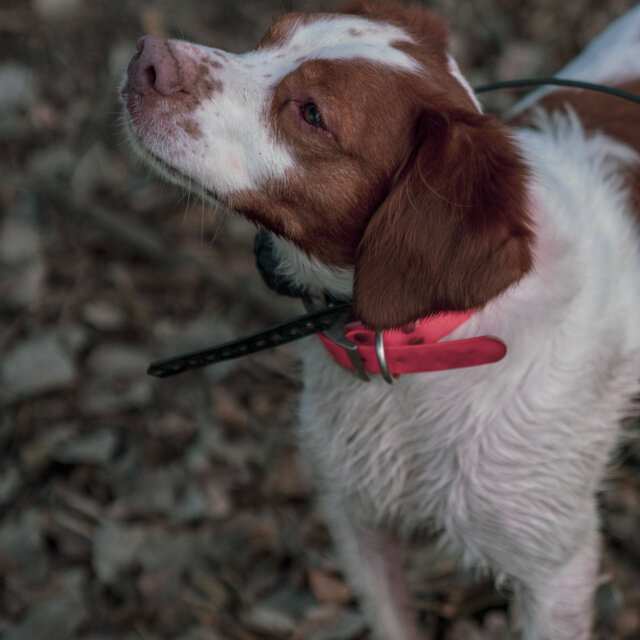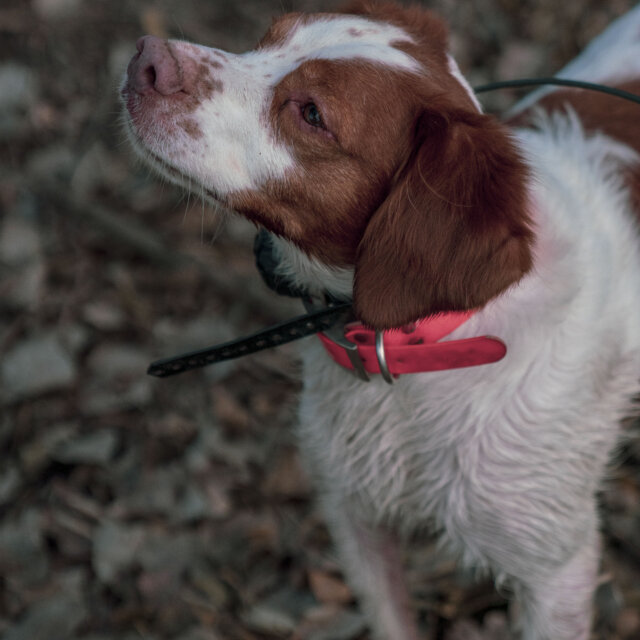 The best spot to cross was shaky at best and consisted of a big old tree that had fallen down across the creek. Somehow, I made my way across without getting wet. I reloaded my Benelli and signaled Arrow to where I saw the bird go down. He locked up within 10 feet of the spot I had marked. Perfect, Arrow found it. That was mistake number one. I relaxed my shotgun and walked in. It never crossed my mind that there was a possibility of another covey in the exact spot the bird had fallen. This covey of about 14 birds takes off, and this is where mistake number two happens. Flustered with the giant covey rising, and not being ready, I sent three hail Mary shoots at the last bird to get up. No luck. Remember I said mistake number 2. After my last shot is when the last 2 birds, right at my feet, decided to get up. Each time in the field, I learn lessons. I knew better, but I was so excited to get that first bobwhite that I relaxed. The good news was that the first bird was lying right there and he was a gorgeous
male bobwhite.
After a couple of quick pictures, I crossed back over the creek and rejoined Dad. This time, I was 100% focused in, which was good as it didn't take long to find another covey and I redeemed myself with a nice double. We spent the rest of the day working along both sides of the creek bed and put up 8 coveys in all. It was an absolutely great day of Bobwhite Quail hunting in Kansas. I know there is a lot of great places to quail hunt, but if you're looking for one of the very, very best give the team at WTA a call. You won't be sorry. They have done an amazing job of lining up all of my trips for the Upland Slam.
As we left Kansas, we decided to waste no time driving our pickup home to Michigan for a much-needed break. It will be good to be home with family for Christmas.
This has been an amazing fall. The Upland Slam adventure has brought us to many great places all across North America where we have met fantastic outfitters and guides at the many hunt locations. Our dogs have learned so much and watching them on the many new species has been simply amazing. Because of the planning and hard work of the team at WTA, we have thus far, all of the upland species we have gone after. We still have two more locations yet to hunt for the Upland Slam. We will be in Hawaii in January. And then, with some luck, I'll wrap up the Upland Slam during the month of February in Sonora Mexico.