The state of Maine is the bright shining star when it comes to Canadian moose hunting in the New England region of our great country. The majority of sportsmen and women who obtain a tag to hunt these long-legged deer do so via limited-entry drawing. But, you should know that hunters can also obtain guaranteed tags through the state auction or through Maine's outfitter/lodge tag program.
Whether you choose the draw or a guaranteed tag, WTA TAGS can help you realize your moose-hunting dream.
Applications are open. The deadline is May 12.
Now is the time to apply for Maine's limited-entry moose permits. Up to 8% of the available tags can be allocated to non-residents, and the deadline to apply is May 12. For bull tags, there are three seasons you can apply for. WTA TAGS knows exactly which seasons to apply for and the very best game management units to apply in. There's a lot to know about moose hunting in Maine so I recommend you lean on our expertise.
To apply, non-residents can purchase as many raffle tickets as they want at roughly $5.50 per chance. (You must purchase in packs of 10 tickets to get this pricing.) Naturally, the more chances you purchase, the better your odds of drawing. To figure simple odds from 2021, we take the 23,329 non-resident applicants and divide by the 321 available tags. This gives us rudimentary drawing odds of 1 in 73. Bonus points are awarded if unsuccessful in the draw.
If drawn, our WTA TAGS-endorsed outfitter charges $7,000 for a 6-day 1×1 hunt. This is an incredible value for high-quality Canadian moose hunting with nice accommodations and excellent meals. Draw results for Maine's moose tags will be available on June 11. Will your name be drawn? Not if you don't apply!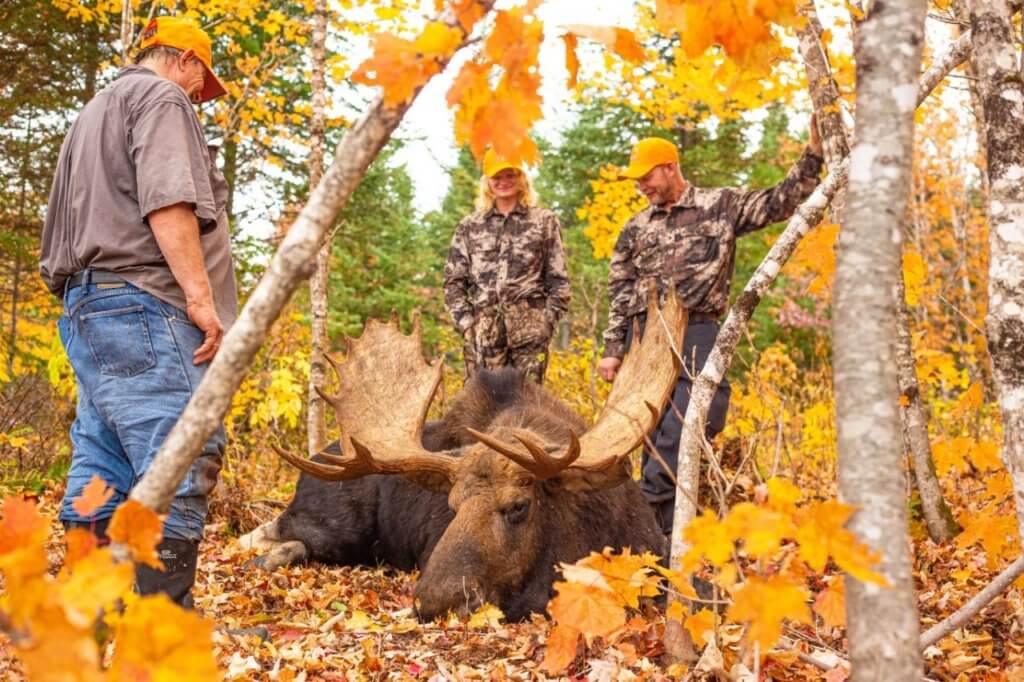 Guaranteed Maine Moose Tags
Via auction or outfitter/lodge sponsored tags. Quantity limited to 4.
If you would like hunt Canadian moose in Maine with a guaranteed, no-draw-required tag, WTA TAGS can help make it happen. We have secured 4 moose tags with the best outfitter in the business. This guaranteed-tag hunt will run $25,000–30,000 depending on the tag purchased.
Booking this Canadian moose hunt in Maine is a great alternative to crossing the border into Canada. Especially now when COVID has made travel to and from Canada less convenient. Also, this Maine hunt comes with far more comfortable accommodations and better meals than most anything you will find across the border. And, this is an excellent place to take your spouse to experience the beginning of the East Coast's colorful autumn masterpiece in a very comfortable and peaceful setting. Cold-water Maine lobsters and Delmonico steaks are also a nice way to end the day.
So whether you'd like to apply or buy, WTA TAGS can make it happen. Simply give us a call today and we can discuss either scenario. But remember, to apply we need to make the May 12 application deadline. And, to buy, there are only four guaranteed tags available so don't let the opportunity slip away. Your prompt attention can make it happen. Either way, give us a call 1-800-755-TAGS (8247) or email us today.