May 29 – June 6, 2019 Trip Report- Travis Baker
New Zealand is paradise for the outdoor enthusiast. Whether it's big game hunting, fishing, waterfowl, adventure travel, or simply taking in the sights and sounds, a trip to this pristine country is a must! It was long overdue, but I finally had the opportunity to travel there. WTA has been offering hunts to New Zealand for years and we feel we offer the best of what this small island country has to offer … and it offers a lot! I chose to focus my time on the lesser populated South Island. That is not to say New Zealand is crowded (only 4 million in total population). This safe, English speaking country is absolutely pristine with incredible scenery from lush agricultural fields, gin clear rivers and streams, and the towering Southern Alps. You really can't describe it until you've been there in person.
New Zealand is located in the Southern Hemisphere so I'd be traveling there during their late Fall/early Winter. I chose the late May and early June time frame as this is when both the tahr and chamois are in rut with their excellent winter capes. Plus, it's also a great time to hunt red stag and shoot a few ducks. There are numerous direct flights to Auckland including daily flights from Los Angeles and San Francisco as well as multiple flights each week from Houston and now, Chicago. I departed Houston on a Monday evening on Air New Zealand, arriving Auckland fourteen hours later on Wednesday morning (after crossing the International Dateline). Customs was a breeze, and after a short walk to the domestic terminal, I boarded a 90 minute flight to Queenstown. Known as the "Adventure Capital of the World" (I think bungee jumping was invented there?), this bustling town of 30,000 or so is located on the southern end of the South Island on Lake Wakatipu and offers everything from high end shops for the ladies to hip pubs and fine restaurants. Really a cool town. I would advise those traveling to New Zealand to try and split their time between the North and South Island. After all, you've come all this way, and there is plenty to see and do.
However, I was on a bit of a time crunch and scheduled to stay with three different outfitters in about a week's time with lots of running around in between.
I arrived Queenstown around 9:00 a.m. and was promptly met and transferred to my first stop. While airport pick up by our outfitters is always part of the package, it's not a bad idea to rent a vehicle if you plan to do some sightseeing during your stay and have a non-hunting companion in your party. This way he or she can have the flexibility to explore the area and surrounding towns and do it on their own schedule. Just remember to drive on the left hand side of the road! There's plenty to do such as shopping, day spas, vineyards, golf, bungee jumping, sky diving, skiing (June -August), jet boating, flight-seeing tours, Milford Sound to check out the penguins, etc., etc. The brand new lodge featured six guest rooms, each with a full private bath, multiple living areas (great for mixed groups),
outdoor patio with fire pit, wireless internet, and even a heated swimming pool. A great spot not only for the hunter, but for couples and families as well. You definitely don't rough it when you come to New Zealand! I'd be spending some time with a handful of customers who had already been there a few days and were all tagged out on big stags. They were enjoying a morning duck hunt, and after a quick lunch, I decided to join them. It was incredible! We limited out on paradise ducks with a handful of mallards to boot.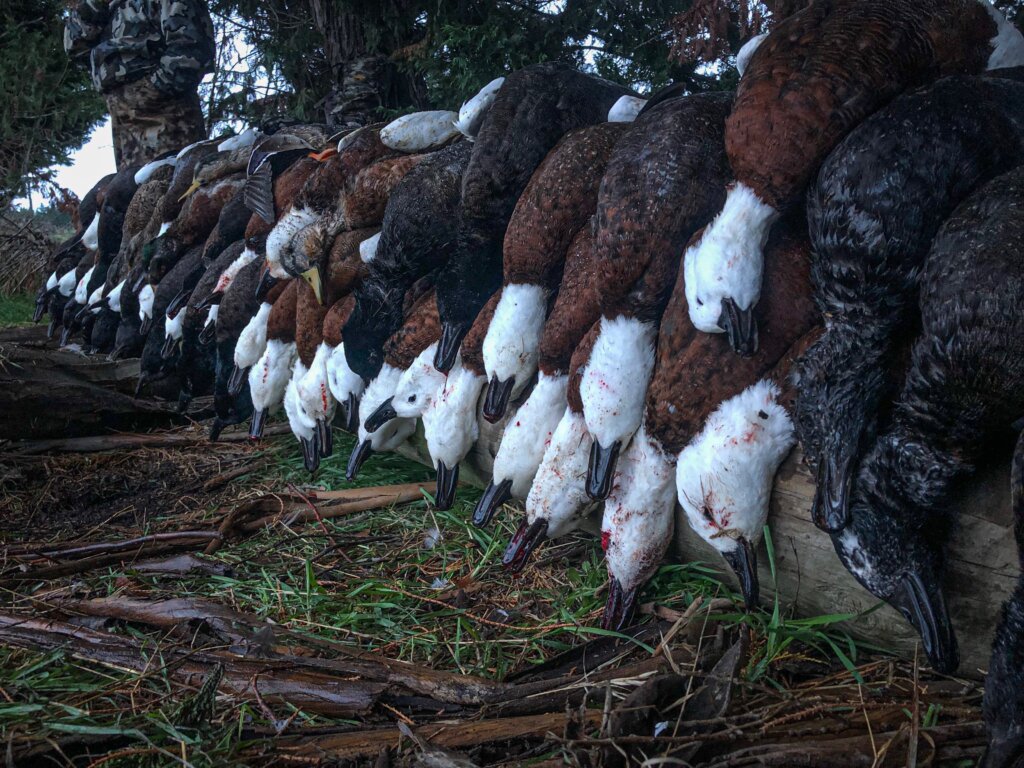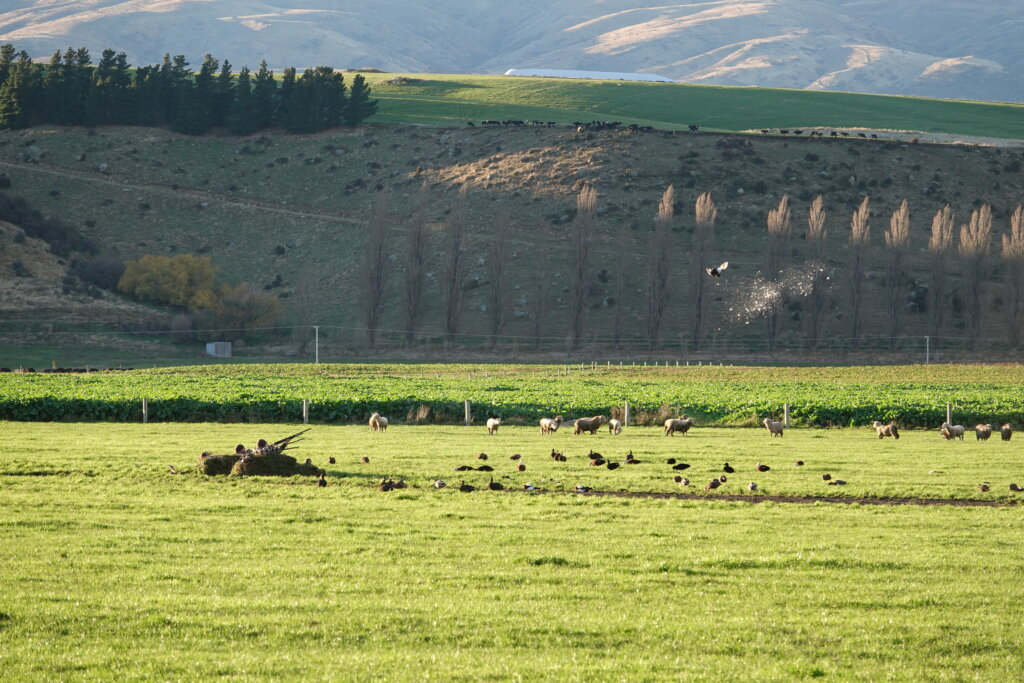 Day two was time to look for a stag. New Zealand is known for having the largest red stag on the planet and this is what really draws the majority of the hunters here. Known as the "King's Animal", these majestic animals are known for their incredible antler mass and heavy palmated tops. They are all so unique. The stag properties are incredibly diverse and mountainous with thick cover and plenty of draws for the game to hide. It's all done on private land with a good road system so that we could access the properties from 4×4 vehicles and then on foot. Our outfitters are excellent at catering to anyone's physical ability. This was post "roar" (or rut) and the animals were not vocal so we'd be relying on our optics to turn one up that we liked, which we finally did by the end of the day. An old, incredibly heavy stag that was way beyond his prime. There are no predators in New Zealand which is why managing the game herds is incredibly important.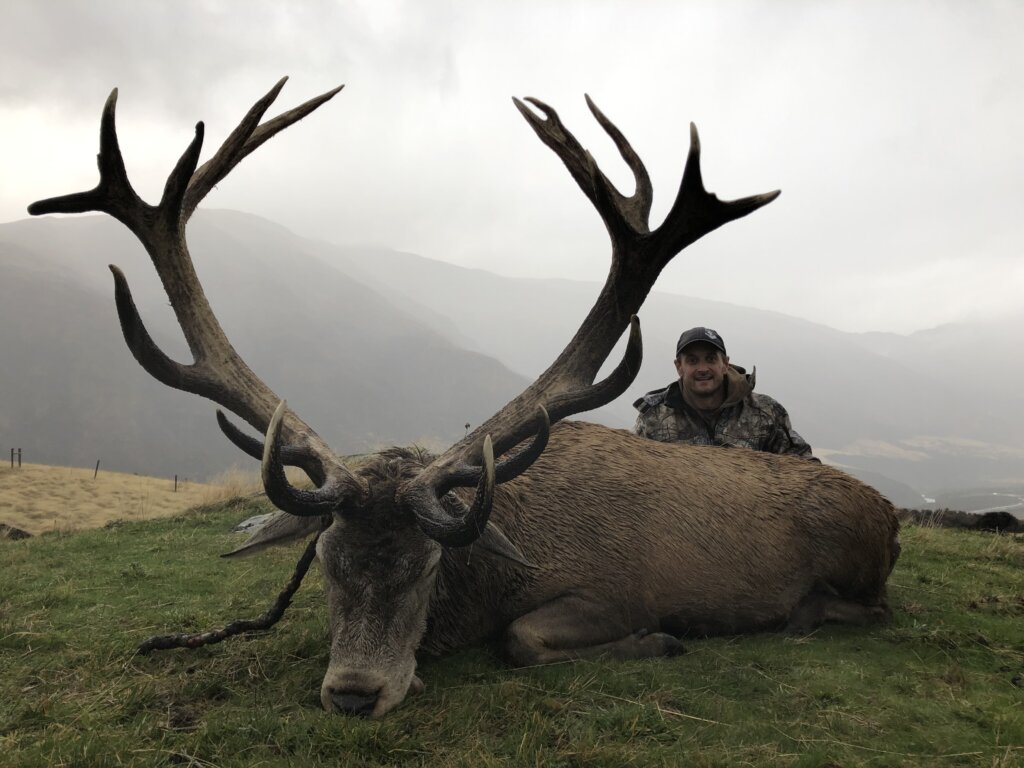 My next stop was a location not far from the first, just outside the small town of Wanaka. The lodge, perched atop a bluff overlooking the Clutha River, was incredible! It had five bedrooms, each with private bath, dining area, two living rooms with satellite television, wood burning stove, wifi, and deck with hot tub overlooking the river valley below. A perfect set up for a family or small groups who want total privacy and the place to themselves. The European chamois was on the agenda for me here. The chamois, like the tahr, call the Southern Alps home and can be hunted totally on foot or helicopter-assisted. Multi day spike camp hunts (camped on the mountain) can also be arranged and recommended as weather can play a factor when pursuing these alpine species and you may need a few days. The chamois were introduced to New Zealand in the early 1900's and have flourished. They live in incredibly steep, yet breathtaking country. My guide, Shaun, and I awoke early the following morning. We knew the conditions weren't going to be ideal for a foot hunt (it had been raining and snowing in the high country for three days!), but we gave it a go anyway. The plan was to take the side by side as far as we could and then hunt on foot the rest of the way. Unfortunately, the majority of the mountain was completely socked in by thick cloud cover and we just couldn't hunt it the way we needed to. So, we headed back down the mountain to the lodge for lunch and to regroup. We decided to head into town to meet the helicopter where we would check out a different area. The helicopter hunting in New Zealand goes back a long way and has a lot of tradition. I HIGHLY recommend it if you're going to pursue the mountain animals here. There's nothing like it and it was truly the most exciting hunt I've ever done! These pilots are amazing. We were dropped off on a nigh ridge where we located a lone chamois buck, and after a successful harvest, were promptly picked back up for some incredible photos on the mountainside.
My final stop was about two hours to the north with a long time New Zealand outfitter. The location was more remote and better suited for the ardent hunter in mind. A five-star remote hunting lodge in the country, surrounded by the Alps, with close access to all of the prime species New Zealand has to offer. My final quest here would be the Himalayan tahr. I arrived in time for a delicious lunch and was shown to my room. It had incredible views of the mountains literally right outside of your bedroom window. The spacious lodge had eight bedrooms, each with private bath, a huge great room with large wood-burning stove, dining area, full kitchen, wifi, etc. The tahr, also introduced in the early 1900's, is the most desired of the two alpine animals in New Zealand. Their striking cape and long mane is most impressive, especially this time of year. They tend to live in the most remote parts of the Southern Alps in steep terrain. Due to the sometimes unpredictable weather this time of year, helicopters are usually used to access the remote mountains and valleys when it's just too difficult to climb from the valley floor. However, my goal was a true foot hunt, and luckily the weather cooperated. I would compare this hunt to hunting mountain goats here in the U.S. or Canada. The terrain is similar and it can be very physically demanding. Come mentally prepared and have your legs in shape, and you'll be successful. We had just a short drive from the lodge to get to one of the many tahr areas here. My guide, Brad, and I had located some tahr the evening before on several mountainsides, but decided to focus this morning on a particular area that Brad said always produces some older age class bulls. We began our climb just before day break. We shed our outer layers as we knew we'd be in for a long, steep hike. We had climbed about two hours and spotted a lone bull tahr across the canyon, perched on a high bluff facing directly toward us. We immediately dropped down and broke out the optics from our packs. We then started picking up several females below, which kept him occupied so we could get a better look through the spotting scope. He had about six nannies with him and began chasing them all over the hillside. He was in full rut as we watched him put on a show, the sun hitting him as he puffed up his impressive mane. A sight I won't soon forget. I set up my pack for a rest and lay prone waiting for a broadside shot. He finally stopped and gave me a perfect 250 yard shot. I couldn't imagine a better setting to spend my final day. It's sometimes easy to forget to take the time to look around and appreciate the environment you're in and the places that these animals call home. The sun was now up over the snowcapped Alps as we headed back down the mountain with heavy packs. A perfect way to end an incredible adventure.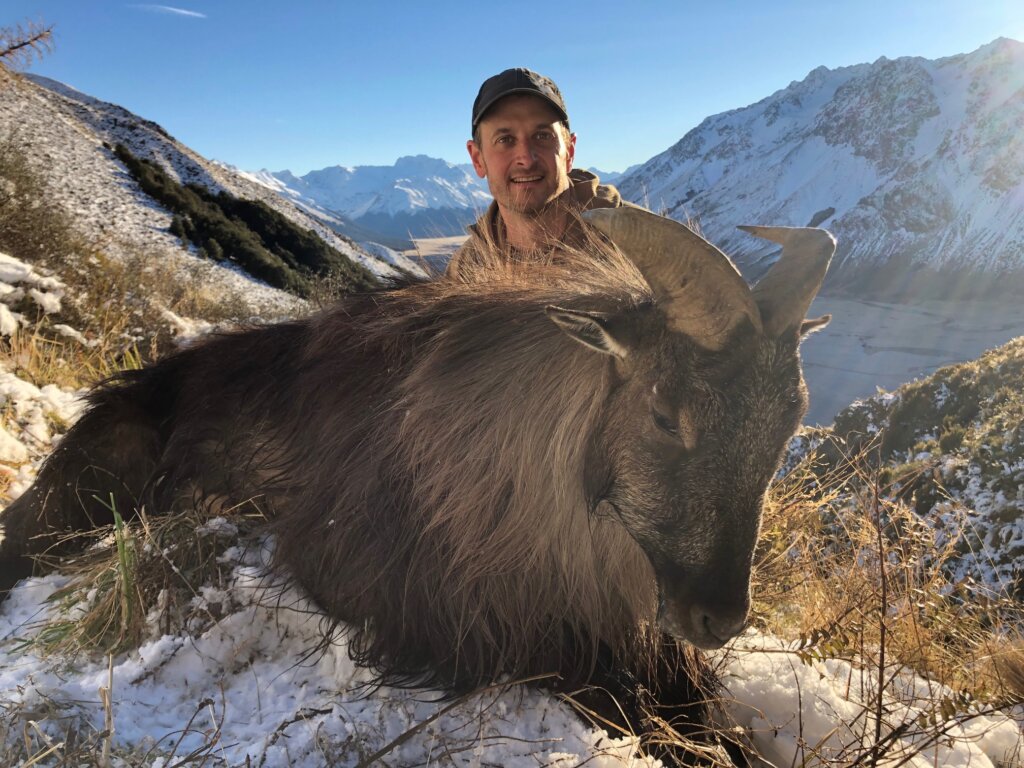 You can contact Travis at 1-800-346-8747 or [email protected]com to learn more about the hunting opportunities available through WTA to New Zealand. Now is the time to start planning for 2020 and beyond. We can help arrange all aspects of your trip from helping you pick the right location and outfitter, arranging flights, trophy shipment back home, non-hunting activities, and more.