At WTA we are always looking for that next great location to send our clients for both hunting and fishing. We take vetting locations and outfitters very serious, so after I heard a lot of buzz about the incredible billfishing around FADs (Fish Aggregating Devices) off the shore of Costa Rica, I decided to give one of these trips a test run.
First, FADs off the Pacific coast of Costa Rica are scattered between roughly 65-150 miles out. They are underwater, and are basically large sails made from tarp material. They are "structure" in the open ocean that attract fish. Much of what is attracted are bonita and small yellowfin tuna, and these are primary prey species for marlin, sailfish, etc. In the recent past, the FADs of Costa Rica have produced double digit days on marlin, and nowhere else does that.
The blue marlin that are generally caught are 175-300 pounds, with a few larger fish thrown in. An average type day would be raising from 8-14 marlin and hooking up on 4-9 of those. Sailfish, striped marlin, mahi-mahi, and larger yellowfin tuna in the 100-200-pound class are also regularly caught.
So the first 3 days of October, three friends and I had an adventure in Costa Rica. We flew to San Jose on September 30th from Atlanta on only a 3.5 hour flight. We arrived at noon, and we were having a snack at the marina by about 3PM. Around 5:00 we got on the 46' boat that we would call home and began the journey out. Our 3-man crew got us settled in, and we chugged along all night.
When we awoke at about 5:30AM, dawn was breaking, we were 110 miles offshore, and the crew was putting out the lines. On this trip you fish from daylight until dark, and those 13 hours make up twice the fishing you get from a normal all day charter leaving from shore each day. So in essence, on a 3-day trip, you get in 6 normal charter days.
We didn't hit fish right off the first morning, but after an hour or so, we got into mahi, and we basically caught them all day. I mean we really caught them. Double and triples were not at all unusual, and it seemed that around the FADs, or any floating debris like logs, etc., there was an unlimited number of 10-30 pound fish.
The crew cleaned the first five fish we caught, so we had plenty to eat for the trip, then we released everything else. It literally got to the point that we would leave a floating log or area and move on after we caught a handful of fish. Our best count was that we caught 35 mahi that day, and literally the second half of the day, we were trying to avoid them to troll for marlin. There is no doubt in my mind we could have easily caught 50-60 if we had tried at all.
We had a couple of marlin come up into the spread during the day, but neither took our pitch bait. My friend Jack did catch a really nice sailfish. During the last half hour of the day we were all sitting in the cabin watching the lines as it was raining, and a marlin appeared in the spread just 10 yards behind the boat. It was my turn on the rod, and this fish decided to eat!
I got the rod butt in the belt, and the battle was on. The beautiful blue marlin jumped, and put on quite a show, and then he went down. We played tug of war for what seemed forever, and then he began to show signs of being tired, and I gained line. Eventually he was pulled beside the boat, I reached over and touched him and thanked him for the experience, and 1st mate Jorge cut the line and released him into the deep blue. What a way to end our first day.
The next morning, we again were in the mahi-mahi. We had a few more marlin in the spread and raised 5. Two of these fish decided to eat, and my friends Tom and Hunter both released their first blue marlin. Jack caught another very nice sailfish, and our total numbers on mahi were over 25 for the day.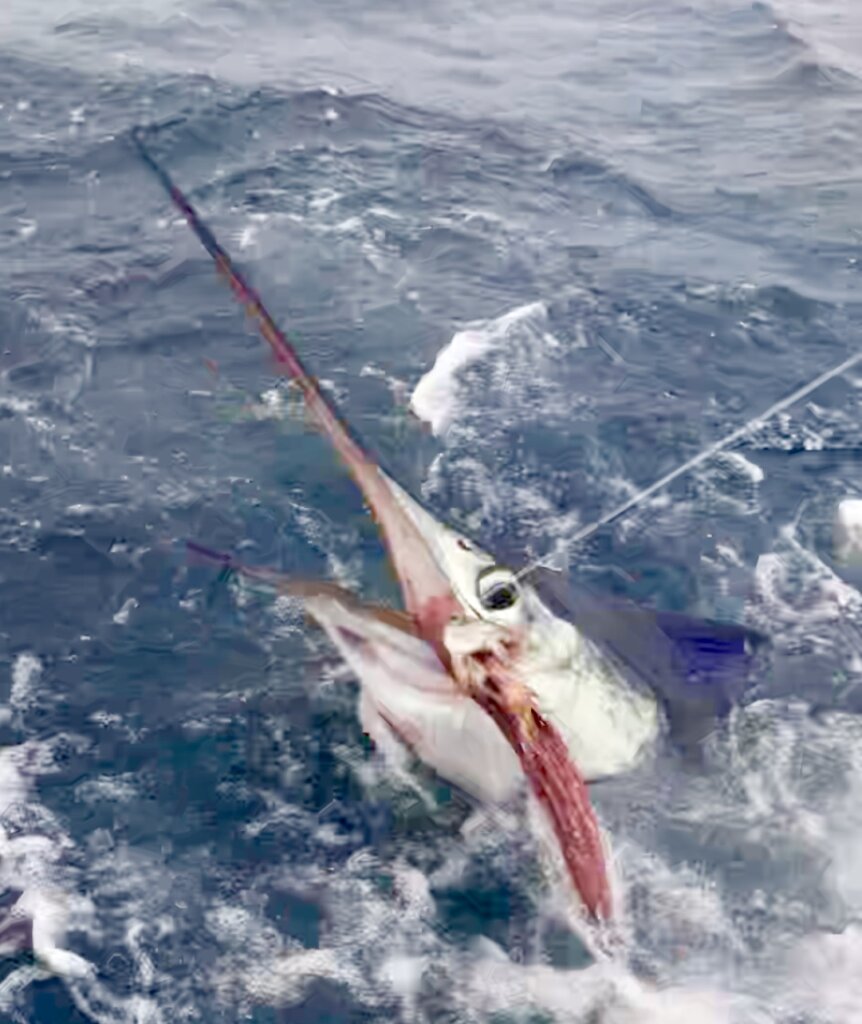 We awoke to rougher seas on day 3, and the skies were dark and ominous. It didn't take long for the action to heat up despite the weather. Jack released his first blue marlin soon after daylight, and I caught one within 30 minutes of his. Tom and Hunter weren't feeling great in the swells, so the next fish on was Jack's again, and he brought in a gorgeous striped marlin.
We of course caught a few mahi, but we tried to use baits so big they wouldn't bite. Tom and Hunter began feeling better, and both of them caught good sailfish in early afternoon. We had a couple of marlin come up that didn't bite, and in the afternoon, Tom, Hunter and I all had marlin hooked that we lost. I think a lot of it had to do with the higher swells that we were in, and all three fish ran at the boat. They all jumped for us, we just didn't hold on long enough to release them on our time.
Just before dark, we passed by some floating debris, and of course the mahi were all over. We changed baits, and caught 4-5 more to end the day and our fishing. We had dinner and relived the past three days as the captain began the trip back to port, and we arrived just after 11PM, but we stayed on the boat for the night.
The next day we were picked up about 7:30AM to start the trip home, and I made it back in time to have dinner with my family. It really is an easy trip down and back.
On final tally we caught at least 72 mahi-mahi, 4 sailfish, 1 striped marlin, 4 blue marlin, lost 3 blue marlin, and had a number of others up that didn't bite. The number of fish we caught was excellent though the marlin bite was slow compared to what they are accustomed to on the FADs. The week before, one group released 6 marlin in 3 hours from our boat, and they decided they had had enough (they also caught some 65-pound plus mahi)!
Most people fish for marlin on the FADs from May-September (when they record their highest catches), and the captain told me that October and November are months for serious mahi-mahi, as we saw. He said that almost anything they find floating, and almost all the FADs will hold numbers of mahi during these months. If someone wanted to catch tons of mahi and have some billfish thrown in, October and November would be THE time.
This is an incredible trip for those serious about catching fish offshore. There are 3-night 2 fishing day trips and 4 night 3 fishing trip options available, but you do stay on the boat offshore for the entire trip. Seas generally aren't bad, the food is good, and I have never been with a harder working crew. Anyone who loves to fish, wants a chance to catch numerous marlin a day, and is adventurous enough to stay offshore for a few nights should give this one a try. It is an experience I will never forget, and I can't wait to do it again.