The Pacific Ghost, as the Columbia Blacktail is known, inhabits the Pacific coast line from as far north as central British Columbia to as far south as the central part of California. The range of the Columbia Blacktail is no more than a couple of hundred miles inland from the coast and in the majority of areas, it is a lot closer. These deer get their nickname because they love the dense, thick underbrush areas and spend the majority of their time in the thick cover versus out in open country like the mule deer. The choice of where to go rifle hunting for Columbia Blacktail was easy as WTA has had tremendous success, with 100% shot opportunities, while sending our clients to one of our great outfitters who operates in southern Oregon. In talking with Jason Berger about this outfitter, our clients have had 100% shot opportunity way before WTA, back into the Cabela's Outdoor Adventure days.
We booked our trip for the later part of October as it would be close to the rut and we hoped that the bucks would be up and chasing. The travel from Michigan to Oregon was easy. Following a couple hour drive down from Portland, we arrived in time to sneak out that afternoon. The temps were much hotter than normal; it was easily above 90 degrees that afternoon and dry as a bone. In talking with our Outfitter, Rob, we learned that hunting Columbia Blacktails is best when it is raining. If it is raining, the deer are up and about and during the rut, the bucks are actively chasing does. This was way different than normal as my experience has been, while hunting whitetails and mule deer all over, that I have had some success in the rain, but most of the time the deer movement slows way down before picking back up again when the rain stops. But, with Columbia Blacktail, activity actually picks up when it is raining and slows down when it stops. Looking at the 5 day forecast, we had nothing but 90 degree days and no rain in sight. This was one time that I was mad not to be getting wet while hunting.
The first afternoon was a good one for us to get a lay of the land, and the area we were hunting had big rolling hills. Down in the ravines of the hills, were thick pockets of brush which was, in most cases, poison oak. I learned very quickly to watch where you sit or lay down. With the weather we had, these thick draws were where the deer would spend the majority of their time, coming out the last hour or so before dark or the first hour or so in the morning. My Dad was able to come along on this hunt as well, so the first afternoon we split up. Dad and his guide went up to a high glassing spot and we went about a mile away on another high glassing knob. It was hot and miserable until just about an hour before dark, when the sun finally started to set. At that time we saw our first blacktail work his way out of the brush to start eating. We saw a few smaller bucks off on a distance hill and then, right before dark, we glassed up a super wide buck. It was tough to see exactly how big he was with the fading light but we knew, at least, where our starting point would be for the next morning. After dark, we met up with Dad. They had also glassed up a couple of different bucks that they wanted to get a better look at the next morning.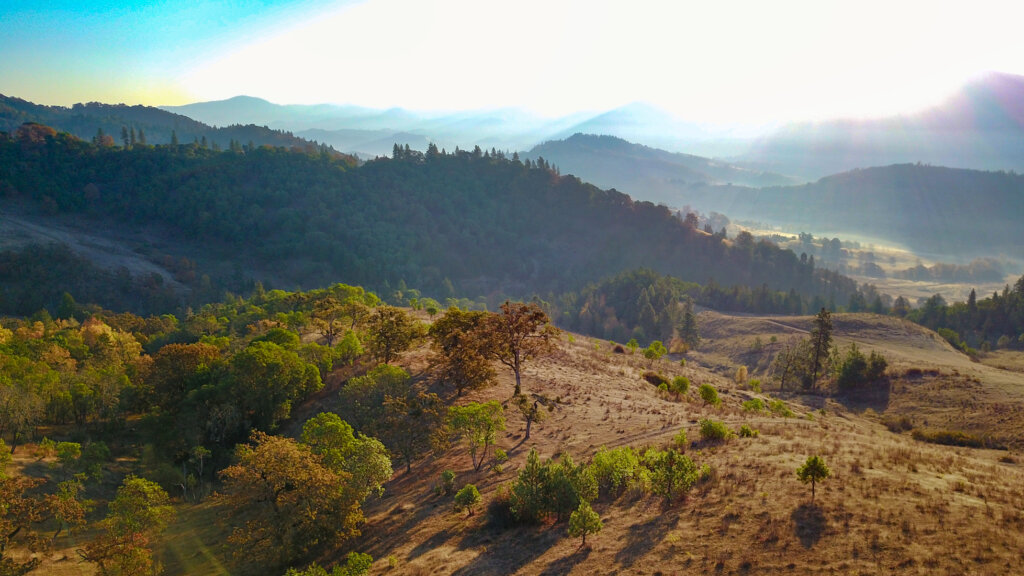 The outfitter where we were hunting is a low volume outfitter who only takes a very limited number of hunters each year. Because of this, he doesn't have a lodge so we stayed at one of the local hotels which, to my surprise, was very pro hunting. I am used to receiving some weird looks when bringing my rifle case in and out of hotels, but not here. After hunting, dinners were split between eating at the outfitters home and at local restaurants.
As we started out the next morning, we waited at the base of the hills until it was light enough to see. The reason for this is we didn't want to bump any deer on the way in or pass by any deer due to darkness. We took an ATV up a small two track to get to the high ground and would glass down from there. As we started in, Rob stopped the ATV and we got out to walk up to an opening so we could glass the area where we saw the wide buck from the night before. We slipped quietly to the edge of the opening and started glassing. We instantly saw does feeding and a couple of smaller bucks moving about. We decided to give it some time and glass from here before heading up to our higher lookout. After about 20 minutes, the does all lifted their heads up and took off running as the wide buck from the night before came out of the thick brush and started chasing. Still unable to see exactly what he was, we slowly moved up the hillside a bit to try and get a better look. All we could do is catch flashes of him as he was moving fast about 800 yards away. Before he lost himself in the cover, we thought we saw a kicker off his right beam. Now, it was tough to tell if he was a wide 3×3 or a big 4×4, but no matter what, he was a "no doubt shooter".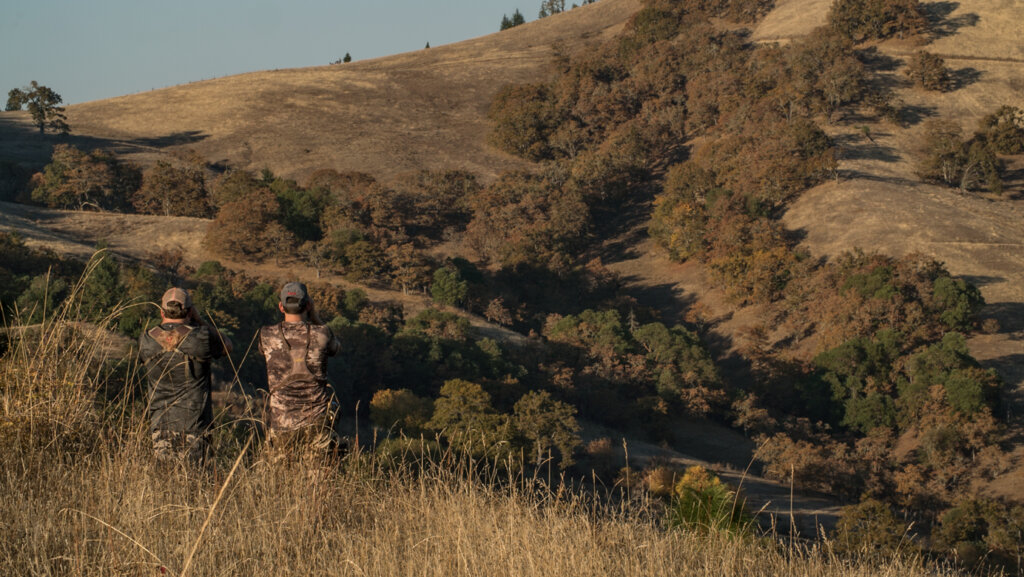 We left the lower area and went higher in an effort to glass the big buck up again but we had no luck. It looked as if he had disappeared into the thick cover for the rest of the day. Our plan was to stay up high all day in the hopes he would come out again before dark. If he did, we would be in the perfect spot to stalk in. Our plan didn't last very long as we had only been set up for about 90 minutes when we heard a shot from the direction where Dad and his guide were hunting. Giving in to temptation, we got in our ATV and went to see. As we pulled up, Dad was smiling from ear to ear, and that's always a good sign. Dad gave us the story. A big 3×3 had been cruising the edge of a thicket checking a scrape line. After determined he was an old deer and a "for sure shooter", they scooted down the hill and got in a position where they would have a shot across an opening the deer would probably cross. The buck, having read the script, came right where they had hoped, and he was soon down. Upon arriving, we took photos with Dad. Then it was quick work to get the deer taken care of, moved down off the mountain and into a cooler. The temps were pushing 90 degrees again, so speed was important so we would not lose any of the meat.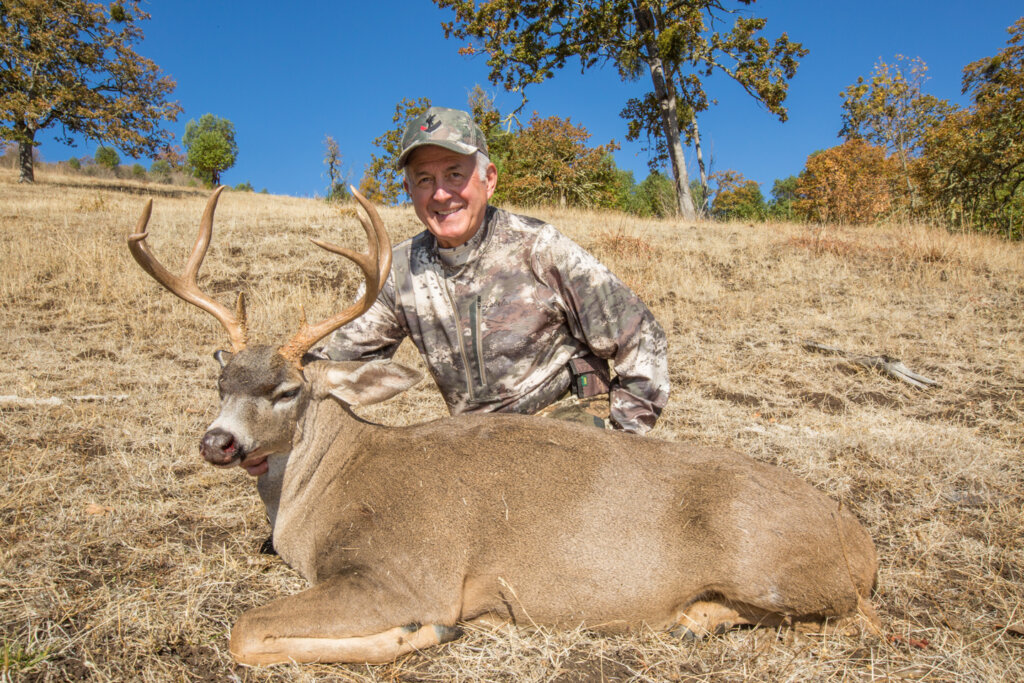 We headed back out, but with only two hours until dark, we decided to not go back into the area where we had seen the wide buck that morning. We didn't want to bump him by accident. Our 2nd choice was to set up on a far ridge looking at the hillside where he had been in the morning. Our ridge was about 1,500 yards away from where we had last seen him. If he came out that night, and depending on where he was, we could either make a stalk or watch him and make a plan for the morning. Just like the night before, the hills came alive just about an hour before sunset. We didn't see any sign of the wide deer but we did glass up high and caught the glimpse of what looked to be a nice 4×4. He was in the perfect spot to stalk and we would have the wind in our face. Off we went. We edged along and got close to where we had last seen him. We settled in to glass and after a couple of minutes we caught the movement of a part of an antler. He had bedded down close to where we last saw him, but we could only see the tips of his horns. As darkness approached, we got set up. If our buck stood up, it would be all over. With about 20 minutes of light left, he stood and we got a great look at him. He was a nice symmetrical 4×4 but just a touch on the young side. We made the tough decision to back out and give him a pass.
The next morning, we had the same plan as the previous morning and edged up to the same opening. Again, we glassed up a bunch of does and small bucks. After a bit, we made the decision, instead of staying low like yesterday, we would cut the distance. We went up the hill about 600 yards and set up to glass again. It was the right decision. About an hour after sunrise, the wide buck came out of the same thicket he had the day before, and again, he was chasing hard. I quickly set up as he ran a doe into the thicket in front of us. If we were lucky, he was going to chase her onto the opposite hillside, which would be a 350 yard shot. After a couple of minutes, the doe came running out on the opposite hillside. Were we going to get lucky? We waited and waited but no buck was following her and she continued to eat. Dang it! As we started to whisper about what had happened, I looked up the hill and saw a patch of white. Rob got on his spotting scope. Yup, it was the wide buck. He had, for some reason, circled back and went farther up the hill and stood there looking right back at us. He was just under 700 yards away. Luckily, my rifle was all set up. I quickly swung my rifle around, ranged him, adjust my rear rest and got set. After quickly controlling my breathing, I lightly squeezed the trigger. I lost him in the scope, and couldn't see him. Where was he? Then Rob excitedly explained to me that "he had dropped right in his tracks".
It was an exciting walk up as I never really gotten a good solid look at the deer and I was anxious to see exactly what he was. And, then I saw him close up. He was a super wide 3×3 with kickers on both sides. Wow, he was a truly awesome deer. What an amazing hunt!!!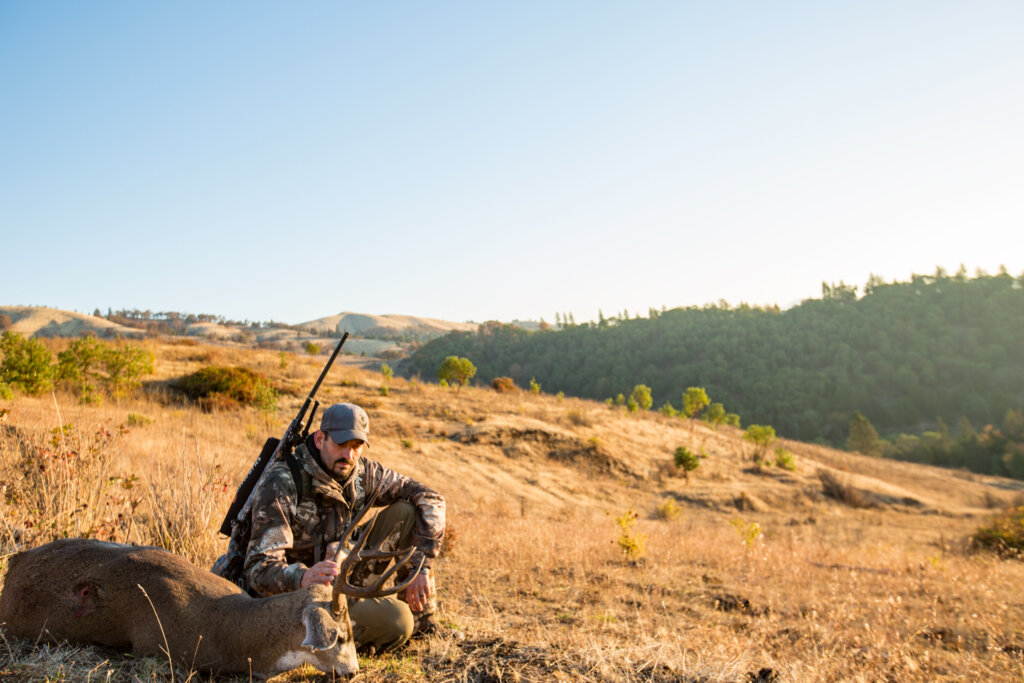 I have already rebooked with Rob to come back in 2019 for Columbia Whitetail, which are also found in his area. I can't wait. Our time in Oregon was another great trip with my Dad and this great WTA outfitter. If you are interested in booking a Columbia Blacktail hunt in one of the best areas, with an outstanding outfitter, give the consultants at WTA a call. 1.800.346.8747 And, happy hunting.