Red Stags in Argentina
By: Tim Herald
Typically, North American hunters are accustomed to big game seasons primarily being in the fall months of September through November or December. Our spring offers turkey hunting and some bear hunts, but pursuing antlered game is off the table outside of some exotics.
After a long cold winter, I have found that traveling to the southern hemisphere is a great change of pace in March-May, and that coincides with red stag season in Argentina.
Argentina offers some of the highest quality and most affordable red stag hunts in the world. You can go on a quality inclusive package for about the same price as a good whitetail or middle-range priced mule deer hunt. You will eat like a king, be treated like royalty, and the hunting is nothing short of fantastic.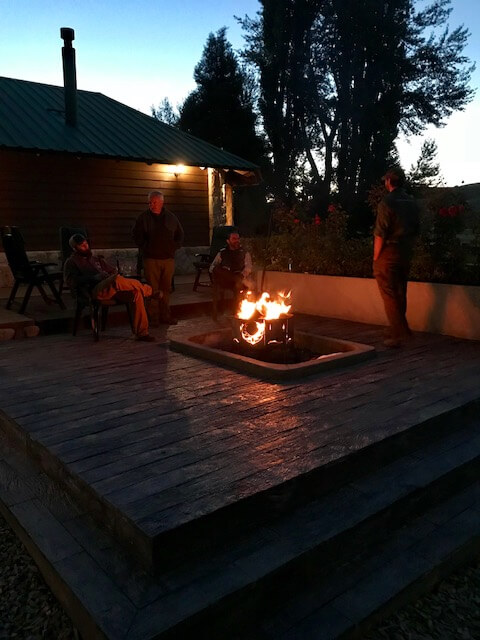 I recently returned from visiting and hunting with two of WTA's top outfits in Argentina, and both hunts were fantastic.
I started out in Cordoba province at a very nice mountain lodge where nearly 30,000 acres of free-range hunting takes place in the rugged hills. There are lots of stags, and though I was 7-10 days before the peak of rut, stags were roaring both morning and evening. There was a choice of hunting via horseback or by using 4×4's to access the ranch, and everyone in camp took great stags.
My guide and I had glassed many stags, but hadn't made a real play for one until the morning of day 3. We spotted two nice stags and a few females on an open hillside over a mile away, and we began what would be a 3-hour stalk. We crawled into about 350 yards using what rocks and high grass that we could as cover. As we lay there watching the stags, the largest of the two got out of his bed and made his way toward us. When he disappeared in a fold in the terrain, we quickly moved forward to cut the distance as well.
The stag never reappeared, so we crawled to where we could see into a small drainage, and eventually, we spotted his antlers sticking up above the tall grass he had bedded in. We were there over an hour waiting for him to stand and give me a shot, and finally my guide's patience ran out. He began throwing rocks down toward the stag, only 125 yards away, but we could not get him up.
Finally, a big rock must have hit too close, and instead of standing for a better look, the stag launched out of the grass at full speed, and dashed up the open hill away from me. I tracked him in my scope, and after he ran about 100 yards, he paused and looked back. He was quartering away, and I sent a .300 Win round that hit him just behind the shoulder and lodged in his chest. The big stag sprinted less than 50 yards before he piled up and was done.
He was an amazing free-range stag with 10 points on each side, and he measured 354". I was beyond elated as I have taken quite a few stags, and he was by far my largest. That being said, while I was in camp, there was a 376 and a 394 taken. You don't find free range stags like that on many places at all.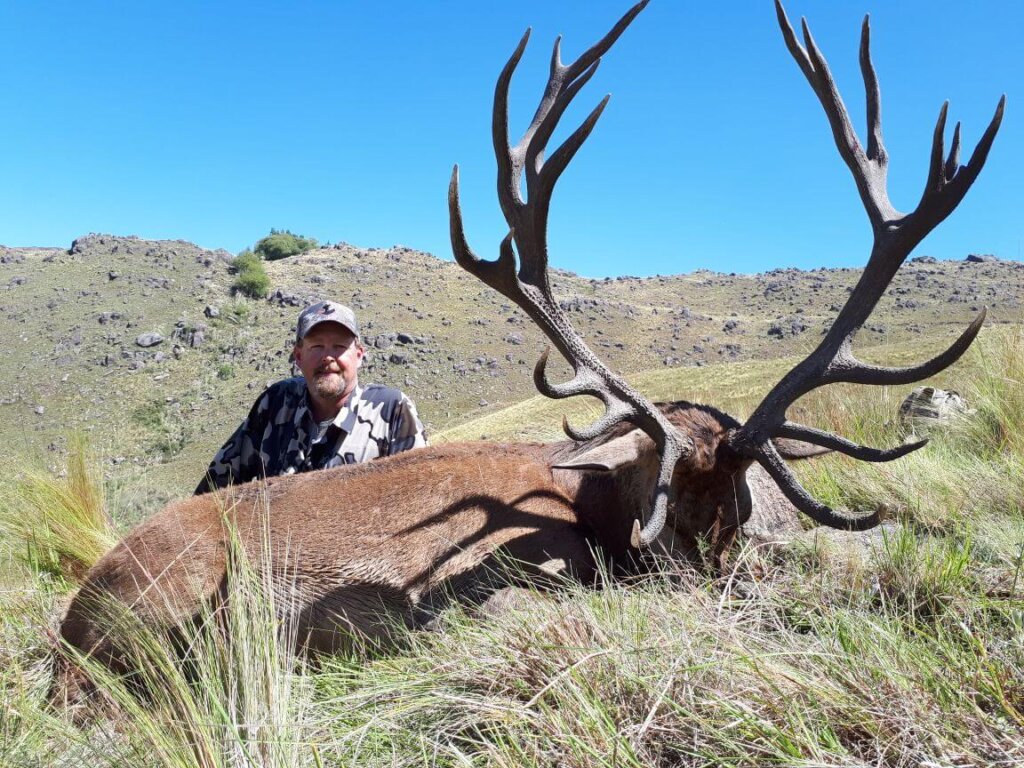 A couple of days later, I flew down to Patagonia to visit another great outfit. This operation offers 60,000 acres to hunt. Roughly half is free range and half is estate. On the estate section, the sky is the limit, and they have many stags that will score between 400-600". On the free range part, they have some great looking stags that any hunter would be proud to have on there wall as well. I met 4 friends and WTA clients for the hunt, and everyone came home with great trophies.
I really wanted a stag with mass on this hunt. I wasn't too concerned with how many points, or any kind of score, I just wanted a free range stag that was heavy and had nice looking crowns. The rut was going strong in Patagonia, and every morning, the valleys were filled with almost nonstop roaring from dozens of lovesick stags.
We looked over a number of good stags, and I actually shot a couple of management/cull stags that were mature but not of high trophy quality. On the third afternoon, my guide and I drove way to the back of the property as it began ascending into the mountains, and we had seen very little movement. It was warm and quite windy, and we figured the stags were still bedded in the thickest cover they could find.
We were glassing from a big open ridge when a deep roar resonated from a swampy area with high grass, thick brush and a few willow like trees below us. Over the next 15 minutes the stag roared more frequently, and finally we spotted his almost black horns through the foliage.
He had a small group of hinds with him in the swamp, and he was trying to keep them all corralled up. We moved to about 200 yards above the swamp, and when the big stag chased one of his ladies into an opening, I thought I would get a shot, but he was always moving or facing dead away, and then he dashed back in the thick stuff.
After a while the females began feeding toward a grassy clearing in single file, and the kind of the swamp wasn't far behind. When he was in the wide open at about 180 yards, I took the shot with my guide's 30-06, and the big red deer fell in his tracks. I was shooting at a severe downhill angle, and I had broken his spine before the bullet entered his chest.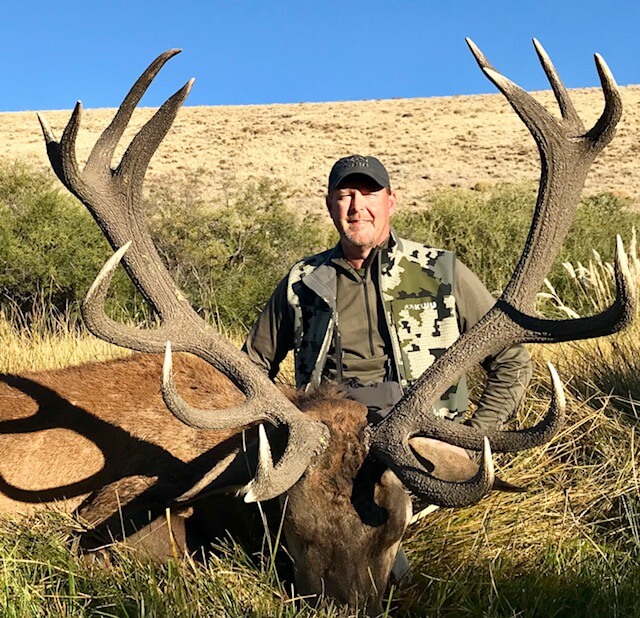 When we got down in the swamp, I was pleasantly surprised. I knew he was a good stag, and I knew he had mass, but I had no idea how good he really was. He was a straight 8×8 with very nice crowns, excellent mass, and virtually black antlers with ivory tips. He was a perfect free range Patagonia stag.
As I mentioned, all of our group took great stags, and my friend Seth took what should be the new #5 archery free-range South American stag in the record books.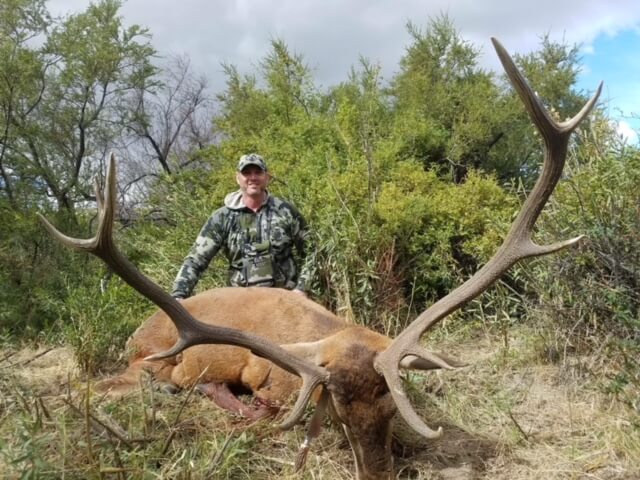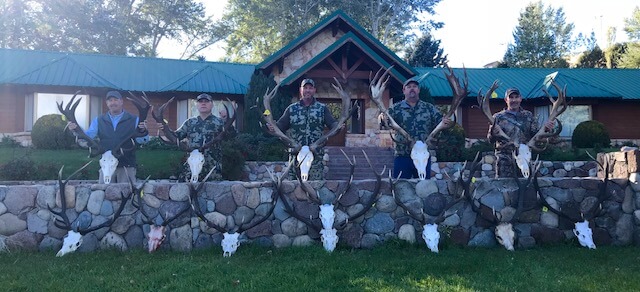 One thing I really liked about these two locations was that even if you are not hunting during the roar, the country is open enough to glass and stalk stags when they are up and moving and sometimes bedded. Many places where stags are hunted have forest or large amounts of very thick brush, and if stags aren't roaring in those places, you have a really hard time seeing them at all.
In these more open locations, you can viably hunt the stags from early March into July. As a matter of fact, the first place I hunted offers specials during June and July toward the end of their season. Both operations also offer other species like fallow deer, wild boar, blackbuck antelope, axis deer, and even Pierre David's deer and water buffalo.
If you haven't been to Argentina on a stag hunt, you need to put it on your short list. It is very affordable, it's an easy trip down from the US or Canada, and the food, people and hunting are all of the highest quality. I have been down there a number of times, and I can guarantee you I will be back. It is one of my favorite hunting destinations.
For more information on the two hunts described above, click these links:
https://worldwidetrophyadventures.com/outfitter-profile?hunt_id=738
https://worldwidetrophyadventures.com/outfitter-profile?hunt_id=1071