There is something about whitetail hunting in Saskatchewan that has fascinated me for as long as I can remember. Just seeing photos of old, big bodied, chocolate antlered, giant bucks is something that gets the blood pumping in all hunters. This past fall my schedule finally worked out for me, and my father Earl, to make the trip north of the border. We went with our good friends, Emily and Lance Robinson, of Safari River Outfitters located near Meadow Lake, Saskatchewan. Safari River is also one of WTA's preferred outfitters in Canada offering highly managed trophy whitetail, black bear and probably the best waterfowl hunting there is in Saskatchewan.
Whitetail hunting in Saskatchewan is not for the faint of heart. Hunters who want the best chance of success on big old bucks, have to be prepared for long sits. Getting dropped off before sunrise and sitting all day until after dark, is the norm. I can say that I have done all day sits in the lower 48 before, but only on opening days or the first week of the season when deer are getting pressured and pushed all over. That is not the reason for all day sits in Saskatchewan; it is the complete opposite. The very best outfitters have giant areas but with these giant areas, there is extremely low hunting pressure. There probably is not another hunter within 2-3 square miles of where you are hunting. But because of this low hunting pressure, deer are on a normal uninterrupted schedule. This means that there is the potential of deer movement, and big buck movement, all day long.
The hunting area that Safari River outfits in, is right where the large boreal forest meets the agriculture areas of the south. This is perfect for all of the different hunting that they do. For waterfowl, their spreads are literally the first thing the geese see as they start their migration south. The bear and deer get the benefit of good food sources from the agriculture and also seclusion in the large forest making it the ideal wildlife habitat.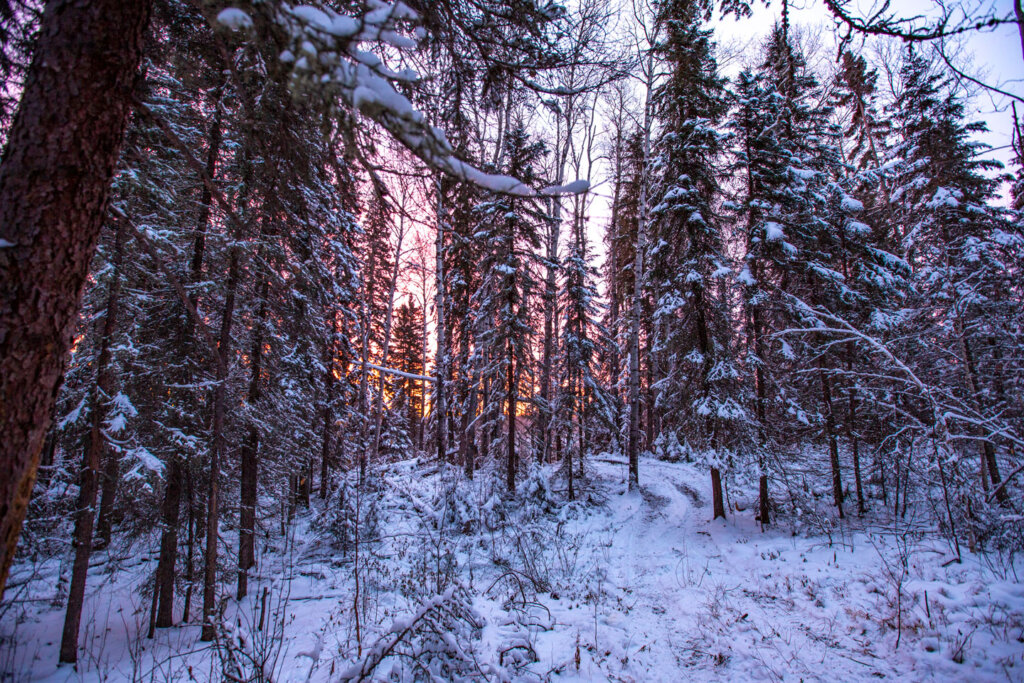 Never having hunted whitetails north of Michigan, I did a bunch of research and studying on body size, antler growth, etc. to be prepared to age the deer. Aging deer in Saskatchewan is nothing like aging a deer in Michigan, as their bodies are just so much larger. Lance and his guides also helped us by reviewing trail cam pictures of deer in the area, showing deer of all age classes with some bucks even in the 7 to 8 year old range and on the downward side of their antler growth. Age leads to extremely heavy horns and that was the exact type of deer I was hoping to take on this trip.
Back to the trip. Upon our arrival by air in Saskatoon, we found that not all of our bags had arrived on our flight. After checking with the airline, we were told our rifles and remaining bags would be arriving on the 11 pm flight that night. That pretty much ended our hopes for arriving into camp early and having a peaceful first night. Luckily all of our bags arrived at 11 and we decided to drive into camp late versus spending the night in town and then driving in the next day. It is about a 3 ½ hour trip and we arrived into camp around 2:30 am. The night before, I let Lance know to wake me and Grant, my cameraman, at 5 am and we would give it a go on short rest. I wanted to max out my time in the blind. Dad decided to sleep a few extra hours and head out that afternoon.
Now, this was one of those times that I was extremely happy that I got my butt out of bed. I really wasn't feeling it at 5 am. After a quick breakfast, Lance went over some trail cam pics of bucks in the area where we would be hunting. There were a couple of target bucks but the main one was an extremely heavy 10 point that looked to be in the 6 year old range. After a 45 minute pickup ride and a 15 minute ATV ride, we arrived at the blind. We had to do some quick trimming to allow Grant a good field of site for his camera, but Lance had us getting to the blind plenty early. After getting all set up, we waited the 30 minutes until first light. As soon as we were able to see, there was a doe out in front of us. She fed and ate for about fifteen minutes. But, towards the end we could tell she was bothered by something as she kept looking back down the trail. I then caught a glimpse of antler, and eventually I could see, behind a pine tree, a single beam. There was no doubt. It was the heavy 10.
My heart instantly went to racing as I got set up to shoot. All the big buck needed to do was to take two or three steps forward. Unfortunately the doe had other plans as she took off running right towards him. He spun and followed her into the thick brush. Oh no! So close, right off the bat. As Grant and I started to whisper back and forth about how big he was, I saw a flash out of the corner of my eye. Raising my binos, I could see the buck standing behind the pine tree again. I quickly put my binos down, got set up and waited. It seemed like an hour but in reality was only a couple of minutes. The buck walked out from behind the tree. I gave him a little bit of time to get good film footage but not too much time as my heart was racing. A single well-placed shot and the buck was down. Walking up to him, I was just in awe of his sheer size, body, head, antlers, everything. He was a true giant and the exact type of deer hunters come to Saskatchewan for.
I have to say, this buck was a first for me. I had never tagged out on anything the first morning of the first day, let alone tag out the first hour. But this early success worked out great as now I could sit with my Dad and continue to hunt for his deer. Some would say I didn't get the full Saskatchewan experience of whitetail hunting with my deer. I would disagree as I got more than the full experience with Dads' hunt. We hunted sun up to sun down for six more days. We saw a ton of deer and some very good bucks but they were either not old enough or just not quite big enough. You must realize that two of these earlier bucks would have been the biggest my Dad would have every harvested, but he had 100% bought into the management plan that Lance and Emily have setup. That is, that age comes before size.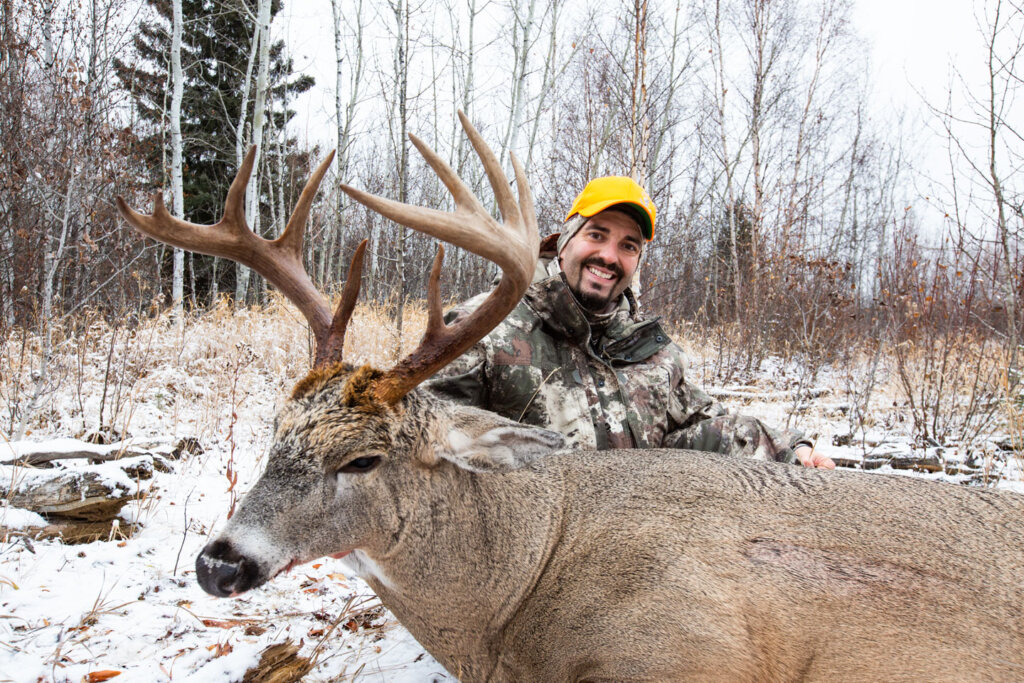 Like many things, being persistent will eventually pay off. It did for Dad on the morning of day 7, our last day. We had done some moving around, playing the wind each day. But any time we could, we were hunting a dark timber setup after a buck that looked absolutely huge on the trail cam. He had it all. He was an old buck, with dark chocolate horns, wide, tall, and even had a kicker. On the last day, we went all in on that blind one more time. About 30 minutes after daylight, the buck came out of the timber following a couple of does who had come in earlier. It didn't take Dad long to realize what buck is was. A well-placed shot and the giant was down. Dad had an absolutely incredible deer and was so happy.
That Buck wrapped up what was nothing short of an amazing week of hunting. Thanks to Emily and Lance for their great hospitality and the entire crew who assisted. There was way too much great food from master chef Craig. This is one of those trips where I didn't come home lighter. If you're looking for an absolutely great whitetail hunting experience, make sure to check out Saskatchewan and give the team at WTA a call to book the whitetail hunting trip of a lifetime. 1-800-346-8747