I took this bull at 341 yards with a Gunwerks long range muzzleloader. My recent procurement of this precision sporting arm is a total game changer. For years now I have hunted with my old, trusty smokepole. Her name is Mary Jane. She shoots well, but when you compare her to this 50 caliber Gunwerks implement of death – it's apples and bowling balls.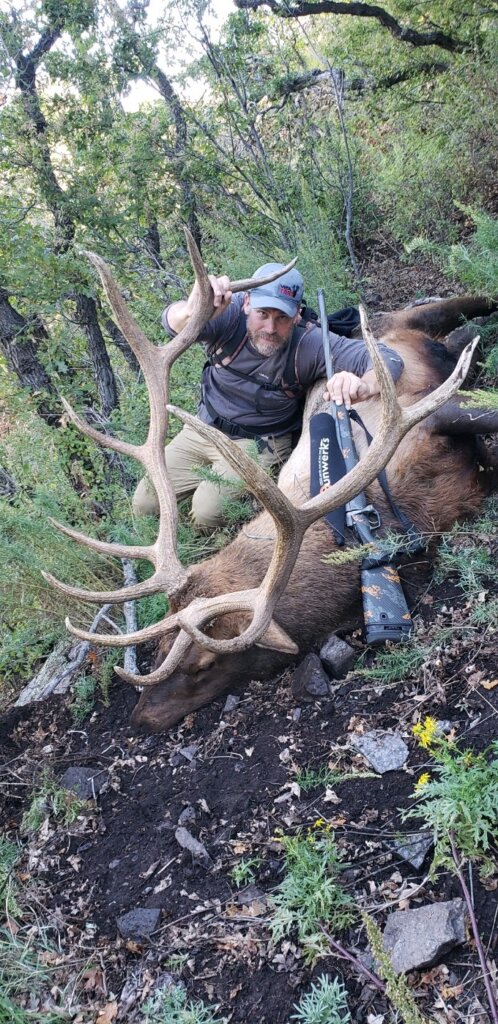 When we first glassed the bull, he was screaming his guts out on the far side of a knife ridge. We tied up the horses and then hiked through some pretty horrific brush and steep landscape. Thankfully, we finally got in front of him, beating him to his bed. We were positioned perfectly and things just felt right … you know when you get that feeling that things are about to come together?
My guide, Tye, called out the range,
"Once he crests, he'll be about 475 yards."
Tye called. The bull bugled. A minute later Tye called again. The bull answered. He had closed the distance.
"He's coming. Find yourself a good rest", Tye whispered.
I was anchored up with the forend of the gun resting on my pack which I had situated over a stand of oak brush and I then placed the stock between my hip and my balled-up jacket. I was completely locked-in. The bull crested and then he was in-and-out of the thick oak brush. In-and-out, in-and-out. It was intense.
When he finally stopped in a small opening, Tye whispered,
"He's at 341 yards. He just needs to turn his head away and he'll be completely exposed."
I spun the turret to 340 (very little wind).  
"You good?", Tye asked.
"Rock solid", I whispered back.
 The bull finally turned his massive head and opened himself up.
 "There it is", Tye said.
 I held my breath, calmed my mind and squeezed off. He was finished. Perfect shot, right behind the shoulder.  
There was no way we were getting any closer to that bull, thus there was no-way I would have harvested him had I been using Mary Jane. I wouldn't even have attempted this shot with my old muzzleloader.
This unit of New Mexico sets-up perfectly for these long range muzzleloaders. In fact, there were two other hunters in camp (great guys) with long range smokepoles (the guides were extremely pleased). Both harvested beautiful bulls as well. One at 441 yards – double lung placement. We were sharing a camp inside this premium, public land draw unit and hunting via horseback. This particular unit is really really steep and really really thick. Once you get on–top, it's not real difficult to spot elk. What's difficult is getting close, as the extreme steepness and brutal thickness, severely limit one's approach. 
For the past 15 years, I've hunted many of the very best, limited-entry game management units across the West. I wish I would have had this muzzleloader all along the way. It would have helped immensely. You see, when you draw a tag, even in the best units, its very different from a private land, ranch style hunt. You have to remember, even in the best draw areas, you're still dealing with public land – National Forest and BLM. The country you're hunting is typically much more demanding. You really have to have your act together and you really need to put every advantage in your favor to maximize your chance of success. A higher-tech sporting arm, does just that. Remember drawing a particular tag could be, and often is, a once-in-a-lifetime occurrence. Make sure you get yourself into the best possible shape (strong legs, strong back, strong lungs) and make sure you bring along quality equipment.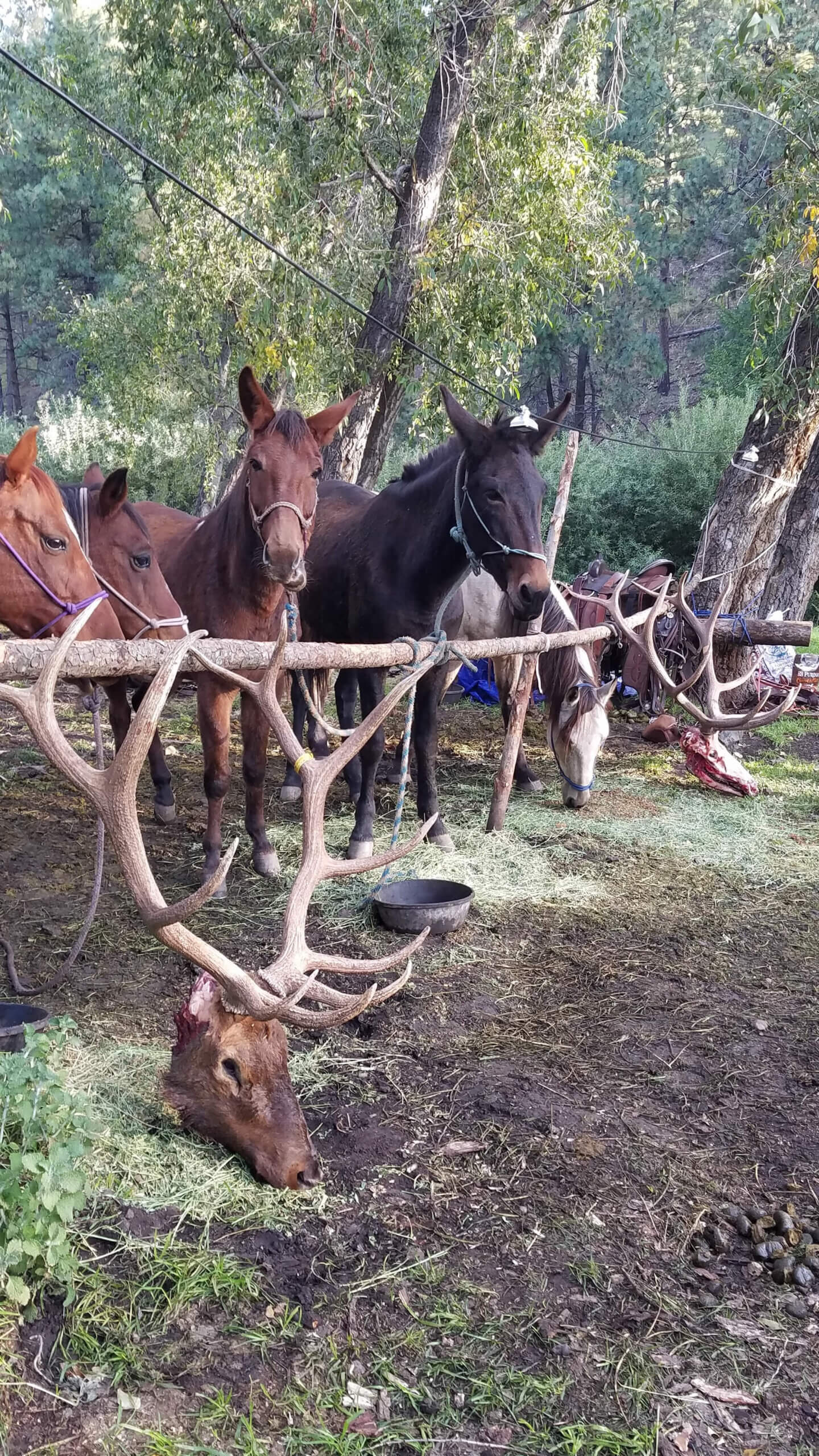 As I reflected on this harvest while driving back to my home in Sidney, NE,  it dawned on me, adding a long range muzzleloader to your arsenal is every bit as important as owning a long range rifle. In fact, it's probably more important. Think about it; muzzleloader tags are typically easier to draw and the muzzleloader seasons are often more optimal. Purchasing, and becoming proficient with, a long range muzzleloader completely changes the application strategy for the better. As we are all aware, becoming a more versatile sportsman always pays dividends.
NEW for 2020, we are working with Gunwerks to develop a muzzleloader specific Long Range University and TAGS course. This opportunity will provide attendees a chance to get their hands on a muzzleloader at the range in Cody, WY to truly experience what this set-up is capable of when combined with expertly guided shooting techniques. TAGS consultants will also be on-site to discuss application strategies and share experiences from over 20 years in the field.  Look for class dates to be announced soon with details on dates and curriculum. 
If you would like to take a deeper dive into muzzleloader drawing odds and season dates VS. rifle drawing odds and season dates, just call the WTA TAGS office and ask to speak to a TAGS Consultant. Also, if you would like more information about this particular hunt or if you would like to speak about the  precision muzzleloader that helped me bring it all together, I'd be happy to visit with you.