When it comes to hunting wild quail in the United States, Arizona seems to be, everyone's favorite.  In Arizona you can hunt three species of desert quail on the same trip: Scaled, Gambel's and Mearns, which is also known as the Montezuma quail. We timed our trip to Southern Arizona to catch the early December season opener for Mearns.  The town of Patagonia, Arizona is well known by upland hunters as the hub where the majority of quail hunters stay.  However, traveling with 3 dogs we opted to stay at a quiet "dog friendly" bed and breakfast halfway between Patagonia and Nogales.  This ranch with the bed and breakfast was the perfect setup for us to walk our dogs and the location also allowed us to try restaurants in both Patagonia and Nogales at night.
Since our first day of hunting in Arizona was the Mearns opener, we focused on hunting the mountainous area along the US/Mexico border which is known for Mearns.  This hunting is all on public ground, which means the further you can hike and the better shape your dogs are in, the more success you will have.  Our goal was to take off early the morning and be waiting at our first hunt site to put our dogs down as soon as first light made hunting legal.  As it turned out, we had an interesting morning coming our way.
Our guide Justin's main job is that he is a Border Patrol Agent who takes his vacation time off during bird season so he can guide bird hunters.  Justin guides hunters in the same area that he patrols, so he has boots on the ground intimate knowledge of the hunt area. On our morning drive out, we came across a group of border patrol agents pulled over on a two track.  As Justin knew the other officers, he stopped to say "hi".  As it turned out, the agents were after a group of smugglers they believed were carrying cocaine.  This was day 2 after this group, as the smugglers had "spotters" on the Mexican mountain side who kept warning them where the Border Patrol Agents were setting up.  And, then the smugglers would retreat back to Mexico to try again later.  Living in Michigan, we are a long way away from the southern border and what actually happens there.  We were about to find out that, contrary to a lot of negative we hear about our border patrol agents on tv, a main job of our border patrol is to actually stop and arrest individuals carrying backpacks of illegal drugs across the border.  The border patrol vehicles have a very distinctive paint job that makes it easy for spotters to track their location.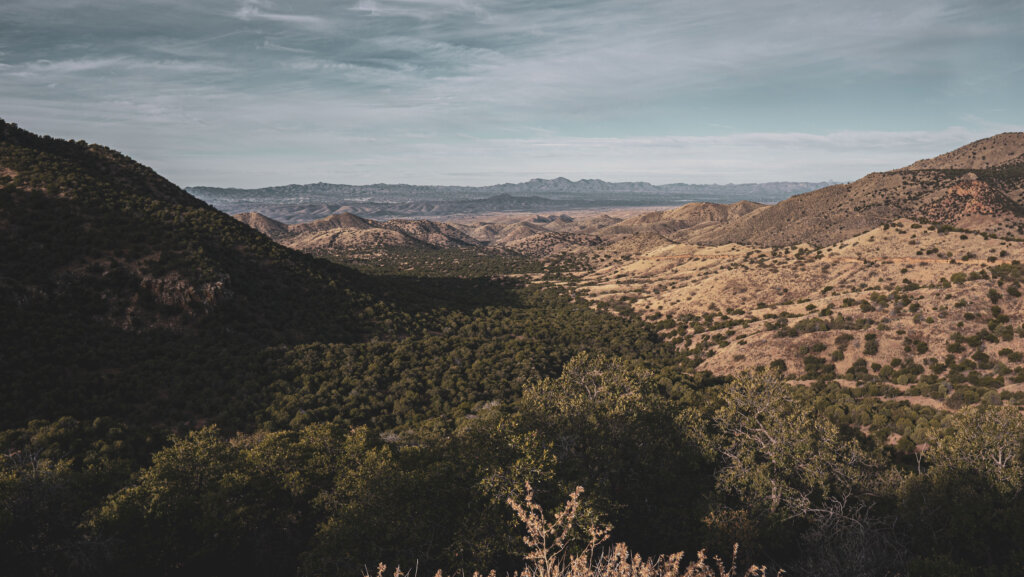 We had the opportunity to assist and eagerly accepted.  The Border Agents left us and drove forward to a "blind spot" where they hid their vehicles.  As we drove by, a total of six agents quickly joined us in our two bird hunting trucks.  The agents wanted to hop in our trucks as the vehicles would blend in with the other vehicles in the area and not alert the spotters. We moved closer and closer to the border where the agents expected the smugglers to cross.  I have to admit, I thought we did a pretty darn good job on the drop off.  We slowed down in another blind spot and the agents hoped out.   They were out of sight from the spotters and started up a trail to where they expected the smugglers to be after they crossed.  Minus the agents, we continued on to the area that we would hunt that morning.  We parked 100 feet from the US/Mexico border fence, which consisted of welded railroad tracks, which any person, or animal, could step over and under without any hesitation.  This was definitely not a section of the new wall and was not a deterrent to any smugglers.  NOTE:  We found out later that the plan worked to perfection and the Border Patrol Agents caught the smugglers with cocaine.  We all owe our thanks to the brave men and women of the US Border Patrol.  It is boots on the ground that make the difference in slowing the flow of illegal drugs into our country.
We arrived at our first hunt site about 90 minutes later than we hoped but the weather was perfect.  We put the dogs down and off we went.  With quail, it actually helps to give the birds a little time, so the temps are up and the birds are moving around and creating scent.  It didn't take long before we were into our first covey of Mearns.   Both Dad and I took a bird out of that first covey and just like that we both had our first ever Mearns quail.  As the area we were hunting was public ground, and there is a good chance this covey would be hunted by others throughout the season, we moved on versus trying to take any additional birds out of it. Before our morning hunt was over, we found one more covey and took one more Mearns before calling it for heat and switching locations for the afternoon hunt.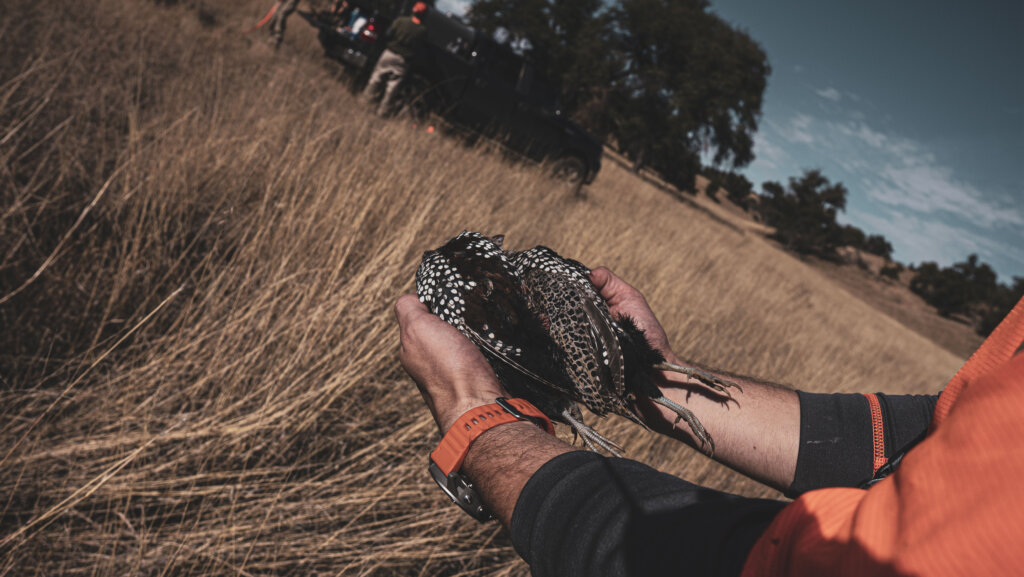 The terrain for our afternoon hunt was much steeper and more vertical than where we hunted in the morning.  This area was, again, very close to the border, but unlike the morning hunt we couldn't see the border as we hunted.  Within minutes of letting the dogs down, we had our first point on a big covey.  The terrain was quite steep as we walked the side areas, so Dad walked the lower area.  I was covering the sides and the top portion of the hills.  Shooter loved Mearns hunting and he locked up tight in front of me.  I approached, the covey exploded into the air and I doubled up on two Mearns.  In this more remote hike-in location, this covey hadn't been as pressured as the two coveys we had seen in the morning.  We continued on farther into the area and our effort was rewarded as we put up four additional coveys and had an absolutely great afternoon.  Yes, the walking was tough, but when you can get away from other hunters and hunter pressure, there are some great rewards that await you.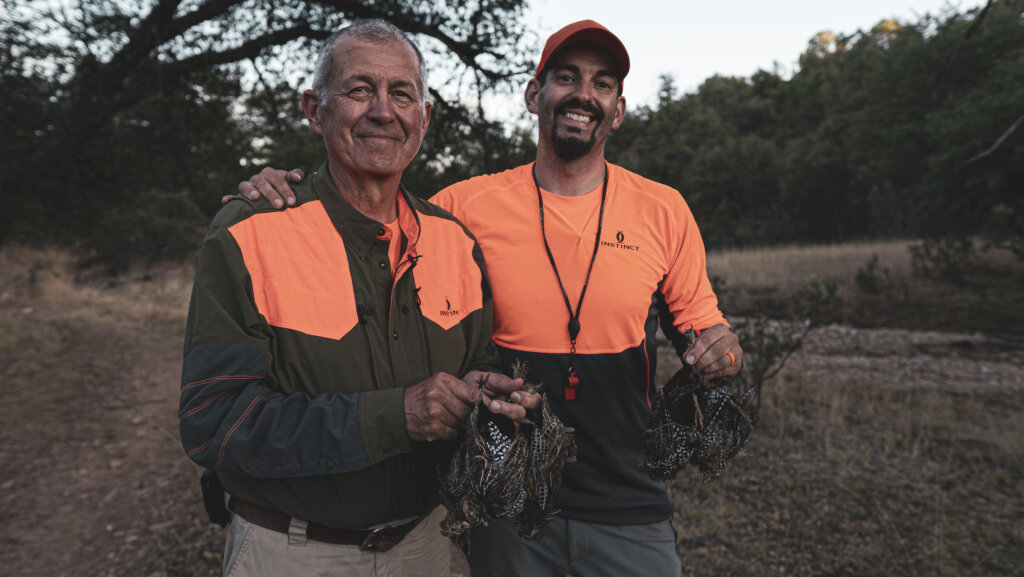 Our next day would take us a couple of hours away from the border and our focus would be on Scaled quail and Gambel's quail.  Both Gambel's and Scaled quail prefer flatter, generally desert areas.  The area we were hunting also had some fairly hilly areas that held Mearns as well, but our main focus was Scaled and Gambel's. Because the temperatures for the day would be close to 100 degrees in the afternoon, we knew we had to utilize our time in the early morning and late afternoon to maximize the scent conditions for the dogs. The area we were hunting for Gambel's and Scaled quail was a big ranch desert area and because of this we had three dogs on the ground at a time.   I let my dogs roam more than I generally would so that they covered more ground, increasing our chances.  This was very similar to the approach we used with our dogs in Wyoming.
Although the dogs were working well, we made it back to the truck after a couple of hours with no birds located and some very tired dogs.  We took a quick break and swapped out dogs knowing that we only had about an hour before the heat would force us to wait until later to hunt again.   As it had worked out earlier, we had left Tiny back on the first part of the day as she is a close working dog.  We had opted to have Arrow and Shooter out to cover more country.  As we started off from the trucks, we went in the opposite direction than we did first thing in the morning.   In less than 150 yards, Tiny locked up in front of me.  I quickly walked up behind her as Scaled and Gambel's are known to be runners.  Two quail exploded about 3 feet in front of Tiny's nose and I dropped one of them.  As Tiny picked it up and brought it back to me, I realized I had my first Scaled quail, a nice male. Tiny quickly showed us that close working dogs can succeed on desert quail as well.  After a few quick pictures, we continued about 100 yards in the same direction. Tiny locked up again right in front of me.  My mind quickly went to "this must be the rest of the Scaled quail covey".   I tried to get Dad over to walk in behind Tiny, but a single bird took flight.  I quickly swung and my shot was true. It wasn't a Scaled, but instead a single gorgeous male Gambel's.  In a matter of minutes, Tiny had two productive points on two species of quail.  This completed my Arizona slam for Mearns, Scaled and Gambel's quail.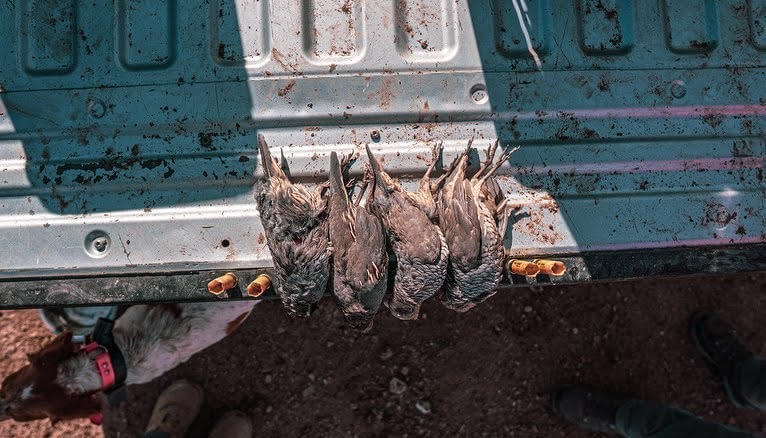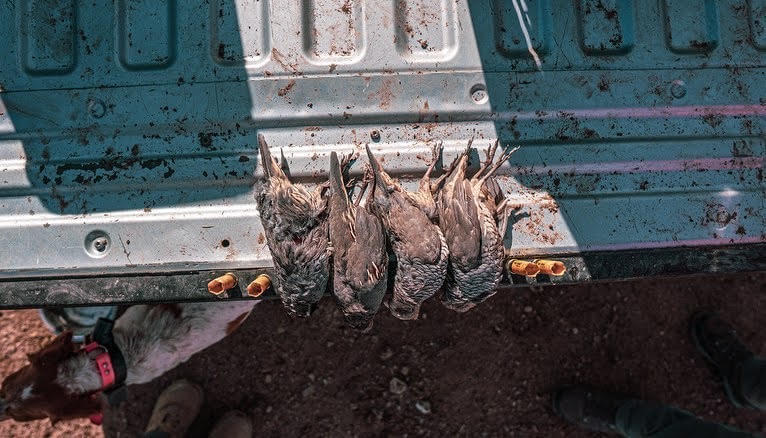 Now for the late afternoon, our plan quickly changed to "could we get a slam of the three species in a single day"?  We decided to focus on the hilly Mearns area of the ranch that we were hunting on.  We found a shady spot and took a three-hour break in the afternoon to eat lunch and waited for the sun to lower and drop the temperatures a bit before letting the dogs back out.  This allowed us to take in just how gorgeous this area of Arizona was.  I also checked the temps back home where it was below freezing.  So, yea I will take sun and heat over snow and freezing any day I can.
I had Arrow and Shooter back out for the afternoon, knowing we only had about 90 minutes to hunt, I wanted their wide-ranging dog power. By this point, day 2 in the desert quail area, all of our dogs knew what the hunt was all about.  Remember that our dogs, prior to this upland slam adventure, had only hunted in Michigan before this Fall.  While planning this quest, I was told, over and over again, that it would be nearly impossible for our dogs to adjust and be successful.  Well, that is not true at all.  I have witnessed first-hand that if you put good dogs, in the right areas, what they are capable of.  Have we had dog mistakes and learnings in the field? Yes, absolutely!  But that is all part of the experience and the growing bond between us and our dogs.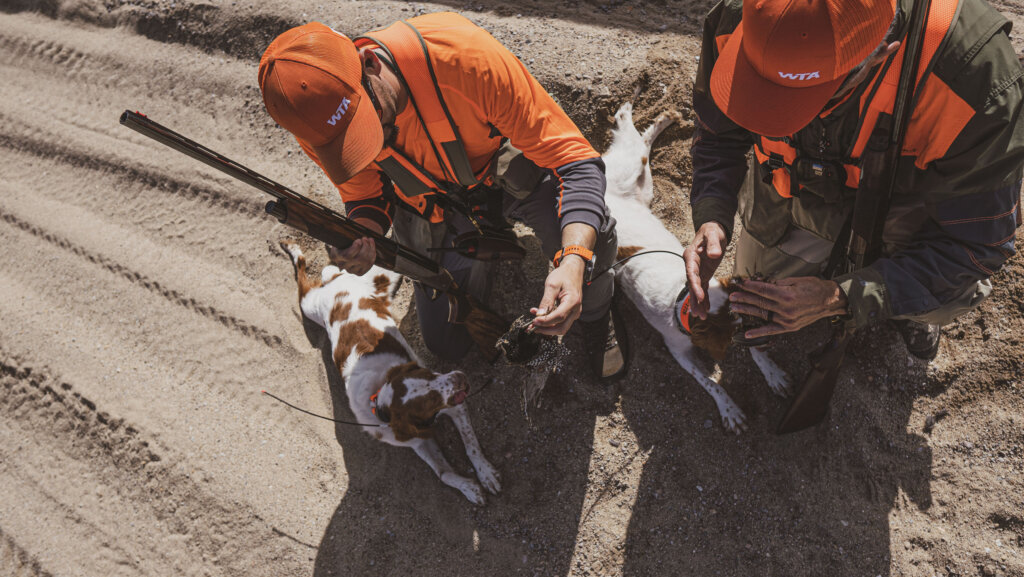 I want to make a plug here.  I just said, "put good dogs, in the right areas".  What that means is that the consultants at WTA did the research and found us the best outfitters, with the best areas, and that allowed us to have the best chance at completing the Upland Slam.  It was our best chance, but it wasn't a guarantee.  As any bird hunter knows, the odds are also increased on the "openers", so the team at WTA moved us to around to the openers of the more difficult species.
Back to the field.  With about 45 minutes left before calling it a day, both Arrow and Shooter locked up.  Dad and I quickly worked in behind them.   A covey of more than 12 Mearns exploded.  Dad and I were both able to get a bird from the group and I had my Arizona quail slam, all in the same day.  This was an absolutely great day in the field, with great dog work and some decent shooting.  On our walk back to the truck, we ran into one more covey and that capped off the already amazing day.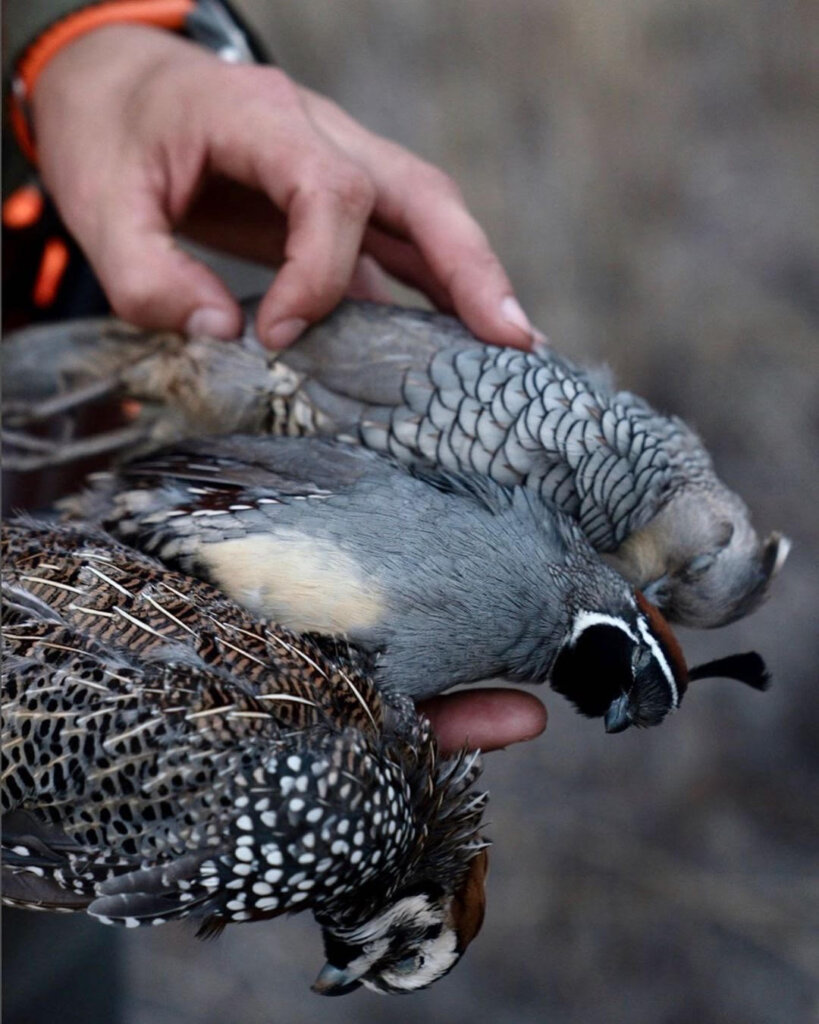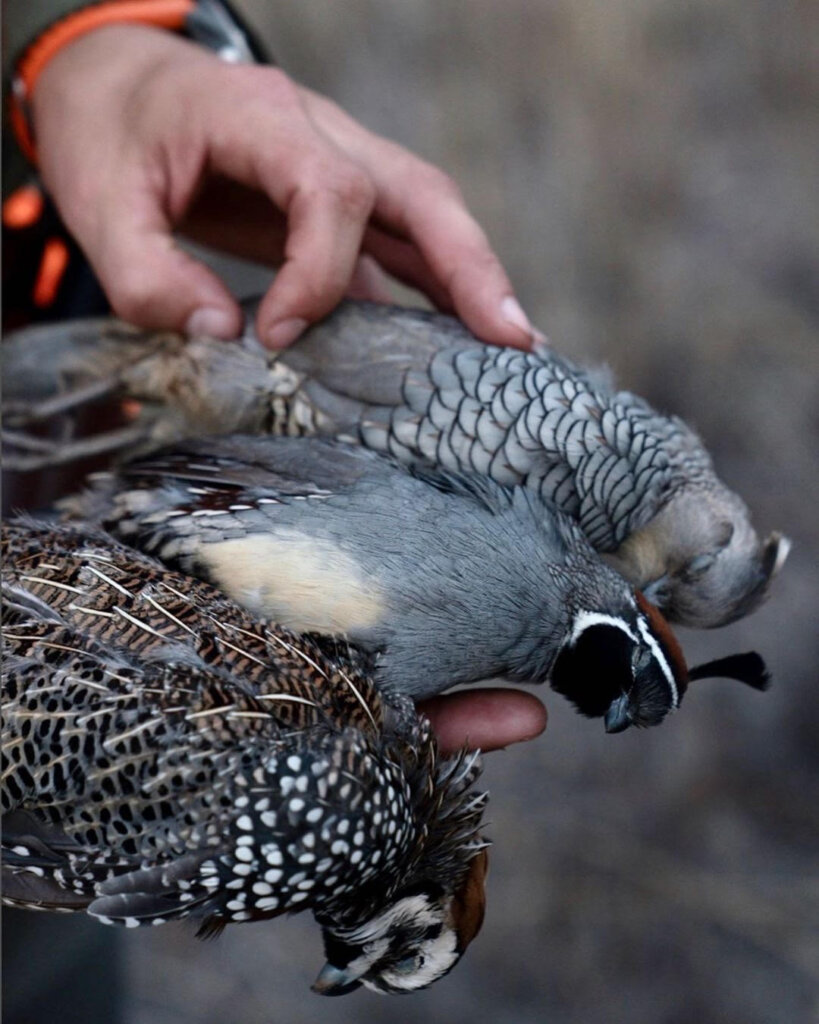 This may have been my first quail hunting experience in Arizona, but it will definitely not be my last.  I now understand why serious quail hunters go to Arizona every single year. The hunting is great, the weather is amazing, and the atmosphere of bird hunting the Mearns opener was something I could only compare to our upland openers and deer season opener in Michigan.
After a great Mexican meal and a quick night, we headed out the next morning for northern Oregon for Chukars.  This was our back-up plan for Chukars as we had failed, earlier in Wyoming, to get a single shot at a Chukar. Hopefully, we would reverse the curse in Oregon.