ARCHERY ROCKY MOUNTAIN ELK IN COLORADO, BY MARK PETERSON
In his quest for the North America 29 X 3, by taking each with a Rifle, Muzzleloader & Bow, Mark Peterson shares his hunt stories in a series we call "Triple Threat".
To say that I was a nervous wreck before my archery elk hunt this fall would be a huge understatement. As we were moving into our new home this summer, I thought it would be a great idea to do the majority of the moving myself with my family's assistance. That didn't end well as I severely aggravated a minor existing hernia. My recommendation for anybody moving is to spend the couple hundred bucks and get some professionals to do the heavy lifting. With my hernia news, I opted for surgery as soon as I could get in, so as to be as ready as possible for fall hunting. Recovery time from surgery was estimated to be six weeks before full activity; that didn't line up real well as I was set to be on an archery elk hunt in Colorado five and one half weeks from the date of surgery. But, faced with no other options, I had the surgery and started my recovery. As luck would have it, everything went well. I took an aggressive approach to recovery and received the green light from my surgeon to start letting arrows fly again after four weeks. I wasn't able to do any serious workouts before the hunt, but at least I was able to get dialed in with my bow.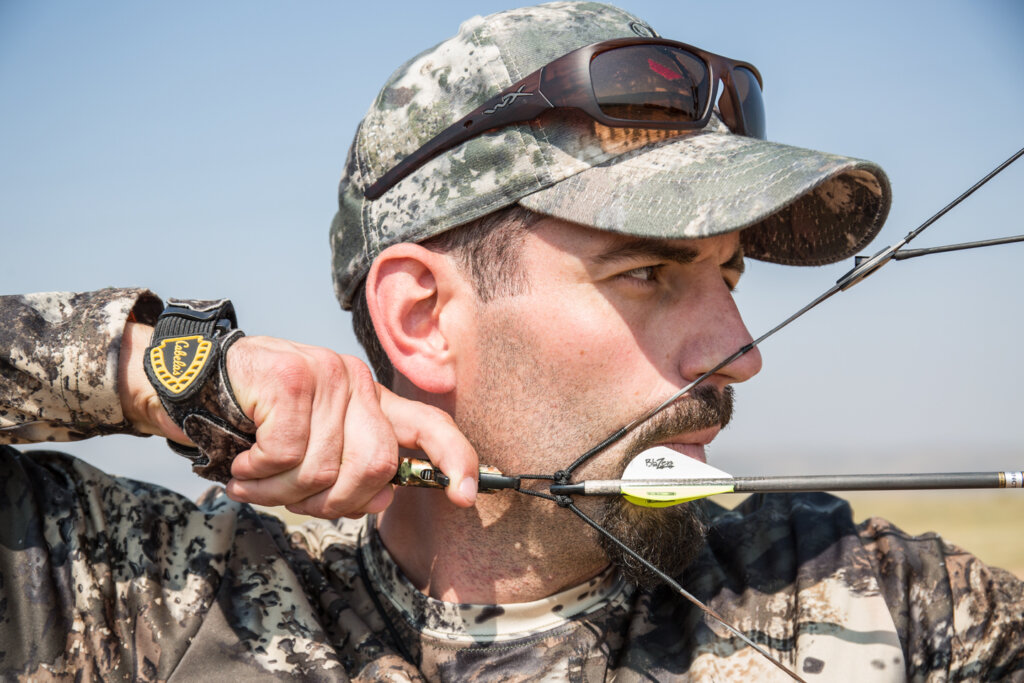 It was great news that I would be able to head to Colorado. I only had a little over a week to get back into shooting. For a Michigan bow hunter used to a long shot being 30 yards, there was a bit of pressure to extend and feel comfortable out to 70 yards. Again, I took an aggressive approach and shot 3-4 times a day and attempted to cover every shot angle there was. As the days clicked by, I felt confident but wished I could have been practicing for months prior to the hunt and not just nine days. Off to Colorado I went…
The main factor in choosing where to do this hunt was that I wanted to hunt an area with a high density of elk. Being new to archery hunts, except for whitetail, I am realistic and knew it might take multiple opportunities to be able to seal the deal. I choose to go with some of my best friends and one of WTA's top western outfitters. They promised me that I had never seen an area like this for the sheer number of elk that it held. Wow, they were right! By the end of the hunt I had seen over 75 bulls and multiple bulls in the 320+ range.
Like everywhere in the West this fall, the temps were hotter than normal, which delayed the bugle a bit. When we started the hunt, the bulls weren't talking very much but by the end, it was starting to heat up. The bulls were mainly in groups with other bulls and just starting to fight and break up. There was some chasing going on but it was nothing major. With the temps reaching up into the 90's every day there was really only action for the first and last hours of each day. The plan was to start each day from a glassing knob and see if we heard or could glass up any bulls. From there if we glassed a good bull and he was in a good spot, we would go after him. If he was not in a good spot, we would watch him until he went down for his afternoon nap, and then make a plan for that evening.
From the first day on the ranch we were spotting good bulls and going after them. I can honestly say that there was non-stop action every day. I had a few learning experiences, again being new to spot and stalk archery, I learned as I went. One thing that I learned was that when I snagged my bow on a small tree, I didn't know that it loosened up my peep site; this caused the site to move a little bit every time I drew back. By day four I finally had this figured out and my bow dialed back in. We had many close encounters in those early days but my confidence in my shot just wasn't there until I figured out that my peep site was sliding.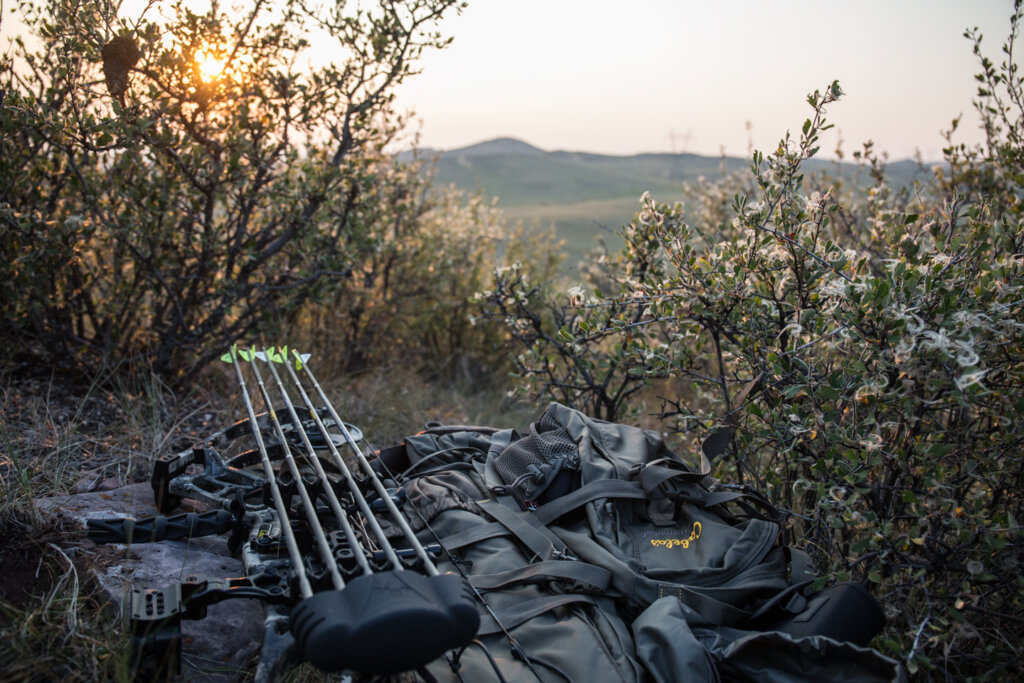 On the evening of day four, we spotted a big bull in a group with eleven other bulls and a couple of cows. We setup and it seemed like we had every other bull come to within 40 yards except the one we wanted. He was starting to feel a little rutty and was mostly interested in the cows. Heading back that night to camp, we made a plan for the morning with the goal of finding that bull again.
The next morning it was like someone flipped a switch and every bull within a couple of miles was testing his bugle. We spotted a 7×6 bull that we made a plan on. We were set up and he was coming when all of a sudden I felt the wind switch and it hit me in the back of the head. Five minutes later and that bull was traveling up the opposite hillside and heading away. We started to second-guess our setup, but in the end there is not much you can do when the wind is swirling.
So, we went to another glassing knob and soon spotted a big bull about a mile away. The bull was located on the top of a pop up mountain and we didn't see any other elk with him. We couldn't tell much other than he had a big frame on him as the heat waves were brutal with the temps approaching 90 degrees. Where the bull was bedded down, he had cliffs blocking his exit on about 80% of the mountain and really only had one good area for him to move down. The wind was perfect, so we got set up on the one corridor he could use to get off the mountain. Our setup had to be within 75 yards of where he was bedded.
After about 30 minutes of calling, and no movement, we regrouped and had no idea what had happened. Maybe the bull heard us as we were sneaking into position? Maybe there was another way off of the mountain and he was gone before we got there? We decided that my guide would move closer to the bull's area and would peek over to see what was going on. My guide, Robbie, did just that and was about 40 yards from where we had set up. He immediately waved me up. The bull was standing at 30 yards pacing back and forth like he wanted to go to the call really bad. I got set and worked to help Grant, my cameraman, get into position. As it's never the hunters fault, but always the cameraman's fault, the bull must have seen Grant moving and started to take off. I drew and stayed on him. Robbie called and the bull stopped with a quartering away angle. Robbie quickly ranged and said 54 yards. The arrow was away and the hit was perfect.
I remember shaking severely after the shot and replaying it in my mind. It looked so good. The next 30 minutes were painful but we waited them out before moving in. We found my bull laying less than 60 yards away. This was one of the most exciting and enjoyable hunts I have ever been on and now I'm hooked. Bow hunting elk in the bugle is about as addicting as it gets. I can't wait until next year so I can do it all over again…