By: Mark Peterson
In getting prepared for my rifle spring Grizzly Bear hunt, I knew it would be a butt kicker! I also knew that the outfitter, in the area I was going to be hunting, has been taking some giant bears in the past years!!! On this hunt I would be with one of WTA's best Alaskan outfitters, known for not sugarcoating how tough any of his Alaska hunts are, but at the same time known for taking absolutely great Dall Sheep, Brown Bear, Moose, and Grizzlies every year. The area we would be hunting was on the west coastline of Alaska, between Nome and St. Michael's island. This area is well known for a high density of Grizzlies and some giant boars are taken every year. I was hoping my luck would have me cross paths with an old bruin.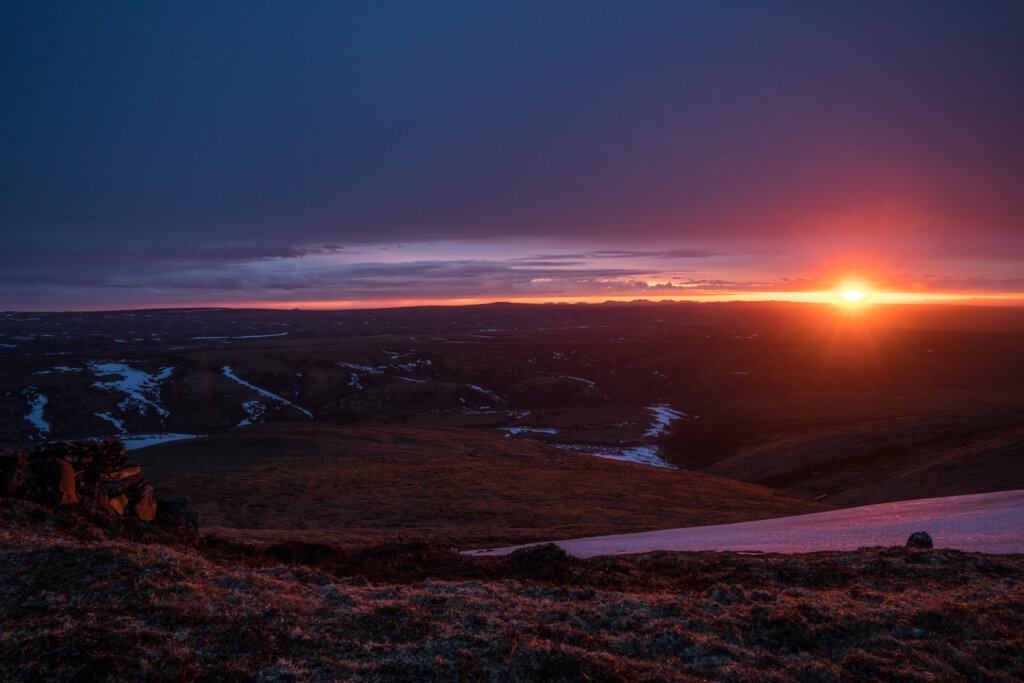 Our travel started out from Michigan and we flew to Anchorage where we spent the night. The next day, we flew from Anchorage to the small coastal town of Unalakleet. Once in Unalakleet we met our outfitter, Lance, and headed over to his storage container, which is the base of his operations for the spring bear season and also the fall moose and bear season. Unalakleet has less than 700 year-round residents and not much for infrastructure, so if the weather is good upon arrival, Lance tries to get hunters out in the bush as soon as possible. It was all sunshine upon our arrival, so we quickly ditched our hardcases, and anything that wasn't essential for the hunt, in the trailer and headed back to the air strip to be flown into the field.
I was surprised when I saw that Jim Tweto was going to be our pilot. Jim and his family were in the TV show "Flying Wild Alaska" on the Discovery Channel. Jim had no trouble getting us loaded up and off we went. Our flight was an uneventful hour flight south along the coast. We were dropped off at one of the hill top camps that Lance uses for his hunts; this hilltop was about 10 miles from the Ocean, which we could see off in the distance. Camp consisted of two Cabela's Instinct tents and all the comforts needed for a 10-day backpack Grizzly Bear hunt. I was fortunate to take a great inland Grizzly Bear in British Columbia in 2012, but that was a stumble upon while I was on a horseback Stone Sheep hunt. This was to be my first true backpack hunt for Grizzlies and all the research I had done before told me it was going to be tough. But if everything aligned, it would also be very rewarding.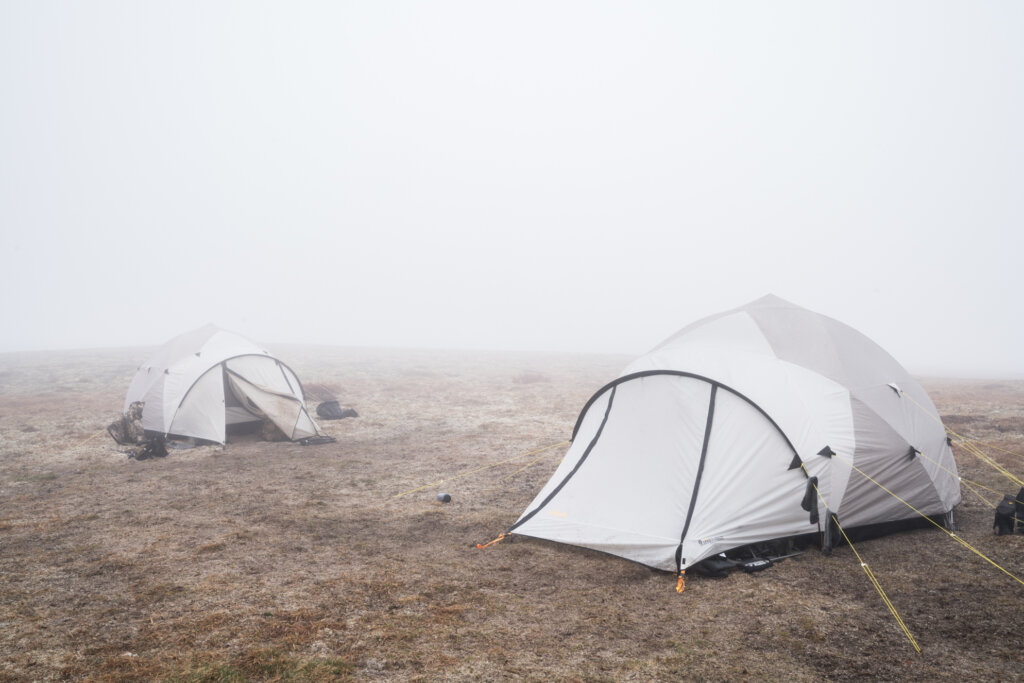 Since it was May in Alaska, it was light outside for about 22 hours a day. And, the 2 other hours were more dusk than dark. After getting settled in, we got our packs set for the next day, ate dinner and went to sleep to wait the necessary buffer time from our flight in. The next morning, we woke and had a big breakfast; this was to keep us filled up as we would be burning a ton of calories each day. We then set off for an hour hike up to the top of the nearby hill, where we would spend the majority of our time glassing 360 degrees around us and miles in each direction. Grizzly Bears are apex predators and for the most part always on the move. Unlike deer, or other animals, they are almost impossible to pattern as they don't stick to trails. The hunting plan was to get to the top of the hill each day and glass as long as we could; this would be 14-16 hours per day of glassing, as bears could move at any time. The limiting factor on the length of hunting each day was what we, as hunters, could handle before needing to go back to camp for a large meal and rest.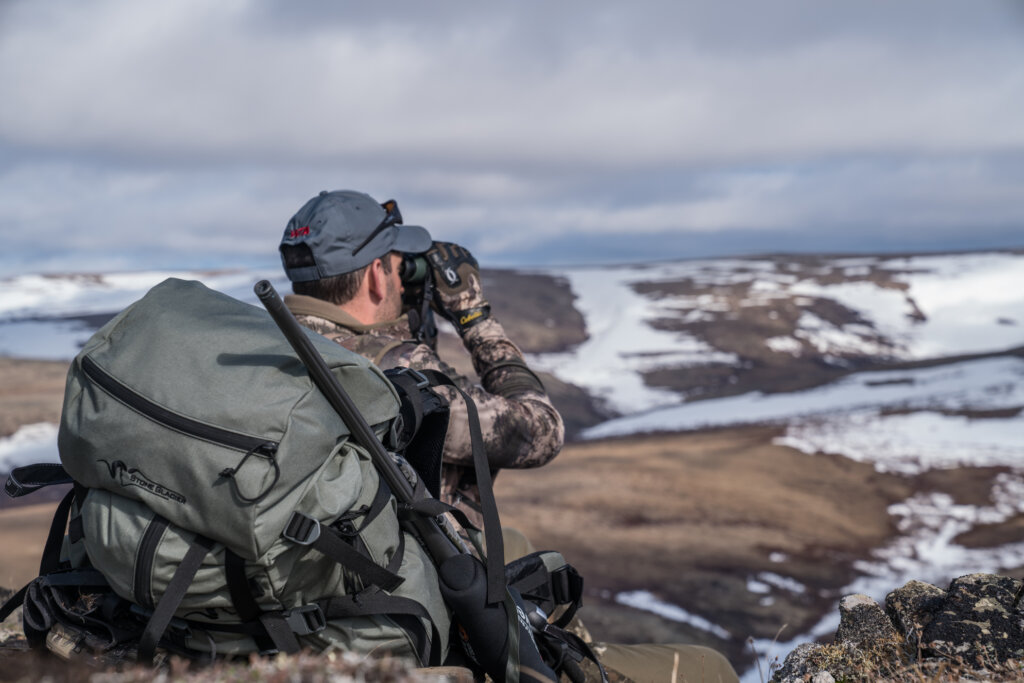 After getting to the glassing knob, we spread out and started to glass. After roughly six hours, we spotted three bears way off in the distance. Over the course of the next couple of hours, we established that there was a big boar pushing what looked to be a sow and young boar. At first, they were too far off in the distance to go after, but they kept walking towards us and eventually moved within 4 miles, as the crow flies, and laid down to rest. Based on where they were, Lance quickly made a game plan and off we went. Our stalk would be roughly 6 miles of walking, with two river crossings. The first river crossing went good as Lance and Brandon (our other guide) would go first across the rivers, hand in hand, to set the path we would cross as they looked for holes or large rocks that might cause trouble during the crossing. On hour three of our hike, we hit the 2nd river crossing, but this river was above waist deep because of all the surrounding melting snow and it had a pretty strong current. After looking the situation over, we all agreed we thought we could manage it, and again Lance and Brandon set the course. The goal, with river crossings like this in Alaska, is to start out up river of where you want to hit on the opposite bank and walk with the current to get there versus trying to walk directly across fighting the current. After watching Lance and Brandon go across, Grant the cameraman, my brother in law, Eric, and I locked arms and started across the river. As we reached the middle of the river, our "oh crap" moment hit.
We quickly found ourselves knocked off our feet and rapidly heading down river. Brandon swung a big branch, from the opposite bank, that Grant was able to hang on to. Although the branch broke, it swung him closer to the bank where Brandon grabbed him and pulled him in. Eric, being 6'4", reached out and grabbed some shrub brush. Being the farthest out, I grabbed at Eric pack, only to pull him off the brush. Eric again grabbed more shrub brush, but I let go of his pack as I realized there was no way he could hold on with the current and me on his back. Without me, Eric was able to hold on and Lance grabbed him and pulled him in. I unfortunately ended up back on the original side of the river, 75 yards down. During this adventure, all three of us were soaked from head to toe. As we were filming during the crossing, we lost our Go Pro, and it was on its way to the Atlantic, my mic was out of commission and we really didn't know what shape all of the other camera equipment was in. And, I was still on the wrong side of the river from the guys, so I walked back up to the original spot we had crossed and got mentally prepared to do it all over again. Off I went, but this time I made it to the other side and grabbed Brandon's hand as he pulled me up. I checked my Gunwerks rifle and dumped water out of the barrel. I took the shells out, dried them off and put them back in.
With the trouble of the river crossing behind us, we continued our stalk. We tried our best to catch up and get in front of the moving bears but had no luck and only caught a glimpse of the big boar going away. This was one of those times hunting, where it is both mental and physical. We had put everything we had into that stalk and came up empty. We sat down a few minutes for a breather and then turned around and did the exact same hike, with two river crossings, back to camp. We arrived back in camp around 4 am, the day after we had started our trek. All in all, we had been on the move after the bears, and then back to camp, for over 12 hours. We ate a quick dinner, which was technically breakfast, and fell hard asleep. This was our welcome to backpack grizzly bear hunting.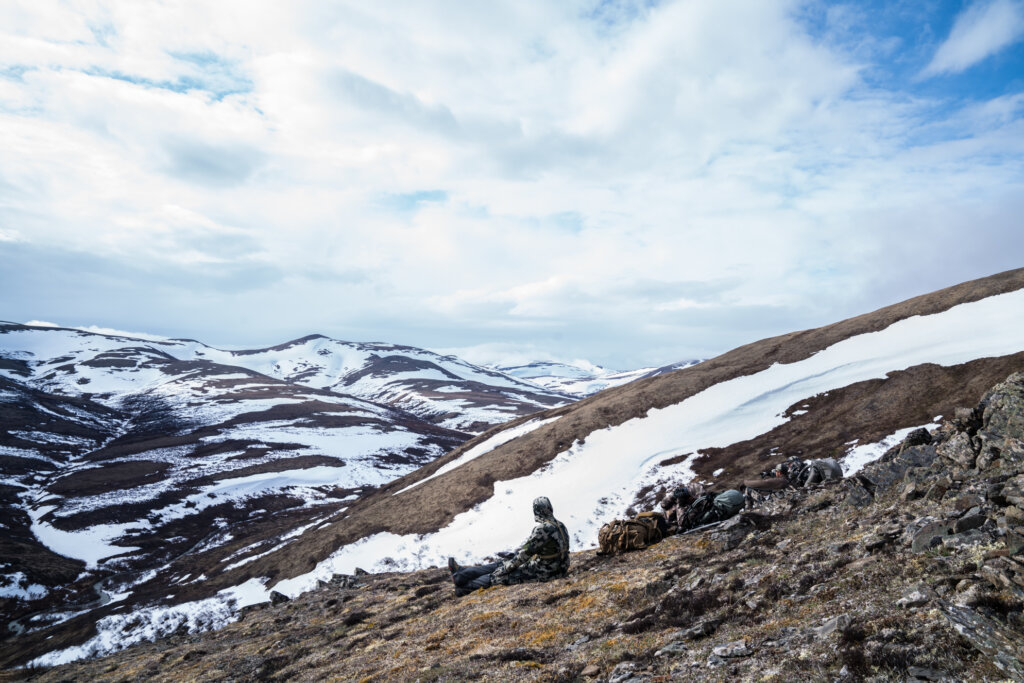 Over the next five days, we followed the same routine of heading up the glassing hill and glassed 14-16 hours a day. Alaska hit us with just about every type of weather it could, but for the most part, the weather was nice by Alaskan standards. There was a constant wind much of the time, but that kept the fog away and, more importantly, the giant mosquitoes that the Alaskan bush is known for. We would see an average of three bears a day, at varying distances, but they were either smaller boars or sows. Day 7 started off much the same, but as we were glassing, we spotted a big boar pushing a sow and little boar off in the distance. They were way too far to even think about going after, but as luck would have it, they turned and started working in our direction. Over the next two hours they worked our way and eventually found an area they wouldn't leave. Using our spotting scopes, through the heat waves, it looked like there was a moose kill that was keeping the bears interested. After eating, they laid down in the same area. It was now time to make another stalk.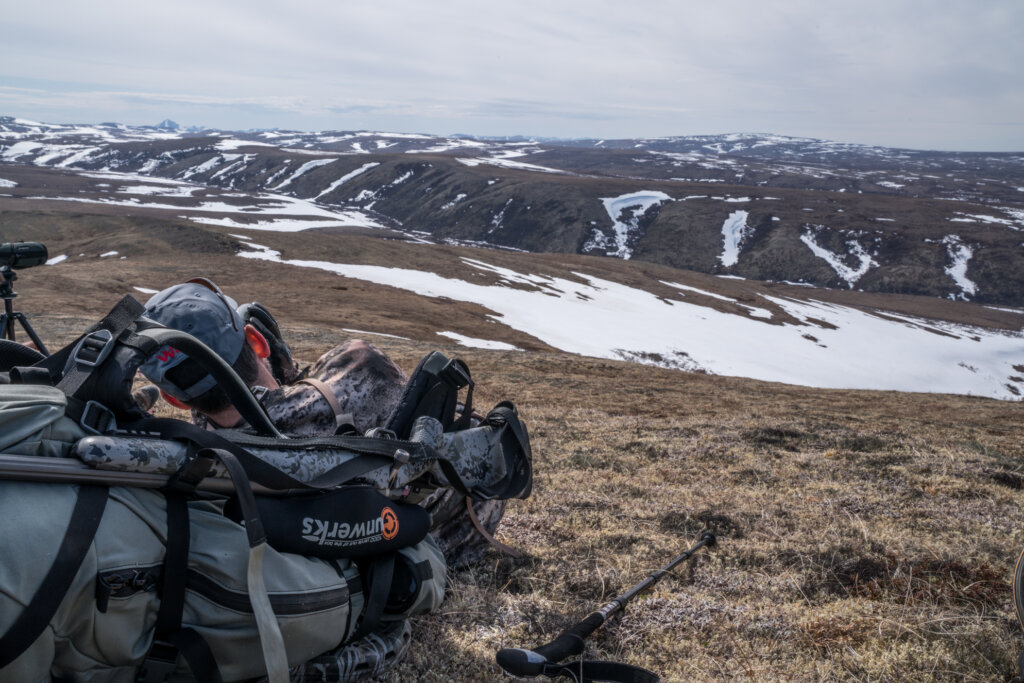 This stalk would be very similar to our stalk on day one. It would be about 4-5 miles across the tundra with the same two river crossings. Luckily, the rivers had gone down over the past week and crossing them wasn't nearly as bad as on the first day. After making great time, we found ourselves about 1 mile out and 1 river away from the bears. Having lost our glassing advantage from the hill, we could now only see the sow, bedded in an opening. If we moved forward from our current location, we would lose sight of her as well. Not knowing exactly where the big boar or the smaller boar were, we waited as we wanted to get an exact location before stalking in. The final stalk would have us in some extremely thick brush, so we wanted to know exactly where both bears were before closing the distance. After about two hours of waiting, the smaller boar appeared and headed towards the moose kill. Shortly it after that, the big boar appeared about 3oo yards above the sow and small boar and started to work his way to the moose kill. We quickly took off crossing the 2nd river, and we were upriver from them by about 500 yards. We used the river to close the distance as it was much quicker and quieter than fighting through the brush.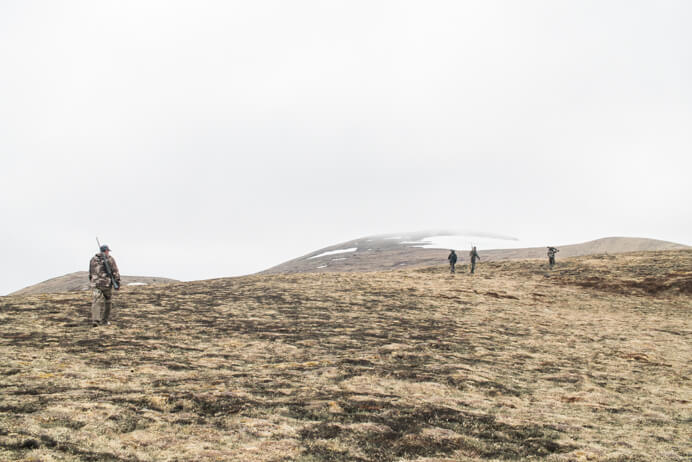 At about 200 yards upriver from where we thought they were, we came up out of the water and started glassing. The big boar was eating on the moose kill. I got set up using the spotting scope tripod to shoot off of as there wasn't anything else that would get me up high enough. Lance hit the predator call and all I remember is that big boar's head rising up and it was as big as a beach ball. He took 10 steps towards us into an opening, and I had a quartering to me shot. I was happy I had my Gunwerks 375, with enough power to take a shot angle like this on a big bear and the accuracy to make the 200 yard shot off of a less than ideal rest. On this hunt, I was using the Hornady 375 Ruger Dangerous Game bonded bullet and it did the job. The bear ended up going less than 75 yards. We found the bullet while skinning the bear out. It was on the opposite back leg, mushroomed perfectly.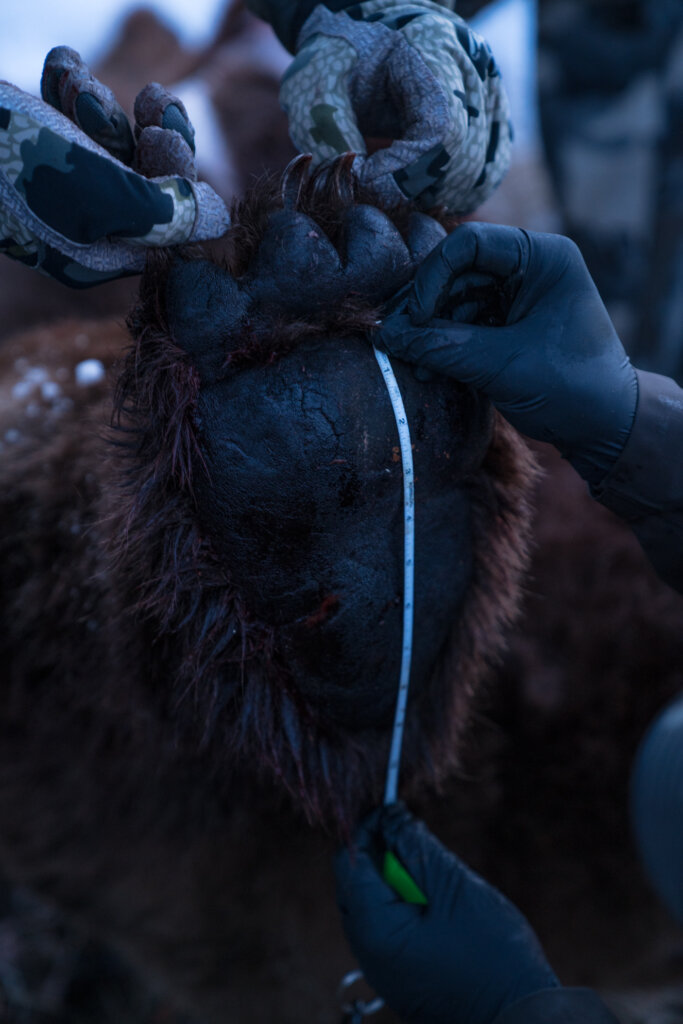 The bear ended up measuring just a hair under 9 ft long with a 25 12/16 skull. He was an absolute brute of a grizzly bear. Now this was one of the toughest hunts I have ever been on, especially while filming, but if you are up for a tough hunt, in a location that produces giant bears, this is your place to hunt. WTA has a number of great grizzly bear locations and while this backpack hunt might not be for everyone, that is one of the benefits of working with WTA. We will help find the perfect outfitter, location, and hunt style to fit your needs. As for me, I'm looking forward to bringing my muzzleloader with me to the Yukon this fall. I will be hunting Dall Sheep, but with a little luck, I might run into a big inland Grizzly!!!
For more information on any of the WTA hunts we have to offer, call 1-800-346-847!