Muzzleloader Mule Deer in Colorado, by Mark Peterson
In his quest for the North America 29 X 3, by taking each with a Rifle, Muzzleloader & Bow, Mark Peterson shares his hunt stories in a series we call "Triple Threat".
One of the best areas period in the west to hunt big mule deer are the Eastern plains of Colorado. The area is some of the flattest you will see, which makes hunting there unique as you often have trouble finding enough elevation to glass from. The deer usually live in small draws on the edge of agricultural fields. So the best time to turn them is first thing in the morning and last light as they come to and from the fields. But like anywhere, if they are in rut they are usually out chasing all day.
I chose to use my muzzleloader during this unit's regular rifle season, this allowed me to use a scope on it for longer shots. During Colorado's normal muzzleloader season it is illegal to use scopes or sabots, but during rifle you can use a muzzleloader that is scoped and sabots. Normally rifle season in the eastern plains the temps are in the 30's-40's, but of course when I was there they made it up into the 80's and the rut hadn't kicked off yet. This added a great deal of difficulty, as the deer would eat during the middle of the night and would be bedded by first light.
On this hunt I was hunting with one of my best friends who outfits across the West and is one of WTA's top producing outfitters year after year. He has leased up a great deal of land in the area. One of the keys to successful management in the Eastern Plains is you need several thousands of acres per hunter as the trophy deer are spread. There are farms that maybe 10,000 acres in size but only have 1 spot that the deer are in because of cover. Because of this and the hot temps we did a lot of bouncing around, glassing up different draws and areas trying to turn a big buck.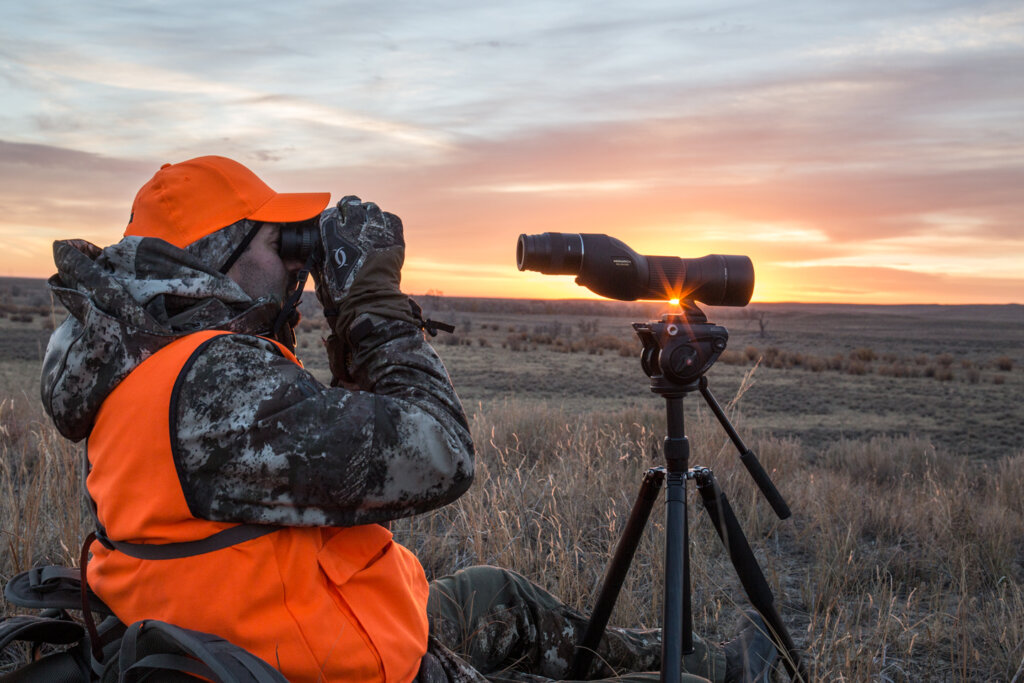 We had been seeing a lot of good deer but they were all very young, with a week of hunting we pressed on with the same routine of glassing draws and seeing what was in there and then bouncing to the next draw. Towards the end of the hunt we had focused in on a particular draw. The landowner had seen a couple of great bucks in the area and we had a feeling they were in this draw. But the draw was extremely large and very thick, so our only hope was to spot one of them coming in or going out of it.
Our last morning hunting we spotted a 5×5 in the draw we had been glassing. We watched where he bedded down that morning. He had put his face to the wind up on a little mound underneath a small tree for shade. We made a plan and did a couple mile circle around on him. With the wind in our face we approached to within 75 yards when he stood and the cloud of smoke went out the barrel. He fell right there!!! A great buck and a great time with friends. The Eastern plains isn't a physical hunt at all, but one where you need patience. I'm already planning my next trip to hunt Mule Deer in the plains. A unique area for sure, but man its got some giant deer.