Rifle Muskox in Nunavut, by Mark Peterson
In his quest for the North America 29 X 3, by taking each with a Rifle, Muzzleloader & Bow, Mark Peterson shares his hunt stories in a series we call "Triple Threat".
Muskox have inhabited the Arctic region for thousands of years and have adapted to be one of the few animals that can successfully inhabit the region. Their long guard hair is a protection layer for their shorter insulating layer of hair. This allows the muskox to live in the extremely cold temperatures of the Arctic.
In looking at where to best hunt muskox, I settled in on Nunavut. This is referred to as the Greenland Muskox herd by SCI. The season in Nunavut runs from mid-October to mid-November. Since I do not like the extreme cold, I went with the mind set of going on the first hunt in October so it wouldn't be as cold. This was flawed thinking. "Cold" is "cold". The difference between minus 20 and minus 45 is still really cold. You need to know when going for muskox it's going to be cold. Make sure to have the right gear and you will be ok.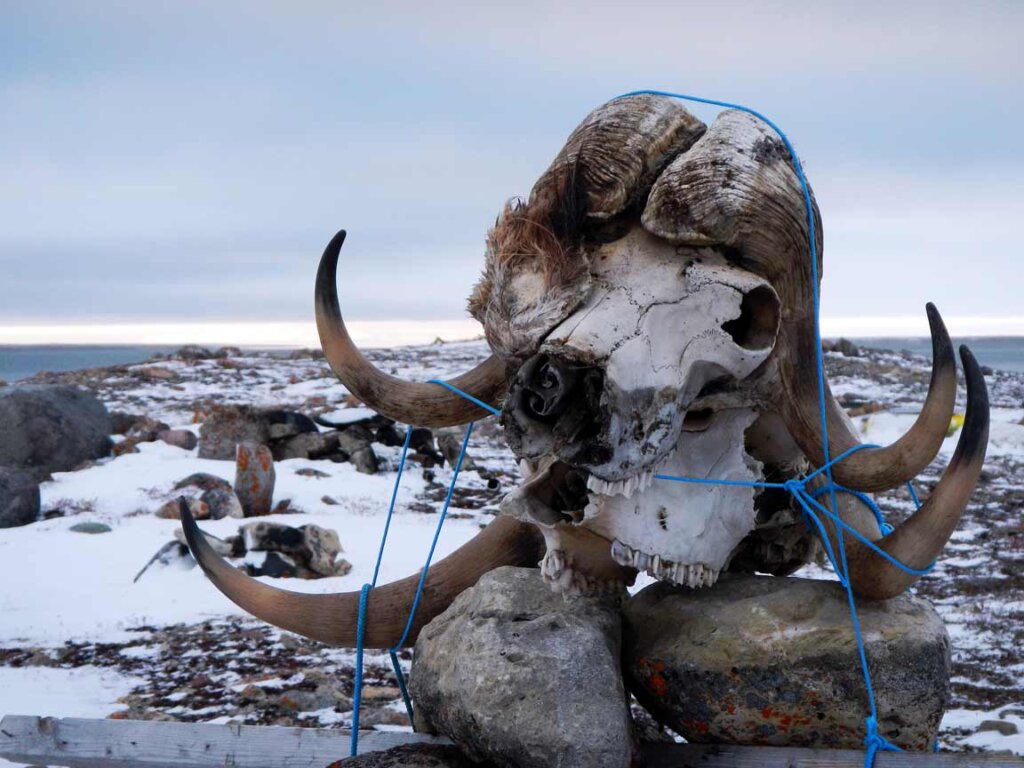 The gear that I used on this hunt was more like the clothes worn by an Arctic adventurer than traditional hunting gear. I set up in the same layering system, but the layers where just thicker and warmer. I had on a long john layer, light wool layer, thicker wool layer, mid coat layer and then my outer shell which was a big insulated suit. For my hands, I wore light gloves inside of thick mittens. This allowed me to take my hands out if I was glassing or getting ready to shoot and not get frost bite. I wore a balaclava on my face, with skiing goggles to cover my eyes. Lastly, I wore big boots, not meant for hiking but meant to keep my feet warm. Mine were rated to -140. At the end, I felt more like the Michelin man than a hunter, but I was set to survive the Arctic temperatures.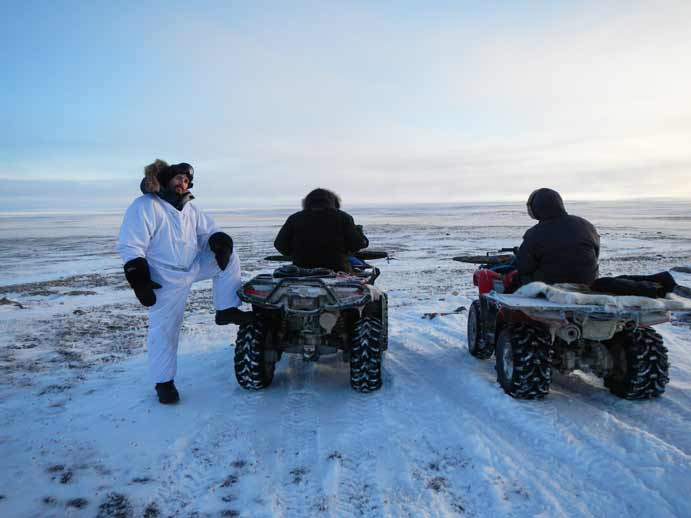 Cambridge Bay was our landing destination and from there you set off on ATV's or snowmobiles. We went across the tundra to little plywood huts that had been set up many years before. To me these seemed to be out in the middle of nowhere but, in reality, they had been built as summer cabins for the Inuit to go and fish out of. Usually the travel for muskox is done with snowmobiles but on our trip the snows had not yet come to the area, so we were forced to use ATV's as our primary source of travel. This presented some challenges as the rivers where not yet frozen over so we had to go many miles out of the normal paths to find crossing routes. Also, when we did hit snow areas, the ATV's would get stuck. So, we spent a lot of time pushing and digging our way out. This all added to our Arctic adventure.
After getting settled into our cabin and unpacking, we still had a few hours the first day. We set off across the tundra in search of muskox. We spotted a small group right at dark but they were all younger bulls. It was a great first day. Seeing their hair blow in the wind was a sight I will always remember.
The next morning we arose, but not bright and early. We learned from the Inuit that it is best to wait for a couple hours after sun rise to let the temperature warm up outside. This meant it would change from minus 40 to minus 20. It didn't take long, after leaving our cabin, until we came across a big group of muskox. There was an older bull in the herd and he had some sort of a limp. I could tell right away that he was a big bull. We worked with what little cover we had, which in this case was a slight bump of a hill. We used this hill to cover our stalk. Where we popped up, the bull was 200 yards away and had no idea we were there. After a good shot, he was down.
Walking up on him was like seeing something from the time of dinosaurs; the way that they are built is truly amazing. Some of his hair stretched out to over 18 inches long. I tried to dig my fingers into his hide to reach his skin but it was so thick that I couldn't. The muskox is a truly amazing animal.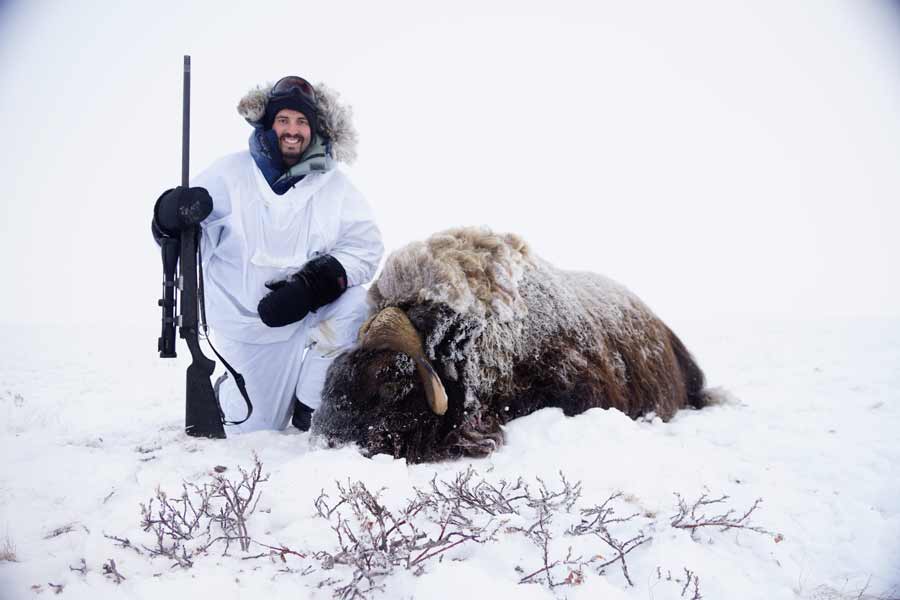 I am planning to go back to the same area with my muzzleloader and do a combo hunt for muskox and arctic caribou. With my bow, I am planning on going after Barren Ground Muskox which is located in a different region of the Arctic. WTA works closely with who we consider to be the best outfitter in the area for muskox and polar bear. Each year we secure spots in our outfitter's best areas to insure that our clients have the best experience and hunt that they can have. Arctic hunts are one of the last remaining true adventures in North American hunting.