Woodland Caribou in Newfoundland with rifle & bow, by Mark Peterson
In his quest for the North America 29 X 3, by taking each with a Rifle, Muzzleloader & Bow, Mark Peterson shares his hunt stories in a series we call "Triple Threat".
It is easy to pick the location to hunt woodland caribou; they are only located in Newfoundland. The tricky part comes in picking what outfitter to hunt with. Newfoundland has a great number of outfitters offering moose and caribou hunting, but the vast majority of these outfitters use the road based hunting method and the their success rate on caribou is extremely low. In talking with Jason Berger, the manager of WTA's Outdoor Adventures, he suggested that I go with an outfitter who he has been working with for over 10 years and has had nothing but great success with. This outfitter operates both lodge based hunts but also bush camps accessed only by floatplane. We opted to do the bush camp hunt because of the greater trophy potential. Our theory is that the farther you get away from people, the better the hunting opportunities will be. On this hunt I was taking both my rifle and my bow. I'm closing in on my rifle NA 29. It was my hope and goal to take a 2nd caribou with my bow.
Joining me on this trip was my father, Earl and cameraman, Grant. We took off from Michigan and landed in St. Johns, Newfoundland late at night. The next morning we were picked up at the hotel by the outfitter and driven to a small lake about three hours away from St. Johns. This is where the outfitters' main operation is based and also the lake that he houses his floatplane on. After getting our licenses squared away and gear packed into the plane, we were off. The floatplane ride took about 45 minutes and it allowed us to see what the interior of Newfoundland looks like. There are wet bogs all over the place with patches of aspens mixed in. As our trip was in the middle of October and the colors were changing, we had a great view during our flight in.
Upon arriving at the spike camp, which consisted of two wall tents, we were able to get all of our gear set and ready for the next morning. After a hearty breakfast the next day, we set off. Dad went with his guide in one direction and I split with my guide and cameraman and went in the opposite direction. I was shocked by the amount of ground we covered as we did five miles of hiking in the bogs before arriving at our first glassing knob. Like all of the locations I had hunted this fall, the weather in Newfoundland was warmer than normal. It didn't take long on the glassing hill to realize that the large groups of caribou hadn't migrated into the area yet. We were seeing caribou scattered out but not the larger groups of 15-20 that are normally seen this time of year. We ended up bouncing from glassing knob to glassing knob throughout the day and saw over 50 caribou but did not see any good bulls. It was, however, a great first day of vigorous hiking and glassing. Arriving back at camp we heard that Dad had similar luck. They had seen about twenty caribou with one decent one who was not quite yet a shooter. Overall, we all had a great day in the field.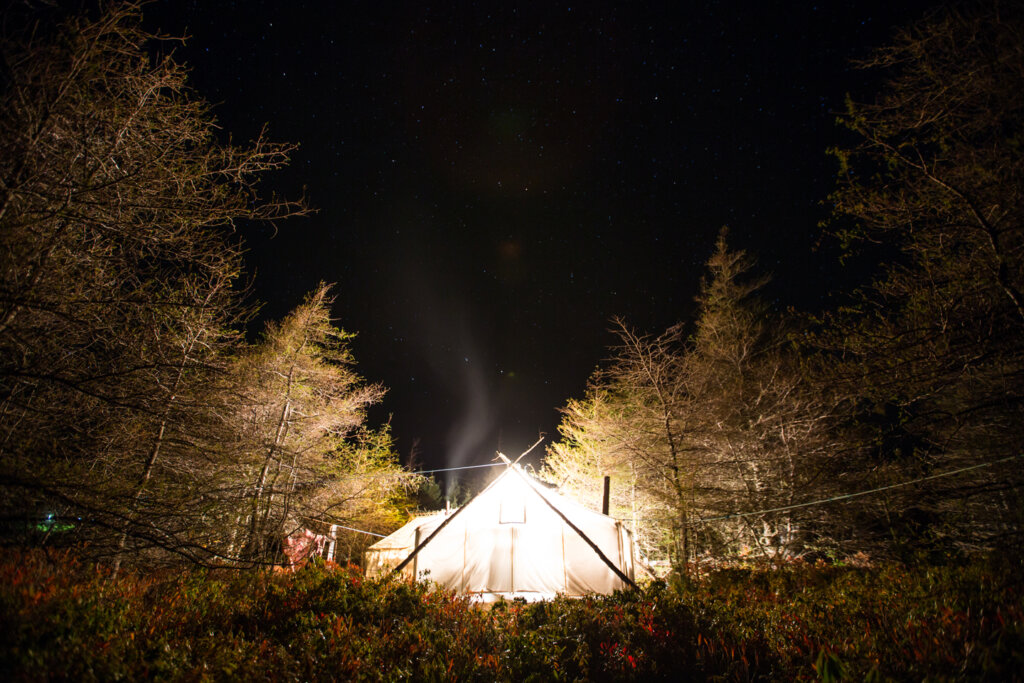 On day two, we decided to head in the same direction that we hunted the first day out, while Dad and his guide went in a slightly different direction. Upon arriving on the same glassing hill as the day before, we began to start spotting caribou. The plan for the day was to stay on this hill and keep glassing, as the caribou would constantly be moving throughout the day. But, our plan didn't last long. We had only been seated and glassing for about twenty minutes when we spotted a bull off in the distance. The bull was about two miles away and in a patch of trees, but he looked to be a good bull. Off we went on as fast of a hike as we could do across the bogs. Getting set up on a close hill, we spotted the bull again. He was with four cows, and seeing him up close, we quickly determined that we had a shooter for sure. The caribou were heading our way, so I got positioned on a rock and made ready for a shot. After waiting a couple of minutes, the caribou came thru the bog that we had set up on. It was a quick 250 yard shot and the bull was down. Walking up to him, I was able to see just how big of a bull he really was. He was a true giant woodland caribou!!! After returning to the camp late that afternoon, we heard Dad's story of seeing around 50 caribou but still no shooters. Dad's day was, however, a real success as they did call in a young bull moose to less than 50 yards.
On day three, I put my rifle down and picked up my bow but was not sure what to expect. As our caribou thus far had all been out of bow range, being able to get in closer would be challenging as the area is very wide open and without much cover. But, the caribou were in rut so you never knew what to really expect. I would like to say that we had to glass for days and hike all over the place to find my archery bull but, in reality, we were on the way to our glassing knob when we saw him. Instantly I knew he was a shooter. I quickly got my bow out of my pack and we slid over a bit to get in front of him. I positioned myself right next to the path he was walking. The wind was perfect. He raised his head up and looked at me. I quickly ranged him at 57 yards but he was facing right at me. I drew back with the plan that as soon as he stepped one way or the other, I would let my arrow fly. Instead, in an effort to get my wind, he made a quick gallop about 20 yards to my left. He kept walking in a semi circle until he was downwind of me. Once he caught my wind, he ran about 60 yards mostly parallel with me. During this minute and a half, I was still at full draw. He stopped and I knew he was farther away than the original 57 yards. During the bull's movement, I had done almost a 180 degree shuffle. In my head, I did the calculation and figured he had gained 10+ yards on me, so I found my 70 yard pin and put it on his vitals and let the arrow sail. The arrow hit perfectly and he only ran about 80 yards before piling up. After the shot I did a quick range and found that at the shot he was 73 yards away, so I had chosen the perfect pin. I can honestly say that this archery hunt for woodland caribou was one of the best hunting experiences I've ever had. Viewing my bull up close proved that he was a great bull. We packed him up and headed back to camp and waited to see how Dad had done for the day.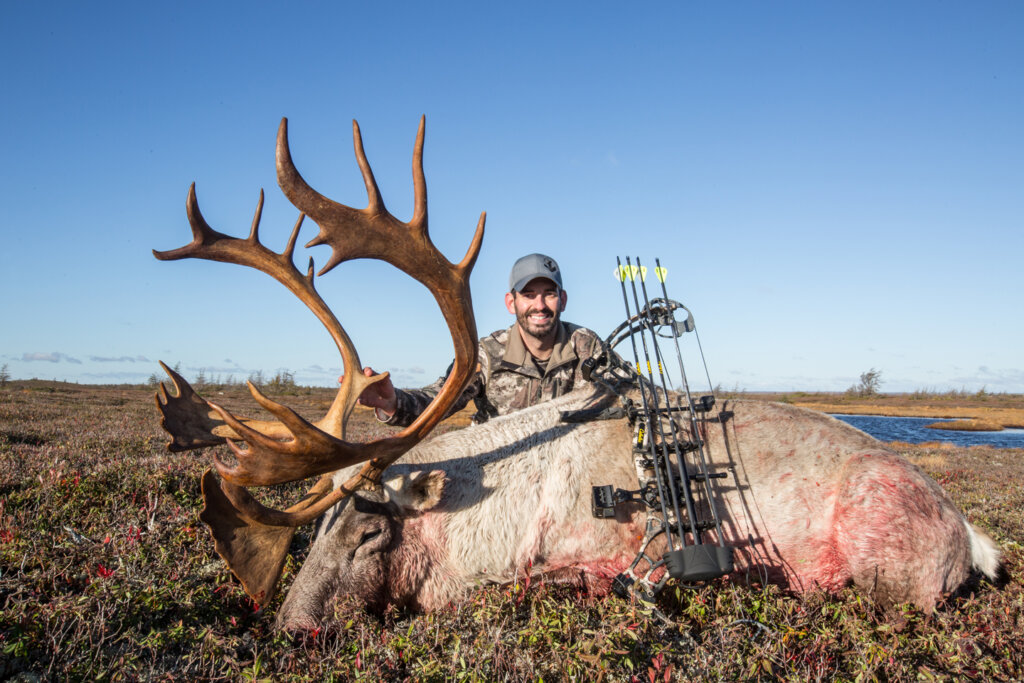 On Dad's day three, he had again seen a lot of caribou but still not the shooter he was looking for. This was great as it meant that I could accompany him on day four and hopefully I would be there as he harvested his caribou.
We could tell that day four was going to be a good one as the temperature had dropped and there was light snow in the air. From every knob we would climb, we would see caribou, including a lot of bulls, just not the shooter we were looking for. After lunch, we decided to do a big sweep up on a high ridge and make our way back to camp that way. Walking the ridge, we continued to see caribou every fifteen minutes or so. Around 3 PM, we spotted a large bull out in the middle of a bog. He was about two miles away. We started out after him, but once we arrived at the bog, the bull had disappeared and was nowhere to be seen. After glassing up and down the bog, there still was no sign of him. As we started to get ready to head back to camp, we knew that something just wasn't right. We noticed that there was a single lone bush in the middle of this bog. After moving higher up on a rock, I could make out the tips of the bull's antlers on the other side. The bull was sleeping and bedded, for protection from the wind, on the other side of the bush. This gave us a great opportunity to stalk in. We were able to get Dad set up on a rock 200 yards out. Then we waited and waited for the bull to stand. As the sun moved lower and lower, the old bull finally stood up. Dad made the shot count and down the bull went. He was another great bull and this final hunt was a great way to top off an amazing adventure in Newfoundland.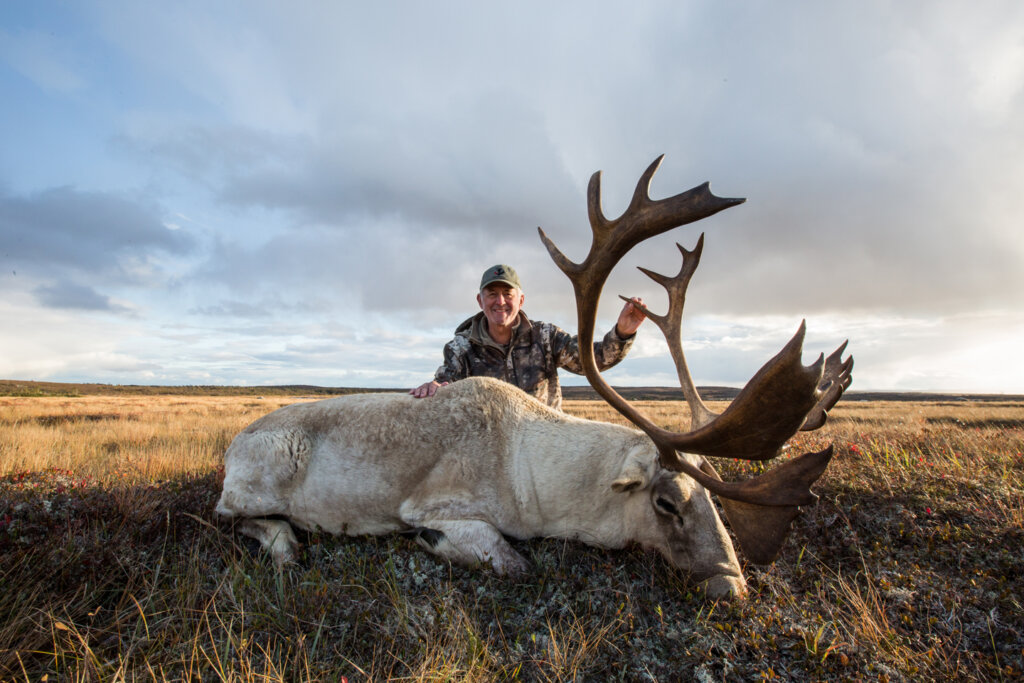 I was so impressed by the location, and the outfitter we hunted with, that immediately upon arriving back home in Michigan, I booked again to go in 2019. On my next Newfoundland trip, my goal will be to harvest with my muzzleloader and complete my Woodland Caribou Triple Threat.