Guest blogger: Tim Herald, WTA
Uganda, Back on the Map for Incredible Safaris
I recently returned from a trip to Uganda to get boots on the ground with WTA's outfitter there. Uganda was one of the most significant historical safari locations, but since the days of Idi Amin back in the 1970's, the country has fallen off the destination list of most hunters'. That is about to change.
The current government of Uganda has become proactive as far as hunting goes, and they along with our partner outfitter have made large strides for conservation, wildlife populations and hunting as a whole.
Friend, Kendall Kilbourne, and I spent almost 3 weeks in Uganda and traveled to a number of different areas in pursuit of a varied list of animals. Travel to Uganda was very simple with a flight to Amsterdam (direct from many US cities), and then straight to Entebbe, Uganda.
Murchison Falls, Nile River
We started our trip in Aswa Lolim near the Nile River and famed Murchison Falls National Park where the Nile River is choked down to a mere 23 feet before being forced through the rocks with great power. Aswa Lolim is rolling hills and was full of species such as Jackson's hartebeest, East Africa Defassa Waterbuck, oribi, warthog, etc., but the two major draws for us were Nile buffalo and Uganda kob.
The Uganda kob populations there are staggering. The park estimates that they have 55,000 kob, and we literally saw thousands in our hunting area. Kendall and I both shot really nice old rams after looking at scores of mature kob. The week before we were there, two other longtime friends took the new #2 and #3 Uganda kob in a matter of two days.
We saw lots of Nile buffalo as well, and we saw more small bachelor groups of bulls than anything. There are a huge number of really old bulls there, and I am convinced that many are dying of old age each year. Kendall took a fantastic bull that was absolutely ancient and had polished horns that were almost slick with completely broomed tips.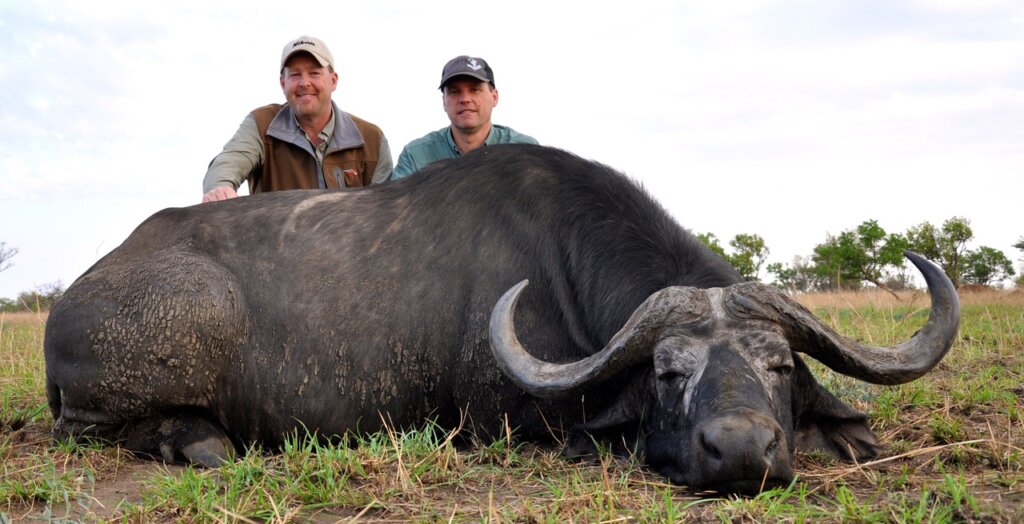 Karamoja
We moved to the very northern part of the country next to hunt Karamoja, the area made famous by the books of W.D. "Karamojo" Bell in the old ivory hunting days. This is a huge area near Kidepo National Park and has mountains, foothills and savannahs. There are healthy populations of waterbuck, bohor reedbuck, Jackson's hartebeest, oribi, duiker and a few other plainsgame species, but the buffalo numbers were absolutely off the charts.
Kendall took a fantastic 31.5" EA Defassa waterbuck, a very old bohor reedbuck, and both of us looked over literally hundreds of buffalo bulls. There are Nile and Cape buffalo here, and the only difference I can see is that the Cape buff's horns drop below the jaw line.
The area is fairly open, so this is spot and stalk buffalo hunt opposed to a tracking hunt. We looked over so many bulls this way, it wouldn't have been efficient to track. Kendall and I both shot very nice old Nile buffalo bulls that stretched the tape over 40" wide, and we saw some young bulls that were much wider than what we shot. If a hunter loves pursuing buffalo, or wants to take Nile and Cape buff bulls, I cannot imagine a better place to spend a week or ten days.
Kafu River Basin
After Karamoja, we headed to the Kafu River basin to hunt East Africa sitatunga and bushbuck. There are Nile bushbuck, East Africa bushbuck, and what I think is a hybrid there, and they are in unbelievable numbers. I don't think we ever went out for a two-hour drive and didn't see at least 50 bushbuck. The area also has waterbuck, reedbuck, bushpig, duiker and warthog.
The main draw is sitatunga, hunted in the papyrus swamps from elevated machans, and even though the area was in a serious drought and we were dealing with a full moon, Kendall and I both took mature sitatunga bulls in a few days.
We also had a blast looking over and hunting bushbuck. Kendall stalked and took what looks to easily be the new archery world record Nile bushbuck. He also took a great ram with a rifle. I held out until the last day and took a very old trophy Nile ram that had one of the most beautiful coats I have ever seen. The bushbuck numbers in the area were comparable to the buffalo numbers in Karamoja, almost unbelievable.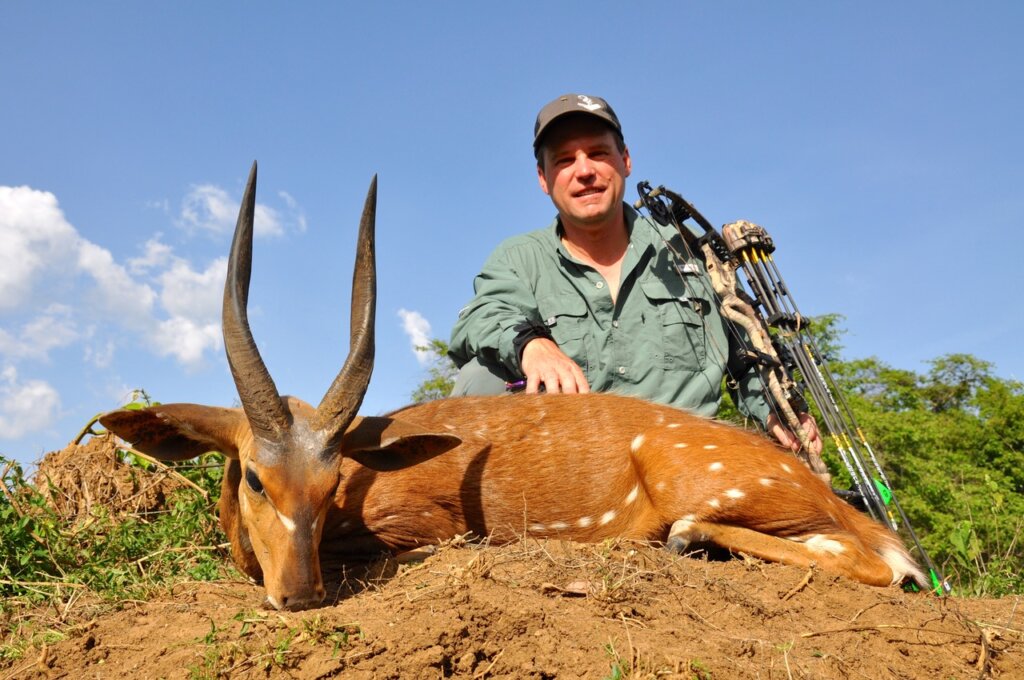 The Kafu River basin concluded our hunt, but we had a couple of extra days before our flight out, and we were both keen to try and catch a Nile perch on the stretch of Nile below Murchison Falls. So we headed back to Aswa and spent a day and a half fishing the Nile River.
Concluding the Trip with Fishing
Kendall and I both hooked up with and lost Nile perch estimated over 100 pounds. Kendall caught a small one from Baker's Rock just under the falls, and late on our last afternoon, I landed a nice 70-pounder to put an exclamation point on a fantastic trip.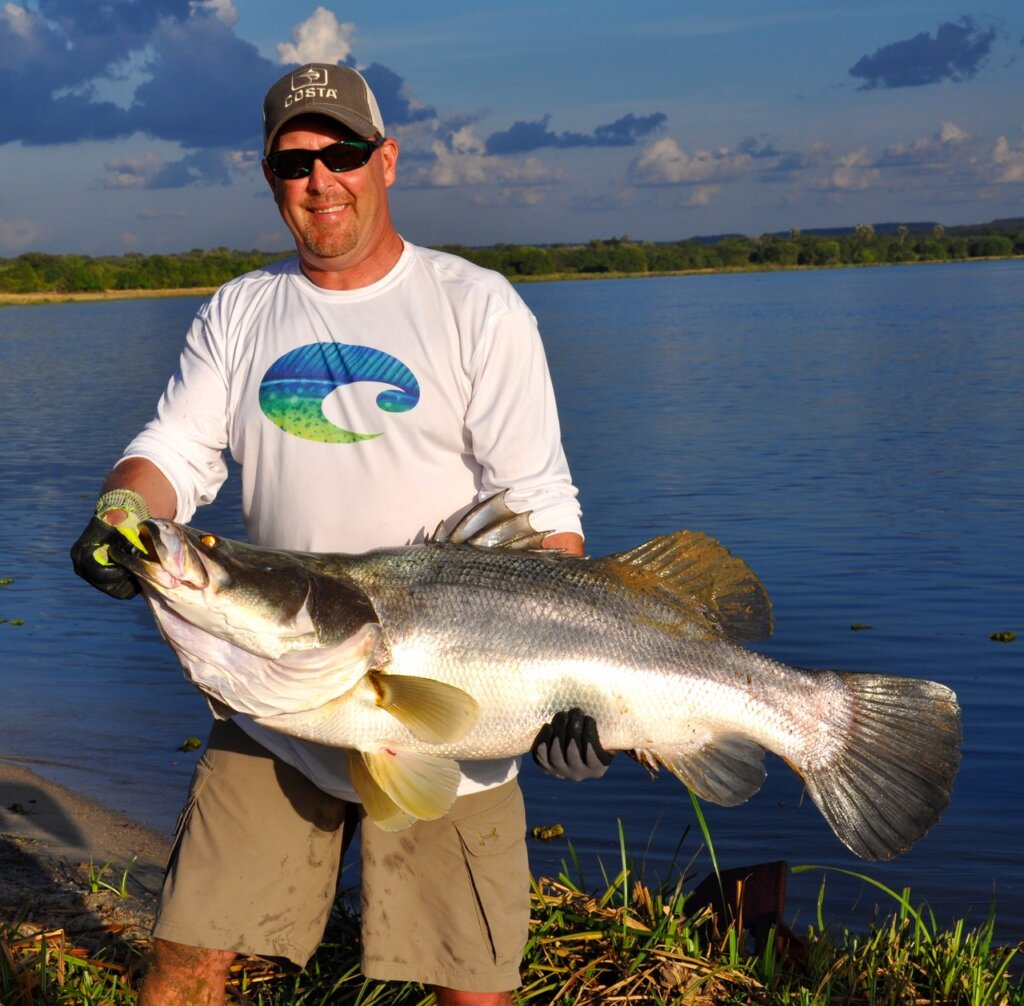 Uganda has proven to be a very high quality safari destination, and I only see it getting better in the coming years. We at WTA have partnered with an incredible outfitter there, and would be happy to setup the trip of a lifetime for any hunter who wishes to visit the Pearl of Africa.
Tim Herald may be reached at [email protected]. Tim is Co-Owner of WTA.