We arrived in Enid, Oklahoma, and met our outfitter, Shane, and his head guide, Gage—both Oklahoma natives. They took us to their unique hunting lodge, a recently converted and remodeled church.
On our first morning out, the temperature was twenty-two degrees, but the forecast had projected a warm-up to about fifty by midday. We were set up along a cut grain field. When these fields are harvested, there's always enough grain left behind to keep the cranes coming back. We put out fifty or sixty of Shane's four-foot-tall, hard-bodied decoys in front of our blinds and waited. It wasn't long before we heard them coming. They came directly over us in small groups of ten or more, and I was able to take one bird out of three different groups. The last one, number twenty-nine on the Slam quest, was a giant mature Sandhill. Three Sandhill Cranes is the daily limit in Oklahoma. I had two younger Sandhills and I counted the mature one toward my Waterfowl Slam.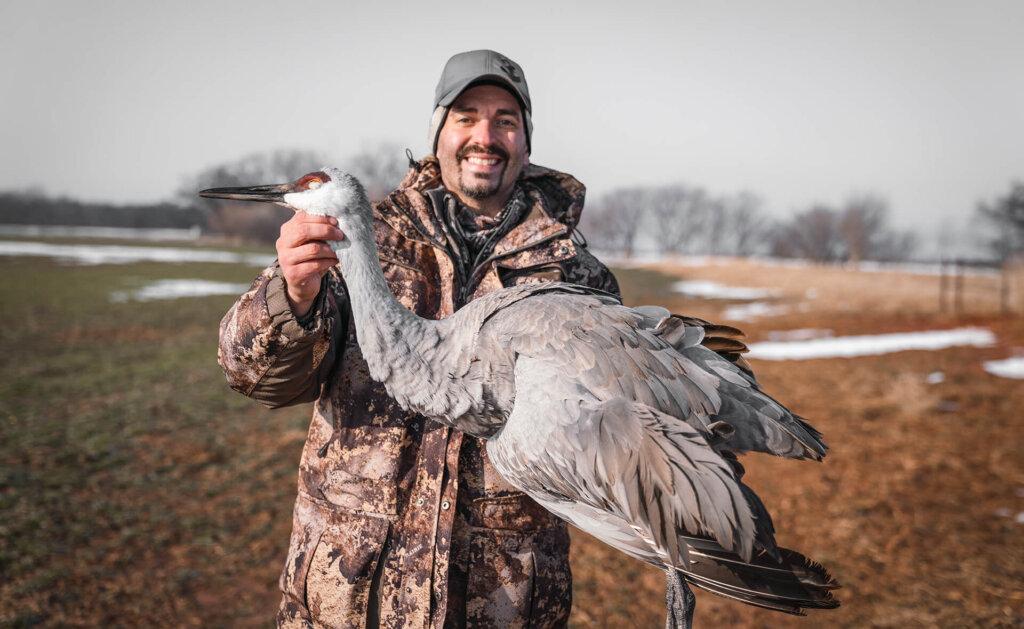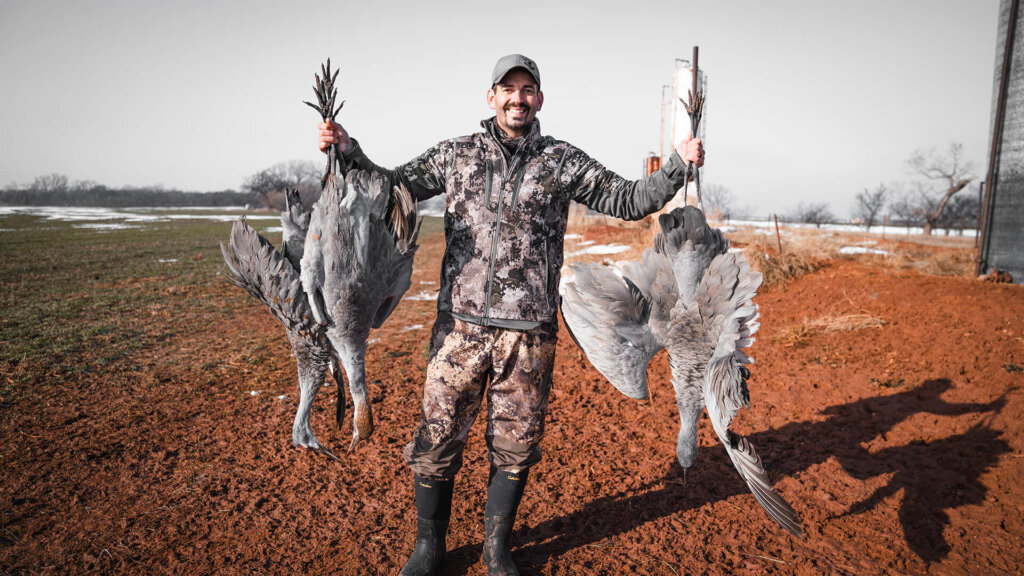 We headed back to the lodge for lunch and to make plans for an evening goose hunt. Gage knew of a good field where both Canada Geese and Snow Geese were showing up. I still needed to check both off my Slam list. The geese didn't start flying until later in the evening. Just before the end of shooting light, I took a shot at a Canada and dropped him. Number thirty on my Slam list was in the bag. What a great start to my Oklahoma hunt! I had already checked two species—my primary target, the Sandhill Crane, and a secondary target, the Canada Goose, off my list. Numbers twenty-nine and thirty were complete, and I was hopeful to get a couple more species before we headed to our next hunt in Georgia.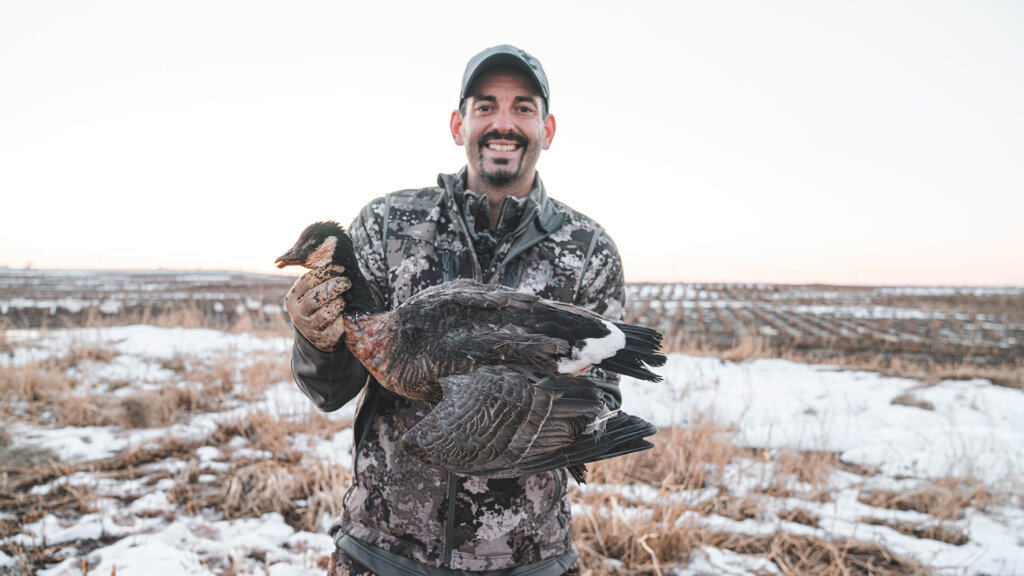 Shane and Gage were guiding a family on a goose hunt our second morning in Oklahoma. Shane's operation accommodates large and small groups. The family allowed us to join their hunt, and after hearing of my Waterfowl Slam quest and knowing I needed a Snow Goose for my thirty-first waterfowl species, they graciously told me they would hold off shooting at any Snows that came in. Everybody took a lot of shots, and I was able to take three more Canada Geese. Then, when a Ross Goose showed up, the group waited and allowed me to take the first shot. I dropped the Ross for number thirty-one on my Slam list. As a group, we had more than thirty geese on the ground that morning. Whether it's just you and a friend, or you're wanting to take your entire family hunting, WTA will set you up with an amazing experience with Shane in Oklahoma. Contact WTA to reserve a spot for this unique hunting opportunity.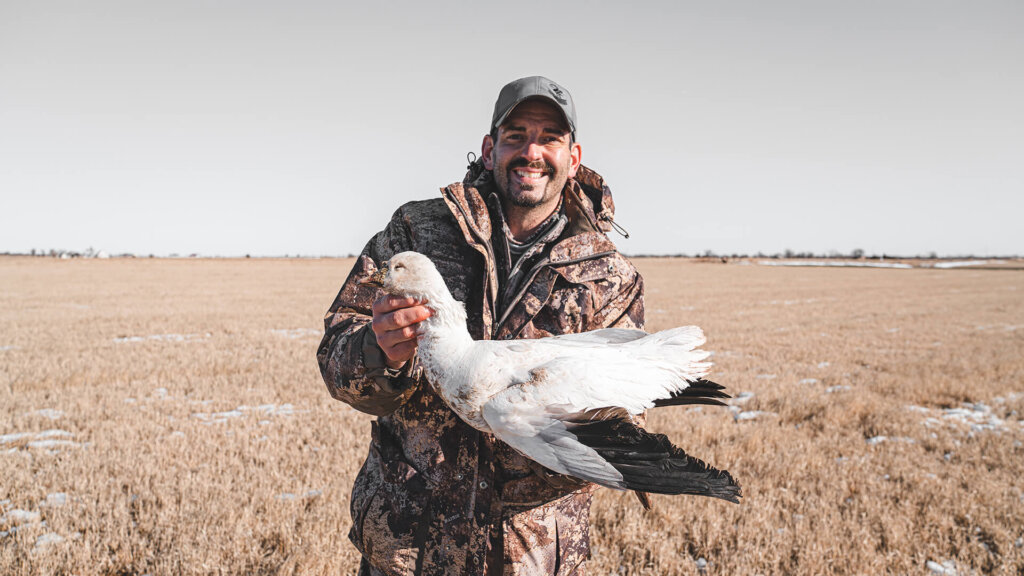 With three species checked off my list after only a day and a half of hunting, we decided to focus on scouting potential fields for day three's morning hunt. I elevated the Common Snow Goose to my primary Oklahoma waterfowl target, and added a Blue Goose to the watch list as a secondary species to target.
We woke the next morning to perfect hunting conditions. We again joined the family staying at the lodge. We had a great group of waterfowl hunters that included three generations hunting together with the family group. They reminded me of the good times I had as a kid hunting with Dad and my grandfather—three generations of the Peterson family. Our world and our country would be a much better place if more families passed on these hunting traditions from generation to generation and enjoyed the great outdoors as a family.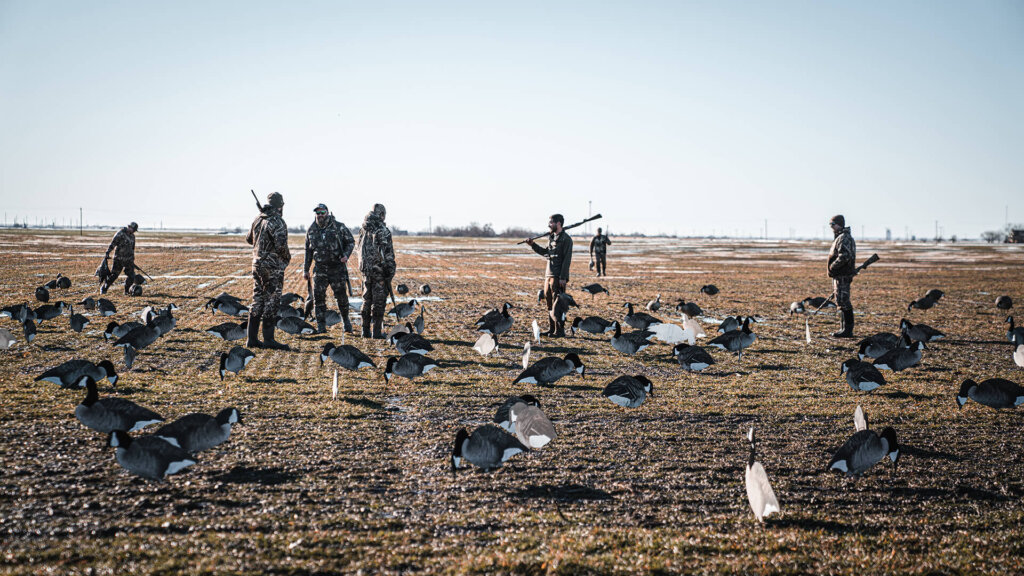 That morning, we were set up on the edge of a pond with plenty of decoys in the water and on land. By the time our morning hunt wrapped up, we had a good mixed bag of Canadas, Mallards, Widgeon, Pintails, and Gadwalls. It was a great hunt for everybody involved, but I didn't see any species still needed for the Slam.
With only an afternoon left in Oklahoma, and since no Snow Geese had been seen, I decided that we should take a break from waterfowl hunting. It had been a grind to get to this point, and the last thing I wanted was to lose sight of the fun in hunting. I had twelve species remaining to achieve the North American Waterfowl Slam in a single season, and I knew that I could find Snow Geese and Blue Geese during an upcoming hunt. Steve suggested something I'd never experienced before—helicopter hunting wild hogs and coyotes. I had no idea what to expect from this adventure. All I knew was, it sounded like a lot of fun.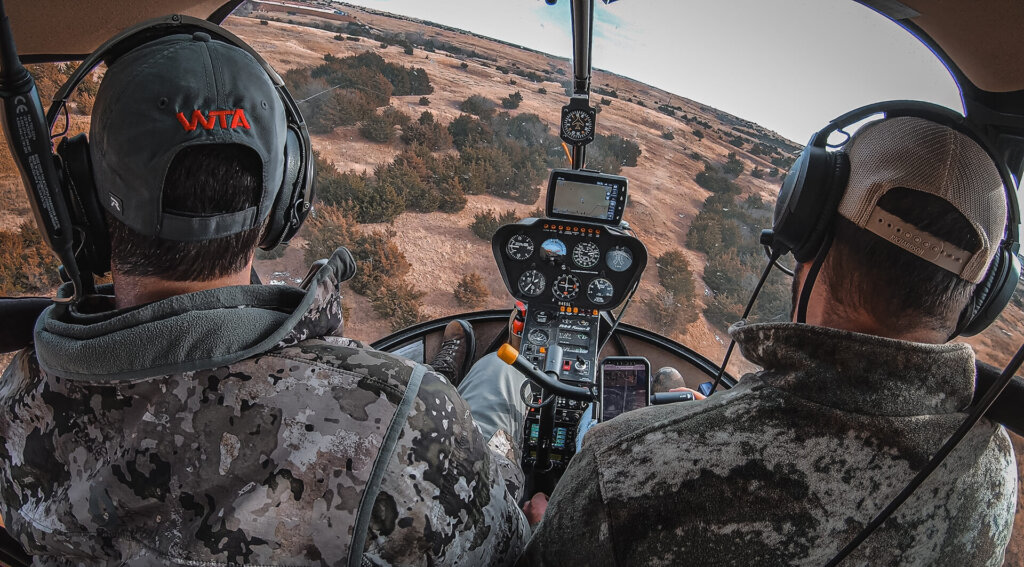 The hunt was quickly arranged, and before I knew it, I was strapped in the front of a helicopter with an AR. The war to control these nuisance animals' populations is never-ending. Feral hogs are a serious problem across much of the United States. They do an estimated two and a half billion dollars' worth of damage each year. Hogs mostly trample farm crops and native plants, but they also attack and kill livestock. It's estimated that there are between two million and six million wild hogs wreaking havoc in at least thirty-nine states and four Canadian provinces.
Because wild hogs multiply so rapidly, seventy percent of their population needs to be killed every year just to maintain their current numbers. Most states have no season and no bag limit. That is the only possible way to keep populations from getting absolutely out of control. Coyotes are also hated by farmers, as they attack livestock, poultry, family pets, and some crops. As with the wild hogs, the farmers and ranchers want as many gone as hunters can eliminate.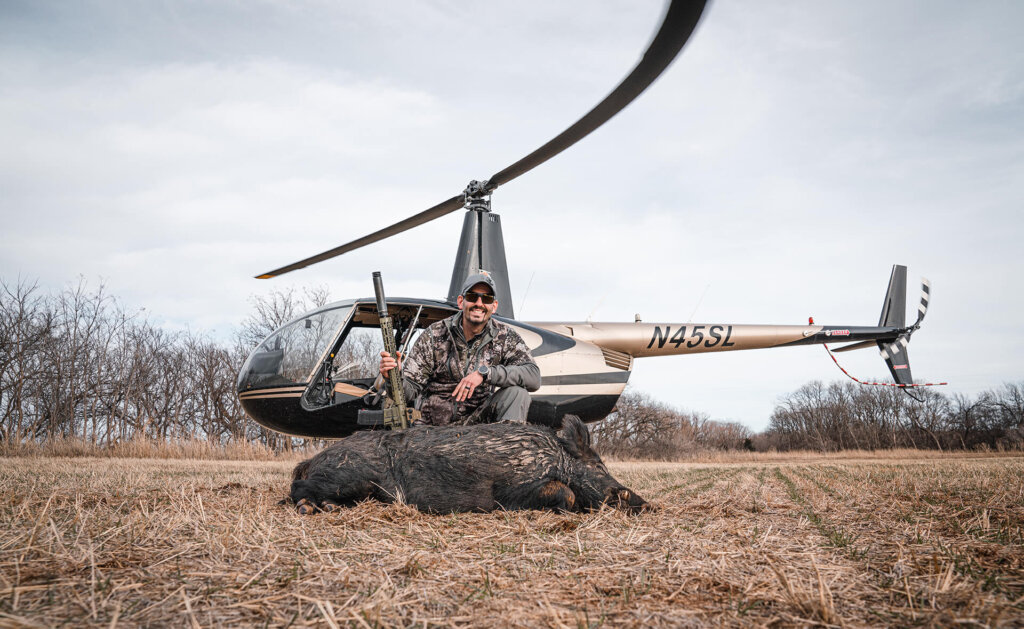 It was a windy afternoon, and we were warned that the helicopter ride would be "a bit bumpy." The hunt was an absolute blast! By the time we finished, I had dropped four coyotes and six hogs, and Jesse, my cameraman, had learned the true meaning of "a bit bumpy"—he lost his lunch during the ride. I'll say it again: Helicopter hunting is a blast! If you ever get the opportunity, do not pass this one up. The afternoon's hunt was awesome, and so much better than I had expected. It was definitely worth taking a break from waterfowl hunting to experience that type of hunt.
Back at the lodge that evening, we ate dinner and said goodbye to our new friends. We had a 6 a.m. flight to catch back to Michigan. Although I missed out on the Snows and Blues, Oklahoma proved to be successful trip and a great time. I was able to take the Sandhill Crane, a Canada Goose, and a Ross Goose to get my Waterfowl Slam total up to thirty-one. I would have only twelve species left to check off the list when we headed to Georgia for our next hunt.