We would hunt the coastal waters of Rhode Island and Massachusetts with Captain Ruben. Ruben has been a professional sea duck guide for thirty-two years with a sterling reputation for getting the job done. After arriving that evening from Michigan, we learned we would be going after Atlantic Brant early the next morning. The areas Ruben hunts would put us right in the center of the Atlantic wintering grounds for this species. Atlantic Brant feed on eelgrass, sea lettuce, and seaweed in tidal estuaries, but sometimes, like their other goose cousins, they supplement their diet by going a bit inland to feed on grass and winter-sown cereals. Since it is believed that the current species population has reached the maximum capacity the estuaries can support, it is probable that this change in eating habits will allow the species to continue to grow in numbers.

We were up very early and met Ruben, who set us up on a big, wide freshwater channel that flowed out from Rhode Island and fed into the Atlantic. We were in two layout boats about eighty yards from shore with a good decoy spread. Brant would fly into the channel to get fresh water. My strategy was to pop up and shoot as they settled into the decoys.
Just before shooting light, before Ruben had all of his decoys in the water, brant started coming in with their wings set. There were brant everywhere! Once legal shooting arrived, I waited and picked out individual brant. Within ten minutes, I had my two-brant limit—and we were done hunting for the day. The Atlantic Brant checked number thirty-seven off my Waterfowl Slam list. Six more species to go. Thanks to WTA, you've got an awesome opportunity to hunt Brant and other sea ducks off the Atlantic Coast. Give WTA a call and their experienced staff will hook you up with Ruben or other outfitters to get your bucket list waterfowl checked off the list!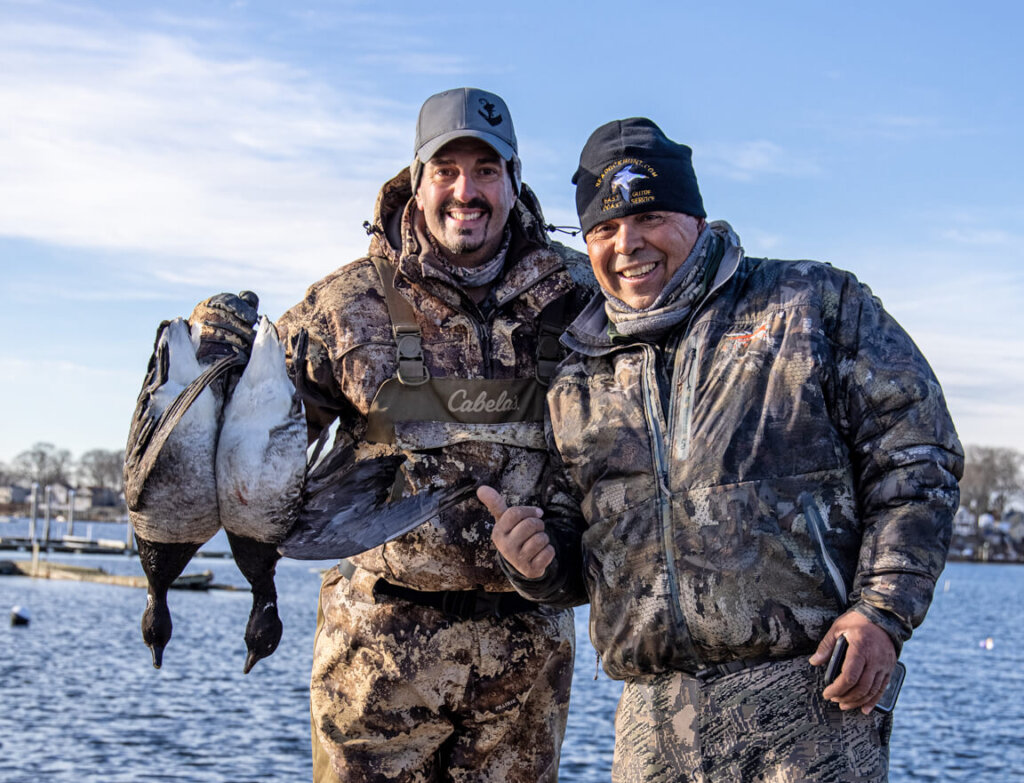 My target for day number two was the Greater Scaup. I had seen two Greater Scaup in Cold Bay, Alaska. With the wind at their backs, they screamed over my head. I missed them both. The next morning, we set up in a bay that had fresh water feeding out into the ocean. I was in a layout boat, and Ruben put three strings of decoys out in front of me. Legal shooting light arrived ten minutes after we got the decoys out. The first duck that came in was a single Greater Scaup, and I dropped it. I had my Greater Scaup, and number thirty-eight was in the bag. Since the pressure was off for this hunt, I relaxed and picked off individual ducks as they came in to the decoys. Within about three hours of hunting, I shot five times and accumulated five different species: Greater Scaup, Lesser Scaup, Long-tailed, Bufflehead, and Surf Scoter. I was able to hold both a Lesser Scaup and a Greater Scaup at the same time to show the size difference between the two. It was a fun, successful hunt.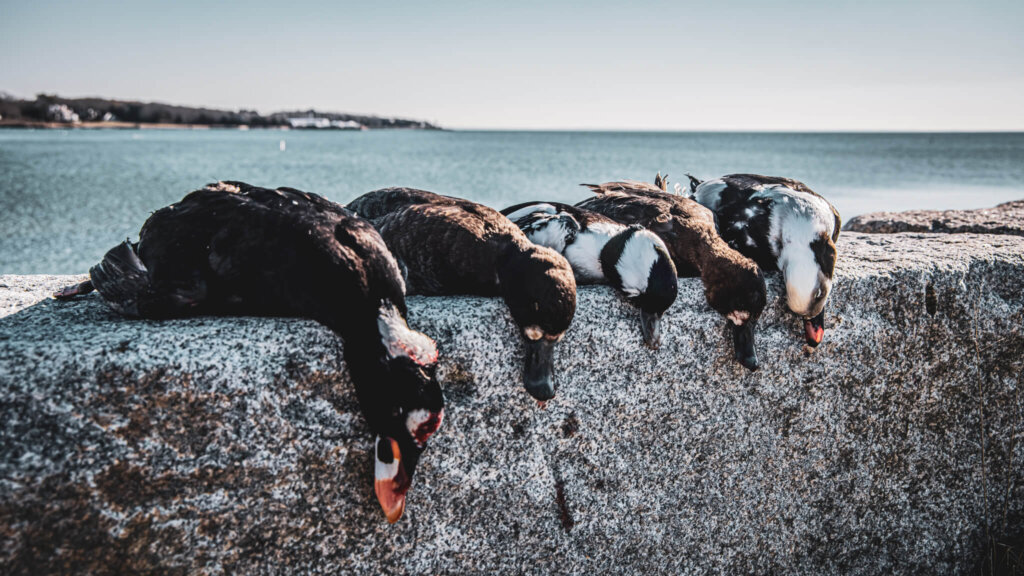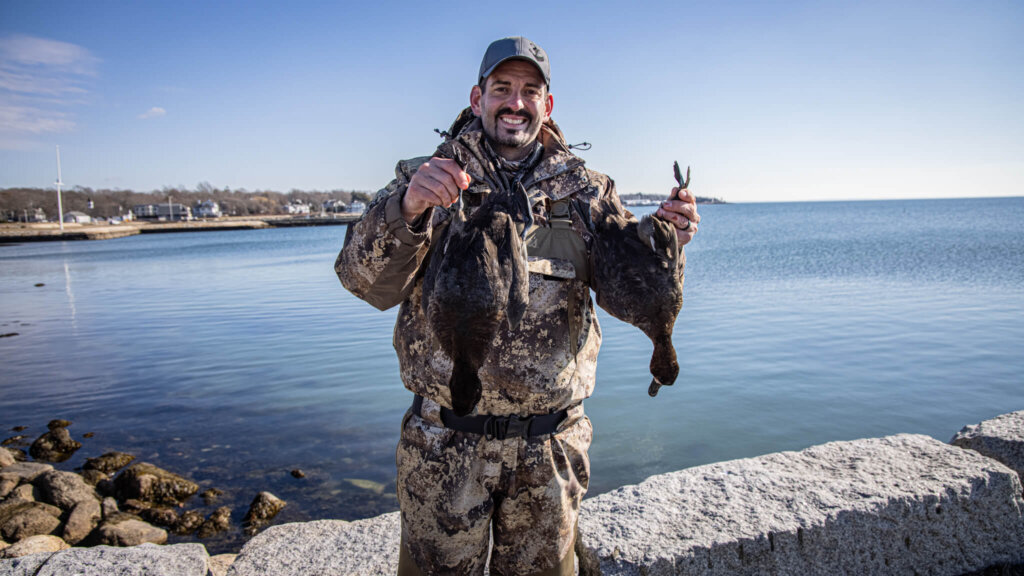 With both target species down, I had two options for the last day of my hunt with Ruben. I could either hunt for waterfowl that I'd already taken for the Slam on previous hunts, or go after the one in ten thousand (actually more like one in ten million) chance of checking a King Eider off my list. Unfortunately, after all hope of hunting Saint Paul Island was lost in early January, there had been zero credible King Eider sightings in coastal Alaska. We still had until the end of the month to get that call that would send us flying there. And, although we hadn't received a definite no from Greenland yet, it still wasn't looking very promising. No Americans had been allowed in yet due to COVID. With our options looking rather bleak, of course our only logical decision here on the East Coast was to go after a "lost" King Eider.
There had been reports of a young King Eider drake—he had been spotted twice in the weeks leading up to our hunt here. Both sightings had taken place about an hour south of where we were. The King had been seen with a bunch of Commons on a small channel of water between a saltwater marsh and the ocean. Once we arrived at the channel, it was obvious that if we saw a King Eider, I'd have an excellent opportunity to stalk him and get a shot. The channel was about thirty yards wide, and the surrounding cover was dense—the probability for a successful hunt was high thanks to the layout of the area. That is, if we saw a King—emphasis on the if.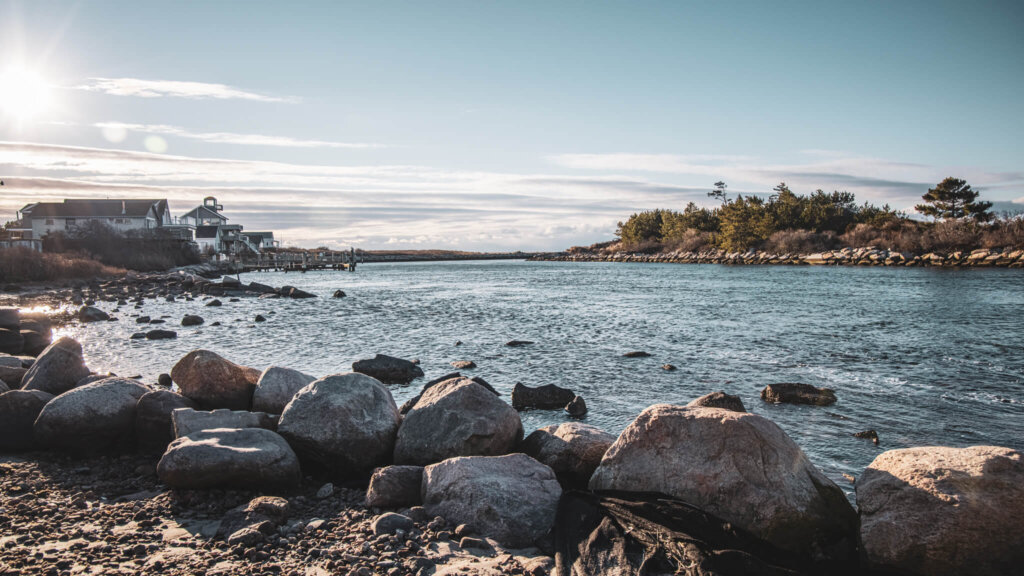 We used binoculars from a distance to glass the channel. The Common Eiders put on quite a show. They would disappear under the water for a moment, then come up with their favorite food, mussels. On our last day with Ruben, I never took a shot. We saw hundreds of Common Eiders through the binoculars, but never spotted that single King Eider. Unfortunately, that was the expected outcome. With the regular waterfowl season closing at the end of January in the United States, only two possibilities for a King Eider remained: (1) a sighting on either US coast in the next week, or (2) a miracle occurring and receiving approval to be among the first Americans allowed into Greenland. 
I returned home with thirty-eight of the forty-three species checked off the Slam list. I had the last week of January open in case I needed to make a quick trip to a hunt location on either coast if a King Eider was spotted. If there was a credible sighting, I would hop on a plane and give it a try. The odds were stacked against me, and I had my fingers crossed that somebody would spot a King before January ended.