Greenland's waterfowl hunting regulations differ from many areas. A hunter is allowed to have only two shells loaded in their shotgun, rather than the three shells allowed by the United States and Canada. Semiautomatic shotguns are allowed, but a plug is required so only two shells can be loaded—one shell in the chamber and one shell in the magazine—in order to comply with the rules. I thought back on my previous Waterfowl Slam hunts and a slight worry crept into my mind. This would be my first Slam hunt where I would only have two shots at a time rather than three. Although I couldn't say for sure how many, a large number of the forty-two species I'd shot thus far had dropped on my third shot. I hoped that I would be able to seal the deal on my first or second shot here in Greenland. Considering all the work we had done just getting to this point, I would hate to lose a King Eider because I didn't have that third shell. This thought stayed in the back of my mind for the remainder of my Greenland hunt.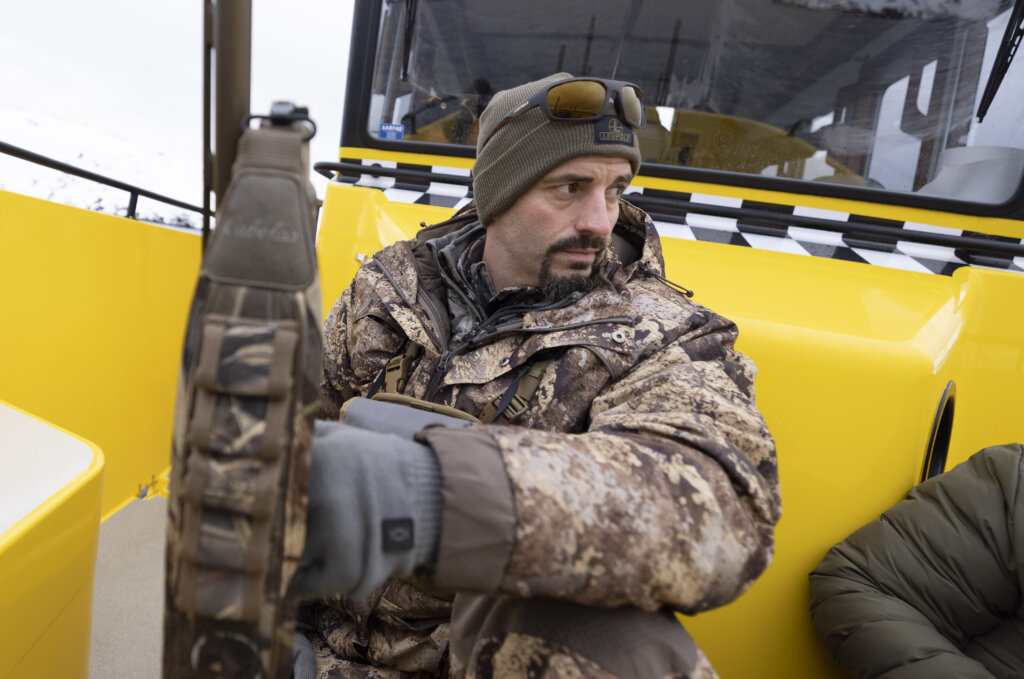 Our outfitter, Frank, met us at the airport in Greenland's capital, Nuuk. Frank explained that the weather in Nuuk is generally windy, so our sea duck hunting locations would be impacted by the speed and direction of wind each day. The wind was howling outside at that moment, but Frank expected it would let down in the morning. As we finished dinner, we set our plan for the next morning.
On Saturday, March 20, we left the hotel for our first day of hunting in Greenland. We were going to hunt the traditional Greenlandic way—they call it trolling. We rented a boat and would angle the boat towards ducks that we saw, moving very slowly, to intercept them. Our cameraman Justin had his drone up videoing us as we moved along. Normally, Justin lands his drone on any flat surface. With the way our boat was rocking, it wasn't possible to land it on the deck of the boat. I decided I would reach up and catch it out of the the air. We tried that tactic, and it did not go as planned. Just as I reached for the drone, our boat hit a wave. The drone's blades hit the three small fingers on my left hand. I started bleeding everywhere. I grabbed the first-aid kit—and guess what appeared while I was putting on Band-Aids? Frank spotted our first King Eider out in front of us. I was unable to take a shot, so I moved out of the way and Matt G. took my spot. As we drifted closer, the King rose from the water, and Matt made a great shot. Our first King Eider of the season was down, and it was a large, fully mature drake. I was happy for Matt.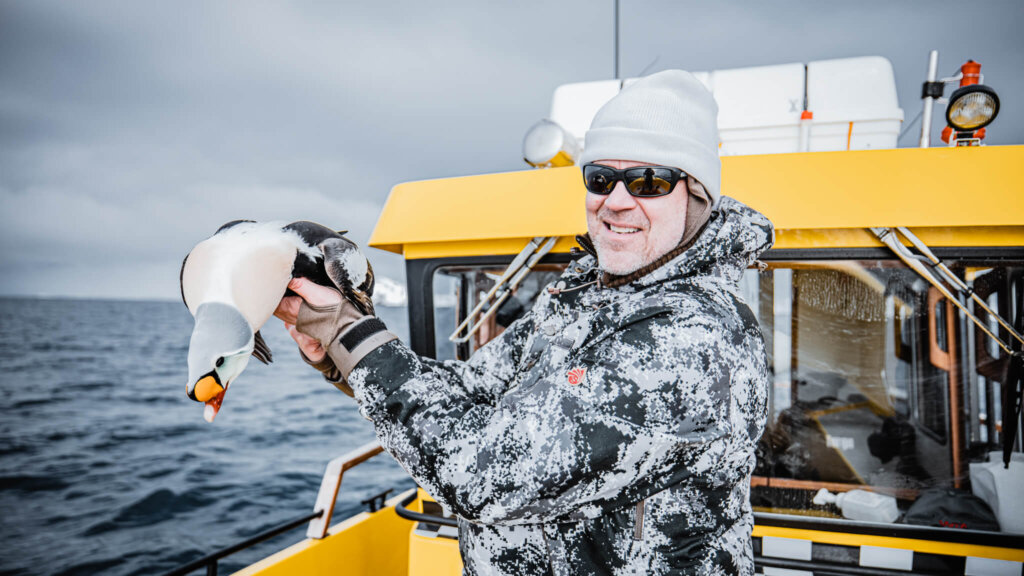 After getting my fingers taped up and congratulating Matt on his amazing bird, I took over the shooter's position in the front of the boat. It wasn't too long before a big drake King rose in front of me. The entire season had come down to this moment. I had forty-two of the forty-three necessary species to complete the North American Waterfowl Slam. It was a miracle I even getting to this point. But we had made it—and it was time to lock up number forty-three. I shouldered my Browning, got my bead on the King, and squeezed the trigger. Number forty-three on my Slam list dropped in the water! We had done it! 
The pressure was off, and it was time to enjoy the remainder of our four days in Greenland. We hunted for a couple more hours, and I was able to take another drake King and a beautiful drake Common Eider. We headed back to the dock with three drake Kings and a hen, and a drake Common. 
Day number two of our Greenland hunt was extremely windy with snow blowing sideways. Getting out in our boat would have been virtually impossible with the rough water and high waves. We decided to try something new to Greenland. Sea duck hunters here have never used decoys.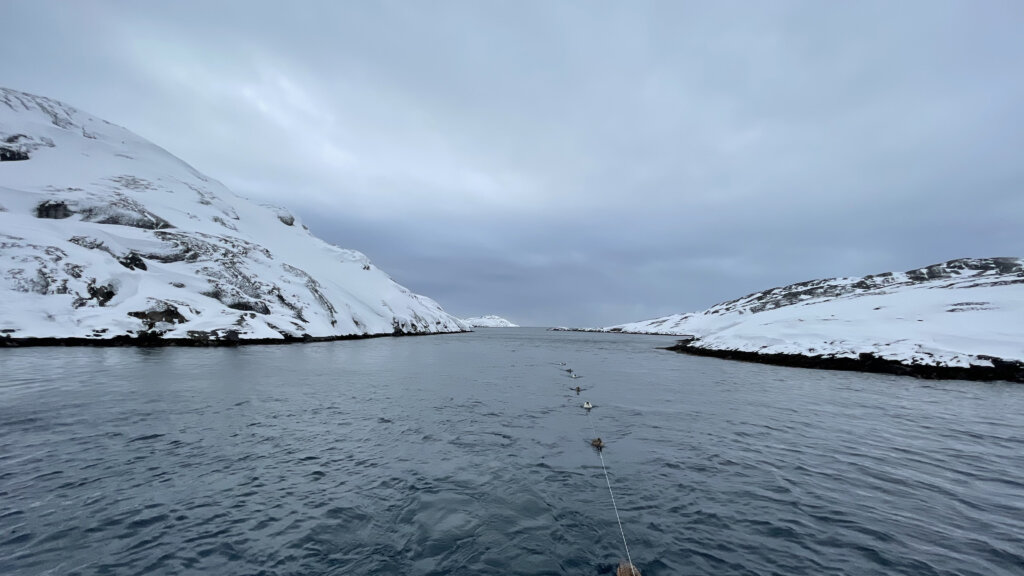 Frank took us to a pinch point between a small channel leading into another bay and the larger Bay of Nuuk. We set up on the shore and put our decoys out in front of us. The setup wasn't perfect, but about twenty percent of the ducks coming from the north saw our spread and came in. We ended up taking two drake Commons and four hen Commons. The experiment worked. Greenland's first-ever waterfowl hunt with decoys was a success.
We moved up the channel and took four more drake Commons and two more hen Commons. In the same spot, I doubled on a pair of Red-breasted Mergansers, and I shot my first Cormorant. Greenland's long history of seabird hunting primarily focuses on subsistence hunting. This makes it legal to hunt Cormorants, Sea Gulls, and other seabirds. In fact, Sea Gulls are a popular fare used in many traditional meals. To my knowledge, Greenland is the only place in the world where hunters can legally go after Cormorants, Sea Gulls, and other nontraditional seabirds.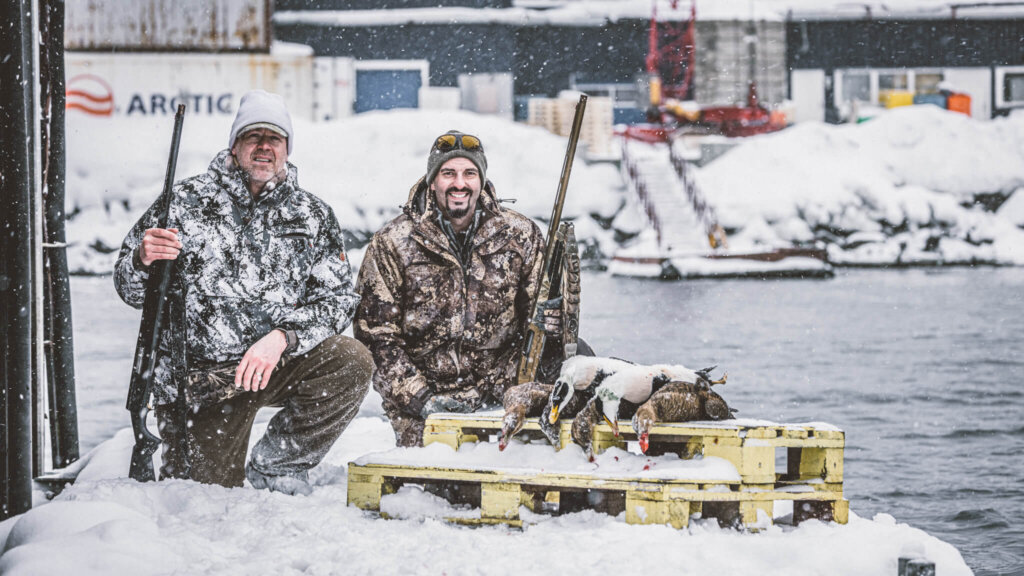 Our goal for day three was to take a King Eider from shore using our decoys and spinners. Commons started coming in to our decoys, and it wasn't long before we shot six. However, we were not seeing any Kings. We moved to a small rock island and more Commons started coming in. We hammered a few more drakes. Still, no Kings came in to our decoys. 
We moved out to a rocky point on a channel that was just on the edge of the open ocean. It was the perfect spot—the wind was right, and we blended in perfectly with the shore. We put our decoys and spinners out and soon we had Commons coming in to us at fifteen yards away. We continued to add more Common Eiders to our bag.
I looked out and saw a King flying full-tilt left to right about fifty-five yards away. I took a long shot, but was behind him. I continued following him and increased my lead, letting my second—and final—shot fly. He fell from the sky stone-cold dead. My first King Eider from the shore was in the bag! It was so exciting. There are certain moments in the field that every hunter will hold in his heart forever. This was one of mine. What an amazing hunt!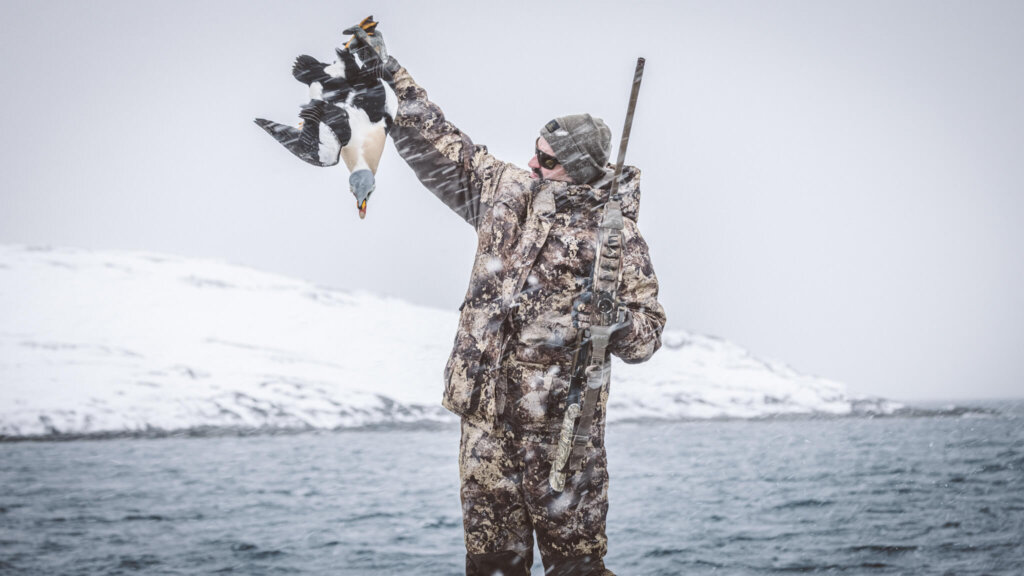 Matt G. was up for the next King, and soon one came. Matt shot twice, hitting him a bit back each time. With his two shells shot, I took a long shot at it flying away and watched it drop. We ended our day with eighteen Common Eiders and two King Eiders.
March 23 was the coldest day, about 10 degrees and a wind chill well below zero. We went back to where we shot the two Kings the previous day. Our spinners were quickly frozen solid and wouldn't move. After waiting for a bit, we shot six Commons—and we did see two Kings, but they were about a hundred yards out and did not see our decoys. After ninety minutes, we decided to move again and we ended up with five more Commons, but did not see any Kings. 
Between Matt and I, we ended up with eleven Commons for the day. Back at the hotel, we dried out all of our gear so we could pack it in the morning. We also worked with Frank to freeze and label the Kings and Commons we were taking with us on our early flight out the next morning. We enjoyed an excellent dinner at a restaurant on the shore in Nuuk, and headed back home the next morning.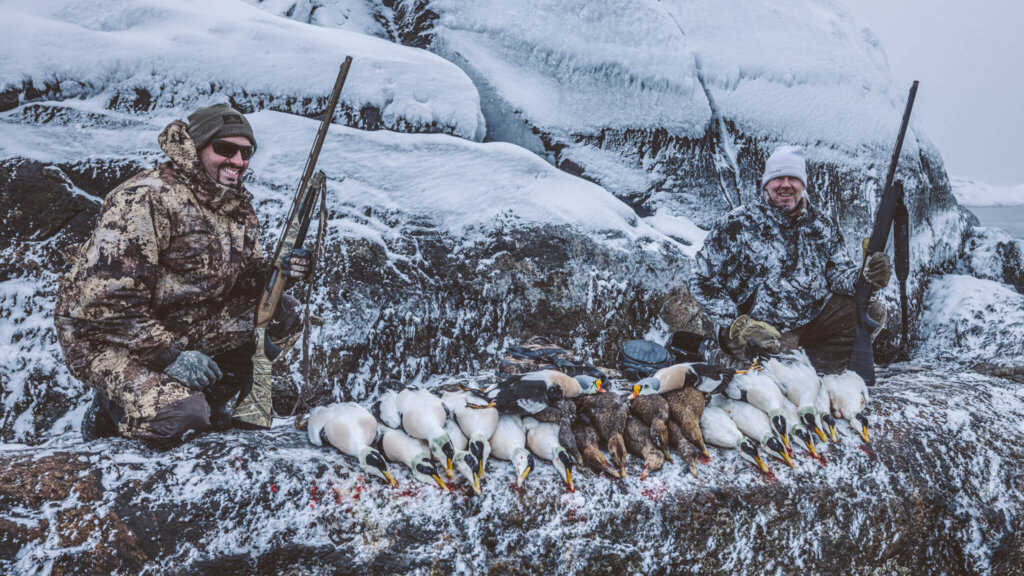 I will never forget Greenland and plan to return there many times for future hunts. Since our hunt, WTA has established an awesome relationship with Greenland's government, and the outfitter we used for the King Eider hunt, Frank. If you're ready to check a King Eider off your bucket list, give WTA a call. They'll help arrange a hunt with Frank in Greenland, or another outfitter in the various King Eider hotspots in North America. 
Episode 15 - The Final Chapter