West Texas Aoudad, written by WTA CEO Mark Peterson
Aoudads where introduced in West Texas in the 1960's and have adapted extremely well as there are large populations all across West Texas.  In my opinion, Aoudad may be the most underrated sheep hunt there is. It's by far the least expensive, there are high populations, and it is available year-round, even in the slump of winter when hunters start to get the itch as most hunting seasons are over and the realization that's its 8 months till the next hunting season sinks in.  You can still get out and chase Aoudad.
There are many types of ranches, and terrain on those ranches, where you can hunt Aoudad in Texas.  On my most recent trip, my good friend Ryan and I wanted to get into the traditional West Texas Mountains as much as we could and that's exactly what we did.  The lower flats of the ranch were a working cattle ranch, but as you made way past that, and drove into the mountains, it was nothing but Aoudad and deer.  The drive from the lower ranch house to where we would stay for the hunt, was over an hour.  You've gotta love Texas; everything is big and you could drive all day on this ranch and not hit a boundary.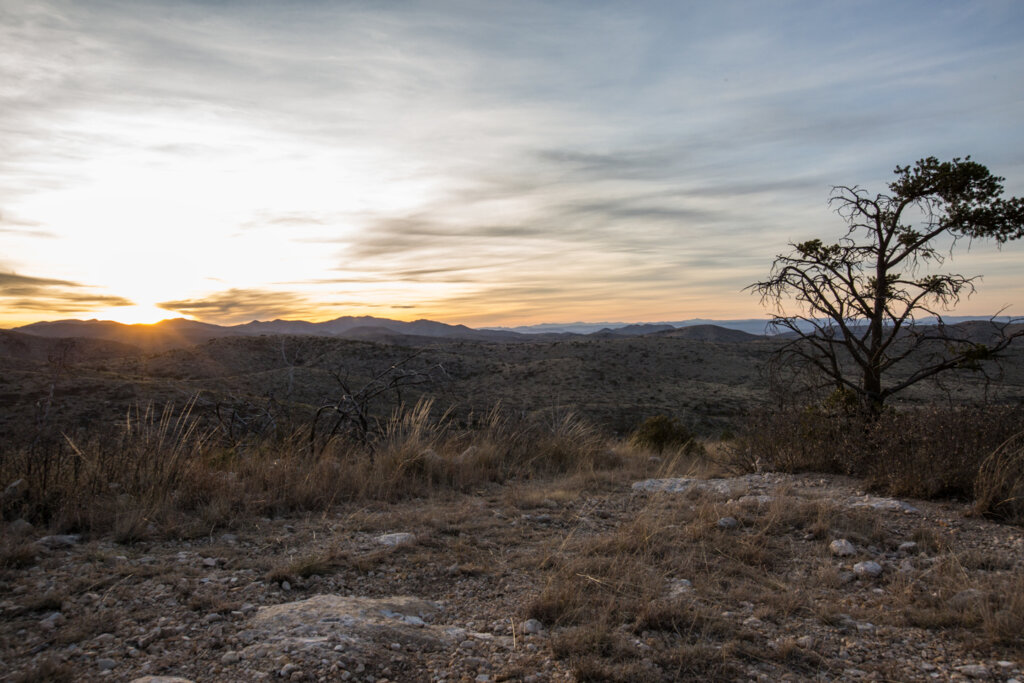 The hunting was the same as with all other sheep hunts.  You try to get up as high as you can and start glassing.  We were hunting in February but the mid-day temps would still sneak up to the high 70's, so the Aoudad where moving in the morning and then again at night, as they were trying to get into any shade they could during the middle of the day.
In February the sheep have, for the most part, split up into groups of Rams and also into groups of nanny's and ewes.  Which I have to say, there is nothing like glassing up a group of over 40 Rams at once.  On this particular ranch, there were no shortage of Aoudad, which meant we could get a little picky when glassing and trying to turn up a big heavy horned old Ram.  On day two, we found just that Ram.  We turned him early in the morning in a group of just over 20 Rams.  Being probably a little too excited, I grabbed my muzzleloader and cameraman and we followed our guide over the ridge where we last saw them.  At the same time Ryan and his guide started the process of doing the big circle around to try and get in front of them.
Like too many times before on sheep hunts, it is never just over the next ridge.  A couple hours into our hike and over the 4th ridge, we caught sight of the group of Rams again, about a mile away.  After all the time in the mountains I've had, I still can't figure out sheep, as some will stand and let you walk all around them, but others will walk all day just because the wind is blowing.  Luckily, Ryan had made it all the way around and was able to get in position as the group was starting to cross an opening.  From that point all I was missing was popcorn.  We sat down and got out our bino's to watch the action.  With a well placed shot, Ryan had a giant Aoudad down.  He was a true giant!!!  After some pictures, and quick clean, it was off to celebrate the day and give my feet a break.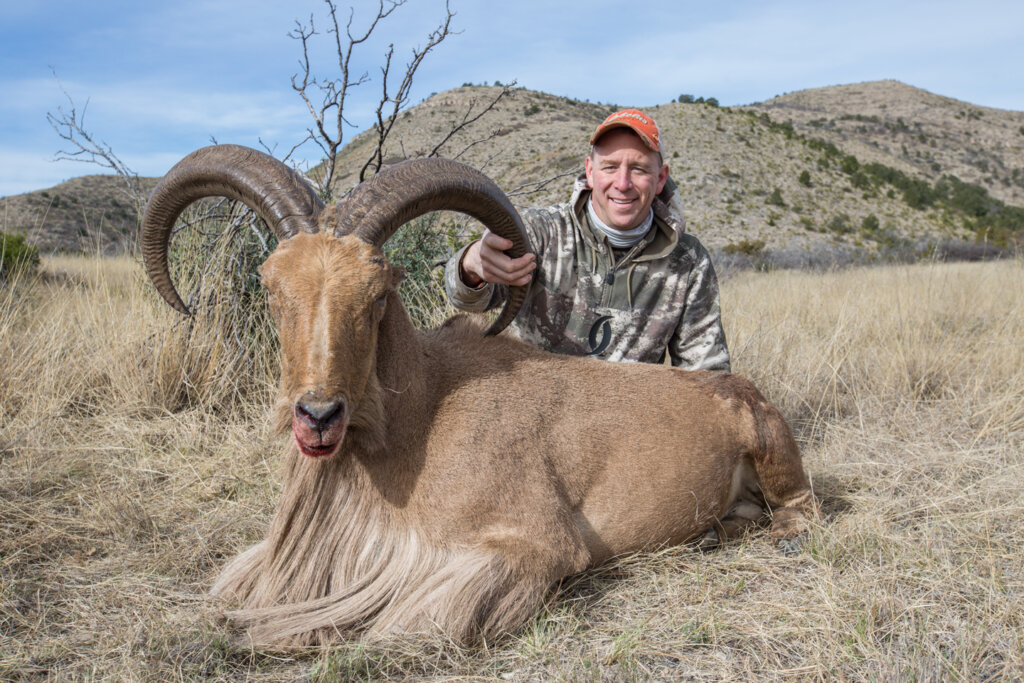 The next day we went out and turned up numerous groups of rams, but all of them where just a little on the young side.  Based on what I saw, I can guarantee this ranch will be loaded with trophy Aoudad for the foreseeable future.   The good news on this ranch is that the outfitter manages it for trophy quality and limits the number of hunters each year.
On the last day of our hunt, we set out for a new area of the ranch that is normally the hot spot during the rut, but in February its normally just Nanny's and Ewe's.  The outfitter had a hunch and I learned long ago when the outfitter has a hunch, roll with it.  As it turned out, his hunch was spot on, and it didn't take long to glass up a small group of Rams with 3 shooters in it.  They had found a spot on this ledge, out of the wind, and looked like they hadn't moved in a week.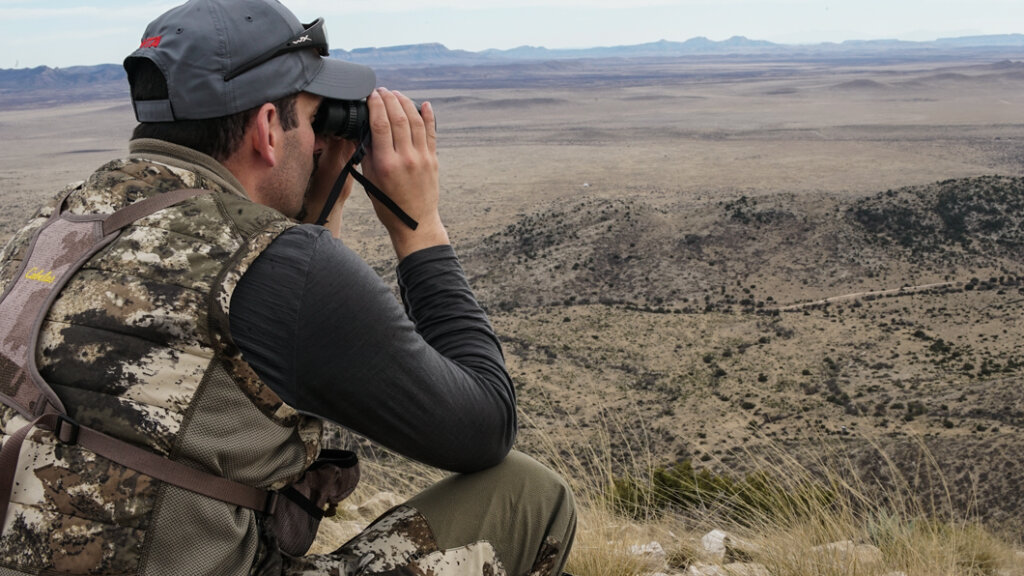 We were already above them and had the wind in our face.  I can honestly say that was the first time sheep hunting I could make that statement.  Normally I'm on the bottom of the mountain and my scent is blowing right at them.  As we slid around to get right above them, we started our stalk down, which was about ½ mile from the top of the mountain.  Everything worked out perfect.  The wind was blowing so hard the sheep couldn't hear us and rocks kept us hid.  We were able to sneak within 225 yards.  I set up my pack and waited for the largest of the Rams to stand.  After about 30 minutes, he stood to stretch and the shot found its mark.  He was an absolute gorgeous ram and, it was a great way to top off an awesome week of hunting.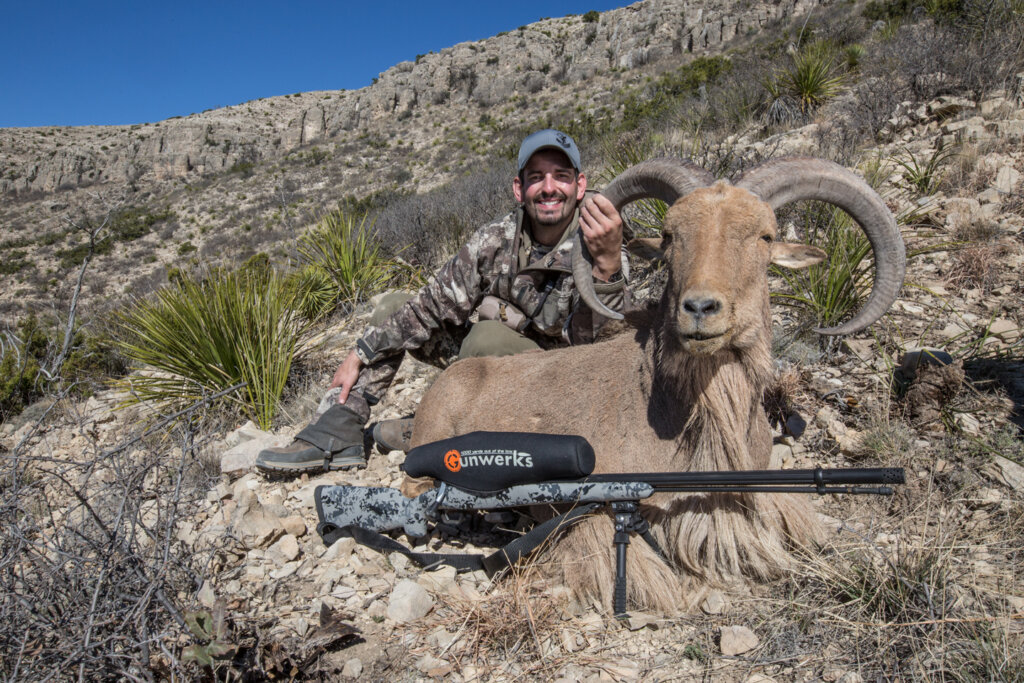 Like always, it's great hunting with friends, and making new friends in the field.  The outfitter I hunted with is one of the best I've seen.  I'm already planning my next trip back to this ranch, but next time I'm planning on bringing my bow.  Hopefully we can catch some Rams up in those same rocks.
If your looking for an action packed hunt, or a break from those winter blues, you have to look into going on a Aoudad hunt.  WTA works hand in hand with our outfitters and we hold some of the best spots on these ranches for our clients. For more information about this hunt the link is below.