From the time I was twelve years old, I have been hunting Eastern turkeys in my home state of Michigan, each spring and also on some occasional fall hunts. Growing up, twelve was then the minimum age to hunt in Michigan. Today, younger hunters can take part in the turkey hunting experience. To a non-turkey hunter, the excitement of a gobbling turkey coming in, is tough to explain. It may best be compared to a bugling elk. Yes, I know a turkey is a bird and only a fraction of the size of an elk, but it sends the same chills down my spine. Because of where I live, I have much more experience hunting Easterns than the rest of the subspecies combined. But because of my experience, I know how tricky it can sometimes be to get a big tom to commit and come on in. This spring, I am planning to hunt in my home state of Michigan, but also take the opportunity to swing down to Kentucky and hunt with my good friend, George Cummins, at Salt River Outfitters.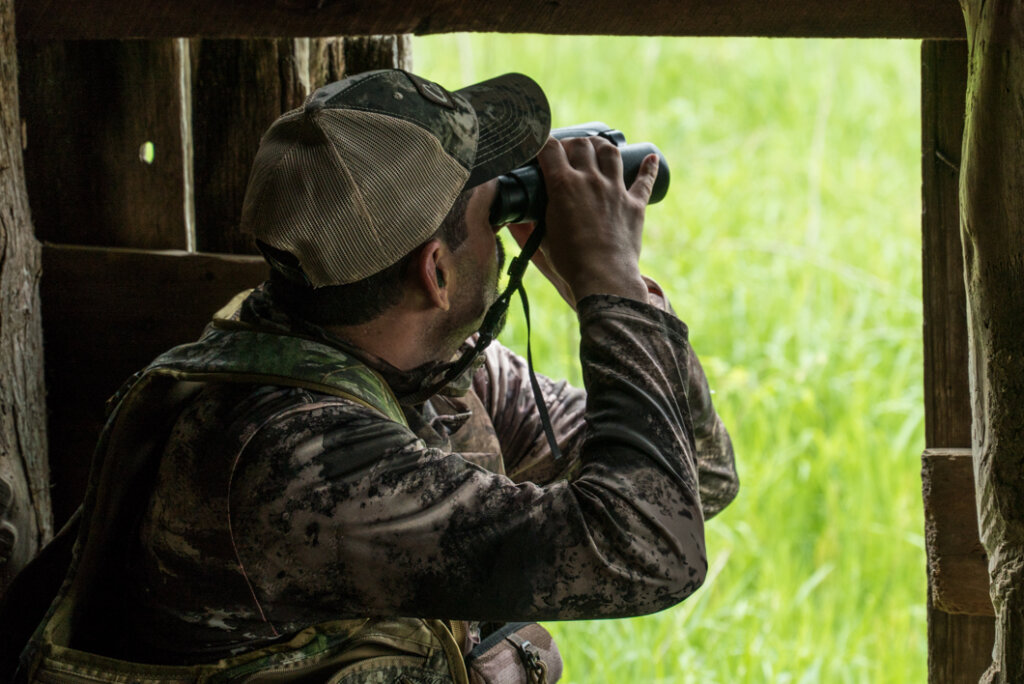 Salt River is based in Lawrenceburg, Kentucky and is known for both phenomenal turkey hunting and fantastic deer hunting. To say that I have a fond feeling for Salt River is a giant understatement as both my son and youngest daughter were able to, over the past couple of years, take their first whitetails with George. They look forward to going back every fall. It's a unique feeling at Salt River as the hunting camp truly feels like a big giant family as many of the hunters are there every year.Hunting the central part and especially the eastern part of Kentucky is unique as there are steep hills going down into "hollers". Many of the hilltops, being the only places that are flat enough, have been cleared for farming, cattle grazing and homes. The steep hillsides are, for the most part, covered with trees. Because of this, most of the turkey roost trees are on the steep hillsides. At some time during the day, the turkeys make it to the open fields.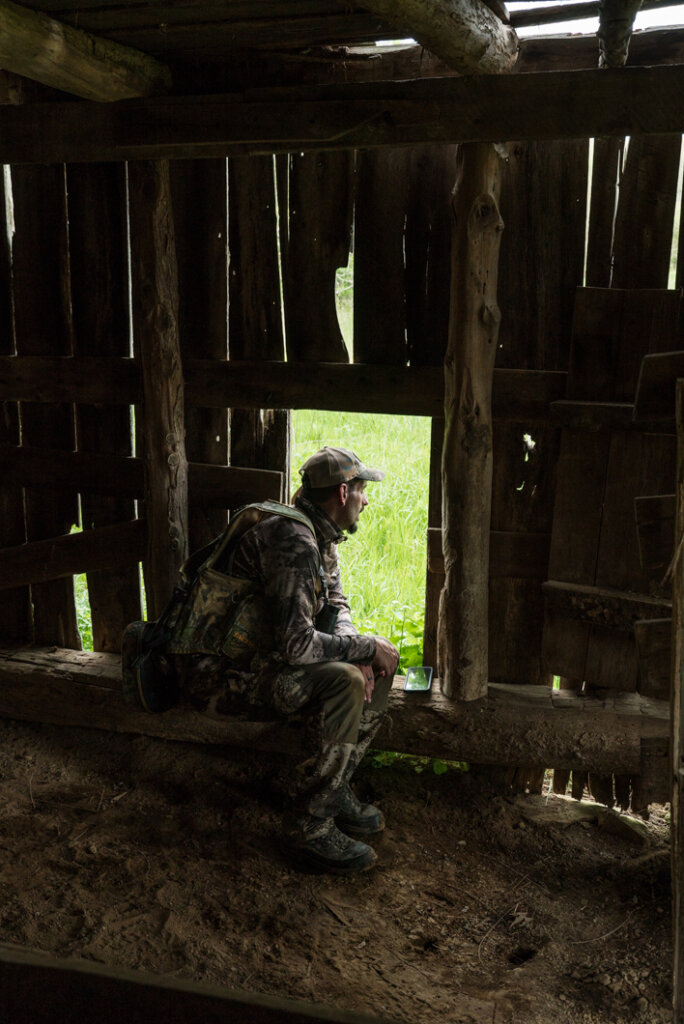 The morning plan for hunting is simple. We find where the turkeys are roosted and then get set up as close as we can. I have noticed that this season, across the country, has been a weird one as in each of the locations where I have hunted, the breeding season has been ahead of when it normally is. My best guess is that with the warm weather that came early, some of the hens stated to breed earlier than normal. This spring, the story was also true in Kentucky.On our first night in Kentucky, we went out with the goal of trying to locate some toms going to roost. If we located them early enough, we would set up and see if we could get them to come in. There was a storm coming that night and it was supposed to dump about an inch of rain. Knowing this, we thought there was a good chance that we might hear some early gobbling prior to the weather. At the first location we stopped and checked, we heard a lone deep gobble off in the distance. We quickly grabbed our gear and we were off. We quietly went up on the edge of the field and glassed up a lone tom in full strut and we moved along the field edge to a pinch point and tried calling. He quickly fired back at us and we set up and waited, calling on and off for about an hour with no response. So, we moved closer. Now we could see him, but also 6 hens in the field.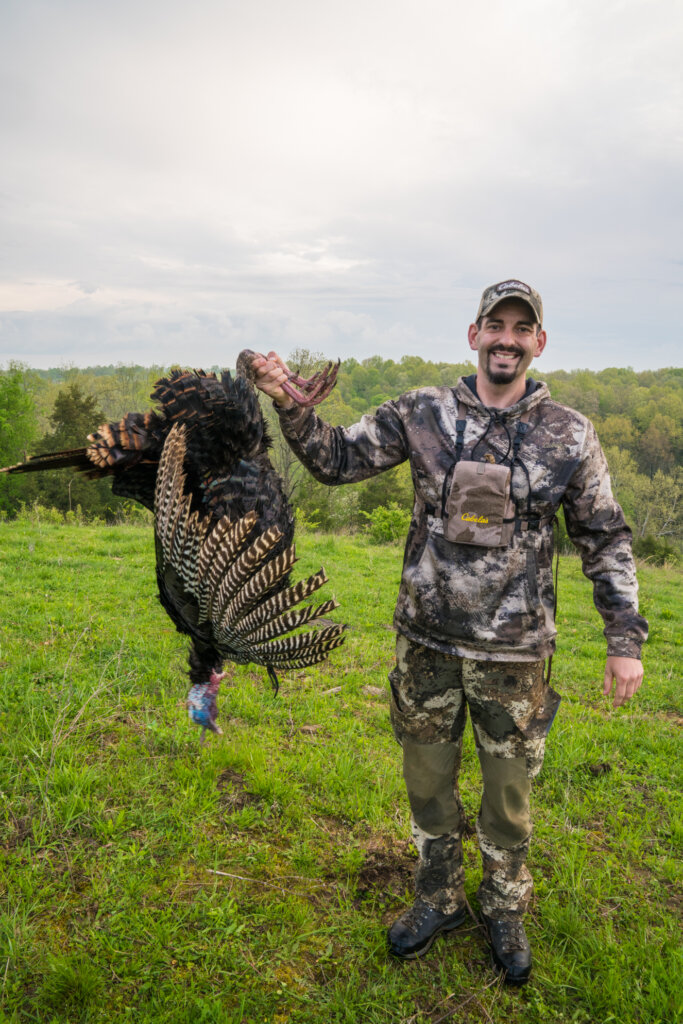 He was still in full strut but locked in behind the group of hens who were feeding away. We were at about 400 yards as they fed over a small hill and moved out of sight. Once they cleared the hill, we quickly worked across the field to the rise. We still couldn't see them as we slowly eased over the hill. Then, through a little tree thicket, there he was, still in full strut at about 75 yards. We dropped down flat, having what we saw as only one option. George slid back about 20 yards and began calling. This fired the tom up. He didn't gobble but started to work our direction. It looked like this was going to work. But, when he came to the corner of the wooded thicket that separated us, we just couldn't get him to commit. The closest he came was about 60 yards, but with the thicket in between us, I didn't have a shot that I felt comfortable with. As he followed the hens off that evening, we knew exactly where we would start out the next morning.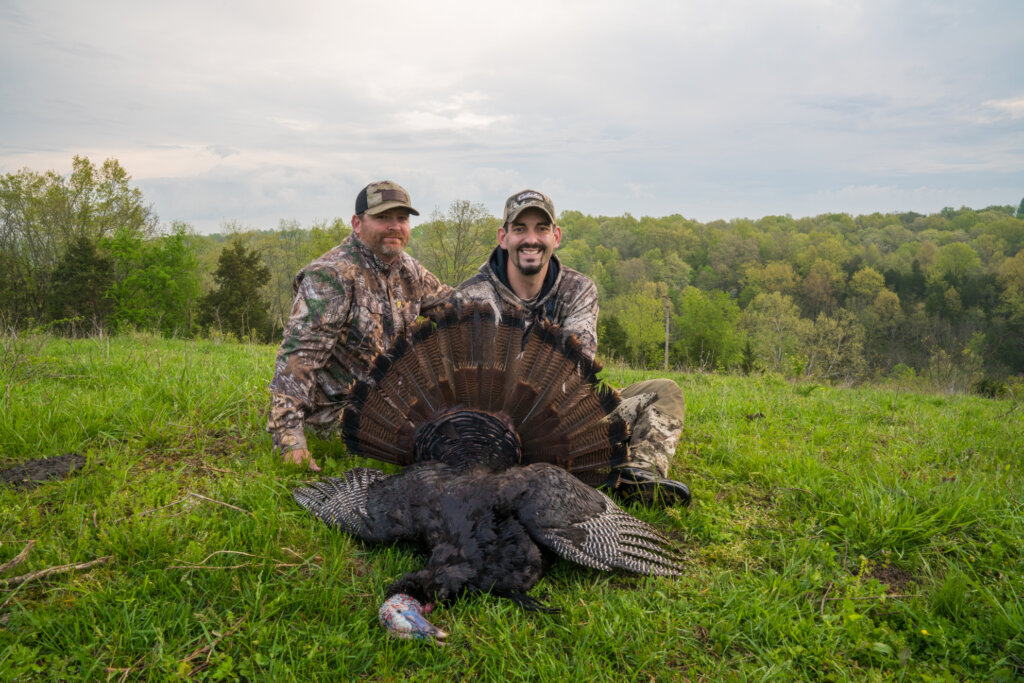 It rained for most of the night and looked like it was going to rain the first couple daylight hours, so we decided to use a popup blind. Having a good idea where the tom roosted the night before, we wanted to get in close so that he would see our set up when he came down from the roost. Wanting to limit our noise close to the tom, we popped up the blind and carried it in about 400 yards. It was surprisingly easier than expected to carry the blind that far and get set up. We had shown up plenty early and were set up well before sunrise. As the darkness slowly started to lighten the sky, we didn't hear any gobbling. But, about 10 minutes after sunrise we heard the flapping of wings coming off of the roost. Shortly after this, two hens came to the edge of the field and saw the jake and hen decoys that we had out. They started to work our way and came and investigated our decoys. Unfortunately, they fed off behind us; it looked like this wasn't going to work.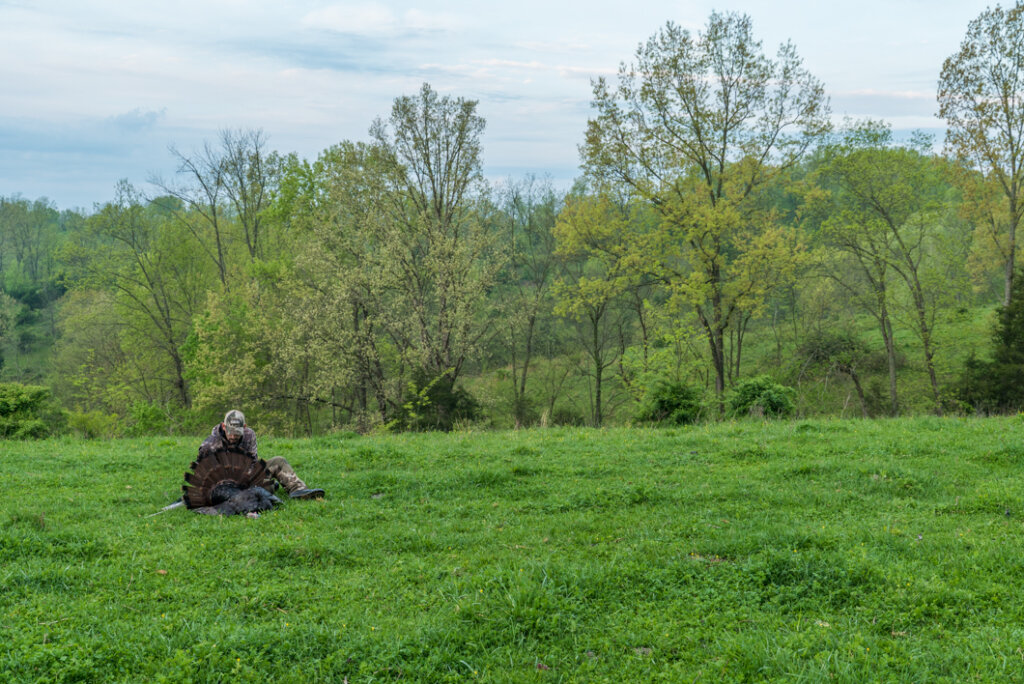 Just as we started to talk about how long to sit before moving, we saw the red head of a gobbler following the same path the hens took. He was fluffing up and shaking to dry off when he caught the decoys. He went from trying to dry off into a dead run coming to the decoys. He came to a sliding stop at about 30 yards out and 10 yards from the decoys and went into full strut. He still hadn't made a noise but was now strutting into the decoys. As he started pecking the Jake, he realized something wasn't right and stuck his head up. I slipped the barrel out the blind took a clean shot. My Kentucky Eastern was in hand and it was another great hunting experience with George in Kentucky.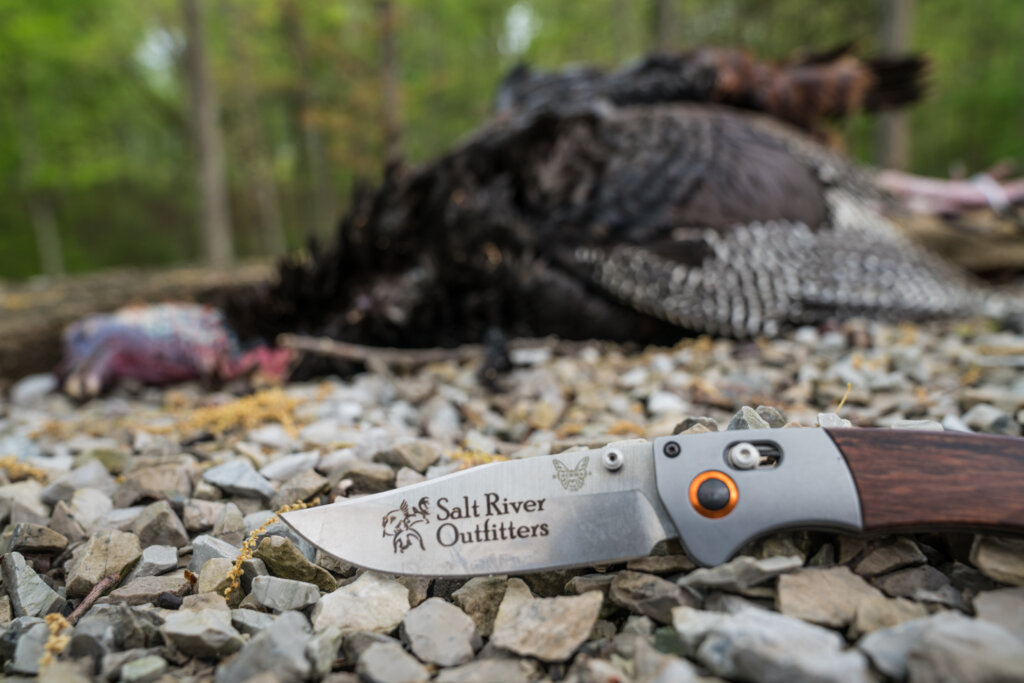 Eastern turkeys are the most widely distributed of the turkey subspecies and are also the most abundant, calling 38 states and most of the Canadian lower provinces home. Because of this there are many great hunting locations, but I believe there are none better than Kentucky with Salt River Outfitters.