After our successful hunt for Rios in Texas, we did a road trip to Western Nebraska to hunt for Merriam's in an area just north of WTA's office in Sidney. The majority of Nebraska is scattered with hybrid turkeys, which are a mix of Eastern, Merriam and Rios, but the area we were hunting was one of the pockets that held just Merriam. The Merriam turkeys call the mountainous regions of the western US their home, with the Rocky Mountains considered their hub. The Merriam have the shortest beard and spurs of all the turkey subspecies, but in my opinion, make up for it with their coloring. Their tail feathers have snow-white tips and more white coloring and less black coloring on their wings, which make them pop out.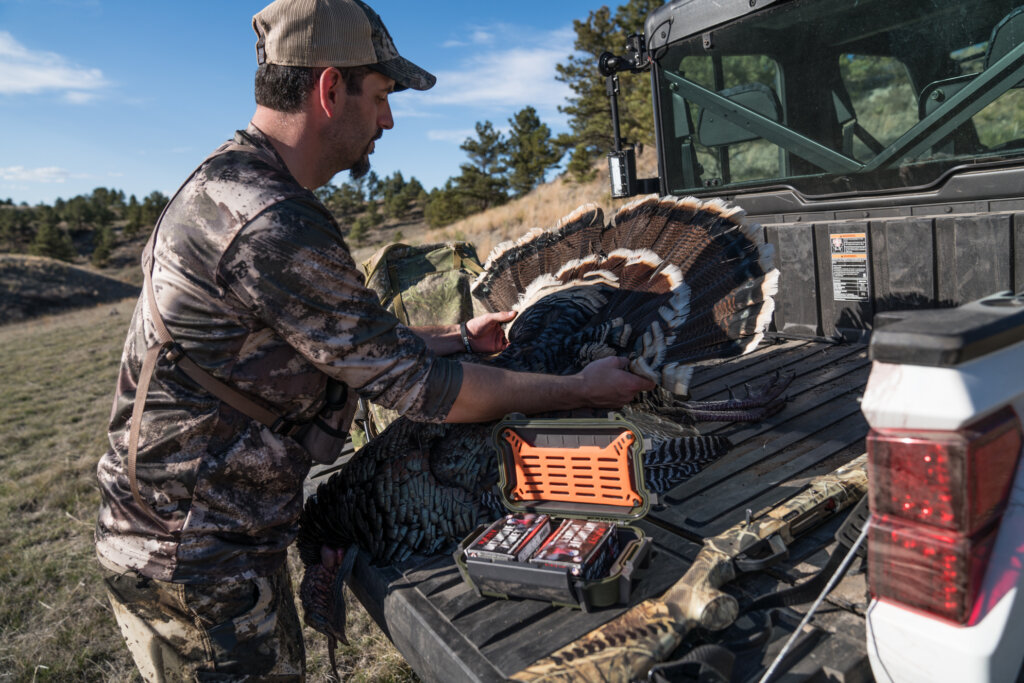 The plan for the first morning was to hunt along the North Platte River. The river is a concentration point not only for turkey but deer, pheasants and waterfowl as well. Once the weather starts to get nasty, some of the best waterfowl hunting in the lower 48 occurs along the Platte River. The turkeys had been roosting along the river and would go out during the day to the agricultural fields close by and then head back to the river area, late each day, to again roost for the night. Ryan Watchorn, WTA's CEO, was our host on this hunt and had done a bunch of pre-scouting for us. He had located a couple of areas where turkeys had been roosting almost every night. With that, we had a game plan for our first morning hunt. I would sit with Grant, my cameraman, and my Dad would sit with Ryan, a bit up river from us. Both spots would be right in the middle of the turkey roost area.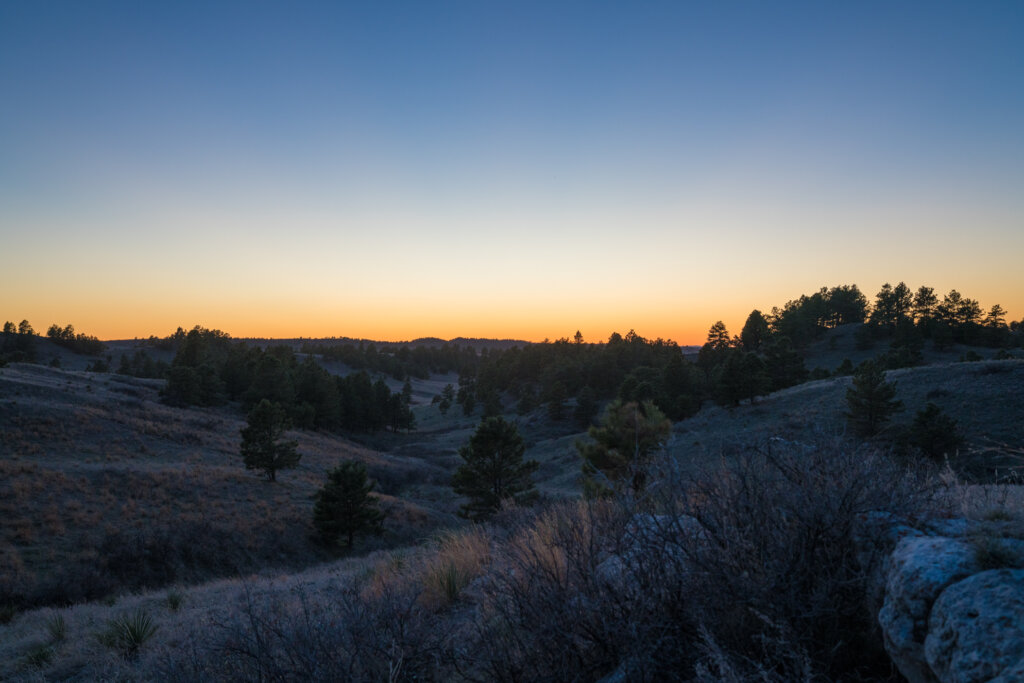 As the sun started to rise, we heard our first gobble up river from us. This tom was roosted right between were we were set up and where Ryan and Dad had set up, about 500 yards up river from us. There was another gobbler downriver from us and then another bird farther up river past where Dad was sitting. But, the gobbler between us was by far the most vocal of the three gobblers. He continued to gobble on the roost until we heard him fly down. Once he hit the ground, I started to call lightly and he gobbled back and it sounded like he was running our way. It looked like it was going to be an action-packed morning, but then he just went silent. I could have sworn he was going to run into our lap, but he just locked up and went silent. We continued to call but didn't get another gobble for the next two hours. As we were getting ready to slip out of the blind and move to another spot, I went over to pick up our decoy. As I'm bending bend down to pick it up, I glanced through the heavy cover and caught a gobbler, about 100 yards away, in full strut.
Dropping to my knees, a quick bino check showed why that gobbler had stopped gobbling. He was in full strut and had 4 hens and a Jake around him. I slipped back to the blind and gave it all I had calling. I am far from being a good turkey caller, but he finally answered with a gobble. Unfortunately, it was not enough to pull him off those hens. If calling wasn't going to work, it was time for a new plan. With the river bend to our backs, I talked with Grant and we decided to see if we couldn't sneak up and get a little closer. It took us about 20 minutes of crawling, but we were able to get within 40 yards of the last spot I had seen the tom. Now, we were out of cover. We quietly stood and were shocked to see that we had crawled within 10 yards of a hen. I quickly scanned and saw the tom just as he saw us. The tom stuck his head up to see what we were. And, that was it. The Kent diamond shots did the trick and he was down. I had a giant Nebraska Merriam.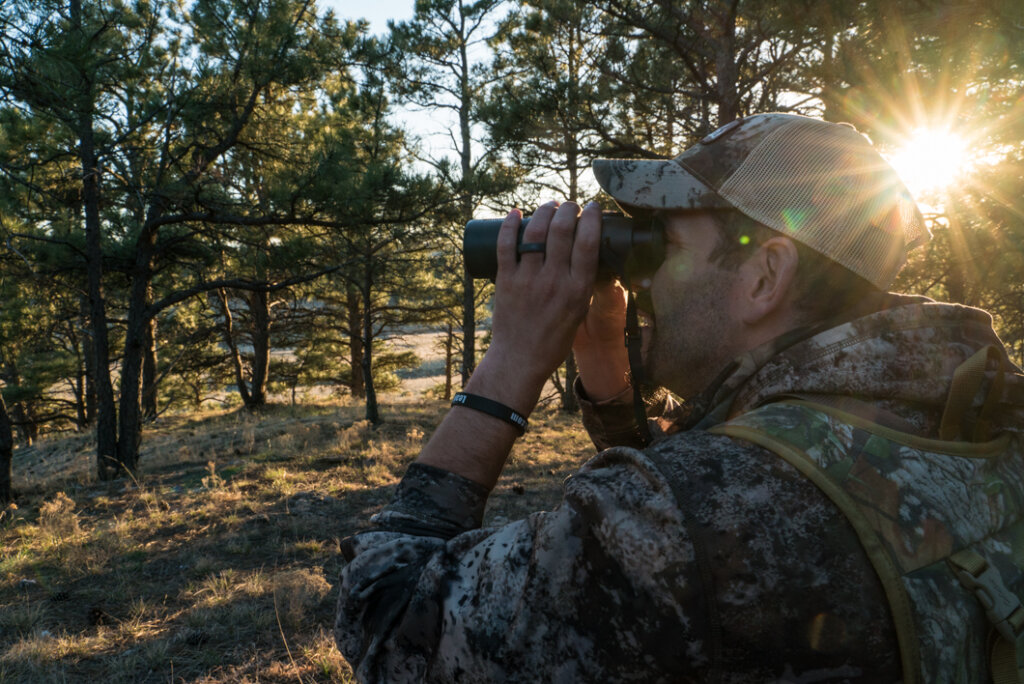 After some photos and filming, we met up with Dad and Ryan. They had the bird from upriver come in silent but couldn't get him closer than 100 yards. We went off to eat a quick lunch and made our plan for the afternoon.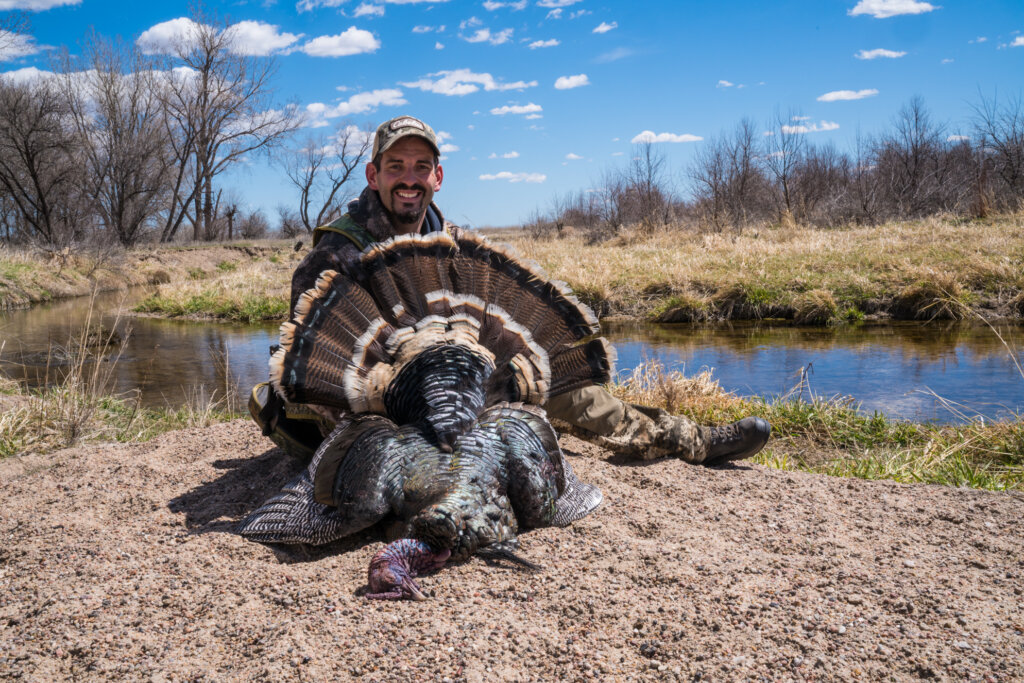 We moved about 15 miles away from the morning hunt. This property was totally different than the river bottom. It consisted of rolling hills with steep banks and big pines. This was definitely not normal Nebraska terrain but was some of the prettiest area I've ever hunted. The turkeys in this area roost in the tall pines on the banks but spend most of the day in the flat bottoms. With the elevation changes, we were able to get up high to glass. It didn't take long for us to spot a group of three gobblers off in the far distance. Now, came the the tricky part. We had to work our way to them–about 2 miles—while staying in cover without losing them. As we moved towards them, we continued to glass and see which direction they were heading. As it was late in the day, we knew they were moving towards a roost but we didn't know where. As we closed the distance to less than a half mile, we saw them cutting around a pretty good size pop up hill. With the sun continuing to move lower, we decided to take an aggressive chance. We quickly moved to the back side of the hill and started calling.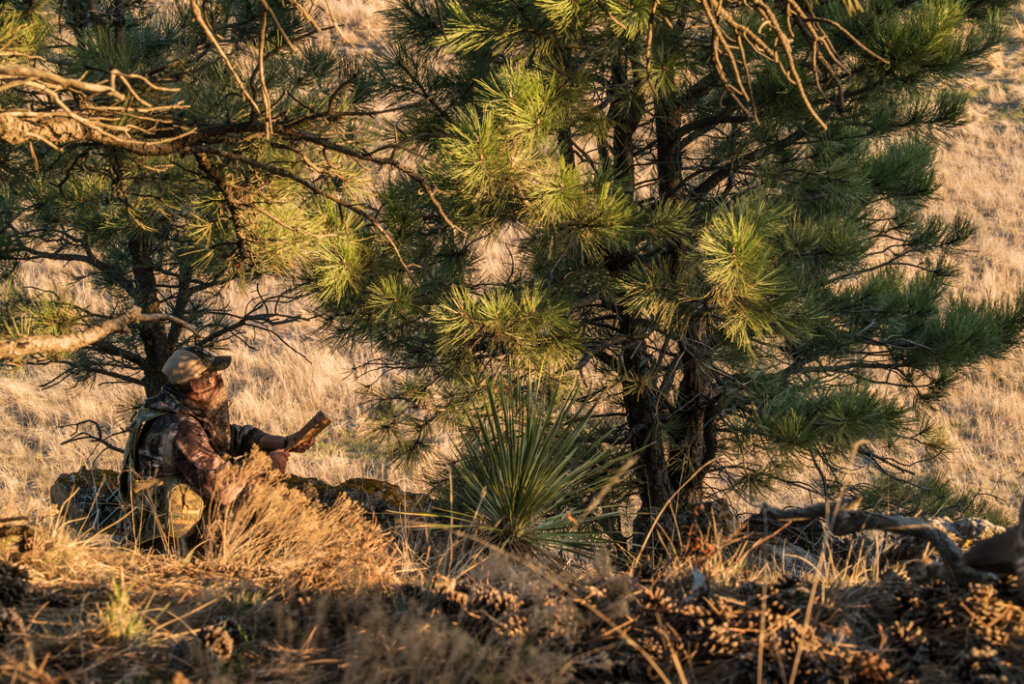 On the first sound of our call, all three toms gobbled back. They were coming and coming fast. The gobblers topped the pine covered hill in full strut and continued coming our way. Dad and I were flat on the ground laying right next to each other. We were dreaming of a double. As the lead gobbler came to within 35 yards, Dad raised up and toppled him over. I quickly got on the 2nd bird and, just like that, we had our dream double. Grant took some photos and we headed back the same two miles, but this time we were carrying our turkeys.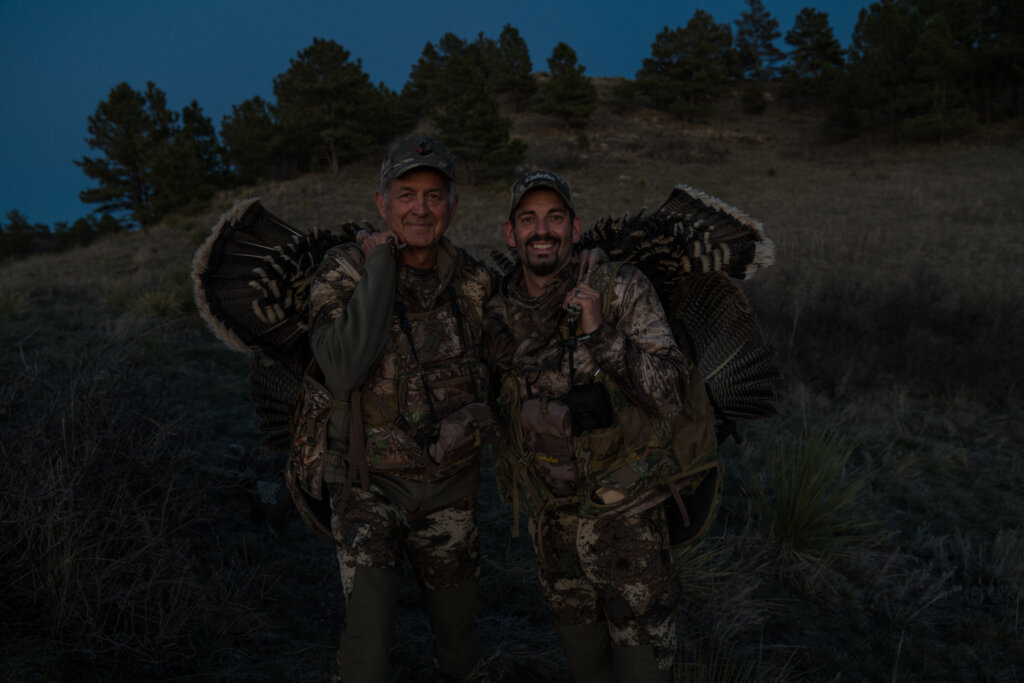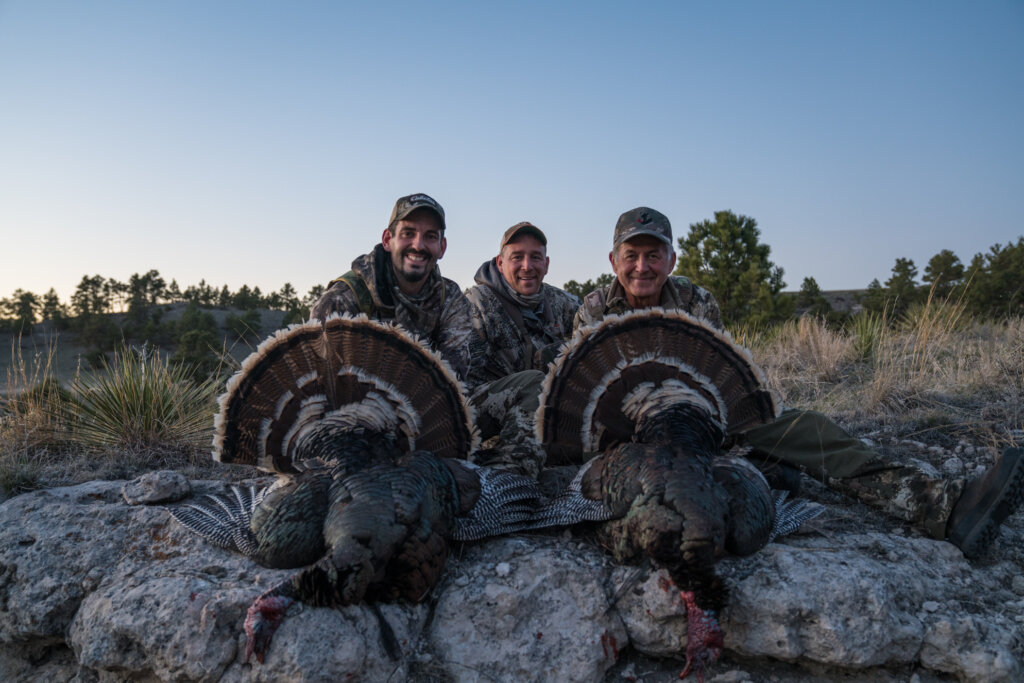 Dad and I will remember our Nebraska double for a long time. It was a great way to top off our Texas/Nebraska Rio and Merriam hunt. Through the years I have shared many days and moments in the field with my Dad and we have many more planned. Ryan, thanks again. It was an absolute blast of a trip! As always, your hospitality is first class!!