Part II – By Tim Herald
We switched camps the next morning, and settled in to my good friend Andrew Pringle's camp in the mountains of the Bansviaar River Conservancy after a superb lunch of shephard's pie and fresh salad. Andrew has set himself apart from most outfitters in south Africa by only hunting 100% free-range areas with no high fences. I had taken super nyala, bushbuck and bushpig with him the last year in his northern conservancy, and I was really looking forward to hunting on his 450,000 acres in the Eastern Cape.
Will took an old black wildebeest just before dark on that first day to kick things off. The next day we hunted kudu, bushbuck and warthog with no luck. Will actually missed a warthog at 38 yards in late afternoon as the boar trotted straight at us and our PH Paul Kruger stopped it before he ran right into us.

The boys had decided they both had "curse animals"; Will's being the warthog and Drew's bushbuck. Andrew and Paul both told them to hang in there, hunt hard, and it would happen.
Before lunch the next day, Will took a nice impala ram, and the following day, Drew made a heck of a standing shot off the sticks at 310 yards on an old Cape kudu bull. Our focus definitely became warthog and bushbuck at this point.
The next morning dawned cool and clear, and the sun made the red dirt and rocks of the Eastern Cape glow with a warm hue. Paul took us to an area that was literally over run with warthogs, and we could see over 20 on one hillside. He found a decent boar (as we had all decided the first mature boar we could find was a target), and over the hill he and Will went.
Five minutes later a shot rang out, and I saw pigs running in every direction. Paul took his beagle Cruiser everywhere with us, so he came back and turned Cruiser loose. Within seconds he was in a ditch on top of the pig when was virtually expired from Will's shot.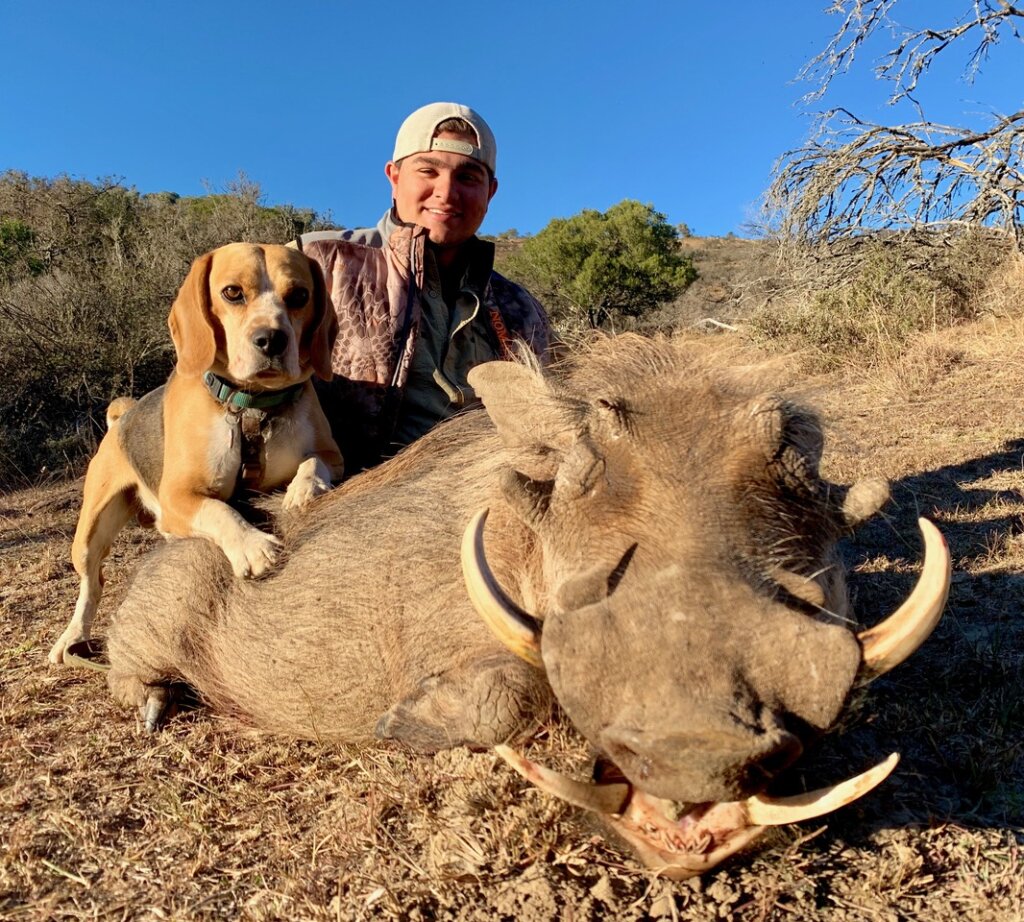 As had happened a couple of times on this trip, we saw a herd of eland on a distant hillside as we were taking pictures of Will and hit pig. Though they were about a mile and a half a way, the huge antelope seemingly glowed in the sun as they fed in a large, green, grassy area, and Paul and I both thought we could make out a big bull.
Soon after, Paul, Will, tracker CT, Cruiser and I were huffing it up the valley toward the eland. I told Will if we got in a perfect position, I would let him shoot, but anything less, and I was the hunter. I did not want to spend an entire day following a wounded eland, and since we were using Paul's .280, I wanted to be very careful with shots.
When we got close, we had to crawl through about 50 yards of very dense brush on hands and knees. As soon as we stood up, Paul spotted eland about 80 yards out, and the big bull was looking back at us. Paul said, "It's the one horned bull, and he's about to go!", and I brought the rifle up as the bull began to trot away. I moved instinctively, and my shot hit the bull a bit back, but he was quartering away was leaving. The bull barreled straight down the hill through very dense thorn brush, and Paul, Will and I tip-toed after him as CT and Cruiser flanked around and down.
Suddenly Paul pointed below us, and I could see the eland's massive head and neck in a small opening as he was looking to the left. I quickly put one in his neck, finishing him instantly where he lay, and the hunt was over.
It was indeed an old one horned bull, and he had a serious reputation in the area. He was generally the boss of a big herd, and he had been around for a long time. Andrew told us that night that he had personally missed that bull himself over 12 years before. When we spoke with the property owner that night, he said that no one had seen the bull in well over 6 months, and they figured he had finally died of natural causes. He was the perfect bull for me as I only care about age, and horn length means nothing at all. I just love to hunt old eland bulls.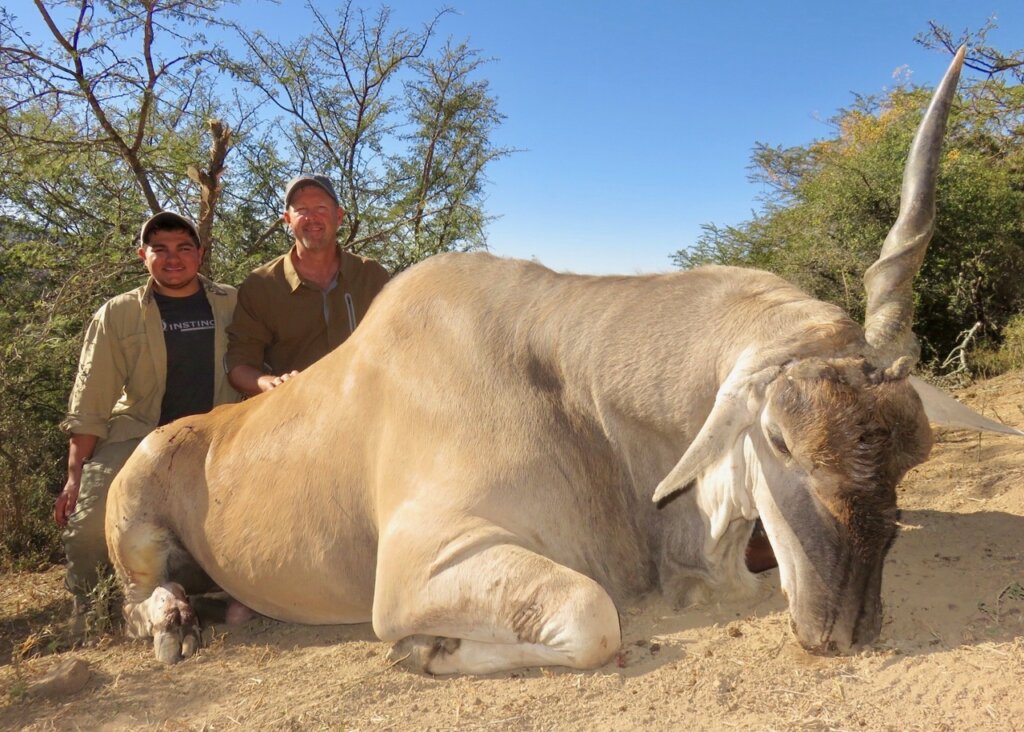 So with 2 animals down, we obviously planned to hunt bushbuck in the evening. We went high into the mountains and glassed the hillsides where thickly choked draws met grassy hillsides. We saw 4 or 5 rams, and at least 3 were nice trophies, but they were all running away, and we had no chance.
About an hour before dark, I spotted a lone ram on an open hillside over 1200 yards away, and we figured it was a long shot, but we had to try. We beggar a descent down a long hill trying to get below and in front of the feeding ram. When we were a bit over half way down, Paul suddenly halted, and threw up his binoculars. He immediately pointed to a thicket in front of us, and said, "Nice bushbuck ram! Drew, you are going to have to shoot from here."
As he got Drew into a shooting position on bipods, I found the dark spot on the opposite hill and ranged it at 402 yards. I could tell it was a bushbuck ram standing broadside facing right, but no way I could judge horns. PH's have some incredible eyes!
Finally, all was set, and Drew pulled the trigger. I should say he jerked the trigger, but thankfully the safety was still on. Paul and I both whispered, "Squeeze", almost in unison, and to my absolute amazement, when the rifle cracked, the bushbuck jumped straight up kicking his back legs, as we heard the bullet hit its mark. I just couldn't believe he had made that shot on such a small target.
CT and Cruiser took off as we stayed and marked the opening where we had seen the buck. Soon after Cruiser began barking, and Paul and Drew took as well. I made my way at a slower pace, and then heard a rifle shot and Cruiser went silent. When Paul and Drew had gotten there, the bushbuck had lunged at CT with its sharp horns, and Cruiser had it bayed up. Drew's shot was about 4 inches back, but the ram was tough and not giving up until he was able to put another one in him from only a few yards away as Cruiser kept his attention.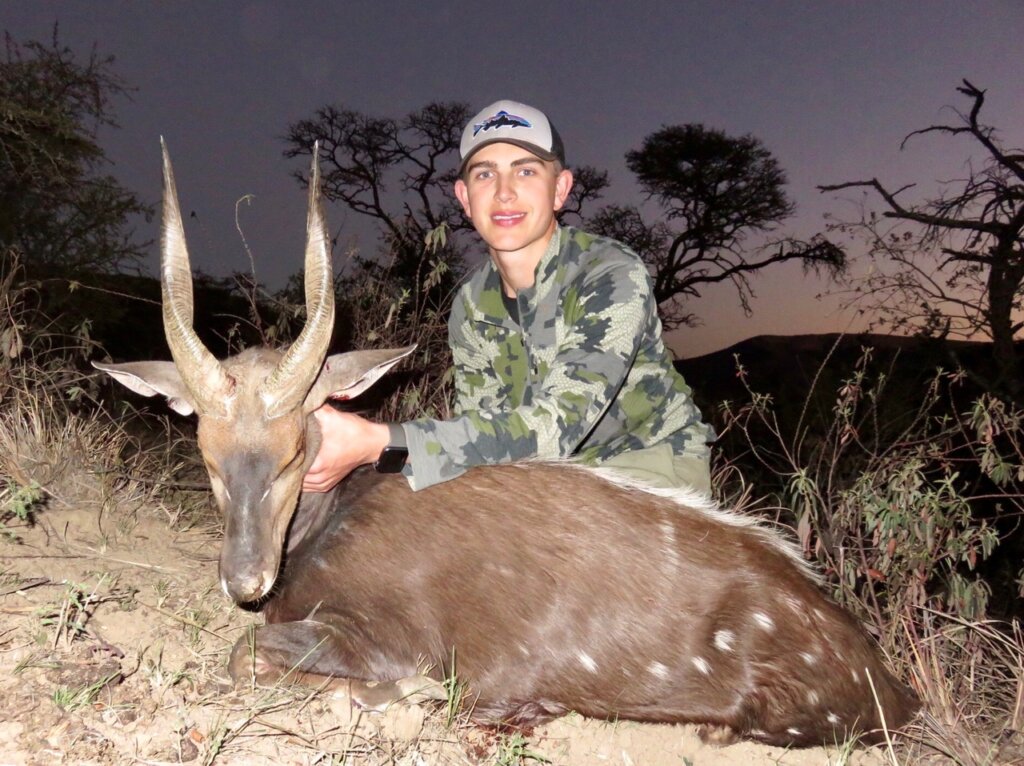 What an incredible day! Both the boys had taken their "curse animals", I had taken a massive old eland bull, and Alka had been with us all day. We decided right then and there that we would end our hunt on a high note that may never be matched in our family, even though we had a couple of days left.
We went back to Port Elizabeth, bought groceries for an orphanage that Andrew and his wife Julia support, and just took it easy. We drove down the beautiful coastline and walked on the huge dunes and beach at Sardinia Bay, we visited another nature reserve and we ate plenty of wonderful seafood before we had to say our goodbyes and head back to the US. I have been on some wonderful safaris and been blessed to hunt all the dangerous seven and dozens of other African species, but I am honestly not sure it is possible for me to ever go on a more meaningful safari than this one with my family. My boys' graduation present was a wonderful gift for all of us.
for more info on booking this hunt, see https://worldwidetrophyadventures.com/outfitter-profile?hunt_id=1395