Fishing Alaska – Because You Should!
by Tony Witte, Outdoor Adventures Consultant – Fishing & Wingshooting
If you love to fish like I do, you already have favorite locations etched into your brain. I have had many opportunities to visit and fish some of the best waters in this country, and a few others. I have a love and an appreciation for each of them. They all offer something different to keep you coming back and wanting more.
Recently I was blessed with an opportunity to visit and fish a destination to which I had never been, Alaska! Why, after 42 years of life and literally 38 years of fishing have I never been here before? Honestly, the opportunity had never presented itself at the right time, or I always found a reason to go back to the tried and true locations I was accustomed to.
When WTA said "Tony, you need to experience this and meet some of the great people you will be working with every day…" I was only more than happy to pack my bags. Traveling to and from Alaska was surprisingly simple. After a quick connection through Seattle, I was Alaska bound with no limitations but time.
My first destination was Ketchikan. The lodge staff met me at the airport and shuttled me to my residence for the night. I was given a quick tour of the lodge and met some of his regular repeat clients who let me crash their party for a day. This group of friends has been going back for many-many years and vowed over-and-over that "…they won't go anywhere else!" We all ate an incredible supper that night which prepared ourselves for a long day on the water starting around 6am at the dock.
When our baits hit the water, we were trolling for salmon. We hooked and released a dozen or so King salmon that didn't make the slot size to keep, so Captain decided to go after something different. I couldn't believe we were leaving fish to find fish??? But hey…he's the captain, so I went with it. He ran the boat to a couple of known locations and rigged us up with halibut gear. What he really did was put us all straight to work. We all were kept busy catching some amazing Yelloweye rockfish, nice lingcod, and of course halibut (some exceeding 100 lbs.), along with various other species of rockfish. And this all happened in a matter of what felt like minutes. It wasn't long before I started hearing "…here, you take this one!" being shared around the boat. At this point, I'm starting to think…hey, this Alaska thing is legit. Between myself and the 4 other guys on the boat that day, we figured we caught over 100 fish without any kind of exaggeration. I couldn't believe how fast the day went.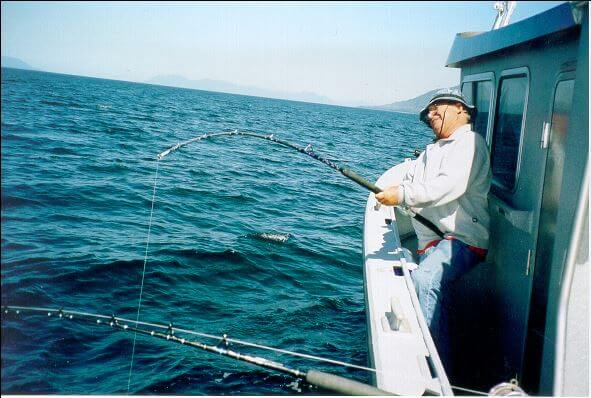 My next stop (still in Ketchikan) took me to a much larger lodge and a much larger fleet of boats. I ate a great meal while spending a good amount of time talking with other guests and staff about what brings people here? What brings them back? What do they like to fish for…etc.? I spent the next day on the water with the manager of the lodge and a couple of guests that were new to the lodge, new to fishing, as well as Alaska first-timers. Due to the wind and the guests on the boat this day, the decision was made to stay close to home. I watched no less than 50 salmon come over the side of the boat and countless misses, and a thousand smiles all happen less than half mile from the docks. It was such a great experience for the newbies as well as myself by relearning that fun isn't only provided by the "most" or the "biggest".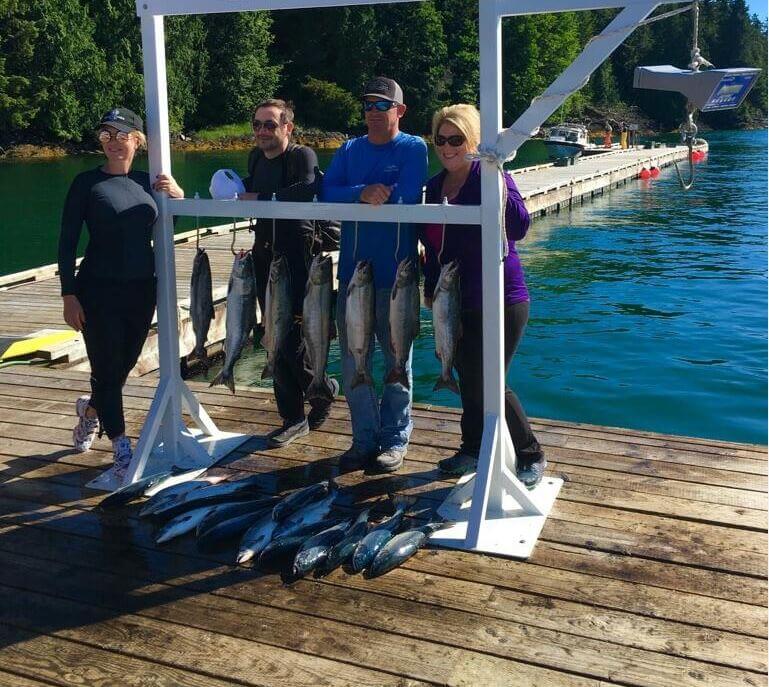 After 2-days of hauling and reeling in Ketchikan, I set off for my next stop. I jumped on a plane and landed in a beautiful little town near the Glacier Bay National Park. The outfitter picked me up along with 5 other guests, 3 of which were return guests. I'm starting to notice a trend on this return guest thing. He drove us to his secluded lodge and we were all shown to our rooms and we all got settled in. There was another small group of 5 that we joined up with…guess what…all return guests except 1. This is incredible. When the supper bell rang, almost all of the regulars warned us…"if you leave this place hungry, it's your own fault." I love food and I'm good at eating it. And this, was REALLY good food! All homemade, all 5 courses of it!!!
The fishing was just as good as the food. Once again the wind was blowing hard enough to steer us away from trying to troll for salmon, so we went to dropping and jigging for halibut in calmer waters. We found some. Lots of them. And big ones. We were bringing up fish anywhere from 5 pounds to 120 pounds and all you wanted, all day long. At the end of the day, everyone was tired and ready for another incredible meal. Nobody was disappointed.
My next stop took me to Homer Alaska. After getting picked up from the Homer airport it was a quick half-hour ride to the lodge. This lodge sets right on the beach and is an easy-stone throw away from the water. After a great meal and a good nights' rest, we set out in search of salmon. The fishing grounds for this lodge are right out the front door. They actually launch the boats right off the beach. I joined a guest who was there with his two young boys 9 and 10. I was lucky enough to fish with them for 2-days. We (the boys mostly) caught salmon, rockfish, and reeled in enough halibut on the last day to actually wear themselves out. What a great experience for those boys and their father.
I started my return trip home on the evening of my last fishing day recalling all of the stops I made and each of the great people I met. Never having been to Alaska, I really wasn't sure what to expect. I wasn't sure about the people, the weather, the fishery, or anything at all. All in all, the salmon fishing was tough during this trip. I really didn't even notice that I wasn't able to punch my king salmon stamp until my flight left Homer. The guides we fished with made sure we had fish in the box and were professionals in every way about how they made it happen. The outfitters we work with at WTA will take care of you and your friends and family the same way they took care of me. That is why we partner with them. That is why their regulars are regulars. Point blank, we work with the best! When you are looking to book your next adventure, consider doing something different, go to Alaska! Let me and WTA help you find the right place. We know some great people there.