Hawaii- Hunting in Paradise
by Mark Peterson
Because we are currently in the middle of the spring break season, one of the most frequently asked questions I receive is where would I recommend taking my family next year? This is often followed by my comment that "I can only take so many days of sitting at the beach". There is a simple answer to this dilemma—Look at Hawaii. It is the perfect location for what I like to refer to as "active family". It literally has everything you could possibly want to do. There are beaches, waterfalls, numerous hiking paths, helicopter tours, zip lines and fishing. But, the real hidden gem is that the islands of Hawaii have some of the best hunting in the states. That's right, some of the best hunting in the states is within miles of those, beautiful sandy beaches.
Hawaii boasts a number of hunting alternatives, varying from single day excursions to more in depth options involving island jumping as you chase different species. These different alternatives are perfect as it gives families more options of what they would like to do on their vacation. On my most recent trip to Hawaii my family stayed on Maui, and I arranged that my youngest daughter Michelle would join me on a daylong excursion to chase free range Axis deer.
We woke up early at our beach front condo and drove about 90 minutes to where we met our guide. We arrived at the site about 45 minutes prior to sunrise. From there we traveled in his truck for another 15 minutes to where we parked. After arrival, we got everything set and loaded our backpacks with plenty of water. We started our short hike to a high glassing knob where we wanted to be at first light. We were hunting a cattle grazing field, but the ranchers rotate their fields. This particular field was in a rotation where the cattle where off it on our hunt day, and as a result the deer had moved in. We found ourselves right were we wanted to be at first light, but the deer had already started to feed out of the field and move into thicker vegetation. Once they are in the thick vegetation they would be gone until later in the afternoon when they would start to feed back out. But, we were still in luck as we glassed higher up in the field and spotted a couple of good bucks still feeding right on the edge of the field. The wind was perfect, so we took the risk and dropped down from the ridge to make a fast stalk on the backside of the hilltop trying to close the distance. My daughter hiked like a champ and kept right at my side.
We all agreed that if we couldn't get within shooting range by covering the distance on the backside of the ridge, we would back out later in the afternoon as we didn't want to push the deer any deeper into the thick vegetation or it might be a day or more until the deer again decided to leave the shelter of the heavy vegetation.
On this particular day, our fast stalk on the backside of the ridge worked perfectly. We popped out ahead of the deer and had single narrow shooting lane where they would, in all probability, pass through. It took the Axis deer a couple of minutes to work their way up to us but slowly they started passing through the small lane one by one. The 3rdin line was definitely a shooter. With a single quick shot, he was down. As we approached him, we saw how truly large he was. We had a great Axis buck, taken on the island of Maui!!! What a awesome experience to share with my daughter Michelle, who made me promise that when she gets a little bit older, we would come back so she could hunt as well. That night, Axis steaks on the grill were extremely tasty.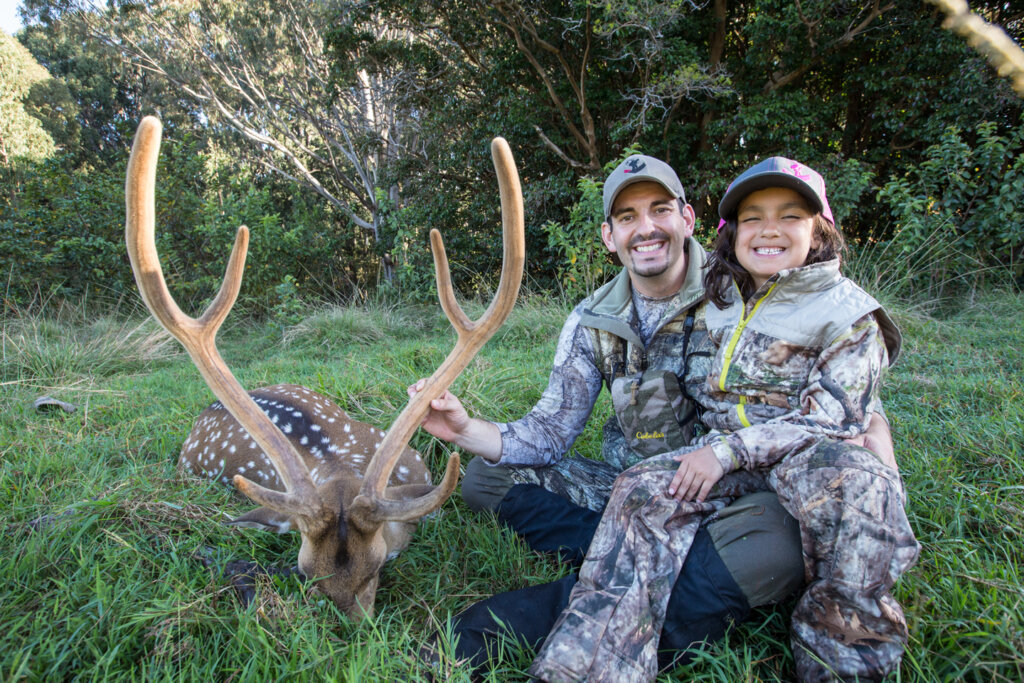 Still having a good portion of our vacation left, my wife gave me the green light to take a day and go over to the Big Island to hunt for feral goats and black Hawaiian sheep. Hunting on the Big Island, with its more adventurous terrain, was going to be more challenging, so Michelle had to stay back. She was ok with this as she knew that someday she would be back to hunt on her own.
I flew over to the Big Island the night before for an overnight stay at a local hotel. The following morning, my guide picked me up and we were off to hunt the volcanic cliffs in search of feral goats. The population of goats in this area is extremely high, so it didn't take long for us to spot a group of Billie's with a good ram in it. The tricky part about hunting these goats is that they come out high on the volcanic rocks late in the day and eat the grasses there overnight and into the early morning. During the day, they go back down the volcanic rocks and out onto the harden lava flows where they bed down for the day. As there is no vegetation on these harden flows, its makes stalking during the day nearly impossible. We did, however, catch the largest billy goat as he was less than 25 yards from feeding over the edge. The grass on top was extremely thick and tall and that gave us a big advantage in our stalk. We were able to get within 100 yards before setting up for the shot, which found its mark. This hunt was an incredible experience. Setting up for pictures on top of the harden lava flows, with the Pacific Ocean in the background, gave us some unbelievable photos.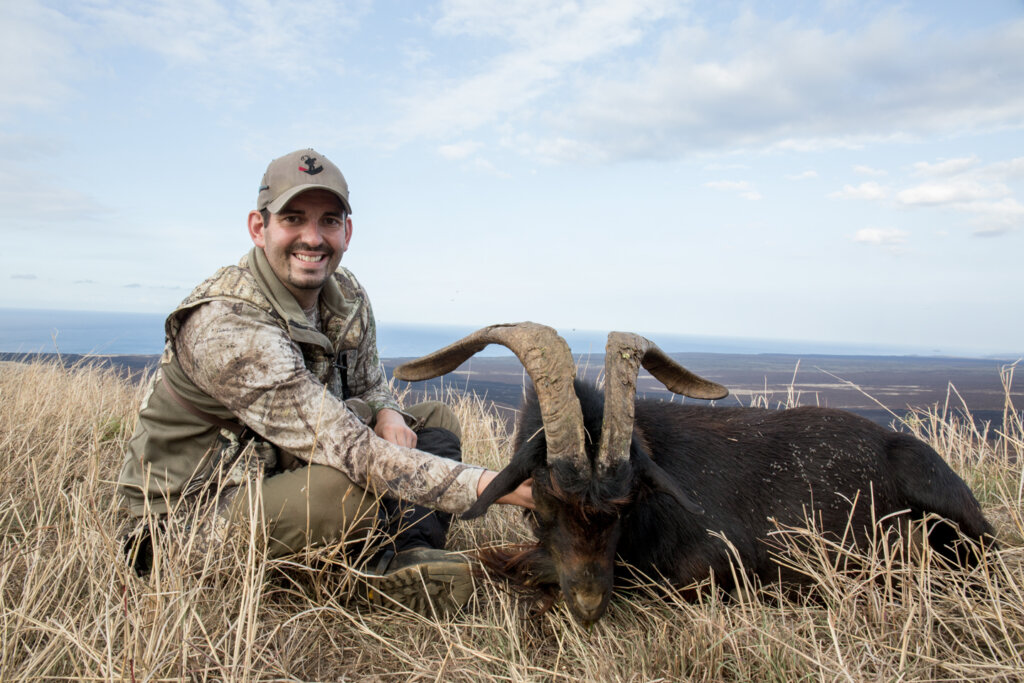 With still about six hours left before I had to start making my way to the airport to catch my Maui flight, we decided to go to an area that has a high density of black Hawaiian sheep. Normally, the best hunting is done, again, at first light or last light, as the high temperatures and humidity on the island seduce most animals to bed down during the day. But, as with all hunting, your chance at success is zero unless you give it a shot. So, off we went to give it a try. During the time we were in the black Hawaiian sheep area, we must have seen over 100 turkeys and several smaller groups of sheep but none contained a good ram.
It was approaching noon, and just as we were going to take a quick break for lunch, we caught sight of a group of sheep, that we must have bumped, going over a hill in the distance. Knowing how hot it was, we were betting that they wouldn't go very far over the hill before stopping. We took a quick fifteen minute break and made a plan so we could get the wind on our back and slowly sneak over to the spot we last saw them. As we edged over, we spotted the group slowly feeding a couple hundred yards away, and made a quick move to close the distance by 75 yards. We set up and made a successful shot on a great ram. Again, it was an amazing experience and it took place on spring break in Hawaii.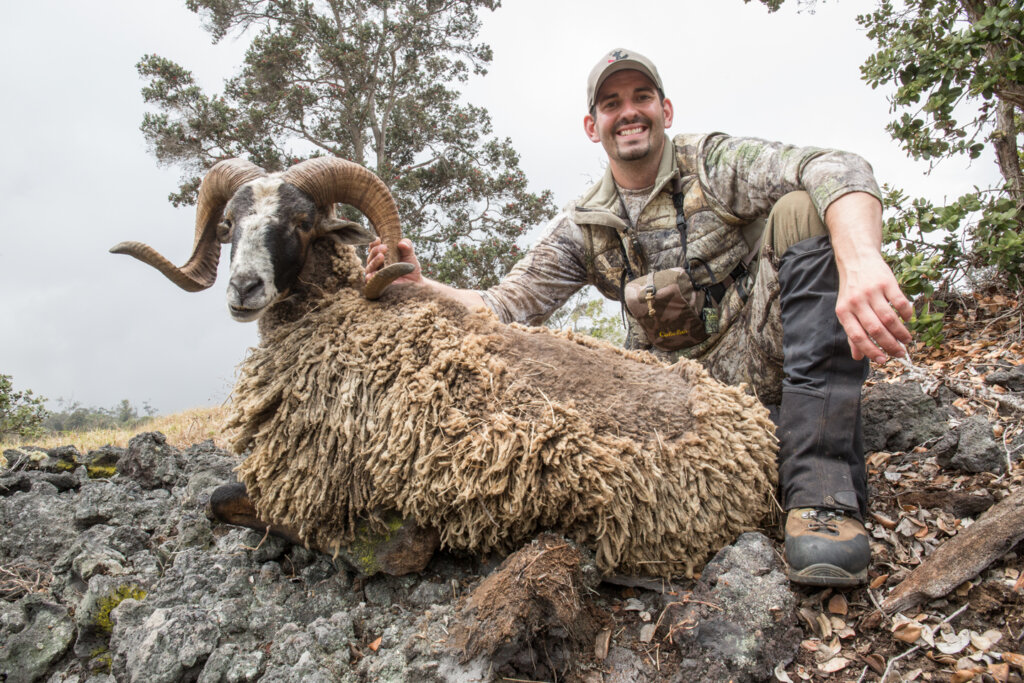 I can guarantee that my family will be scheduling another vacation to Hawaii very soon. If you are looking to set up a hunting excursion as a part of your next Hawaiian vacation or if you are looking for a standalone hunting trip to Hawaii, please give WTA a call and let us assist you in setting up an unforgettable experience. The main hunting islands of Hawaii are Maui, the Big Island and Molokai. There is also some hunting done on Kauai as well, but some political changes on Kauai in recent years have made it a little bit more difficult. There are numerous species that can be hunted and all are free range. There are Axis Deer, Wild Boar, Spanish Goats, Black Hawaiian Sheep, Rio Turkeys, Upland birds (of which there are 9 different species,) mouflon sheep and the extremely rare Vancouver bulls.
Yes, you can take your family to paradise and still get a bit of hunting done. Safe travels to wherever your next adventure takes you!!!