In early November 2021, I arrived in north-central Arizona's city of Page to hunt Nelson Desert Bighorn Sheep as a guest of the Navajo Nation. Navajo land is over 27,000 square miles (larger than 10 of the 50 states in the U.S.) and is spread between the three states of New Mexico, Arizona, and Utah. I met my guide, Steven Peter, just before noon at the Page boat launch. We traveled by boat up Lake Powell to the hunting area just across the state line into southern Utah. On this hunt, I was equipped with my Gunwerks' muzzleloader, and I hoped that the terrain would lead to a closer shot than I would normally get when rifle hunting for sheep.
The landscape we boated through was red rock mountains and canyons that reached the water. It was both beautiful and extremely rugged at the same time. After two hours, we reached the spot where we would set camp for the hunt. Finding a spot to partially pull the boat up was difficult because in most places the sheer rock walls went down into the water. Sand was almost impossible to find, and Steven warned us to be careful if we did find sand, as sometimes it is quicksand.
The Nelson Desert Bighorn is a remarkable animal that has adjusted well to its extremely inhospitable environment with almost no water in the red rock mountains. Some may not seek regular sources of water for weeks but instead rely on small pools of rainwater or what little moisture can be found in the food they eat. These Desert Sheep have adapted to an environment where many of their predators are unable to live. They survive in a dehydrated condition, losing up to 30% of their body weight until they can again find drinking water and recover to normal. Their home, while beautiful, is extremely harsh and difficult to live in. That, and all of the conservation work done by the Navajo Nation, allows these Desert Sheep to increase in numbers.
After setting up our tents and the rest of camp, we moved up to a nearby knob to glass for sheep. After a couple of hours with no luck glassing, we took the boat downriver and unsuccessfully tried another spot. At dark, back at camp, we had freeze-dried meals and thanks to Justin, my field producer, camera guy, and friend, a bit of red wine from a box. In my sleeping bag that night, listening to the calm of the desert night, I couldn't help but have a good feeling about this hunt.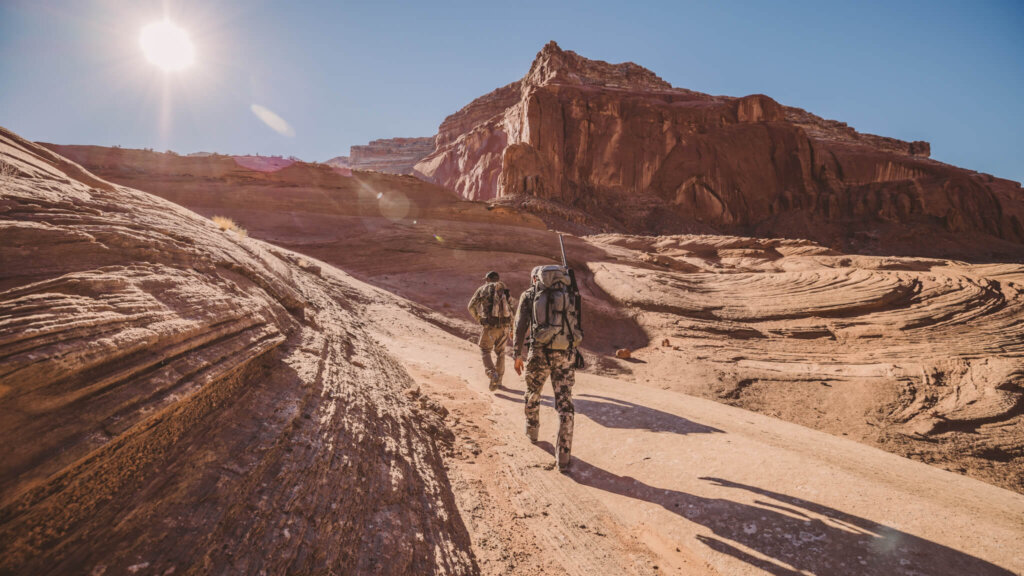 The next day was bright and clear as we boated upriver and found a spot to land our boat. Steven pointed to the top of a mountain and said we were going to climb "to the top" to glass all around, including the backside. I have spent months hunting in mountains all around the world but never in terrain quite like these sheer red rock mountains with almost no vegetation. Virtually every step was on an incline and the rock was extremely smooth and slippery. Even though people could travel the river to sightsee, it was obvious we were not going to bump into any hikers.
Partway up the mountain, at one of the stops, Steven glassed up a sheep and we spent more time concentrating and eventually glassed up four rams and numerous ewes. One of the ewes was collared from a previous transplant. The Navajo Nation has done an amazing job of transplanting sheep and building up the sheep habitat to grow the sheep numbers, and quality, in their area. Although it was nice to see the rams, one of which was borderline, we decided to continue up the mountain to look for an older, larger ram.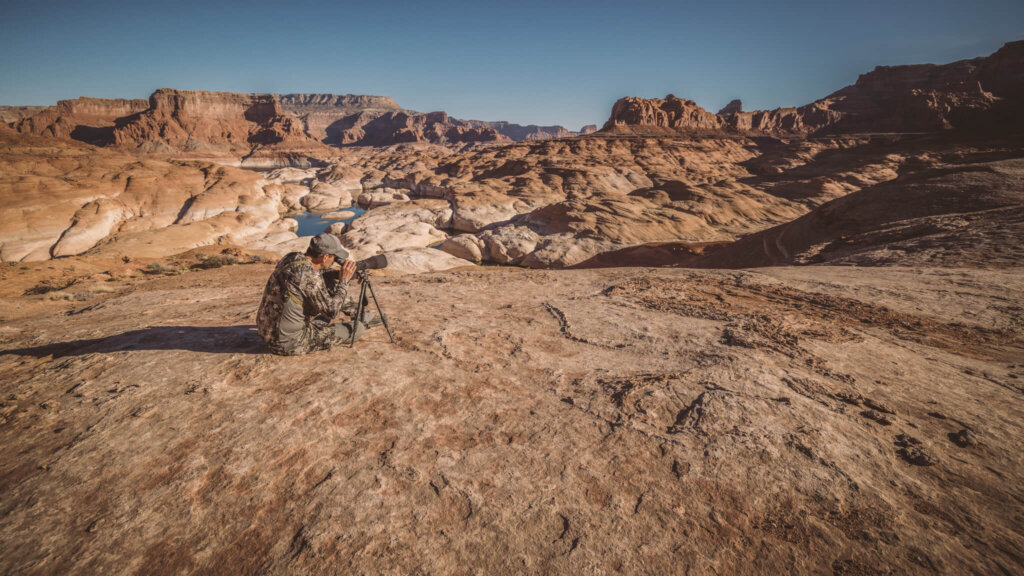 After reaching the high point on the mountain, we glassed for about two hours and saw another smaller ram. It was time to move, so we went back down the mountain to our boat and moved to another landing site, farther down and on the other side of the river. After landing our boat, we again hiked partway up to a good glassing area and saw another smaller ram agilely maneuvering across the rocky terrain. After eventually reaching the high spot, we spotted another so-so but acceptable ram and decided to try a stalk on him. Unfortunately for us, there was no good way to approach the ram without being seen. As expected, once he saw us exposed, he left his perch and moved off the backside of the mountain, never to be seen by us again.
Hiking back down to our boat, we glassed up another band of ewes accompanied by a smaller ram. That night it was another freeze-dried meal and we discussed our game plan for the morning.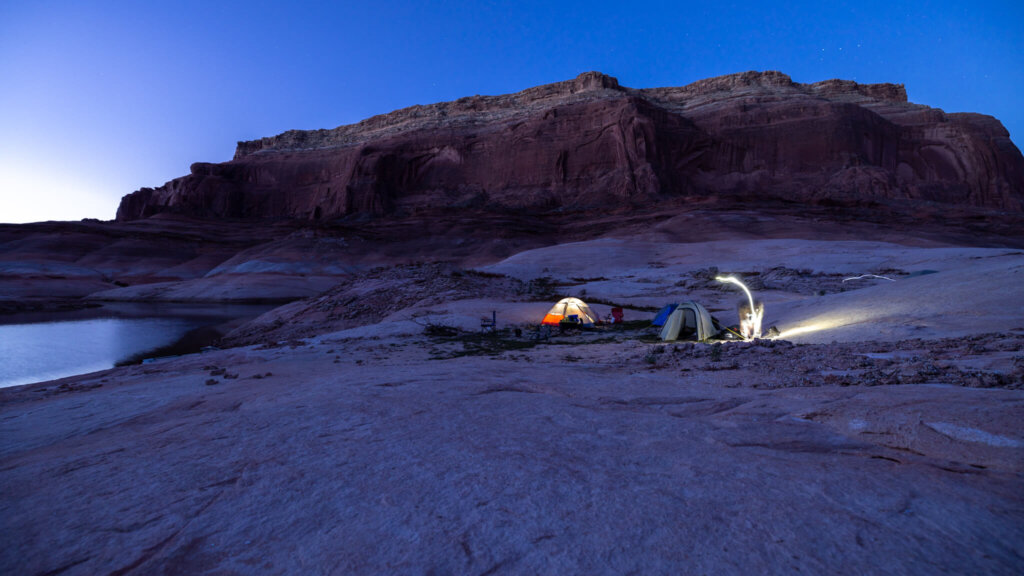 After a quick coffee and some more freeze-dried food the next morning, we went back to the same area where we had started the previous morning. But this time we decided to try the opposite side of the river so we could glass back over the area we had hiked the day before. We didn't see any sheep.
Changing plans again, we moved by boat to the area where we had seen the ewes and smaller ram from the late afternoon of the previous day. There they were. Crouched down watching the ram, we discussed whether we should move in his direction to see if another ram might be around. But just then, we heard rocks moving and hooves running behind us.
The noise was from a large group of ewes, a young ram, and a big, old heavy ram. They were moving at 255 yards, and he was a no-brainer. Justin quickly got his camera set up on the group as I prepared my muzzleloader. The sheep were moving in and out as I waited for a clear shot at the big ram. The five minutes seemed like forever, but eventually he cleared to the right of the ewes. The shot was perfect, and he was down.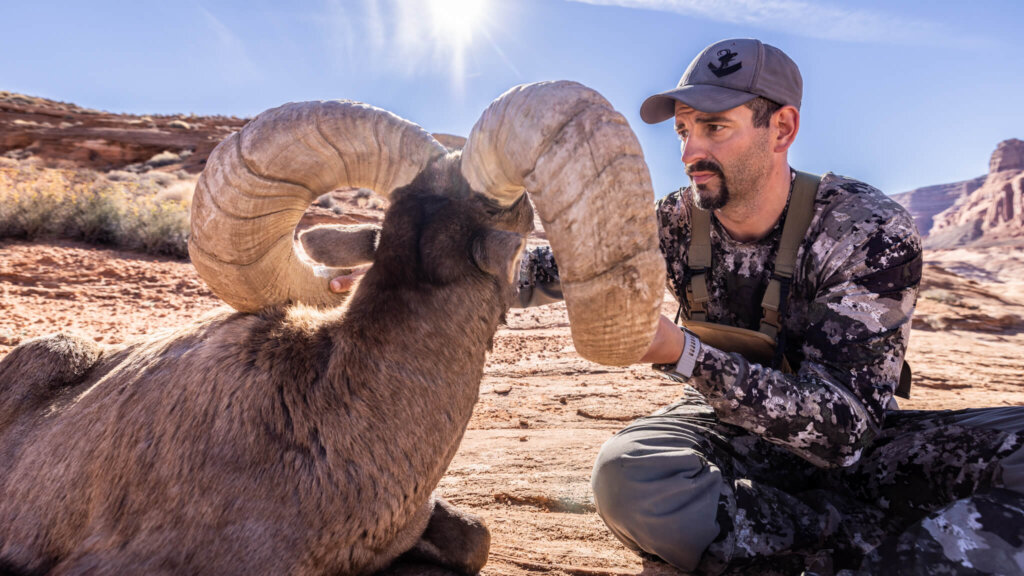 Walking up on the ram, he was a big old, broomed stud and the perfect ram to end my hunt in Navajo Land. We took some time getting additional footage and pics and talking about our experiences over the last few days. It was late by the time we arrived at our boat with our gear and the ram, so we traveled back to our campsite to spend the night. It was a great evening around the fire with Justin, my guide, my new friend Steven, and the ram's head. It couldn't get any better than this.
The next morning, early, we loaded up the boat and traveled back to Page, Arizona. This trip was over, but the memories of this adventure will be with me forever.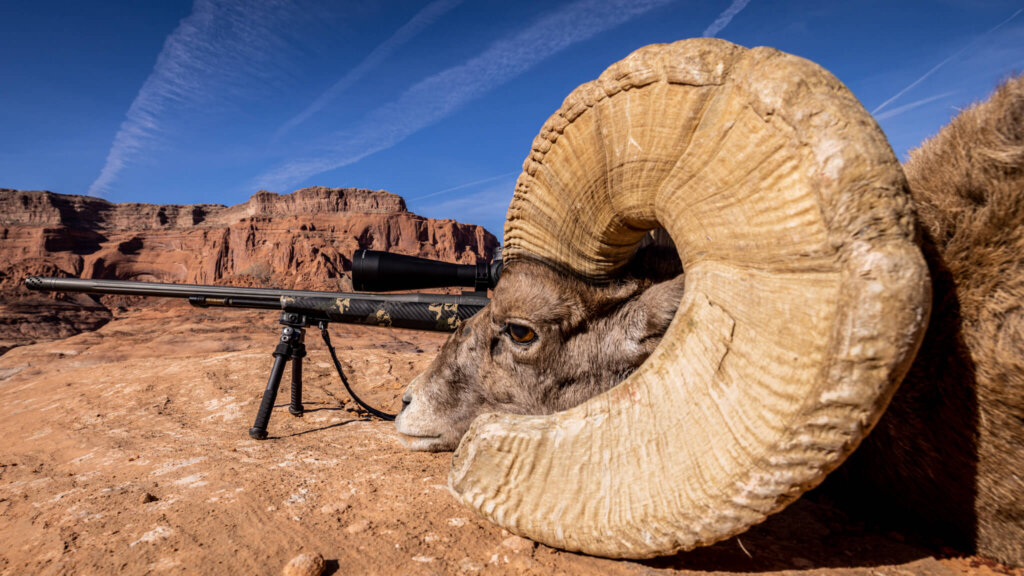 In honor of Sheep Week 2022, watch the YouTube episode detailing Mark's sheep hunt on the Navajo reservation. Hunts like these are vital to sheep conservation efforts as they are one of the biggest generators of funding for projects like relocation, prescribed burns, radio telemetry, and disease study, all of which contribute to keeping wild sheep in wild places. Click to learn more and join The Wild Sheep Foundation.
WTA is happy to help you book a future sheep hunt. Click to find more information.