Mountain goat hunting is the ultimate mountain hunt in North America. These animals live in the most rugged yet spectacular terrain and deserve respect.  It's not a hunt for the faint of heart, but a rewarding one for sure. For the second year in a row, Alaska was good to me. This would be my 6th time hunting The Last Frontier.  It gets in your blood. Last year I was fortunate enough to pull a very hard to draw caribou permit in the Alaska Range and came home with a great bull.  Earlier this year, I was lucky yet again. This time drawing a mountain goat permit on Kodiak Island. The best part about drawing the tag on Kodiak, besides the incredible hunting, is the great value hunt that we offer (30%-40% lower than most other goat hunts) with a long-time outfitter. The odds of drawing this permit are also quite good (about 1 in 3) as it's a random draw (no point system) so everyone has a fair shake. 
The season on Kodiak takes place from late August through late October and we focus on the latter part of the season when the hair on these goats is at its best. I booked my hunt for the last week of the season.  This adventure begins with a quick float-plane from Kodiak City to a little lodge tucked away in a remote bay on the eastern side of the island. I was introduced to my guide (non-residents have to hunt guided for mountain goats) J.R., and we discussed the game plan for the next few days. We went over my gear and re-packed.  Mountain hunts require you to go as light as possible as you'll be required to carry all of your personal gear as well as just enough food to survive for multiple days on the mountain. Good footwear, even better rain gear (leave the Gore-tex at home!), a good sturdy frame pack, and quality optics are your most important pieces of equipment on any Alaskan hunt.  Oh and be physically, yet more importantly, mentally tough. 
After checking the zero on my rifle and a quick bite to eat, we were shuttled out by skiff for a quick ride to the opposite end of the bay.  From there, it was all on foot. We had about a three mile hike along the creek before we began our climb. Now, the hardest part of the hunt begins.  It's time to "bushwhack". Fighting your way through the extremely dense Alaskan vegetation, the salmon berries and devils club, is the worst part. Some of the thickest brush you can ever imagine.  We fought our way through it, slowly gaining elevation, before it was time to set up camp for the night. We collected water off the mountainside to boil for a mountain house dinner and were fast asleep.  Our climb would continue the next morning.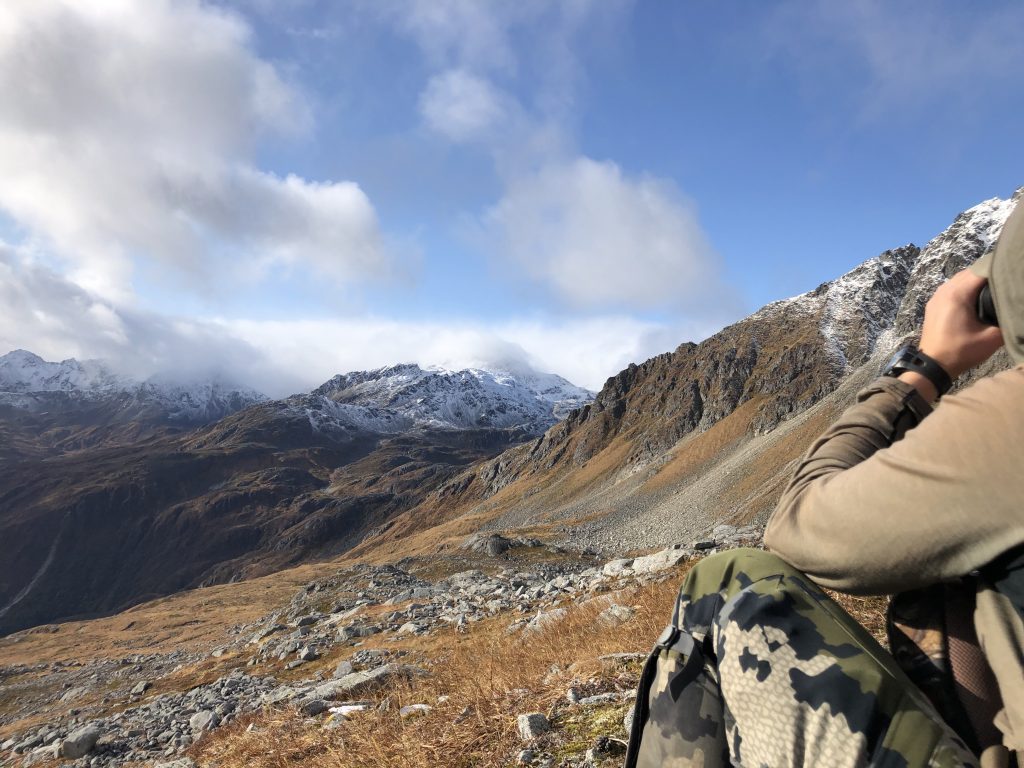 We broke camp just before sun up, enjoyed a hot cup of coffee and oatmeal to fuel up for the remainder of the climb.  Alaska goat hunts typically start at sea level, climbing upwards of around 2,000'. So, altitude isn't a problem like it can be on other goat hunts in Canada or the Lower 48.  We climbed the remainder of the morning, setting up our final camp just below goat country. We were pretty spent after the morning hike, and after lunch, debated about hunting the afternoon or getting a fresh start in the morning.  But, the weather was cooperating (usually not the case in Alaska!) so we decided to take advantage.
We had a short hike into our bowl where the goats should be, and after topping out, we located several of them on the opposing side.  They were scattered about, all bedded. Some in very steep country and unapproachable.
The hardest part isn't always getting into position for a shot, but making sure you can recover your goat. The terrain is steep and can be quite dangerous to navigate.  One goat, in particular, stood out to us. It was off on its own (typical of a mature billie) and was definitely the largest bodied goat of them all. Our dilemma was time.
It was already mid-afternoon and it would be dark in about six hours. It was going to take some time to make our way over there.  We debated about waiting and coming back the next morning when we had more time. We just weren't sure where they'd be by then. They could be anywhere. We decided to make a move, dropping down into the bowl, crossing the boulder-filled bottom, and up the other side. We were careful not to bump the other goats.  They're not too spooky to begin with anyway. After all, they virtually have no predators crazy enough to venture up where they live, except for the occasional grizzly. After what seemed like an eternity, we finally had made it to where we thought this lone goat was bedded. J.R. crawled up ahead of me to have a look and anxiously motioned for me to crawl up as well. I could tell that was a good sign.  The goat was still bedded in the same spot! I got into position for the shot. He was 350 yards and quartering to me. There was no time to wait for him to stand as the sun would be setting in a few short hours and we were well over a mile from our camp. I dialed up my scope and had a clear shot of his vitals. I could clearly see he was a mature billie with heavy bases.
I slowly squeezed the trigger.  The big billie never moved, expiring in the bed he'd been in most of the day.
We made our way over to him and admired this incredible animal. An old billie with exceptionally long hair, teeth worn down. He probably wouldn't have survived another Alaskan winter. He had lived many years on this mountain. After a few quick photos we had our work cut out for us. We had to cape him out and load all of the meat into our packs.  The sun would soon be setting over the mountains and we had a grueling hike back to our tent with very heavy packs. A great feeling though.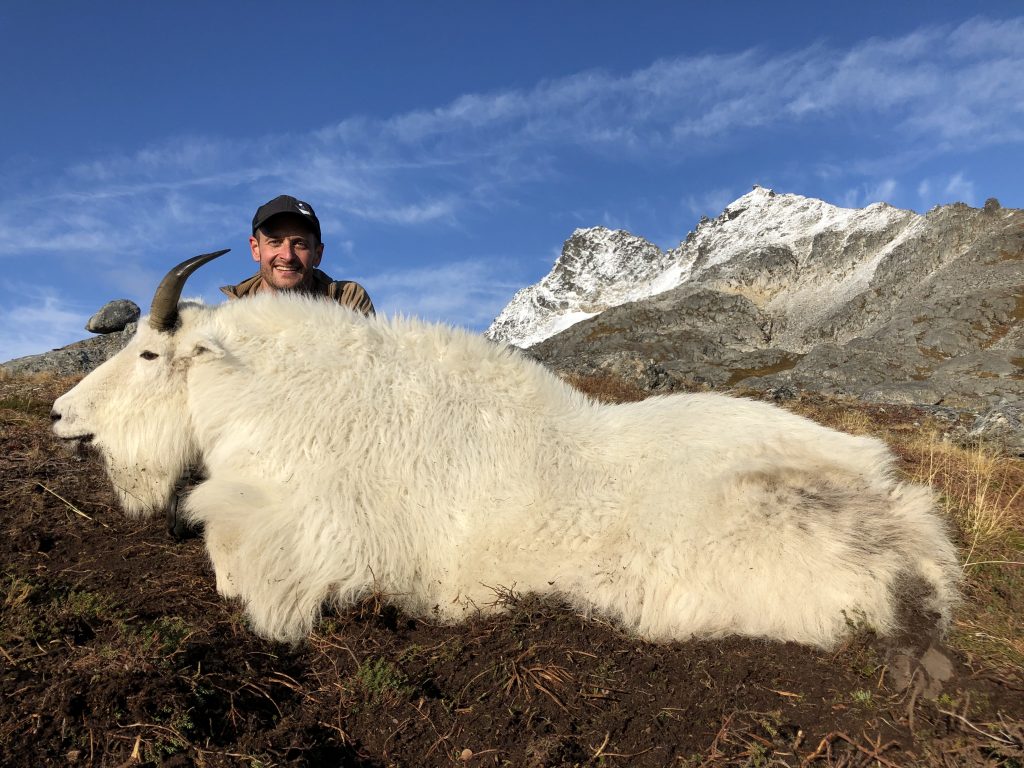 We broke camp the following morning and packed all of our gear down to the creek.  Fighting the brush yet again as we headed back up the mountain to pack the goat down.  Somehow, I didn't seem to mind it as much this time. We enjoyed the last couple of days at the lodge and even got to enjoy a little sea duck hunting, a much added bonus to another successful Alaskan adventure.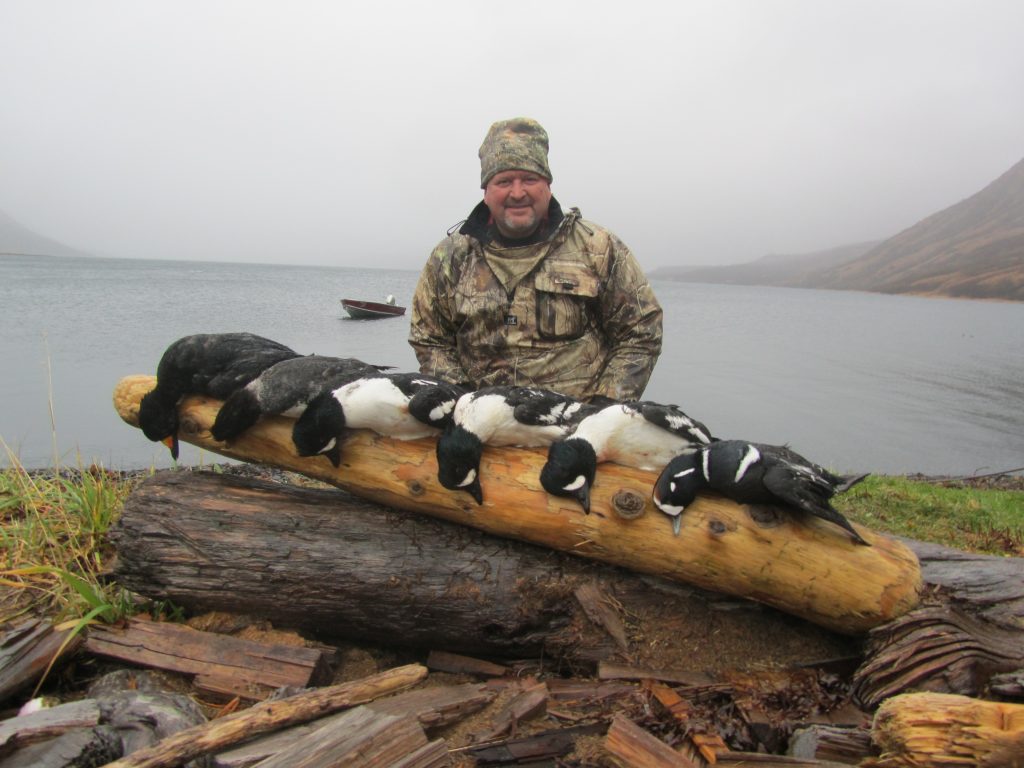 NOW is the time to put in for this Alaska mountain goat permit.  The goats on Kodiak are doing great with a very healthy population of animals. Contact WTA TAGS to apply for this great tag.  The Alaska draw deadline is December 16th! 
To learn more about this hunt, which can also be combined with Sitka blacktail deer hunting, check out
 [su_button url="https://worldwidetrophyadventures.com/outfitter-profile?hunt_id=1324″ target="blank" background="#D0504E" radius="5″ class="cta-btn"]Hunt Details[/su_button]
Our toll free number is 1-800-755-8247 and visit us online
[su_button url=" https://www.worldwidetrophyadventures.com/tags" target="blank" background="#D0504E" radius="5″ class="cta-btn"]WTA TAGS Hunts[/su_button]