I have just returned from a super adventure in the jungles of the Yucatan Peninsula in Mexico and I want to tell you about it while it's fresh in my mind. Though I have been fortunate to visit the Amazon a couple of times and the jungles in Africa on many occasions, this trip was a totally unique jungle experience.
The purpose of my trip started as a hunt for an ocellated turkey which would complete my World Slam of turkeys. I had taken 25 Grand Slams before I was 40-years-old, and have killed multiple Gould's turkeys for Royal Slams, but I had never gotten around to hunting ocellateds, the final piece of my World Slam.
So I flew to Merida, Mexico, and then flew another two hours to Campeche on the coast. I spent a couple days there visiting the Mayan ruins at Edzna and fishing for baby tarpon back in the mangroves. I always try to get as much local culture and exposure out of a trip as possible, and the Mayan city of Edzna, dating back to 600 AD, was incredible.
Then my group drove three hours by van and transferred to open Jeeps and drove another three hours deep into the jungle to our camp, which was a cluster of screened tents, an open eating area and other comfortable amenities.
In the jungle, you hunt ocellated turkeys while they are in the trees just at daylight and just before dark. Since the jungle is so thick, the turkeys are almost impossible to see on the ground. The first evening, we had a bird singing (the ocellated's version of gobbling), and we stalked within 50 yards of him, but he quit singing and dark closed in so we didn't get a shot.
One great thing about the jungle is that there are multiple species to hunt in addition to turkeys. There are birds such as crested guan and great curassow, along with peccary and even brocket deer.
I was able to take a male guan the first morning as we stalked a small group that was chattering and jumping from tree to tree. During the next couple of days, I was also able to take a pair of great curassows. The female was whistled in by my guide Daniel. We heard curassows nearby, and he began a low whistle, and I saw the bird fly from a tree and land about 30 yards away. It began walking toward us and I took the shot from 20 steps away when it entered a clearing.
I took a male curassow one morning as we made a four-mile trek down an old trail. Daniel heard the male's call which is best described as a bass-like hum that lasts about a second. We had stalked it a few minutes before I was able to pick up the sound. We ended up almost directly under the large bird because the canopy was so dense. One shot brought this unique and tasty bird to bag.
As we walked back to the Jeep, we spotted a small group of jungle peccary feeding in a clearing. After a short stalk, I was able to get a good shot and take the Yucatan's version of javelina.
On our fourth morning, Javier, one of our camp scouts, joined Daniel and me. Javier had roosted a bird the night before and said he would take us in on it. In the black darkness we made our way into the jungle, and using a small, covered flashlight with only broken twigs as a guide, Javier led us about a half-mile toward where he had seen the bird the evening before.
As light barely began penetrating the sky, the turkey sang, and we began scanning the trees and ever so slowly moving toward the noise. Daniel picked the bird out first and then pointed it out to me. I used my binoculars to confirm that the lump in the tree 35 yards away in fact was the turkey, and then I readied for the shot.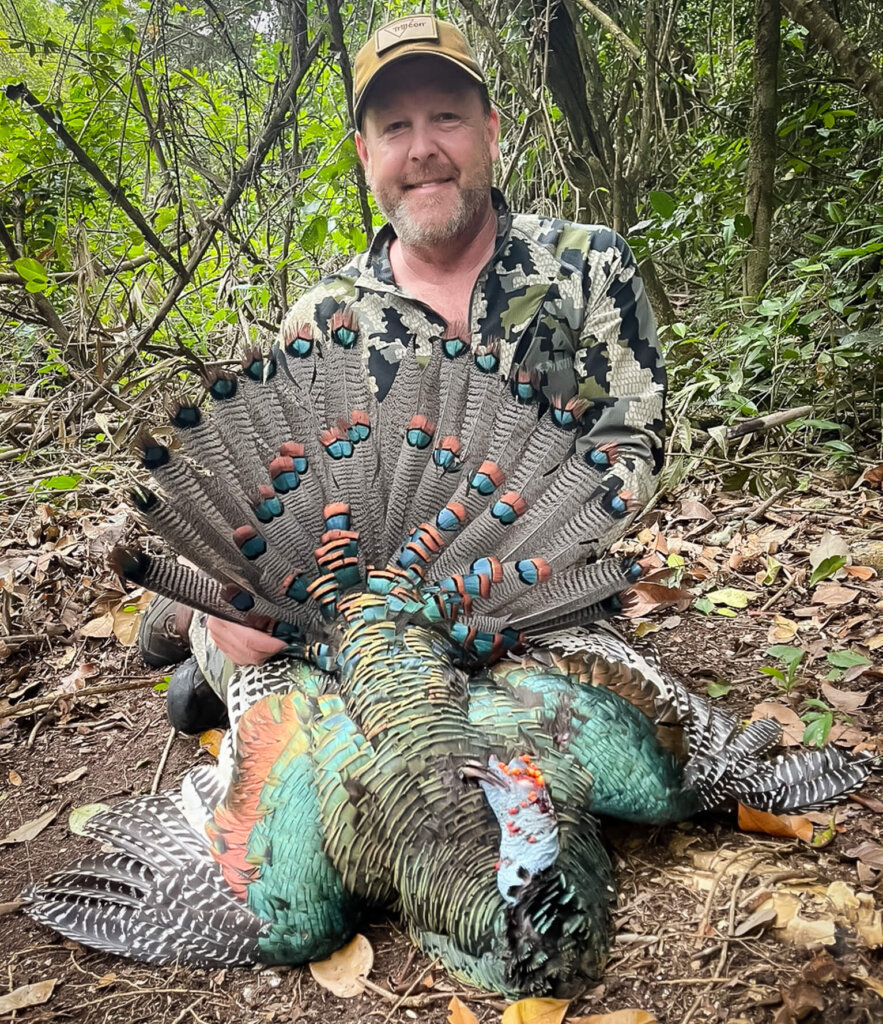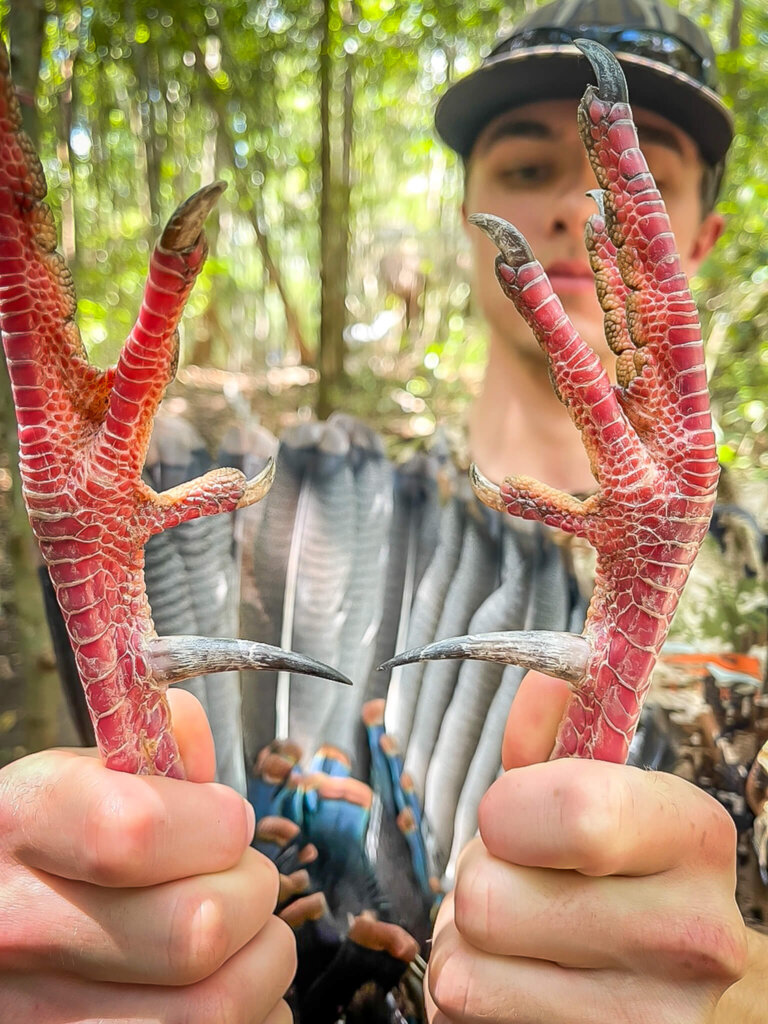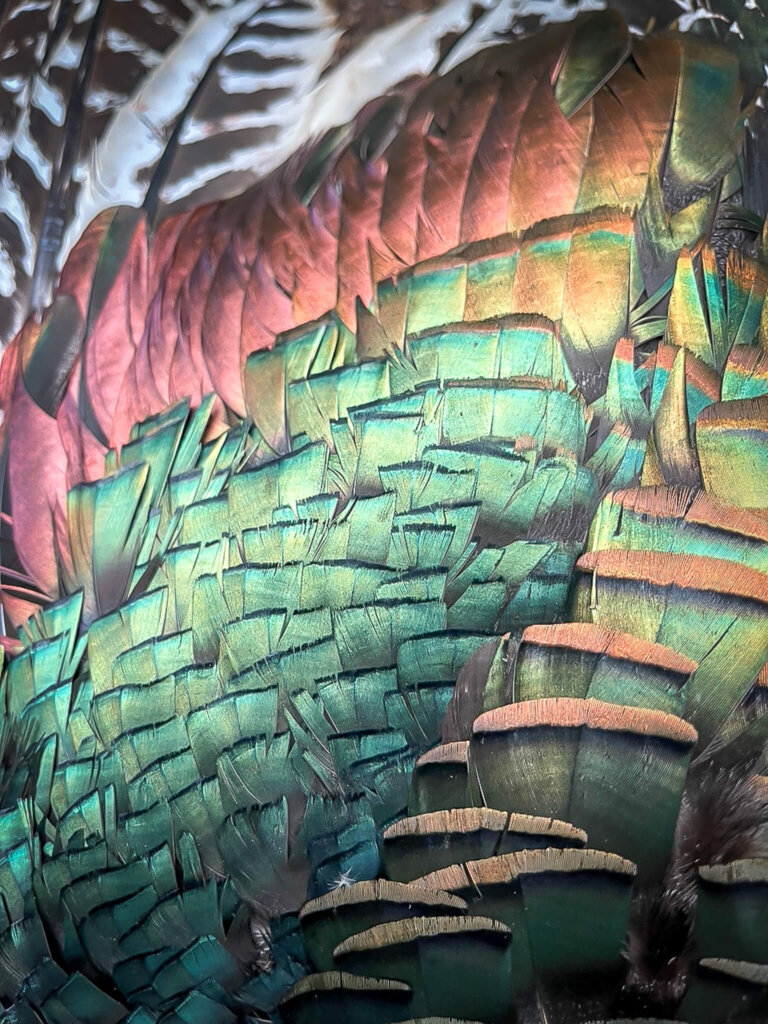 Upon the report of my 12 gauge, the bird dropped out of the tree and I had my World Slam. Ocellated turkeys are the smallest of all the turkeys, with males generally only weighing 10–12 pounds, but they have the largest spurs of all the turkeys. Though beautiful with their iridescent shades of aqua, purple, orange, and other colors of the rainbow, spurs were what I was most concerned with. I was pleasantly surprised with a sharp pair of 1 ¾" daggers on my bird. One hunter in camp got a bird with 2″ hooks!
Back at camp it was time to celebrate and reflect on our adventure. Then, later that day we packed up and headed out of the jungle with 100% success for our group.
This hunt is not expensive, it isn't far from the U.S., and it packs in a huge amount of adventure. I highly recommend it to anyone looking for a unique trip, whether you're a big-time turkey hunter or just want a unique hunting experience. I went for the turkey, but honestly enjoyed hunting the other species just as much if not more.
Call us 1-800-346-8747. Let's talk turkey.
This is a good opportunity to address a couple of questions we frequently receive about this and similar trips.
It is fairly difficult to take a shotgun into this area of Mexico, so I highly advise you use shotguns provided by the outfitter in the camp. They are good-quality, well-maintained Benelli and Beretta shotguns, so there is no worry there. They are fitted with full chokes. (You don't want a super-full turkey choke pattern in the dense jungle.) Ammunition is provided. It simply isn't worth jumping through government hoops to take your own shotgun to Mexico. For convenience, essentially everyone uses the camp guns.
Simpler is better here, too. The WTA team in Mexico will do all the export paperwork and set up shipping to your chosen USDA-approved taxidermist. You must have a taxidermist on the USDA-approved list, and if you don't we can recommend one. This way it is a very easy and seamless process. We'll take the work and worry off your plate for this also.