As owner and chairman of Worldwide Trophy Adventures, I've had the opportunity to hunt with Balam Outfitters in the jungles of the Yucatan Peninsula and become familiar with their exceptional operation. During my first hunt in the spring of 2015, I fell in love with the region, local culture and the overall experience of the hunt. Since then, I have returned three times with friends, family and clients, simply because the Balam experience is always memorable. Their hunting adventure is one of total immersion in the jungle, with multiple opportunities at birds and game animals waiting around each and every bend of a two-track "road" or jungle trail.
It was my love of the Yucatan jungle, and admiration of the people I met there, that led to WTA acquiring Balam Outfitters. Balam Outfitters has been operating in the jungles of Campeche for more than 25 years and were the first in the area to offer hunts for ocellated turkeys and other jungle animals and birds. They have the best leases to hunt within the true Campeche jungle, unlike other operations that hunt fields just out of the jungle or on the jungle edges.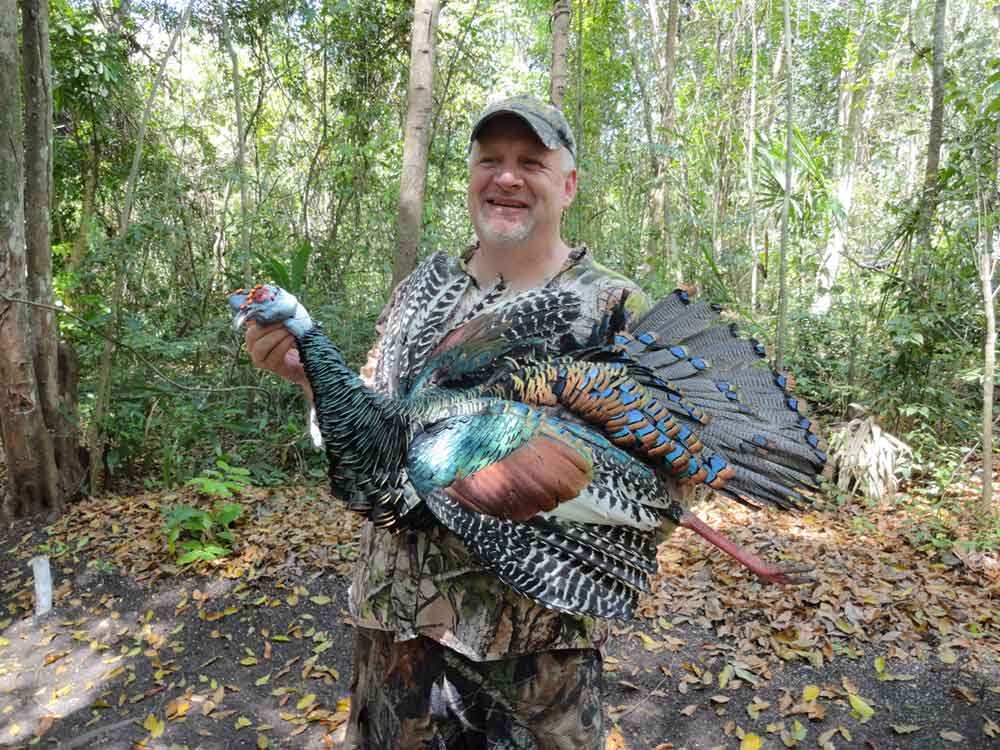 Unfortunately, this jungle is threatened. Those of us on the outside know very little about the loss of the wild Yucatán jungles which goes on every day. There is virtually no press coverage of the continuing destruction and shrinking the jungle. The reason for this destruction is simple. The most valuable resource in the jungles are the trees and these trees are being illegally harvested. During this illegal tree-cutting, serious, long-lasting (if not permanent) damage is done to the jungle by the creation of roads ripped through the undergrowth to facilitate this well-organized destruction. In addition, subsistence farmers continue to burn away at the jungle edges to create more farmland, further decreasing the size of the jungle. What can we at WTA do to slow down or eliminate this jungle habitat destruction? By promoting hunting in the jungle, we provide value to the jungle animals which then allows us to protect the precious jungles they live in. The fight to preserve this portion of the Yucatan jungle was a major factor in our decision to purchase Balam Outfitters. We want to be on the front lines of protecting the valuable habitat needed for the survival of jungle birds and animals, not just now but for generations to come.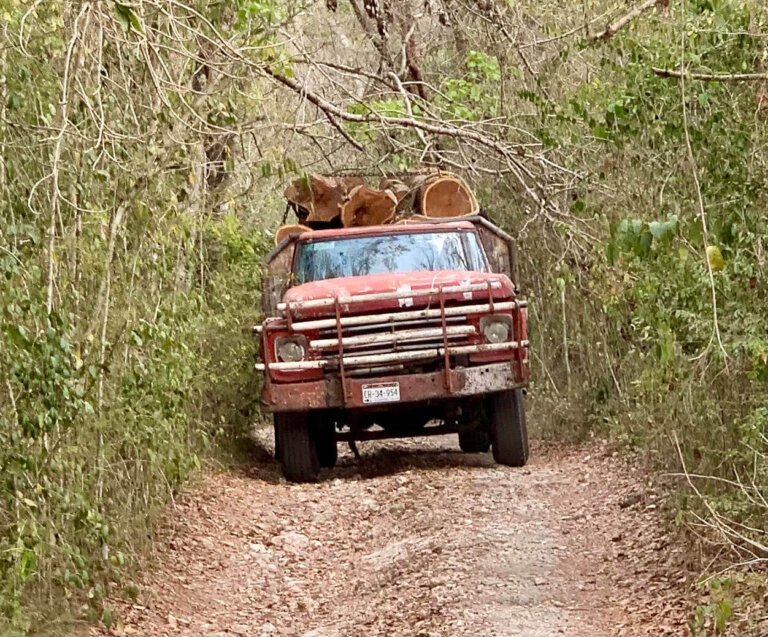 Hunting the jungle is like no other turkey hunt or any other hunt you can experience anywhere else in the world.  There are other operations doing field hunts for ocellated turkeys in Campeche but these are not true jungle hunts. We know. We checked them out. For these hunts you stay outside of the jungle and are taken on an early-morning drive to the hunt site.   Once there, you sit watching and waiting over cut agricultural fields for turkeys to leave the jungle.  To be upfront, we may add this style of hunt for those interested as a second option at Balam Outfitters but for now we think the true jungle hunting experience is just too cool to vary from.
What is a true jungle hunt?  Each hunt consists of driving one to two hours into the jungle via two-track roads to one of our camps.  Once you enter the true jungle, visibility in most places is only 15 to 20 feet.  This is why our skilled local guides are so important as their eyes and ears are trained to pick out the sights and sounds of the jungle.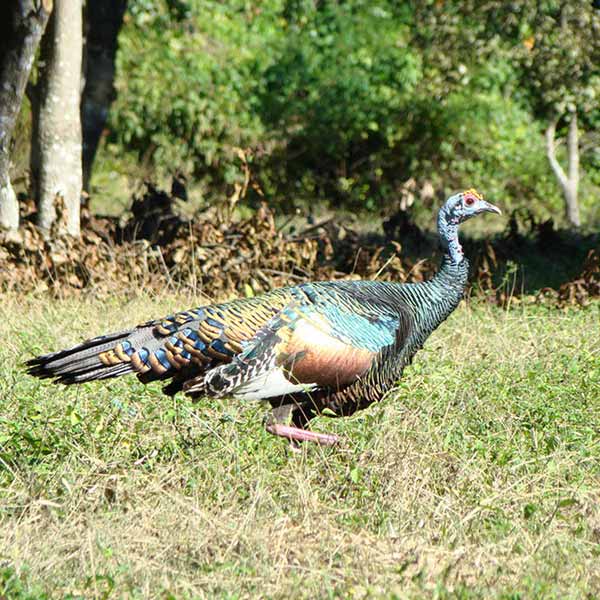 Hunting for ocellated turkeys in the jungle is done by listening in the mornings as they sing from their roost. Male ocellated turkeys don't gobble like U.S. birds. Instead, they sing, which serves the same communication purpose as gobbling, namely attracting mates and claiming territory. Once the singing is heard, your guide will navigate through the jungle to get you close to the roost tree. There is a very limited time to get into position before the turkey sails to the ground. Once on the ground, the turkeys no longer sing or make other noise since there are too many jungle predators looking to eat them. It is extremely rare to see a turkey on the ground, they are that elusive. Jungle inhabitants have used this spot- and-stalk method for centuries. Though different than methods used to hunt northern turkeys, this ocellated hunt method is far from easy. To assist the hunter narrow potentially productive areas, we have scouts listen at night for the turkeys to roost. The jungle is huge with more than 300 square miles of hunting area, so a lot of legwork is required. After pinpointing roost areas, the scouts return to camp and their intel is used to draw up morning plans for each hunter. Our team at Balam Outfitters knows the area well and also knows how to set up our hunters for a great experience and success.
When hunting for other game in the jungle, a couple of different methods can come into play. Depending on how much rain has fallen during the season, we often have great success sitting over water sources. However, one tried-and-true method has been to quietly walk with your guide, keeping out a sharp eye since you never know what you might see. Some of my most successful days in the jungle have been a result of going on a quiet walk in the morning or afternoon.
Obviously, the most sought-after species here is the colorful ocellated turkey. While you are there, however, many more jungle species are open for hunting. At Balam Outfitters we also outfit for both the gray and red brocket deer; however, these hunts need to be planned in advance as the team scouts and finds active sites. There are also a large number of jungle bird species that can be taken on a trophy-fee basis. These include the crested guan, great curassow, peccary, agouti, tepezcuincle (also known as paca), coati, tinamou, chachalaca, perdiz and scaled pigeon. It is not uncommon to see many, or even all these birds and game animals during a trip to the jungle. This makes for an exciting week as you never know what could be just around the corner of the jungle trail.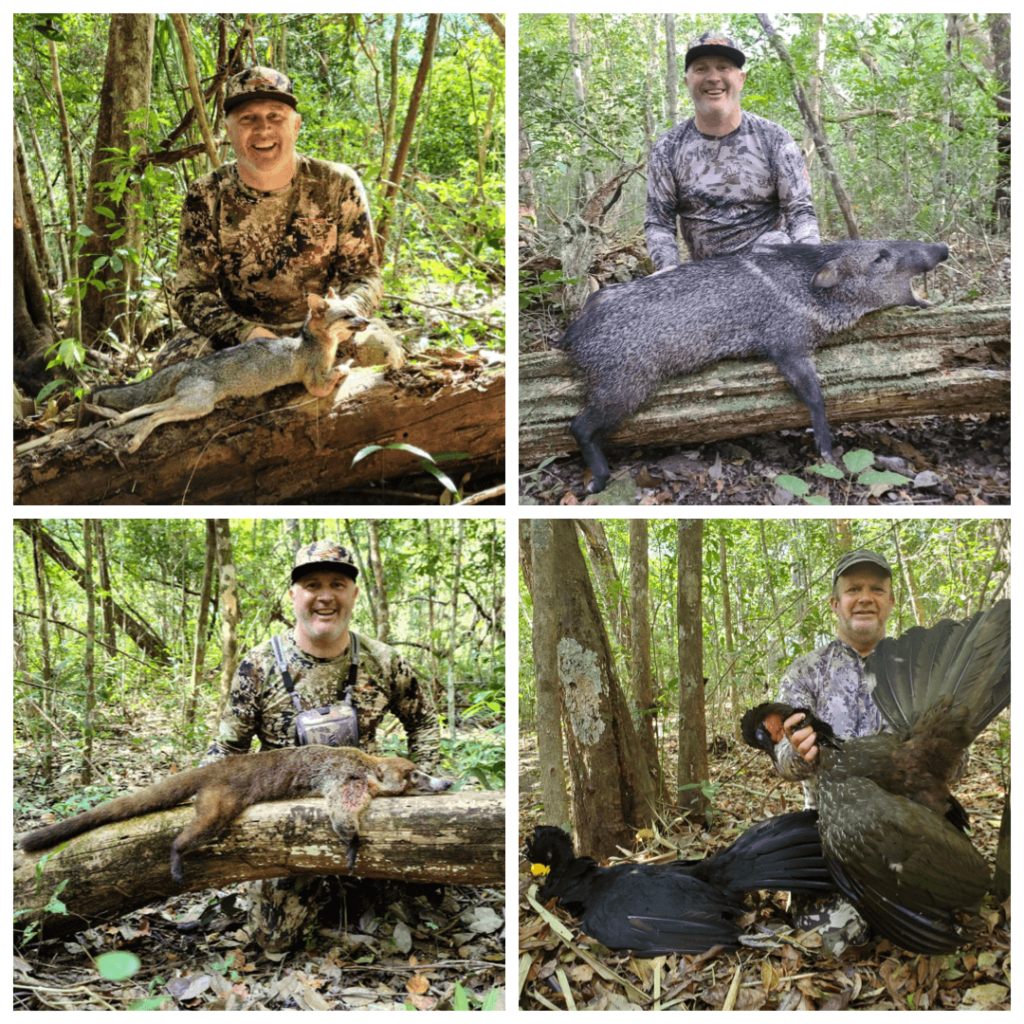 It is no secret that it can be extremely hot and humid in the jungle during the spring, which is when we hunt. Because of this, all of our camps are set up along rivers, which help cool the jungle air and usually create a light breeze. Most importantly, between the morning and afternoon hunts, our hunters can relax in the water and cool off mid-day. We use mesh breathable tents; each with two beds to allow room for everyone to spread out their gear and be comfortable. Meals are served in an open-air covered area near the cook facility. Meals consist of the harvested jungle game as well as many traditional Mexican dishes. Living, eating, hunting and exploring in the jungle is an amazing opportunity everyone should consider.
The success of WTA-owned operations starts with the "on-the-ground" person in charge. We insist on having the best of the best on-site with our clients. The same is true for Balam Outfitters. Many of you may know Sergio Scarth as one of the best guides in the western U.S. and northern Mexico. Sergio has seen more 200+ inch mule deer and giant elk hit the dirt than almost anyone I know. Sergio is also one of the most organized, polite and knowledgeable hunting people in the business. He is bilingual and very accustomed to operating in Mexico, which makes him the perfect leader at Balam. I'm extremely pleased that Sergio, as a part of the WTA team, is on the ground for us here.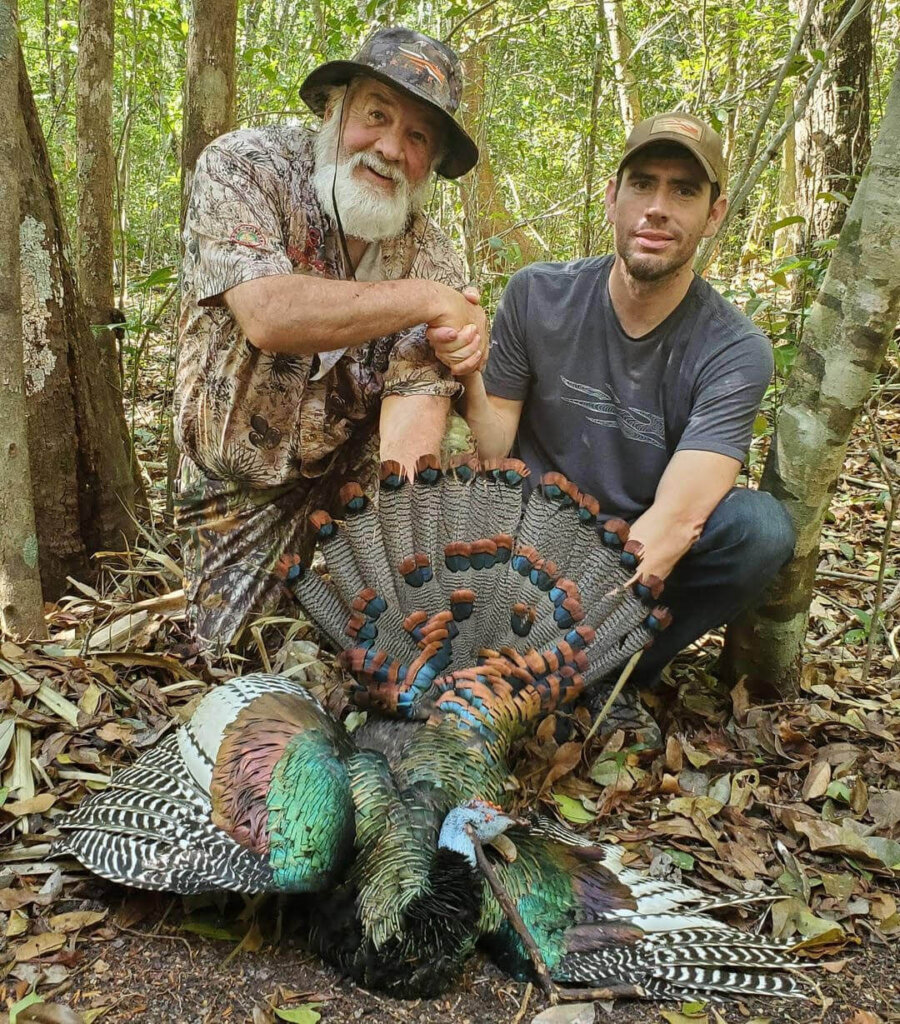 One of the truly amazing things about hunting the jungle with Balam Outfitters is the base price is only $2,500, which includes five days of hunting; transportation in and out of the jungle; and one ocellated turkey. Our unique jungle-hunting experience is, hands down, a great deal! Compare our trip to a normal two-day turkey hunt in North America and you'll see why a hunt with Balam Outfitters should be on your bucket list.
WTA's past clients know we research and stand behind each and every trip we assist in organizing. We call this the WTA advantage; you know we stand up for you and we are there to assure you the best experience. We carry this same philosophy whether we host you at one of our affiliated outfitters or at one of our own WTA-owned operations. When you deal with WTA, we are there for you!
Right now we are booking for 2021 ocellated turkey hunts in the Yucatan with Balam Outfitters. If you want to join us or would like more information on hunting these highly sought-after turkeys and other jungle species, please contact the team at WTA. We look forward to helping you plan your next adventure!
Happy hunting.
To talk to a consultant about booking this trip, call 1-800-346-8747