Find the outdoor adventure of a lifetime.
Try 'Elk', 'Mule Deer' or 'Waterfowl'
Alaska Yukon Moose
,
Dall Sheep
·
1- Spots -Sept 27- Oct 6 , 2022 ONLY (1x1, 8 day-Moose)
Waterfowl
,
Waterfowl - Canada
·
1x1 or 2x1 - 7
[email protected]
$13,500–including 1 buffalo trophy/person (can hunt a 2nd buff at trophy fee) other great offers inside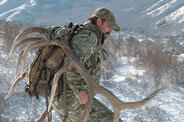 Get trip specials
delivered to your inbox.
No spam. Just the good stuff. Opt-out anytime.
Cape Buffalo
,
Plains Game
·
The only Roar hunt left for 2023 $12,500 – 5-day schedule/4 nights, stag (400-425 SCI) 1x1 Observer $1000