Find the outdoor adventure of a lifetime.
Try 'Elk', 'Mule Deer' or 'Waterfowl'
Spring 2021 Only: $,4000 for one bear. If you would like to take a second bear there is a $1,500 harvest fee.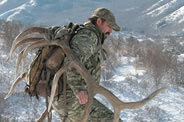 Get trip specials
delivered to your inbox.
No spam. Just the good stuff. Opt-out anytime.
Cape Buffalo
,
Plains Game
·