South Africa is still one of the best family hunting destinations on earth
By: Tim Herald
Part I
In early June, my twin sons, Will and Drew graduated from high school. As a graduation present, and family vacation, we planned a trip to South Africa for early July with the boys being the primary hunters, and my wife Alka and I would be observers. We had all been to Africa when the boys were 12 years-old, but we just did a little hunting, and a lot of touring, and this would be more of a real hunting trip for them.
We decided on two outfitters I work closely with in the Eastern Cape. We planned to spend a week at each camp, and the first week my old friend Lee Britt, his wife and 3 kids decided to join us for the hunt.
We all arrived in Port Elizabeth and drove the short 2 hours to camp. Though I have been to Africa 29 times, I had never been to the Eastern Cape, and the rugged mountains were much larger than I had expected. The area was absolutely beautiful.
The next morning, we all went to the shooting range to let the kids get accustomed to our loaner rifles before hunting, and then we loaded up and went to Addo Elephant National Park for a few hours. It was a great way for the kids to see some of the animals we would be hunting, familiarize themselves with the different species, and of course seeing lots of elephants is always a treat. We got back to camp in mid-afternoon, got our gear organized, spent some time around the fire and then had a wonderful dinner.
Our hosts were the Jordaan family, and Karen, Tollie, Pieter and Paul could not have been more gracious hosts. For a younger kids, non-hunting wives or observers, I really don't think this location can be beat. The chalets are over the top nice, food is incredible, and the Jordaan family's main focus is on families and youth hunters.
Each of my boys had a top 3 on their wish list for the trip, and Will's was understandably kudu. We started out on our first hunting day to odd weather conditions with rain, wind, temperatures that never got out of the 50's, and it was just an overall nasty day. We saw plenty of animals, and a number of kudu, but our PH Pieter was particular and wanted to find Will a really nice old bull. We hunted hard through periods of rain, hail, mixed sunshine, and wind, and at about 3:00 PM, Pieter glassed up a couple of waterbuck bulls in some thick bush way up on a mountain side. He told me if anyone wanted a waterbuck, there was a very good one standing under a big tree and the wind was right.
Drew immediately said he was in on the waterbuck, so the 3 of us pulled our hoods up and began a stalk around the rock strewn mountainside. We eventually got to about 260 yards, and we could see the big bull standing broadside facing off the mountain, and he simply looked miserable. A 20 mph wind was hitting him, a cold steady rain was coming down, and the old buck kept his eyes closed to the elements half the time.
We had good cover, so we crawled up another 60 yards, there was a gully in front of us we couldn't cross without being detected, so Pieter put up the sticks. Drew got on the bull, and after a bit of discussion of shot placement, he squeezed the trigger. I was dialed in watching through my 10×42 Swarovski EL Range, and I could see the water fly off of his shoulder at the bullet's strike. He made a couple of short hops and went down.
On approach, Drew put a final shot in him, and I must say that I was blown away. I have been around some very good waterbuck's, but this thing just looked monstrous to me. I didn't want to say a whole lot, possibly be wrong, and look like an amateur, but I really thought it was a very special animal. Pieter was excited, but I really knew something was up when we pulled into the skinning shed and Tollie came out. He couldn't hide his enthusiasm, and eventually, though none of us are into inches and score, the guys had to measure Drew's bull. The tape stretched to 32 ¼", and Tollie told us that was the biggest bull they had taken in 35 years. Not only was it long, but the mass was fantastic and held all the way up. This was a serious first animal of the trip.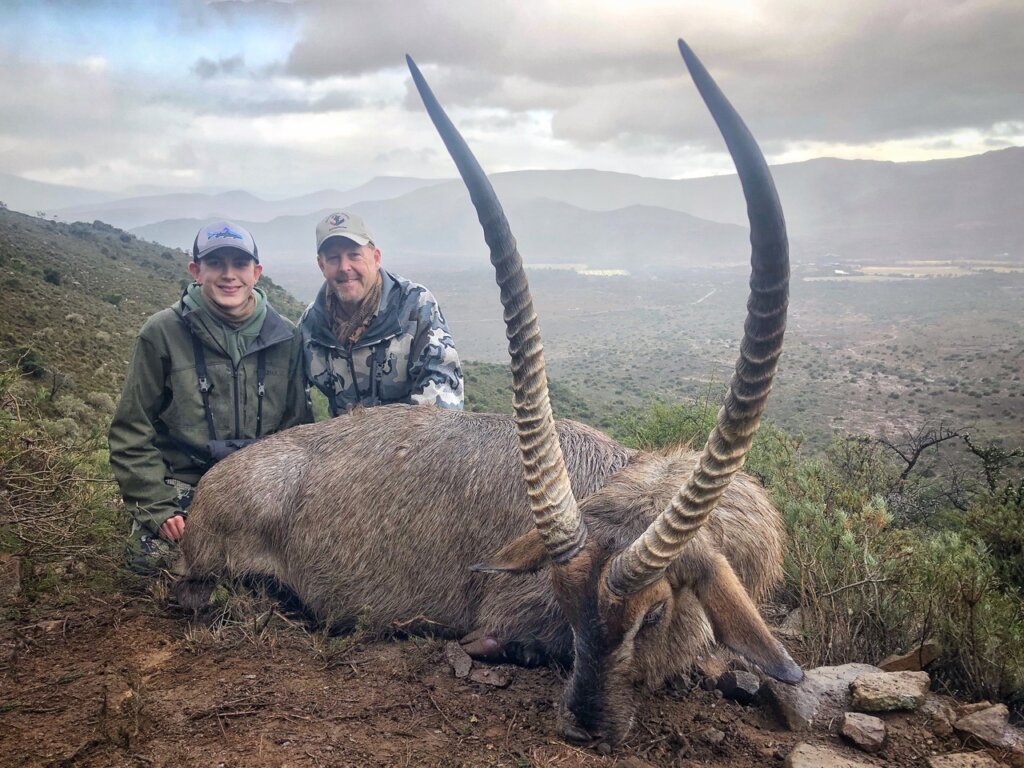 The next day we were back after kudu, and we put in 8.8 miles on foot chasing bulls through the hills. We didn't get a shot on either of the big bulls we saw, but we did find a small group of eland bulls high on the mountain in mid-afternoon, and we began a long steep climb. I have a bit of an eland obsession, and that was the only animal I was much interested in for myself. We got to 409 yards, and the bulls were feeding across a canyon, and we couldn't cut the distance any more. I found a huge rock where I could get bipods setup and a very steady rest, and I found the ancient old blue bull in my scope. I slowly squeezed the trigger, and the bull jumped straight up, and I knew the shot was true. He began stumbling immediately, and the goliath antelope was soon rolling end over end down the steep mountainside.
He lodged in a deep drain, and it was all we could do to prop him up for a few photos. Then Pieter called in a group of about 15 other folks to help cut him up and get him off the mountain. Eland is my favorite red meat on earth, and I was thrilled to know we would have some of the delicious meat to eat later in the week.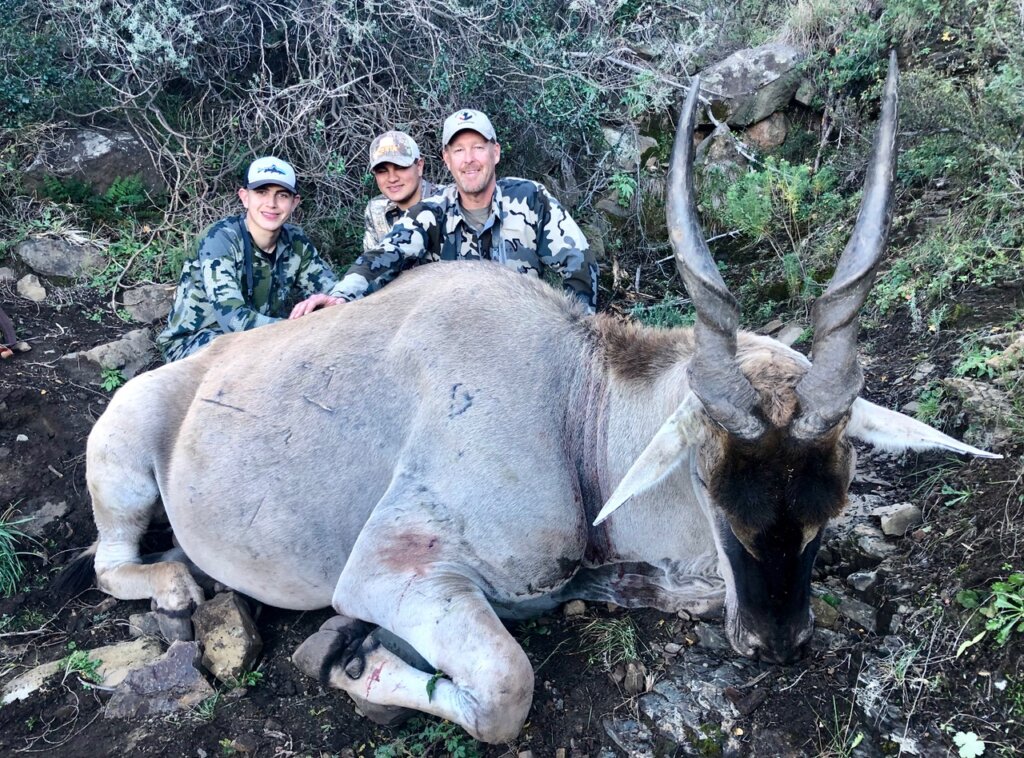 Come to find out, Lee had also killed a big bull eland earlier in the day, so we had literally filled a large walk in freezer.
Dawn of the next day found us on a high ridge overlooking a valley choked with brightly blooming aloe plants. Pieter said kudu often fed in the bottom during the night and would work their way up the mountain to bed during the morning. Within 30 minutes, we found a big bull pushing around a harem of cows like he was in full rut, and we began a game of cat and mouse that ended with us walking over 4 miles up and down the rocky hills in three and a half hours, before we were finally able to see the bull's horns shining in the late morning sun about 250 yards above us in a thick patch of aloes.
There was no shot, so Pieter and Will began a slow stalk to get closer and find a good shooting angle, and Drew and I trailed behind to stay out of the way. Finally, the sticks went up, Will got the rifle set, and Drew and I slipped up just behind them. Pieter had a small hole for Will to shoot through, and the bull was at just over 160 yards feeding. At the shot, we all heard a WHACK of the bullet finding its mark, and Pieter assured Will he had made a good shot. The kudu bulldozed down the hill about 30 yards and was DOA when we got to him.
He was a wonderful example of a wide, old Cape kudu, and was an animal had wanted to hunt since he was a very little boy. I have never seen him so excited, and it was a special time for all of us. I was glad he had had to work hard for a few days walking well over 13 miles in total before he was successful as it always better to earn a special trophy like that. It was noon, and we took the best photos we could, and took the beautiful bull back to be skinned.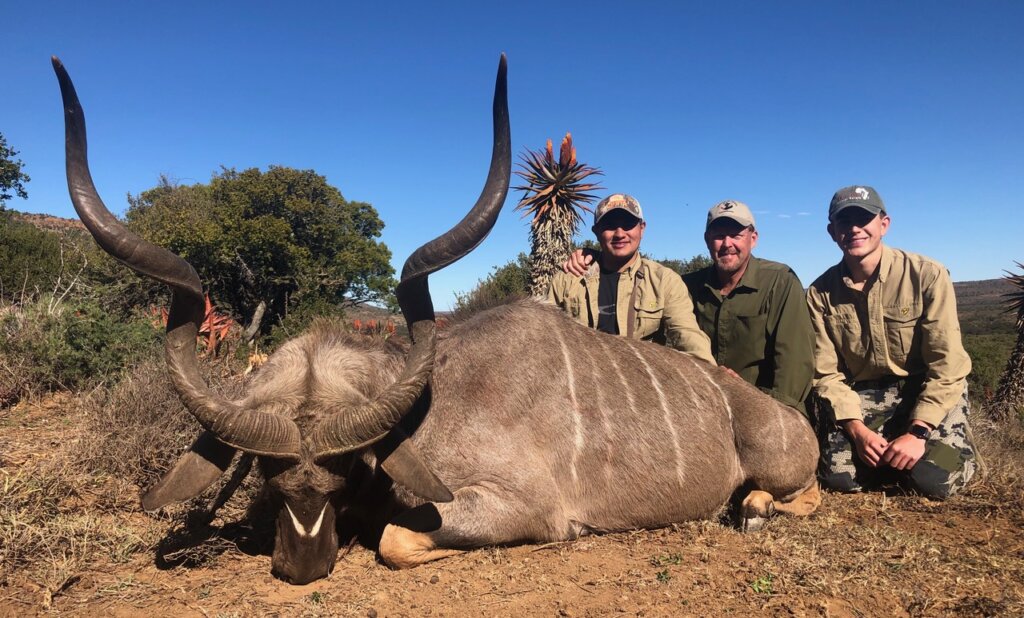 Over the next few days, we put a lot of time in looking for Drew a bushbuck as that was his number one animal. He has always been fascinated with the beautiful little spiral horns, but although we looked at 101 bushbucks, we never found one that Pieter liked as a good trophy. One evening we saw over 50 in a group of irrigated alfalfa fields.
Alka had gone to the grocery and bought groceries for an orphanage that the Jordaans sponsor, and one morning our family and Lee's son Jack went a delivered them and visited with the kids and ladies that run the home. At lunch, Tollie told Alka if she would shoot an impala, he would have the meat processed and take it all to the kids as well. My wife had not ever shot an animal in the 26+ years I have known her, but this was the incentive she needed.
Soon after lunch, we were stalking a group of about 30 impalas with one decent ram keeping the ladies in line. We made it to 210 yards pretty easily, but Alka had trouble finding the ram in her scope as she is right-handed but left-eye dominant.
I kept ranging the ram through my Swaros as Pieter coached Alka, and finally she said she could see the ram. He was at 296 yards, and to my complete surprise, when the shot rang out, I saw the bullet hit perfectly on the shoulder, the ram made one leap and was done. She made a great shot, especially since she later admitted she used the wrong eye! She was excited, I was excited, Pieter was excited, and the boys were pretty pumped up when they ran up to meet us.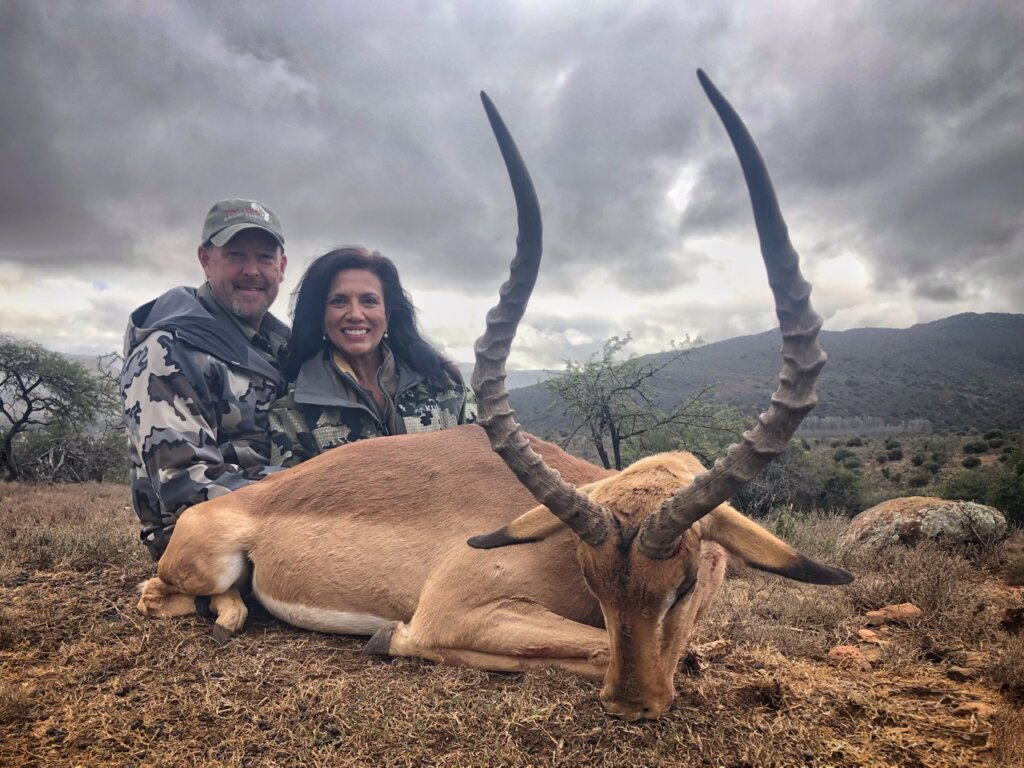 As we all relived the stalk and shot and took photos, we could hear a zebra calling around a point of the mountain. Will's two remaining priority animals were zebra and warthog, so about an hour and mile later, we were taking photos of him and a beautiful Burchell's zebra. That was a wonderful way to end our first week and visit with the Jordaans, and Alka had become a hunter.
Part II coming soon… for more info on booking this hunt, see https://worldwidetrophyadventures.com/outfitter-profile?hunt_id=825 or call 1-800-346-847 and talk to one of our consultants today!